Everyone knows that Waiheke is a foodie haven, but if you haven't visited in the last couple of years you'll be pleased to know that while we've been hunkering down in various lockdowns and alert levels, the island has welcomed some excellent new spots well worthy of your attention.
We've done the hard yards (tough job, we know) to bring you the best new spots that have popped up on Waiheke Island from boujee new destination restaurants and distilleries to plant-based brunch spots and craft breweries, things have certainly changed around here.
So without further ado, here are the best new eateries on Waiheke Island.

Ki Māha
Onetangi
A jewel in the crown on Waiheke and occupying a prime location overlooking Onetangi beach, Ki Māha has been blowing the minds of locals and visitors alike for over 18 months. Barely recognisable from the old Beachfront cafe—in fact, the only part that remains is the high roof—this boujee new destination restaurant brings high class to Onetangi beach. Brought to life by hospo heavyweight Dominique Parat (former owner of Mekong Baby, Isobar and Banque Remuera) and wife Tania, everything about this new spot exudes a classy charm. In te reo Māori, Ki Māha loosely translated means an invitation to come to enjoy an exceptional dining experience. And this is exactly what you'll get. Using local, seasonal and sustainable ingredients—we're looking at you Sustainable black sturgeon caviar and Auckland Island scampi—you'll find that each plate is nothing short of a work of art. Don't forget to try the coveted Ki Māha wine too which like everything else will leave you wanting more. Honestly, we could bang on about this place all day so we'll just say, if you're looking for exceptional food, wine, ambience and service, with a view, this is the place for you.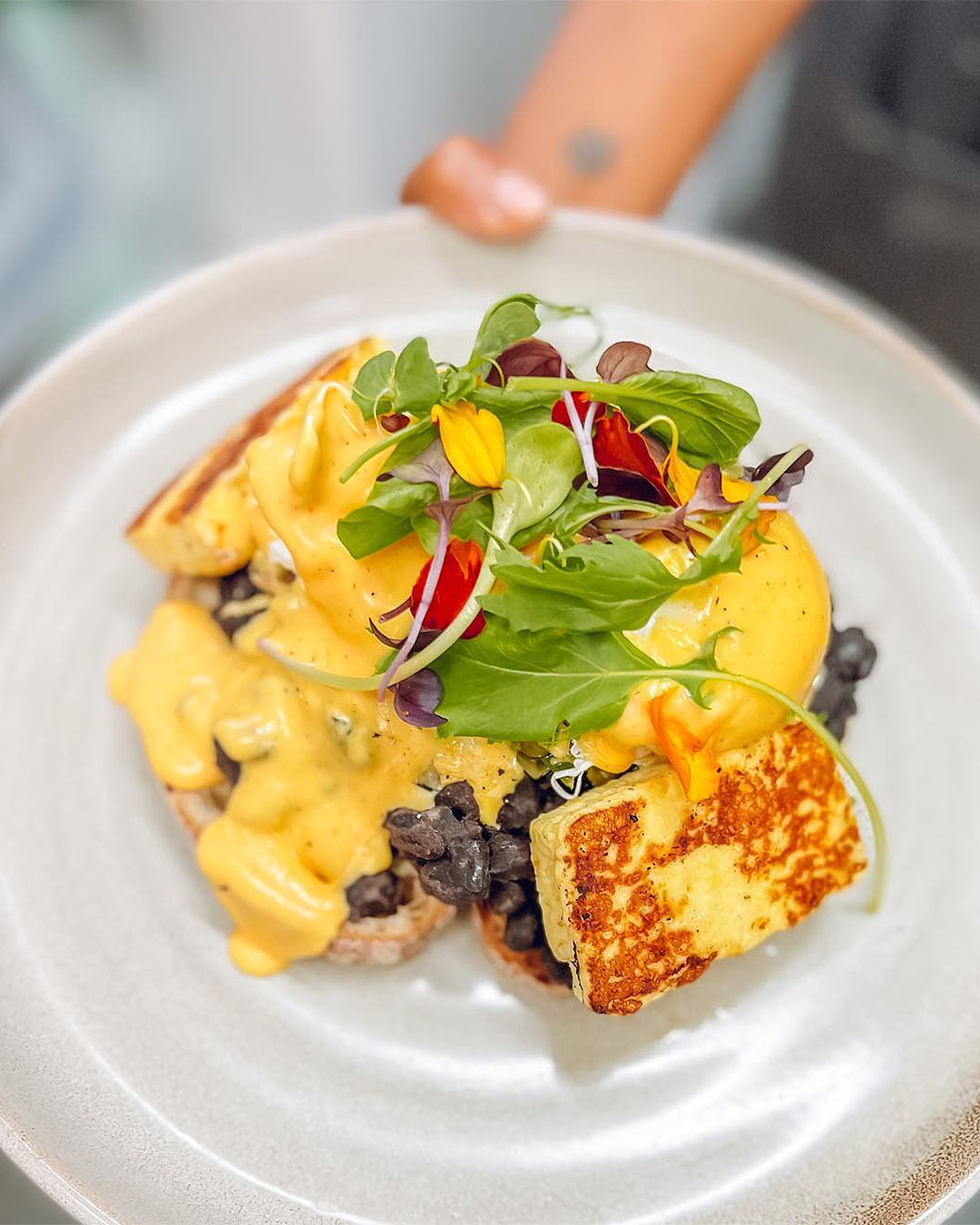 Akitō Eatery
Oneroa
Sitting squarely at the end of the main drag in Oneroa, plant-focused eatery Akitō Eatery has cultivated an excellent reputation for breakfast and brunch eats thanks to its inventive and alternative menu. The name alludes to the eatery's passion for slow food with each dish prepared with love and attention, and it shows. While not an entirely vegan haunt—though you can request vegan-friendly or gluten-free versions—Akitō makes the humble vegetable the star of the show. We're suckers for the mushroom omelette with confit garlic mushrooms, kale, parmesan and thyme, and the beans bene pictured above, while its Impossible Beef Bao is a vegan's dream come true. We should also mention that it would be a crime not to try one of their brunch cocktails such as the exceptional kimchi bloody mary. This spot also gets extra points for being very, very dog friendly.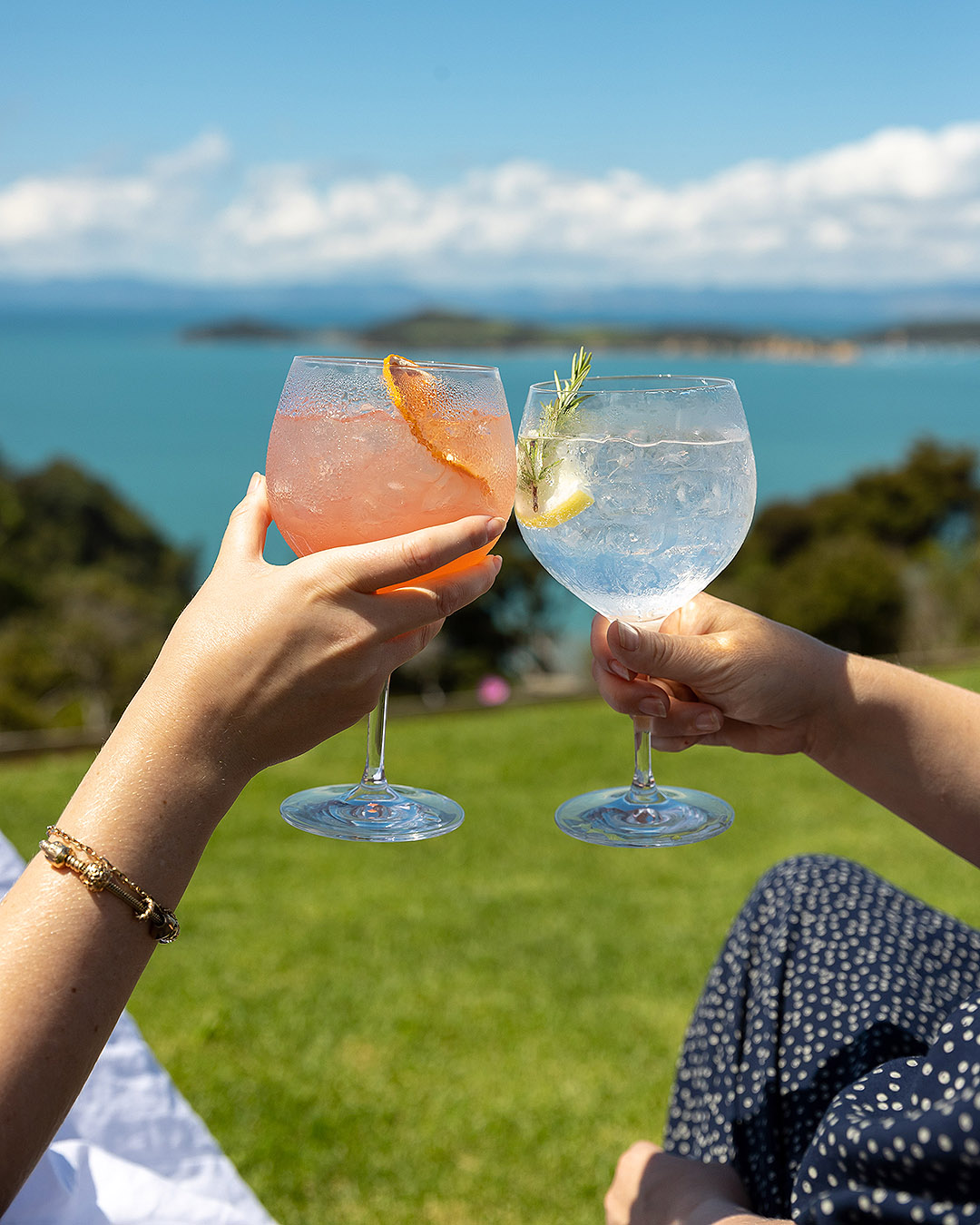 Waiheke Distilling Co
Cowes Bay Road
Waiheke Distilling Co (WDC to those in the know) is packing a big punch with its small (but growing) range of craft distilled spirits. While it started life as an award-winning gin distillery, the team at Waiheke Distilling has recently started crafting next-level vodka using local, botanical ingredients such as horopito and kawakawa. Slap bang between Man O War and Passage Rock on your compulsory holiday drive around the island, the relaxed garden bar offers a wide range of classic drinks, innovative cocktails and fresh food inspired by the surrounding gardens. If you find yourself car-less on the island you can even book transportation to the distillery through their site. Yes, please.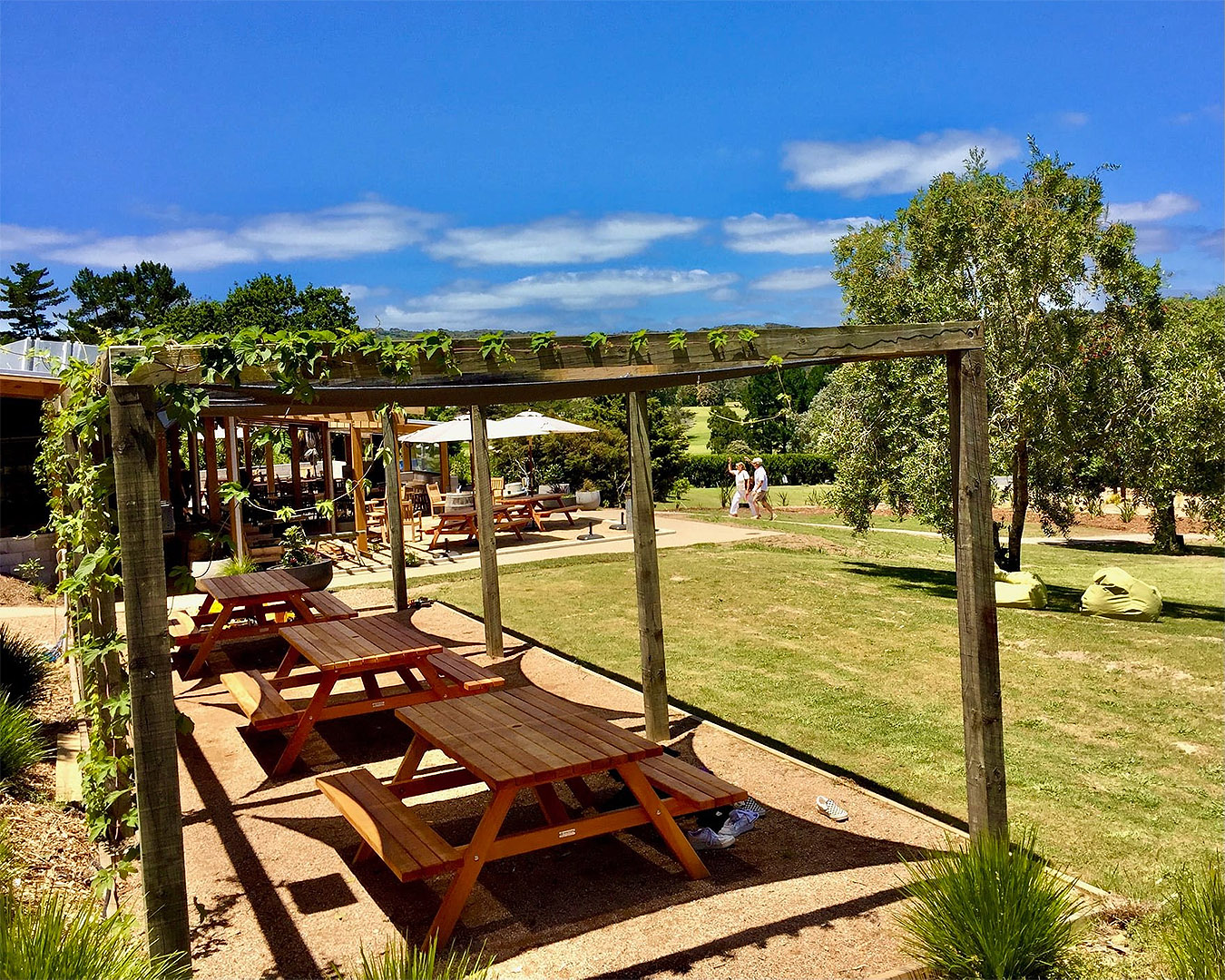 The 'HEKE
Onetangi
Perched overlooking Onetangi Road past Tantalus and Stonyridge, Waiheke's newest venue The 'HEKE is the embodiment of the Waiheke community: connected, laid back and welcoming. Home to Waiheke Craft Beer and the award-winning Waiheke Whisky, The 'HEKE has opened the doors of its kitchen in the first phase of the project and already has locals flocking for superb casual fare and post-beach tipples. The brewery and distillery, still under construction on the same site, will open later in 2022 for tastings and private functions. The sprawling lawn, complete with jumping pillow and toys just waiting to be clambered on by little ones, provides the perfect picnic spot for friends to catch up over a drink and a bite to eat. The 'HEKE kitchen prides itself on simple, tasty food done well—think wood-fired pizzas, whipped smoked Kahawai and the already-famous smash burger. Owners the Izzards brought their passion for whisky to the table while the Hindmarshes chased it with a beer, and together they've created a haven for locals that is rooted in whānau. Everyone is welcome at The 'HEKE—head on over and they will greet you with a big grin, a cold drink and a warmth that has nothing to do with the famous Waiheke micro-climate.

Ahipao Eats
Matiatia Bay
Just a short walk from the ferry lies Ahipao Eats, overlooking the tranquil harbour in the old Harbourmaster's building at Matiatia Bay, where an all-day menu awaits. This is the ultimate way to transition into island time on Waiheke or prepare for the journey home with a freshly-crafted cocktail. Pull up a pew at a table or a beanbag outside and enjoy the surroundings which are nothing short of spectacular, with a freshly brewed coffee in hand and a menu of delicious options to choose from. Ahipao holds sustainability dear to its heart, supporting local suppliers wherever possible, operating a compost system for the cafe, and, anxious to avoid plastic, they only stock soft drinks in glass. Part of the again again network to help reduce coffee cup consumption, they also use edible takeaway cups from Twiice to further minimise their footprint which is a great way to have your… er, coffee and eat it too. While you're about it, be sure to check out the beautiful cashmere garments on sale thanks to the onsite knitwear factory. Random? Yes. Delightful? Absolutely yes.

Vino Vino By Connie Aldao
Oneroa
Though Vino Vino has been an island stalwart for many years, the restaurant with one of the best views on the island has recently been taken over by new owner Connie Aldao. Born and bred in Argentina, Connie Aldao was taught to cook by the master of open-fire cooking, celebrated Argentine chef Francis Mallmann, and was a key member of "Team Mallmann" for 12 years, rising to general manager and head chef. Connie achieved international recognition in 2002 when the 1884 Restaurant, which she set up for Mallmann and led for six years in the Argentine wine capital of Mendoza, won seventh place in the list of The World's 50 Best Restaurants chosen by London's Restaurant Magazine. Connie's cooking is influenced by Argentina's Mediterranean heritage from Italy and Spain and its love affair with the charcoal grill so come in for a brand new Vino Vino experience.
And here are 15 epic things to do on Waiheke that aren't drinking wine.
Image credit: Main article and top image: Ki Māha, Akitō Eatery, Waiheke Distilling Co, The 'HEKE, Ahipao Eats, Vino Vino By Connie Aldao.