Don't get us wrong—we love wine as much as the next person, and with Waiheke's famed vineyards scattered all over the island—some of our favourites of which can be found here—you'd be forgiven for thinking that's all the place has to offer. Though long viewed as a luxury destination—cue over indulgence and splashing of cash—Waiheke is literally awash in great options to have you out and about and enjoying the land in many different ways, all without breaking the bank.
Just a 45 minute ferry from Auckland, it's the perfect weekender. To get you started, here are 15 of the best things to do in Waiheke that aren't drinking wine.
Play In The Water
During the summer months there's an absolute plethora of exciting watersports available, whatever floats your boat—see what we did there—there's an option for you. While you won't find many surfing breaks on the island, there's plenty to entertain yourself with a body board. Onetangi beach has some pretty good waves most of the time, and with all that space you're unlikely to drift into anyone else.
Perhaps you'll want to try your hand at Stand Up Paddle boarding (SUP to those in the know), you can hire boards from Matiatia bay where the ferry comes in from Auckland or from Oneroa or Onetangi beaches. Torch your core as you paddle serenely across the bay where you may even spot a stingray.
…Or On The Water
Get your dose of exercise in and partake in a good old kayaking adventure. Take one out into the bay for a trip on your own or join a guided tour—where you'll be taken to secluded bays for a swim and enjoy a packed lunch on a remote beach.
Explore The Island By Foot
Did you know that Waiheke is home to more than 100 kilometres of walking track ranging from the easy peasy stroll to the more challenging hours-long hikes? There's a network all over the island which allow you to strike off into the great unknown and discover breathtaking views from all angles.
Zip Through The Trees
See the island from an exhilaratingly different angle as you whistle along on zip lines over vineyards and trees with the famous Auckland skyline in the background at Eco Zip Adventures. There are zip lines of differing intensity for you to enjoy on the island—the steepest line will see you pelting along at 50km an hour. Not for the faint of heart. Afterwards take a stroll through the ancient forest and discover more about the flora and fauna that call this beautiful island home.
Eat Up
Whilst you're enjoying all that Waiheke has to offer, don't forget to refuel. There are plenty of good restaurants in town but a few of our favourites include Mudbrick's Italian Fenice cafe and The Oyster Inn which are both in Oneroa and Three Seven Two and Ki Maha from where you can enjoy stunning views of Onetangi beach. For a feed that's welcome at any time of the day we can't go past the I Love crepes food truck where you'll be served delicious crepes at decent prices and right next door, the Island Gelato Company because basically, ice cream is a good choice at any time of day.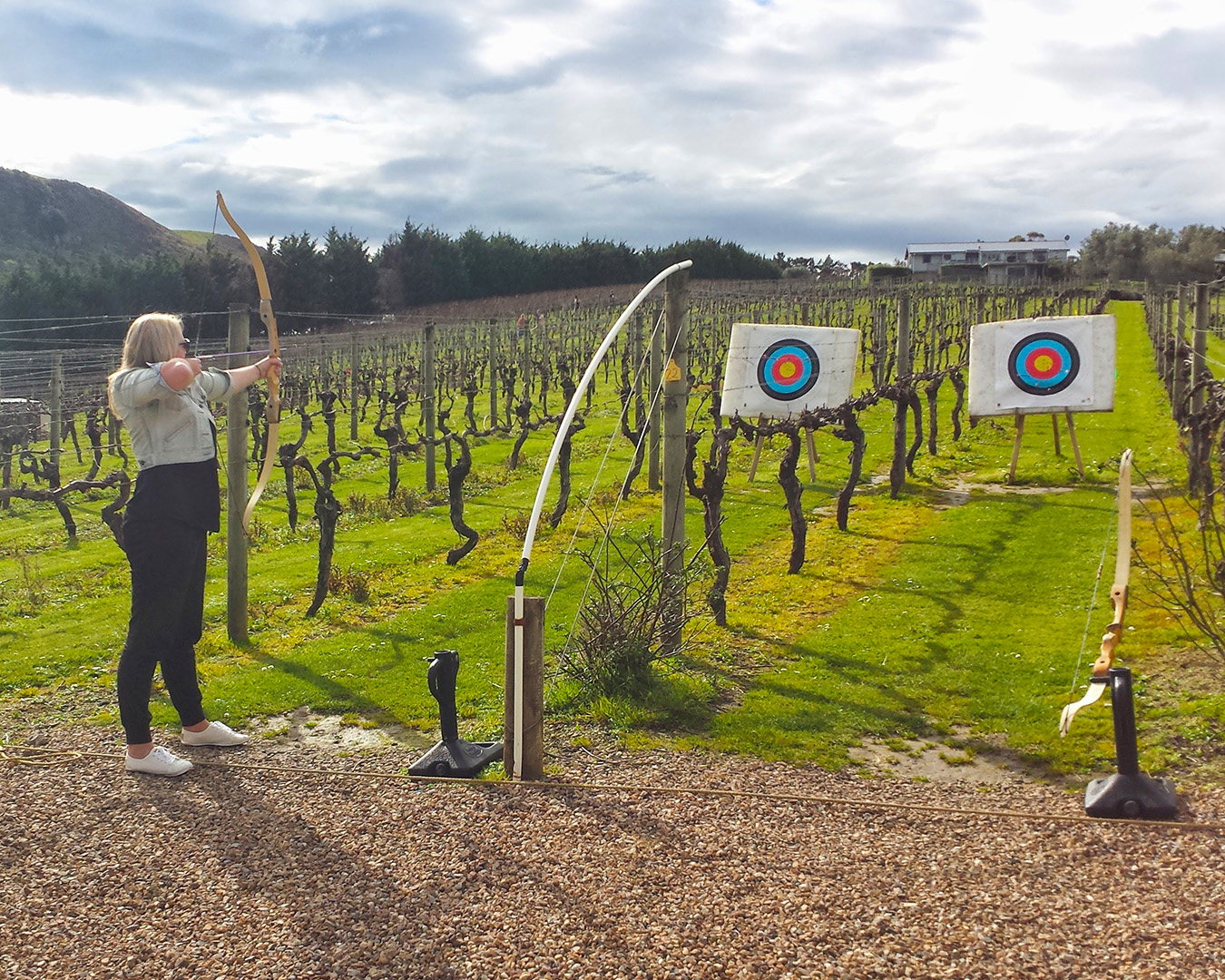 Channel Your Inner Hunger Games Persona
Head to Wild On Waiheke for 'the most fun you can have with your clothes on' to hone your Hunger Games skills. Try your hand at archery and laser clay bird shooting amongst the vines, nabbing eternal bragging rights with your crew. But the competition need not end there, why not order a platter and get stuck into the free options on offer such as petanque, giant chess and volleyball. We can't go past a good game of Californian sandbags and noughts and crosses. Alternatively, you'll be well within your rights to take a relaxing break on a bean bag, and why not, we say.
Sail Around The Island
Make like a millionaire and charter a boat to take you around the island complete with access to remote beaches and other nearby islands. Take a packed lunch or stop off at Man O' War for one of their epic platters, before skipping back to the boat to continue your tour.
Try your Hand At Fishing
If fishing is more your thing there are options galore. Besides a myriad of charter fishing companies who can cater for newbies and old hands alike, there are options to fish off the pier if you prefer staying on terra firma.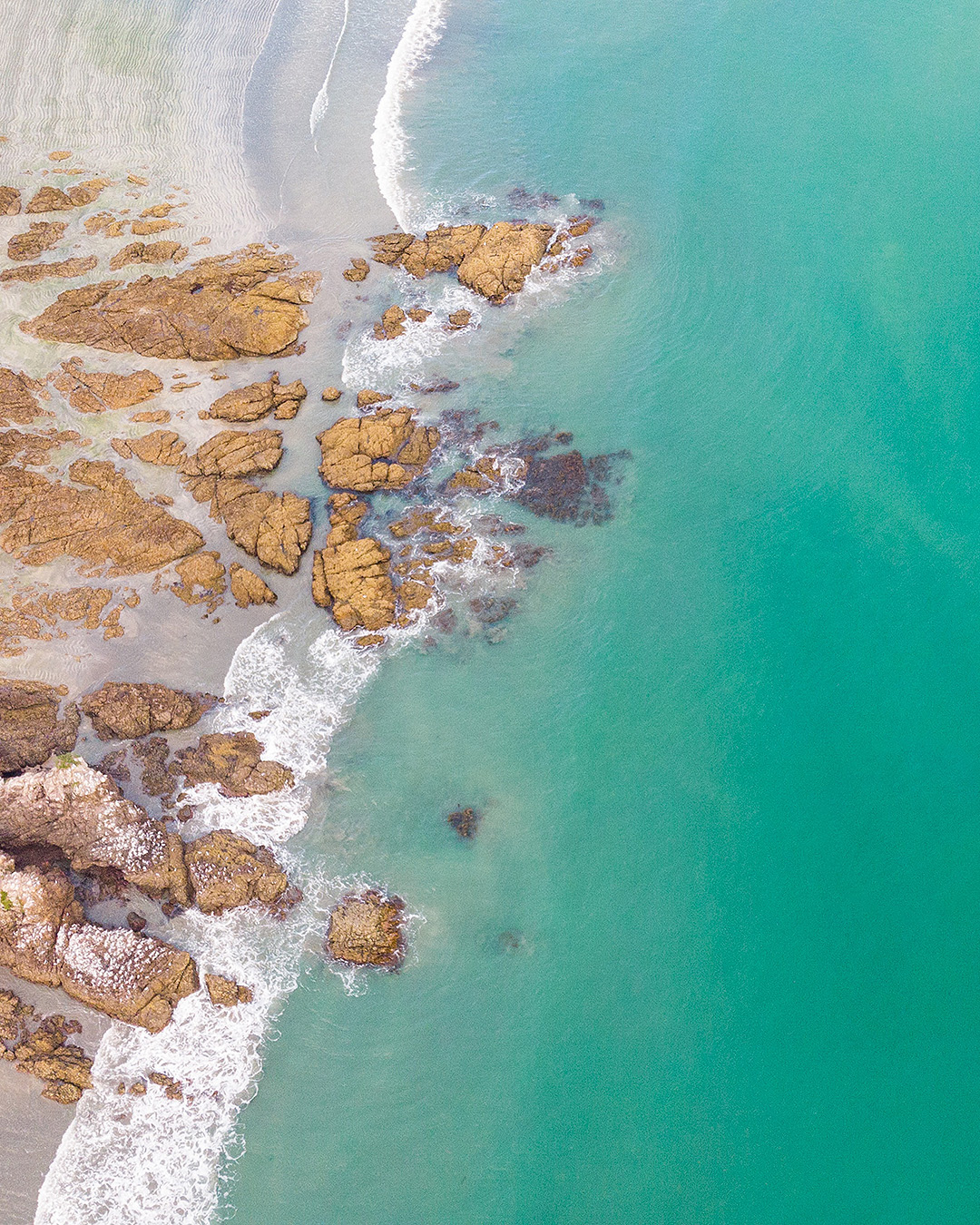 Schedule Some Beach Time
Whilst lying on the beach is one of the best things to do on a sunny afternoon (wearing sunscreen of course), the stunning variety and placement of long white sand can also be taken advantage of to help you reach your #fitnessgoals. Go for long walks on the beach early in the morning (again, wearing sunscreen) and work up a hunger for brekkie; or kick it up a notch and go for a jog. If you really want to feel like you're alive, work up a sweat with some interval running, apparently one of the fastest ways to get fit. Oneroa and Onetangi beaches are perfect choices for those wanting to make the most of their days in an active way and don't forget those romantic sunset strolls too.
Get On Your Bike
Hire a bike (or better yet, an e-bike) for a chance to explore more of the island. There are two bike trails of varying difficulty; Rangihoua mountain bike trails, which are located at the Onetangi Sports Park and in the Whakanewhea Regional Park. If you fancy getting around under your own steam but minus the exhausting pedal power, consider hiring a scooter.
Go Off Road On A Segway
Trust your balance and take a guided tour of the island on an off-road Segway with Segwai Tours (see what they did there?). Zip around the island through the native bush, popping out to pootle along the beach before continuing the tour. Finish up at one of Waiheke's famed vineyards like Mudbrick, and choose between a daytime jaunt or one taken at sunset. Either way you won't be disappointed.
Take In Some Art
Waiheke is home to a fabulous sculpture exhibition for most of the month of March called Sculpture On The Gulf where you can view artists' creations set on a stunning backdrop. There's also the option to walk around an art trail, details of which can be found here.
Dance Like Nobody's Watching
Who says you need booze to get your boogie on? Jack up your endorphins naturally with a bout of ecstatic dancing with 5 rhythms, the global dance movement where you're encouraged to leave your inhibitions at the door and really absorb the power of sound.
Go For A Trot
For an adventure on horseback, saddle up for a trot around the island. Based on a private 1,000 acre peninsula on the Eastern part of the island, Waiheke Horse Tours cater for newbies right up to expert. With various packages and durations on offer this tour guarantees stunning views and good vibes.
Catch A Film
Waiheke locals don't need to catch a ferry to get their movie night fix as they have one right in Oneroa. Waiheke Island Community Cinema is more than just a cinema, it's a symbol of teamwork as it's fully funded and governed by a board of trustees and movie buff volunteers within the Waiheke community. Not only do they screen blockbuster hits but they also screen short documentaries which capture the stories of the locals and is filmed by Waihekeans. Sink back into one of the couches for an intimate experience you won't forget.
Take To The Skies
Arrive on the island in style by chartering your own chopper with Heletranz which will whisk you from Auckland's Albany to the heart of Waiheke in less than 15 minutes. Offering all sorts of all-inclusive options including heli-dining, heli-adventures and personally organised tours, go ahead and live your best life.
Keen to find out more? Here's some pointers on where to stay and what to eat on the island.
Image credit: View from a bench by Jil Beckmann, A forest track and archery at Wild On Waiheke by Armelle Frimpong, Onetangi beach by Greg & Lois Nunes, Sculpture On The Gulf, Armelle Frimpong