From Friday night after-work drinks to a Sunday BBQ with your mates and beers, it's no secret that drinking alcohol at social occasions is as ingrained in our culture as fish and chips by the sea and the All Blacks.
And while alcohol can be enjoyable in moderation, there are downsides to drinking too much, including health complications, social problems and mental wellbeing issues.
Thankfully, research has shown that young people today are drinking less alcohol than future generations. There's a myriad of reasons why—from saving money to improved sleep and concentration and having a better sense of self.
Non-alcoholic drinks don't need to be boring, however. In fact, they can be fun, delicious, and look and taste like the real thing (to save you answering the same damn questions).
So whether you're wishing to cut down your alcohol intake for Dry July or are looking to go completely teetotal, here are our favourite non-alcoholic tipples for all the times you're after a refreshing and tasty beverage, sans hangover.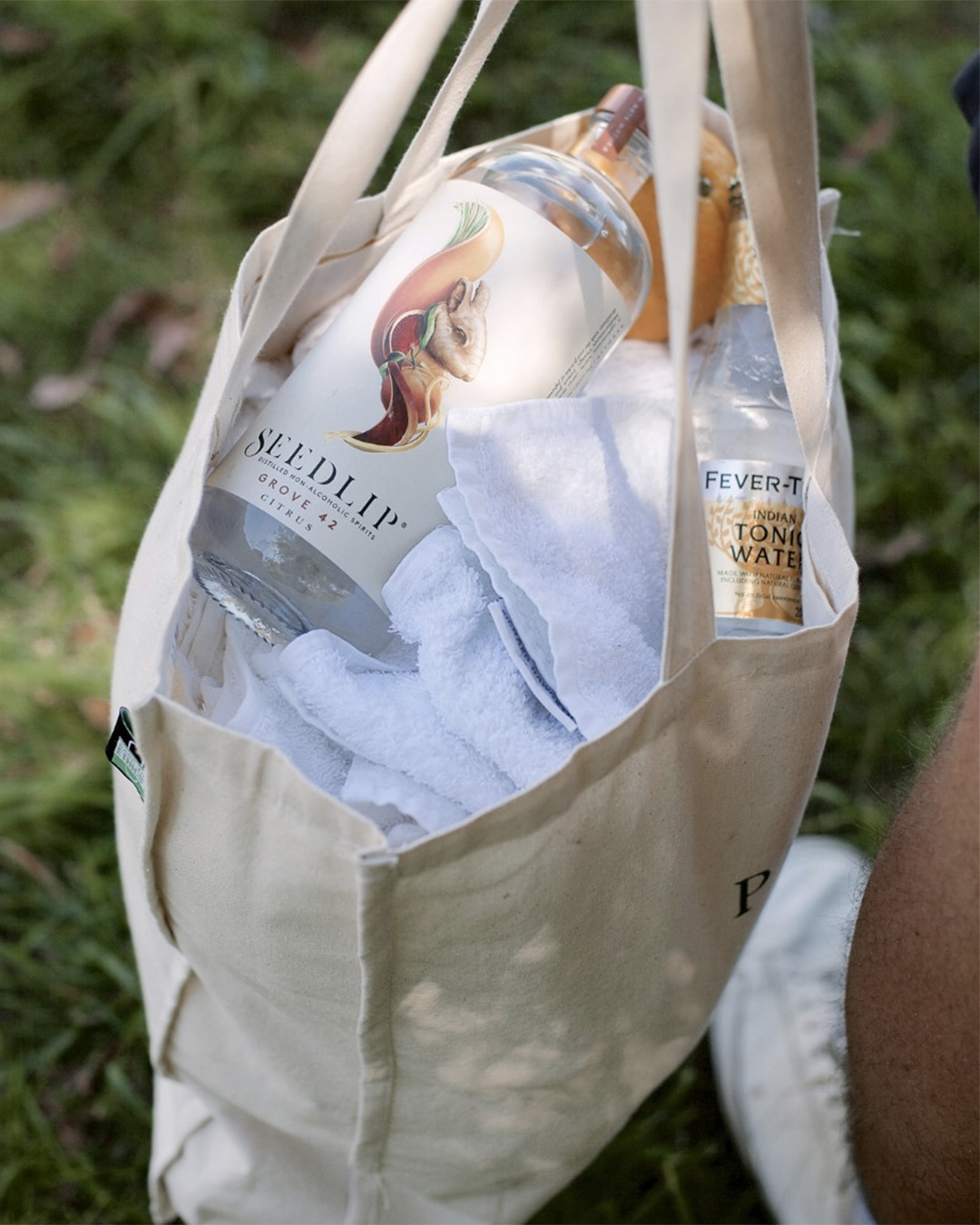 Seedlip
As the world's first distilled non-alcoholic spirit, Seedlip has been a pioneer in the sober curious movement and aims to change the way we drink with the highest quality non-alcoholic options. The brand is stocked all across the globe and has a massive following—and for good reason. The spirits take six weeks to craft using ingredients sourced from nature—herbs, spices, peels and barks. The process then involves bespoke maceration, copper pot distillation, blending and filtration. There are three options to choose from—Garden 108 which is a floral blend with peas, hay and herb distillates; Spice 94 which is aromatic with warm notes of allspice, berries and cardamom, and Grove 42 which features orange, lemongrass and ginger notes. There is no sugar in the drinks and they are free from artificial sweeteners. The creators of Seedlip recommend for the spirits to be always mixed, either with tonic, soda, ginger ale or as the base of a cocktail.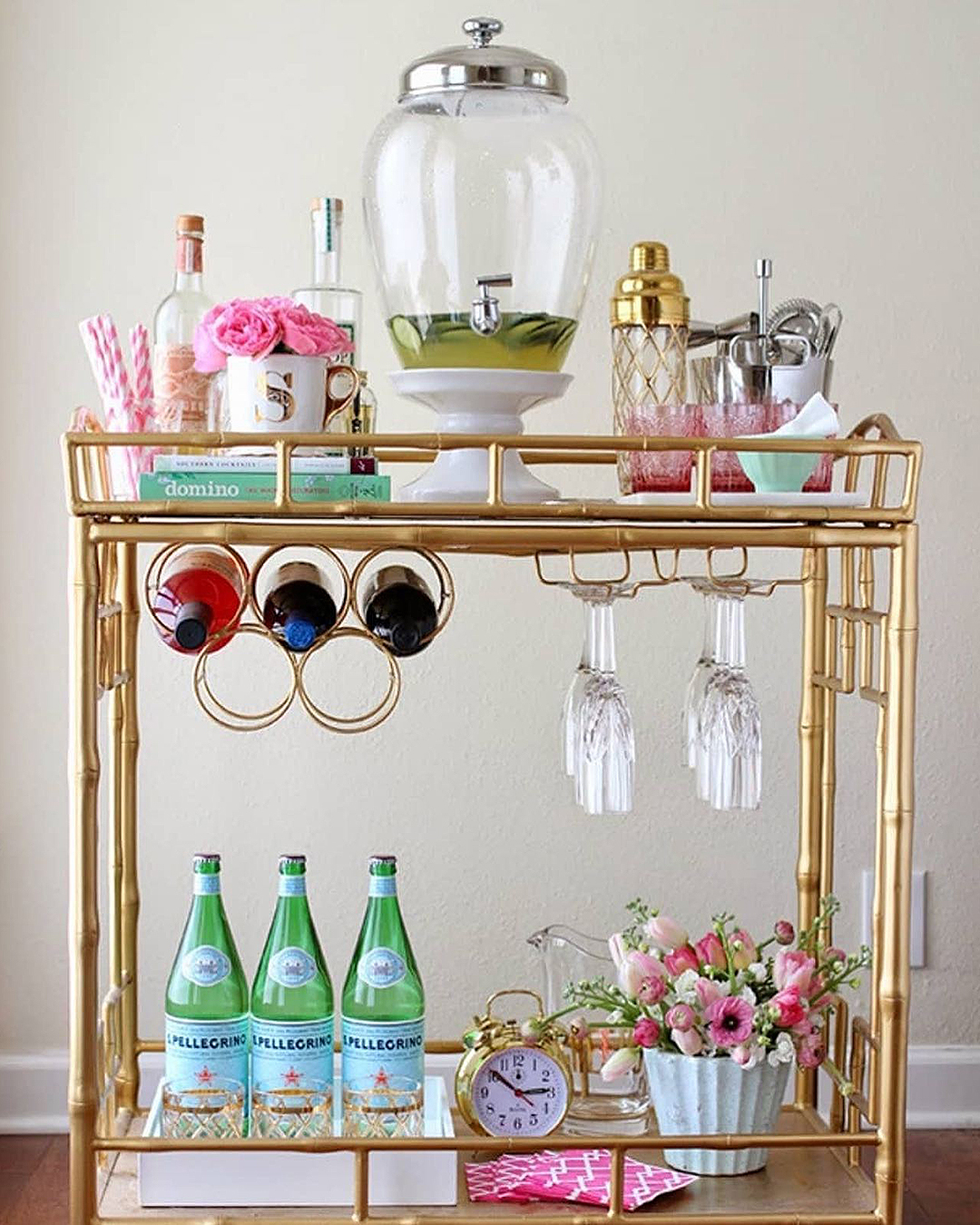 AF Drinks
Inspired by the sober curious movement and launched in late October 2020 by Lisa King, AF Drinks (alcohol-free drinks) not only look chic, but they also taste like the real deal. The brand is on a mission to help people explore a new relationship with alcohol and to normalise not drinking. When Lisa stopped drinking at the beginning of 2020 she felt that there were few good alternatives to alcoholic drinks—either they were really expensive or didn't taste great. She also got over the constant questions and being made to feel socially awkward about a decision that she felt was positive. "That's where the idea for AF came from," she says. "It's not just a product, but a world where it's OK to make your own decisions and to do that with confidence." Try the AF classic gin and tonic with juniper, quinine, lemon and a botanical extract that mimics the warmth of drinking alcohol. We'll cheers to that.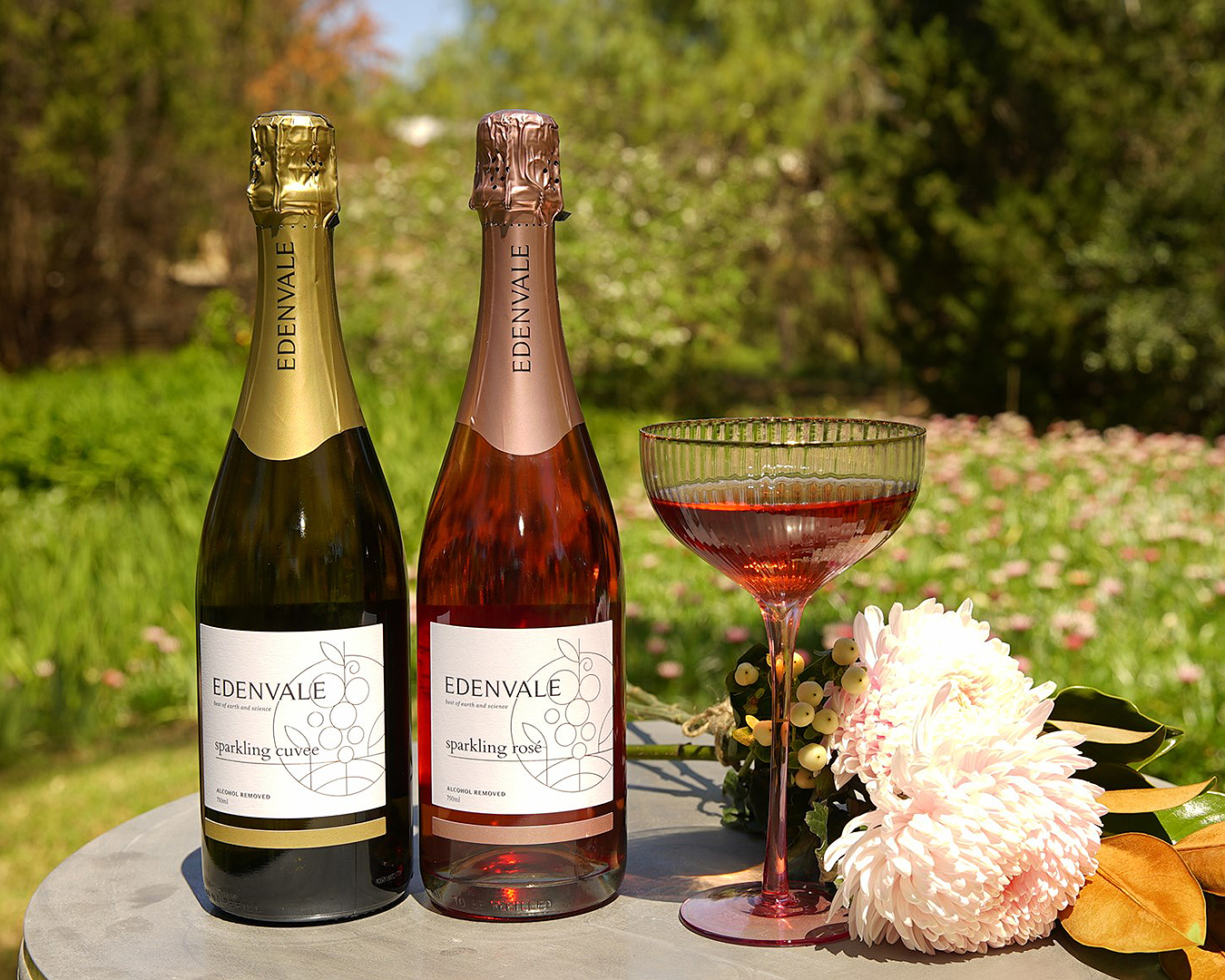 Edenvale
Coined as Australia's leading alcohol-removed wine, Edenvale has a whole range of drops for you to choose and all your favourites are there—rosé, chardonnay, sauvignon blanc and sparkling rosé and sparkling Cuvee. The wine is the perfect option when you're celebrating and everyone's drinking bubbles, or when orange juice just won't cut it (tbh it never does). We love the shiraz—silky smooth and with berry fruit flavours it goes pretty bloody well when paired with a cheeseboard. It's important to note that some of the wines still have small traces of alcohol, so be sure to check the label before serving it to others. Edenvale wines also have half the calories of standard wine and are rich in antioxidants and vitamin C and E—even more reason to go alcohol-free.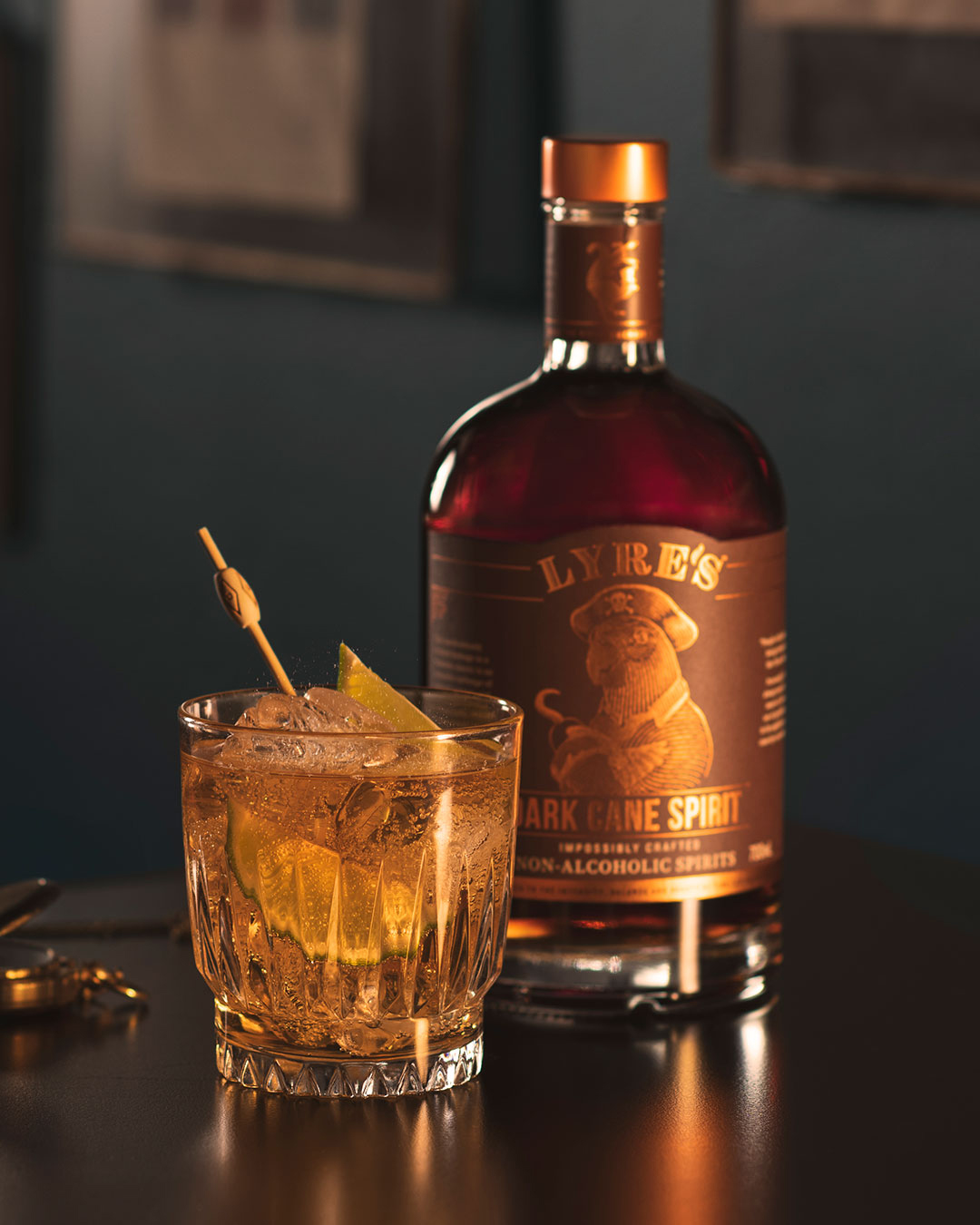 Lyre's
All of Lyre's beautifully crafted non-alcoholic spirits look, taste and smell like the classics, so you can recreate your favourite cocktails at home and no one will be able to tell the difference. Try their American Malt, which has been designed to capture the essence of bourbon; the Dry London Spirit that tastes exactly like gin or the White Cane Spirit that your guests will swear is white rum. They've just released a Highland Malt that takes the place of whiskey. You can also get your hands on their best-selling ready to drink mixes in a can that feature a gin and tonic with orange blossom, juniper and pepper berry, a sparkling wine with peach and granny smith apple notes and a refreshing spritz with bittersweet orange, that'll make you dream like you're somewhere along the Amalfi Coast. And if you're searching for a thoughtful present for a friend (or yourself) who has stopped drinking alcohol, Lyre's also sell booze-free cocktail sets, which include the bottles that you'll need to recreate an espresso martini or Negroni at home.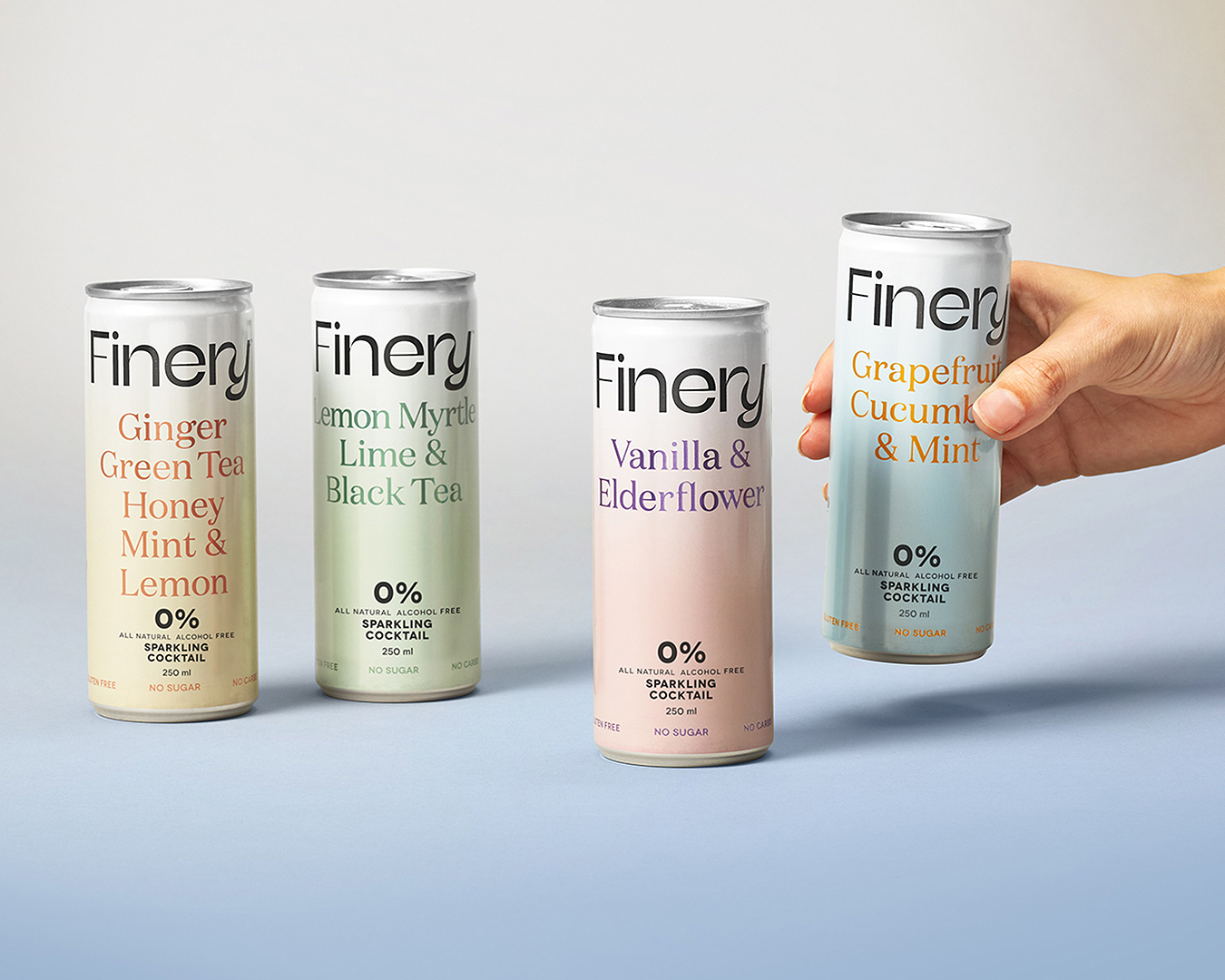 Finery 0%
Finery, who's known for its flavourful cocktails, encourages us to go dry with their Finery 0% cocktails. Not only do these zero alcohol cocktails taste as good as the real thing, but they also contain no sugar, sweeteners, carbohydrates, gluten or preservatives, and have vegan-friendly options. No alcohol certainly doesn't mean no fun. Exciting flavours like Grapefruit cucumber & mint, and Vanilla & Elderflower are sure to make you feel good—find the full range here.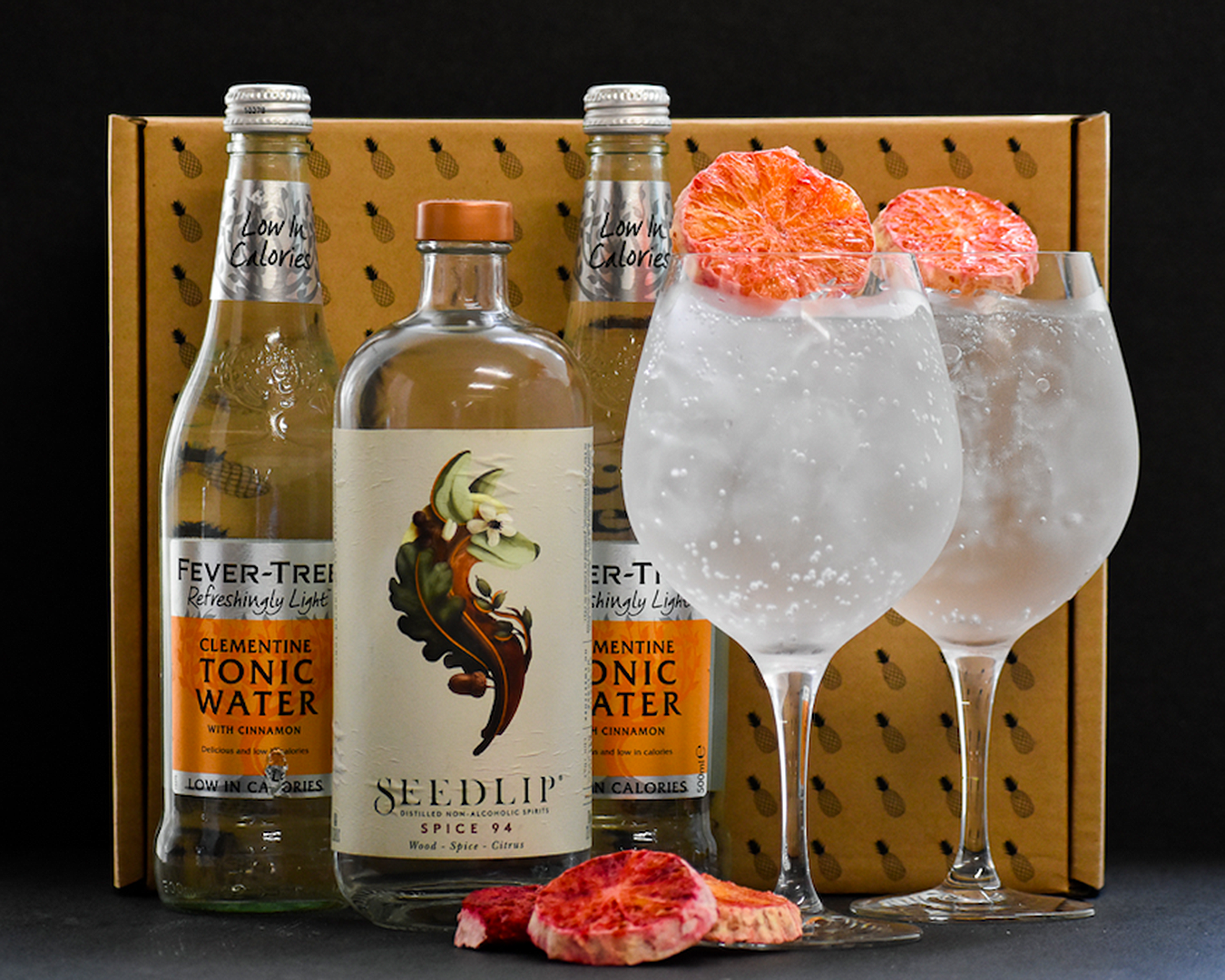 Black Pineapple X Seedlip X Lyre's
Be it music, or non-alcoholic beverages, nothing beats a collab. We've already told you how awesome Seedlip and Lyre's are, but together with Black Pineapple, the super-sober trio has launched a host of mindful drinking boxes. Grapefruit-flavoured non-alcoholic cocktails? Hell yeah! If velvety-smooth flavour isn't your cup of tea, try one of their other creative cocktail combo kits like the Lyre's American Malt And Dry kit, Seedlip's Savoury Spiritz Kit, and Lyre's No-groni package (geddit). Whatever your choice, be sure to give this collab a go, and up your home-bar game.
Mac's
Now, this is exciting. While *technically* not completely alcohol-free (there is less than 0.5% in alcohol by volume), Mac's is the first New Zealand craft beer brand to launch an alcohol-free golden ale. It's called Mac's Stunt Double Alcohol-Free* Golden Ale and the result is bright, refreshing, thirst-quenching and most importantly—tastes just like beer. Bring a six-pack to your next BBQ with your friends or enjoy a cold one after a day of fishing. The beer is brewed with pale and crystal malts, which give it a caramelised malt flavour and full body, and the hops add a citrus aroma and enough bitterness to balance out the sweetness. If you're looking for absolutely zero alcohol beer, however, some of our favourites are Asahi Zero, Heineken 0.0% and Steinlager Zero.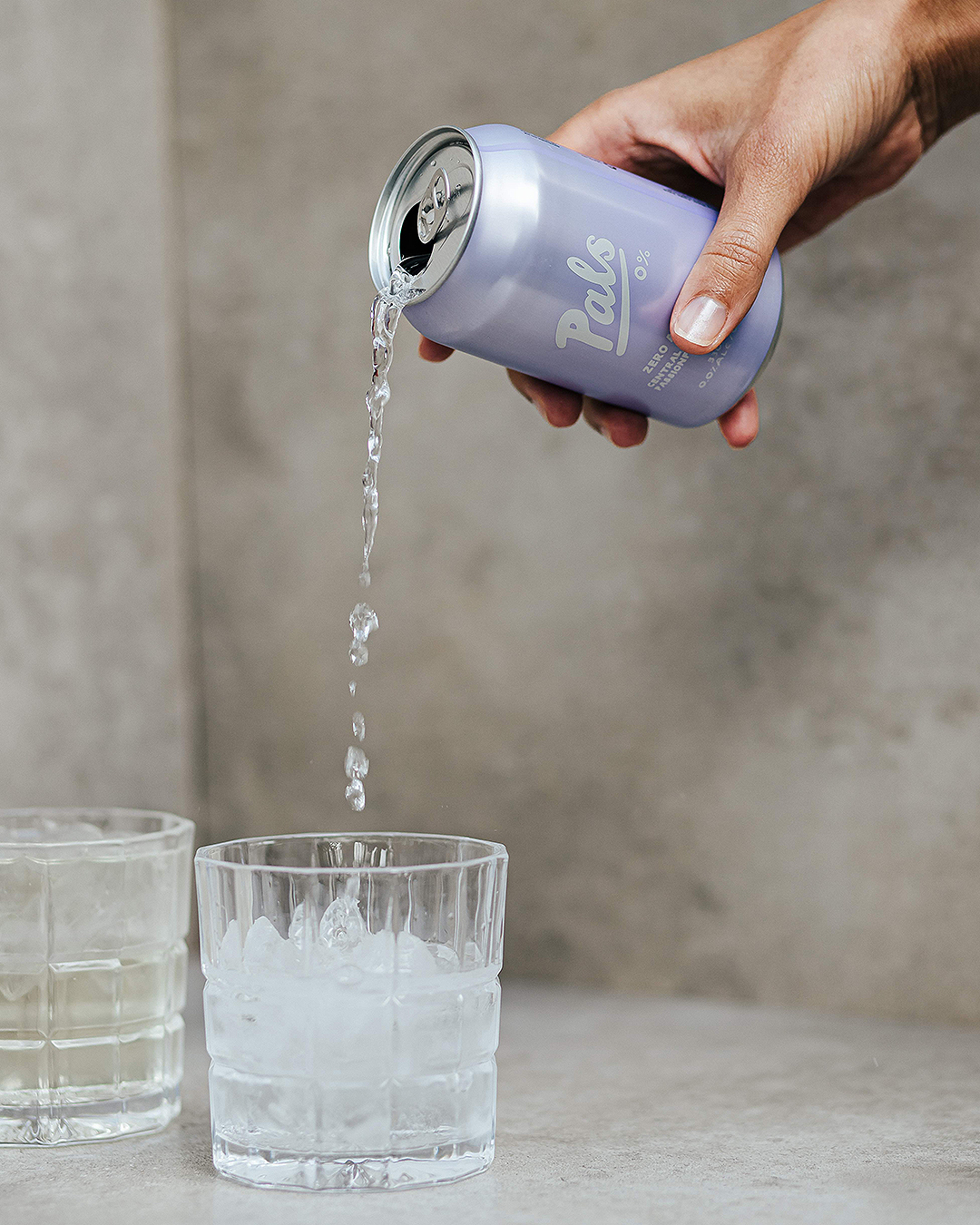 Pals Zero Alcohol
Round up your pals and give non-alc, vegan, and gluten-friendly Pals Zero Alcohol a try. In their commitment to a 'better for you' RTD space, Pals, like many others, has also forayed into the non-alcoholic RTD space, serving up a zero-alcohol version of its iconic purple-coloured Central Otago RTD containing flavours of peach, passionfruit and soda (with all-natural ingredients). Pals is committed to being inclusive, and an instigator of good times, and with this new addition, their aim is to create a zero alcohol drink that tastes incredible at an affordable price point. That's what we like to hear. Oh, and did we mention that it is low on calories too? Yup, just 5 calories per 100ml. So drink up without fear of a hangover. Pals Zero Alcohol is available at liquor stores and supermarkets nationwide.
Heaps Normal
Brew lovers, this one's for you—Aussie fave Heaps Normal is taking NZ by storm with its Quiet XPA, a non-alcoholic beer that doesn't compromise on flavour. Created in an effort to change the conversation around drinking culture, Heaps Normal is redefining the beer category. Their first launch, the beloved Quiet XPA, is just as familiar as it is progressive. It's refreshing, it's citrus-y, it's perfectly bitter with a soft malty finish. It's beer as you know and love it, just without the hangover. Outselling both alcoholic and non-alcoholic beers around Australia in 2021, it's safe to say Heaps Normal is heaps good.
Big Drop Brewing
Enjoy a cold one with the award-winning non-alcoholic Aussie brewery that caters to everyone. With four flavours on offer, Big Drop encourages you to rally up the gang and crack open a cold one in the sun. They offer a sweet alternative for craft beer lovers who want to switch up the way they drink without losing that oh-so-good flavour. Introducing their galactic milk stout, pine trail pale ale, the uptown craft lager and Paradiso IPA, the four flavours explore sweet and spicy aromas that will have you begging for more while cutting back your alcohol and carb intake, they even offer a vegan option! Expect more from these guys in their mission to create a non-alcoholic version of any style of beer on offer. Sign us up!
Sober? Check out these awesome mocktail bars around the city.
Image credit: AF Drinks, Seedlip, AF Drinks, Edenvale Wines, Lyre's Spirit Co, Black Pineapple, Pals, Heaps Normal, Big Drop Brewing.
Editor's note: Urban List editors independently select and write about stuff we love and think you'll like too. Urban List has affiliate partnerships, so we get revenue from your purchase.