There's nothing better than shooting the breeze with friends, ice cold beverage in hand and grazing on delish eats (the more cheese, the better). But—news flash—good times can be enjoyed sans alcohol. We're talking fruity and refreshing mocktails brimming with everything from lychee and lime to pineapple and passionfruit. We'll take the lot, thanks!
Whether you're giving up the booze for the month, you're currently sober curious or you're sober for life—thanks to some of Auckland's finest bars and eateries, there are still good booze-free bevvies (and good times!) to be had—no hangover in sight.
Here are 10 of Auckland's best mocktails to quench your thirst.
Cassia
CBD
On the face of it, there appears to be three mocktails on award-winning restaurant Cassia's extensive drinks menu—including the entirely delicious Mango Sour with Seedlip—but stick with us, kid, we'll see you right. Delve into the off menu speakeasy for three delicious mocktails available on request. Choose from the Grove Chilli, the Pineapple Spice or the highly Gram-worthy Garden Cosmo—pictured above—but trust us when we say, you'll probably want to try all three.
The Glass Goose
Federal Street
There's a lot to love about The Glass Goose. For one, the bustling rooftop bar is positioned directly underneath the Sky Tower—giving you the most incredible view. Secondly, they make partying without alcohol a (delicious) breeze with their incred drinks menu. Opt for a strawberry basil crush, lemon rosemary fizz, or a gin-free and tonic with house-made juniper and herb syrup. We love the spiced apple mojito—it's jam-packed with cinnamon.
Clipper
Ponsonby
You're always guaranteed a good time at Ponsonby road's aviation-themed bar, Clipper. With renowned mixologist Barney Toy behind the bar you'd be forgiven for thinking that theirs is a purely boozy affair. Well allow us to educate you on their new, entirely booze-free Seedlip offerings comprising The Garden Colada—a cheeky little concoction with pineapple and coconut syrup with salt and soda, and the Rhubarb Grove Spritz combining possibly the world's best fruits, rhubarb and strawberry. We'll have two of each, thanks.
The Parasol & Swing Company
Viaduct Harbour
The Parasol & Swing Company will charm you with its waterfront views and quirky venue. Here, they serve mocktails for "teetotallers & chauffeurs". Choose between a tropical Tiki Tonic or a raspberry-packed "Shirley Temple". You'll also find non-alcoholic numbers including the 'insatiable' Apple No-Jito—pictured for your viewing pleasure above. Drink up, sailor!
Bedford Soda & Liquor
Ponsonby
Get inspired with a fun and flavoursome mocktail from Auckland institution Bedford Soda & Liquor. Try a booze-free handcrafted soda—the mango with lemon, honey and ginger is particularly divine. If you're after a creamy #treatyoself number, check out their insane shakes. Jam-packed with peanut butter, Oreo, Maltesers and salted caramel, they're worth breaking your diet for.
Mexico
Various Locations
There's more to Mexico than fried chicken and tacos, y'know? The much-loved Mexican eatery serves up 10—count 'em—10 sodas in spectacular style. You'll be hard pressed to choose between refreshing and highly tasty faves including raspberry and cucumber, coriander and lime Fresca and blue creaming soda. Add to this their moreish Virgin Sangria and Frida's Margaritas—which can all be Virgin—pictured above. Order a glass or share a booze-free carafe (go hard or go home) with your squad.
Masu
Federal Street
For something a little different to your average, check out Masu's mocktails—or 'cleansers' as they call them. The Japanese-inspired drinks star ingredients such as salted lychee, aloe vera and umeboshi (aka pickled plum). Refreshing and not too sweet, the innovative drinks will make you forget there's no alcohol in them. Don't forget to try their mean Raikou mocktail comprising Seedlip, pineapple, lime, peach and houjicha foam. Our advice? Drink your way through them all.
1947 Eatery
Federal Street
You're in for a treat at 1947 Eatery. Here you'll find not one, not two, but four unmissable concoctions. Showcasing the quirkiest names in town, you'll find the likes of 'Dry Day In Bombay' and 'Party In The Bomb Shelter'. Our fave? The pretty in pink 'Love Potion' with strawberry and cream syrup, pineapple, mint, hibiscus salt, cranberry juice, lime foam. It's the perfect balance of sweet and spicy with a subtle hint of cardamom and cloves. Arrive thirsty because you'll want to try ALL the mocktails.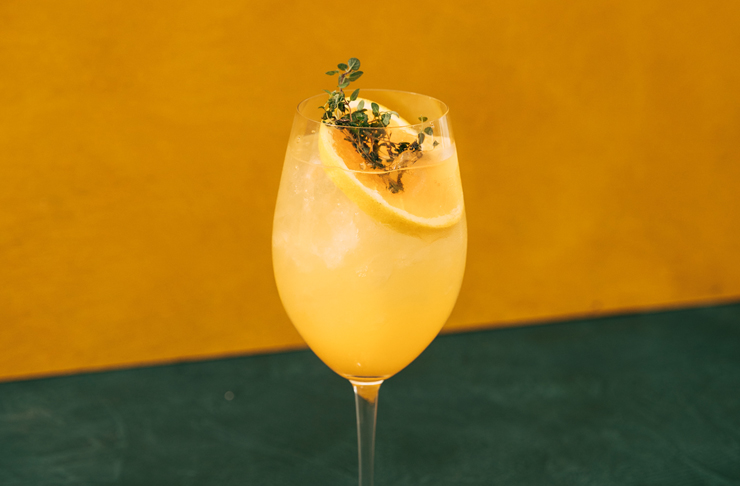 Burger Burger
Commercial Bay, Ponsonby Central, Newmarket and Takapuna
If there are two things we love, it's a) burgers and b) a flavoursome bevvy to wash it down. Burger Burger has both bases covered with their Auckland-famous burgers and slurplicious drinks. Their house-made sodas are fruity, spicy, cool (by both definitions of the word) and booze-free. Choose between the likes of ginger, juniper and lime, sugar free lemonade and honey cola. For something creamier, their super thick milkshakes are also divine!
Culprit & Little Culprit
CBD
Hidden half way up Wyndham Street lies the always entertaining Culprit. Here talented bar staff will happily put together a Seedlip non alcoholic mocktail of your choosing, just tell them what you're in the mood for and enjoy the results. It's almost impossible to believe you're not supping on the real thing so why not push the boat out and let your imagination be your guide.
Want to keep the sweet vibe going? Here's where to find Auckland's best desserts.
Image credit: Cassia, Parasol & Swing Company, Mexico, Burger Burger