Home to one of one of Aotearoa's most beautiful and towering mountains—Mount Taranaki—art galleries and black-sand beaches, New Plymouth also packs a punch when it comes to the food and wine scene.
The coastal town has the feel of a vibrant little city without the traffic and it's a place where a few days spent exploring could easily turn into a week.
Situated on the west coast of New Zealand's North Island, it'll take you around an hour to fly to New Plymouth from Auckland or Wellington—or pack the car and head off on a road trip.
From relaxed lunch spots to luxe dining experiences and bustling eateries, here are nine of the best restaurants in New Plymouth.
Table
Brougham Street
Situated in the boutique Nice Hotel, Table is a restaurant you'd go to if you were celebrating a promotion or one you'd take your grandmother to. The international menu showcases local produce such as paua toast with chives. For mains the gnocchi with pumpkin, nasturtium and pine nuts and lamb rump with eggplant and semi dried tomato are both winners. If you don't feel like choosing, there's a five-course 'surprise' tasting menu and you can opt to add matching wines (yes please). Finish off with a cocktail from the New York-style bar. The restaurant's décor is plush and opulent and there's outdoor seating complete with with lush tropical plants.
Social Kitchen
Powderham Street
If you only go to one restaurant in New Plymouth, make it Social Kitchen. Located in the former Salvation Army Citadel in the middle of town, Social Kitchen offers robust flavours with swift service in a cool space. The décor is luxe, with chandeliers, turquoise leather seats, taxidermy and pops of neon. The menu is broken up into small and large plates and sides—so sharing is a no brainer. Begin with serrano ham with buffalo ricotta and melon and the smooth pate with cornichons and flat bread. For mains, the perfectly cooked picanha (angus tri tip rump) with chimichurri and broccoli with chilli are our picks.
Thai Chef's Restaurant
Devon Street East
Everyone needs a good local Thai restaurant. It's even better if that restaurant is really, really good. Thai Chef's Restaurant New Plymouth is part of a chain of Thai restaurants that's dotted around the country, and while we rarely give a shout out to chains here at Urban List, the flavours here are authentic, the meals have a good kick of chilli and the prices won't break the bank. Stepping inside Thai Chef's you feel like you're in Bangkok, and some of the names of the dishes will make you smile—see 'sexy little duck' and 'naughty pig'. Thai Chef's Restaurant isn't ground breaking, but if you're craving pad Thai or a massaman curry, you'll leave full and happy.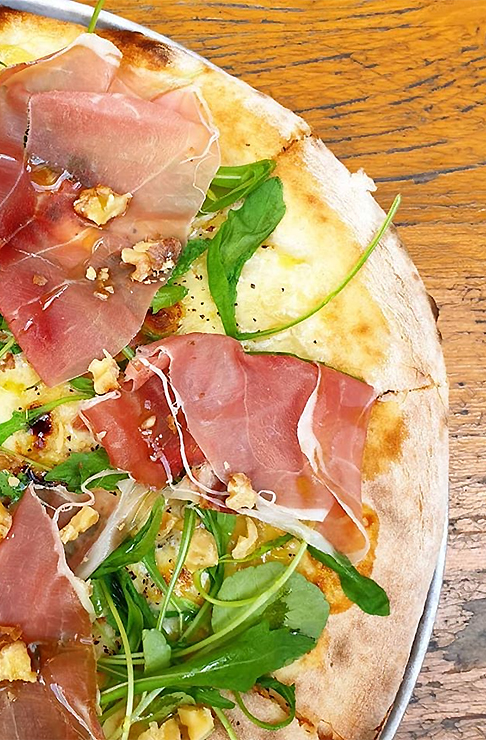 Ms White
Queen Street
Don't come to Ms White if you're on a diet. Tucked away in the White Hart Hotel, Ms White dishes up traditional Italian pizzas with craft beer—there are over 40 to choose from and the staff rotate the taps weekly. The pizzas are hand-rolled and have a thin base—get stuck into a garlic prawn pizza with rocket and chilli. If you're after vegetarian number, the pumpkin pizza with hazelnuts, kale and blue cheese is delicious. Bring a bunch of mates, sit on the communal tables in the courtyard and play a game of cards with your pizza and beer—you can count us in.
Viet Nom Nom
Liardet Street
Serving fresh, fragrant and tasty Vietnamese street food, Viet Nom Nom is a New Plymouth gem. Located in an alley off Liardet Street, Viet Nom Nom is one of a few food trucks that have set up camp permanently. The pho—traditional beef noodle soup—has a clear and nourishing broth and if we had the chance we would eat the bánh mì with roasted pork belly every day. The relaxed outdoor seating is filled with uni students, solo lunch dates and friends catching up—all slurping bowls of soup, dipping spring rolls into sauces and all round just having a great time.
The Hour Glass
Liardet Street
The Hour Glass is a funky little wine and craft beer bar serving tasty tapas in the centre of town. There are some larger plates available if you would like your own meal, although we recommend ordering a few plates to share. Kick things off with marinated olives with garlic and thyme and then move on to chorizo with tomato and crusty bread and next, the haloumi with charred corn, avocado and cheery tomatoes—heaven. To drink, there's a selection of New Zealand drops and craft beers on tap, including the locally brewed black sand lager, and the cocktails are worth noting. There's an outdoor courtyard and happy hour, too.
The Vineyard Bistro
Surf Highway 45
Experience relaxed coastal dining at The Vineyard Bistro at Okurukuru, a west coast winery that's a mere 15-minute drive from New Plymouth. The Italian-leaning menu features dishes such as yellow fin tuna ceviche, an antipasto platter and freshly made pasta of the day, but the real star of the show is the sweeping ocean views. Grab a bunch of friends and head to The Vineyard Bistro for a long and boozy Sunday lunch or visit just before sunset, order a bottle of crisp pinot gris and sit back and relax. There's also a cellar door (check the opening times before you visit) where you can sample the Okurukuru sauvignon blanc and our favourite, the Okurukuru Taranaki rosé.
Meat & Liquor Steakhouse
Egmont/King Street
The name says it all, really. Meat & Liquor serves prime and dry aged cuts of meat with hard booze. Enter at the bright red door on King Street, head upstairs and get ready for a feast. There's a meat library with sustainable beef, lamb and pork and "bird" and fish if you don't feel like red meat. An eye-watering 600g Benmore Lakes 28-day aged t-bone is served with bone marrow and bourbon butter and there are lamb sweet breads on offer too if that tickles your fancy. Finish off with a dark chocolate tart with beetroot sorbet. Naturally Meat & Liquor isn't the place to take a vegetarian on a first date, but if you're a carnivore at heart and you like a nip of the hard stuff, then this is the restaurant for you. One things for sure, if you heard to Meat & Liquor, you'll be heading straight home for a nap, albeit a happy one.
Little Glutton
Devon Street East
Colourful, big on flavours and tongue-in-cheek, Little Glutton is a fun place located on Devon Street near The State Hotel. An Asian fusion restaurant, Little Glutton draw their inspiration from street food. Kick things off with shiitake, wong bok and tofu dumplings with peanut chilli oil and cheeseburger spring rolls. There are fresh and crunchy salads including one with poached chicken with beans and ginger, a selection of bao buns, and our favourite, karaage chicken. Or go straight to the bigger plates and order the crispy pork belly ramen. To drink, there are some beers on tap and a few wines, but really it's hard to go past a boozy slushie. As they say, "be yourself, make noise and let your Little Glutton Loose."
Ready to plan a weekend getaway to New Plymouth? Check out the best things to do while you're here.
Image credit: Table, Social Kitchen, Ms White, Viet Nom Nom, The Hour Glass, Meat & Liquor Steakhouse