With big, extravagant holidays out of the question, the word on the street is this—the future of holidays are tiny. The Tiny Home movement has taken the world by storm with the idea of living with less is more, so why not apply that thinking to your getaways? We've scoured Airbnb from the top of Aotearoa, all the way down for a collection of small spaces with big ambitious plans for your rest and relaxation. Check out of work and into a tiny vacay, because you're fabulous and you deserve it. Mwah.
Arohauni Cabins
Mangawhai
Part of the allure of tiny home living is the potential to go off-grid. You can also apply that to how you holiday, and that's where Arohanui Cabins come in. Gazing into stunning native bush and farmland is considered laborious and taxing compared to taking a ride on a big jet plane, but the environmental benefits are endless. Bathed in sunshine and happiness, Arohanui Cabins can cozily fit four people, making it a great spot to bring kids or friends where you can to enjoy the rope swing, outdoor pizza oven and cast iron tub under the stars.
Kiwi Chalet
Otago
If, by chance, you had plans for a trip to the Swiss Alps any time soon, it's best to park that idea for a little while longer. If you really do need to scratch that itch, we have the next best thing in the form of this Otago tiny home experience—the Kiwi Chalet. Shacked up near picturesque Arrowtown, it's perfectly placed for winter sport aficionados with the Coronet Peak ski fields close by. Unfortunately for you, there's a big chance you won't actually want to leave this southern tiny paradise. Floor-to-ceiling double glazed windows make this small space feel massive yet toasty, and is the perfect spot to take in the gorgeous Otago scenes whilst hot air balloons drift by.
Hinterland Retreat
Gisborne
When googling the meaning of 'hinterlands' you're likely to find wording similar to 'an area away from riverbanks or the coast'. It also turns out they exist independently of bad vibes, negative energy or anything down buzz. Take for example, Hinterland Retreat, where you can be one of the first people in the world to watch the sun rise over the Pacific Ocean from your gorgeous, glamping style accommodation. Set your sights on the east coast where you can take in sprawling views of farmland and the distant ocean, cook under the stars with the outdoor kitchen, or be one with the elements with the best outdoor bath of your life.
Lake End Retreat
Taranaki
Live as the environmentally-conscious hobbits did in the unique Lake End Retreat which takes its cues from Middle Earth. Built into the side of a hill in Hurworth, it's surrounded by bush and natural wetlands which boasts over 35 species of birds, with their songs as your playlist. Special attention is taken to make this home as eco-friendly as possible, and it features both a composting toilet and an outdoor bath/shower which runs off a grey-water system. Extra points for the continental breakfast.
Beachfront Tiny House
Bay of Islands
Whilst the moniker of this tiny home could do with a bit of creative flair, what you see is what you get—a property that is so beach-front that any sudden movements will put your footsteps in the sands of Pukehina Beach. If you enjoy a spot of fishing or prefer to chill in the normal-house-sized spa, Beachfront Tiny House has everything you need for the ultimate oceanside holiday, whatever that looks like to you.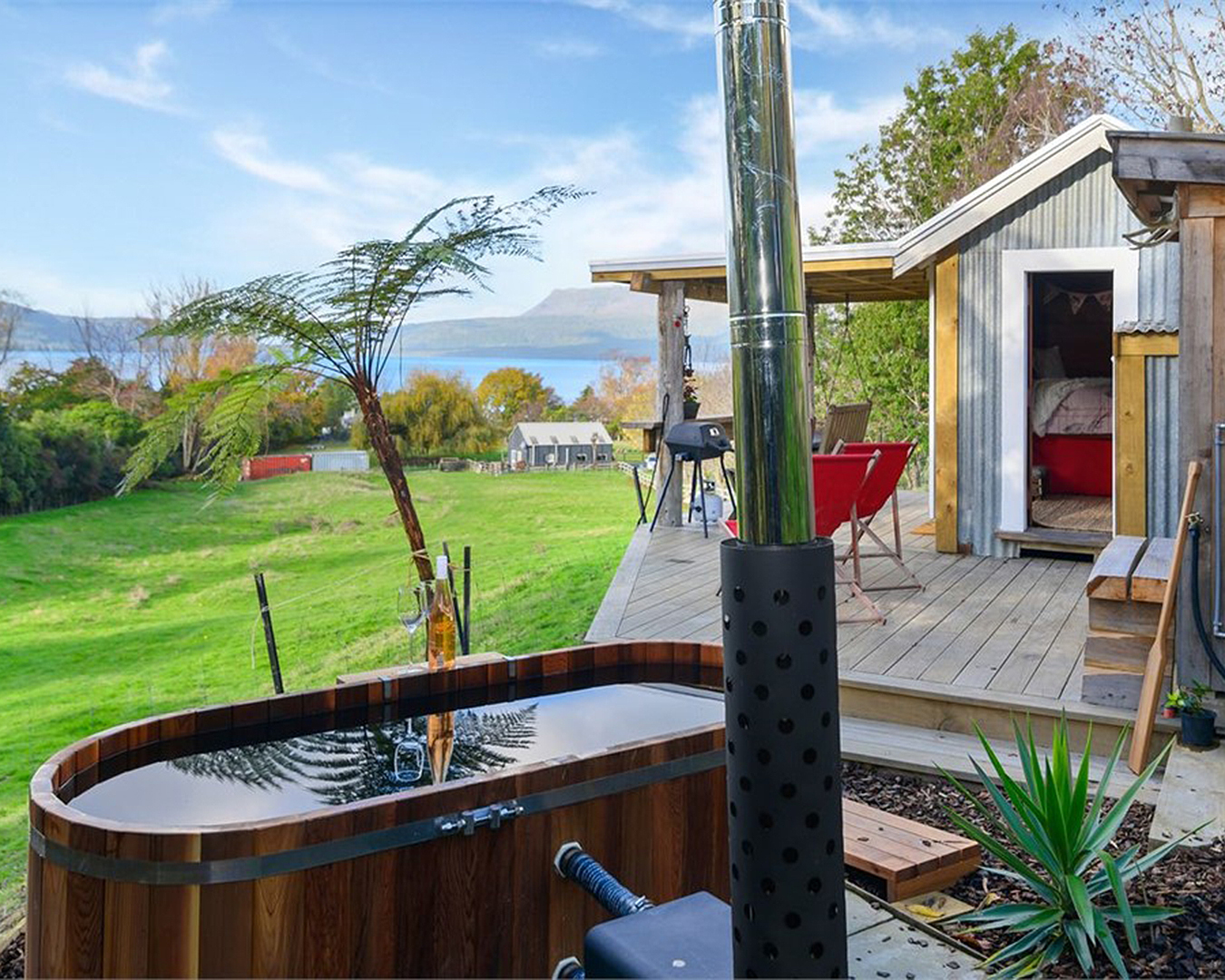 Shepherd's Hut Lake Views
Lake Tarawera, Bay of Plenty
Calling all lovers, Taurus', hedonists and professional relaxers. For the ultimate, tiny bush adventure, look no further than Shepherd's Hut Lake Views. This tiny bush side paradise sits amongst rolling hills and a ponga tree forest, with cute views of Lake Tarawera and the mountains in the distance from the comfort of your very own outside tub. Other perks include a teeny, tiny indoor fireplace, a bbq and of course, bath salts.
Blue Riverview Tiny House
Queensberry, Otago
It's got a view of the blue Clutha river, which seems to be the inspiration behind this tiny Otago delight. Blue Riverview Tiny House is all but taking advantage of the gorgeous countryside and aforementioned Clutha river, featuring massive open windows provide sweeping views of all there is to see. Sleeping two people, if privacy is your thing, then you'll be positively stoked with the location, as there doesn't seem to be another soul in sight. For those wanting to make their Kiwi holiday as patriotic as possible, this tiny home also comes complete with an All Blacks decal-ed mini fridge.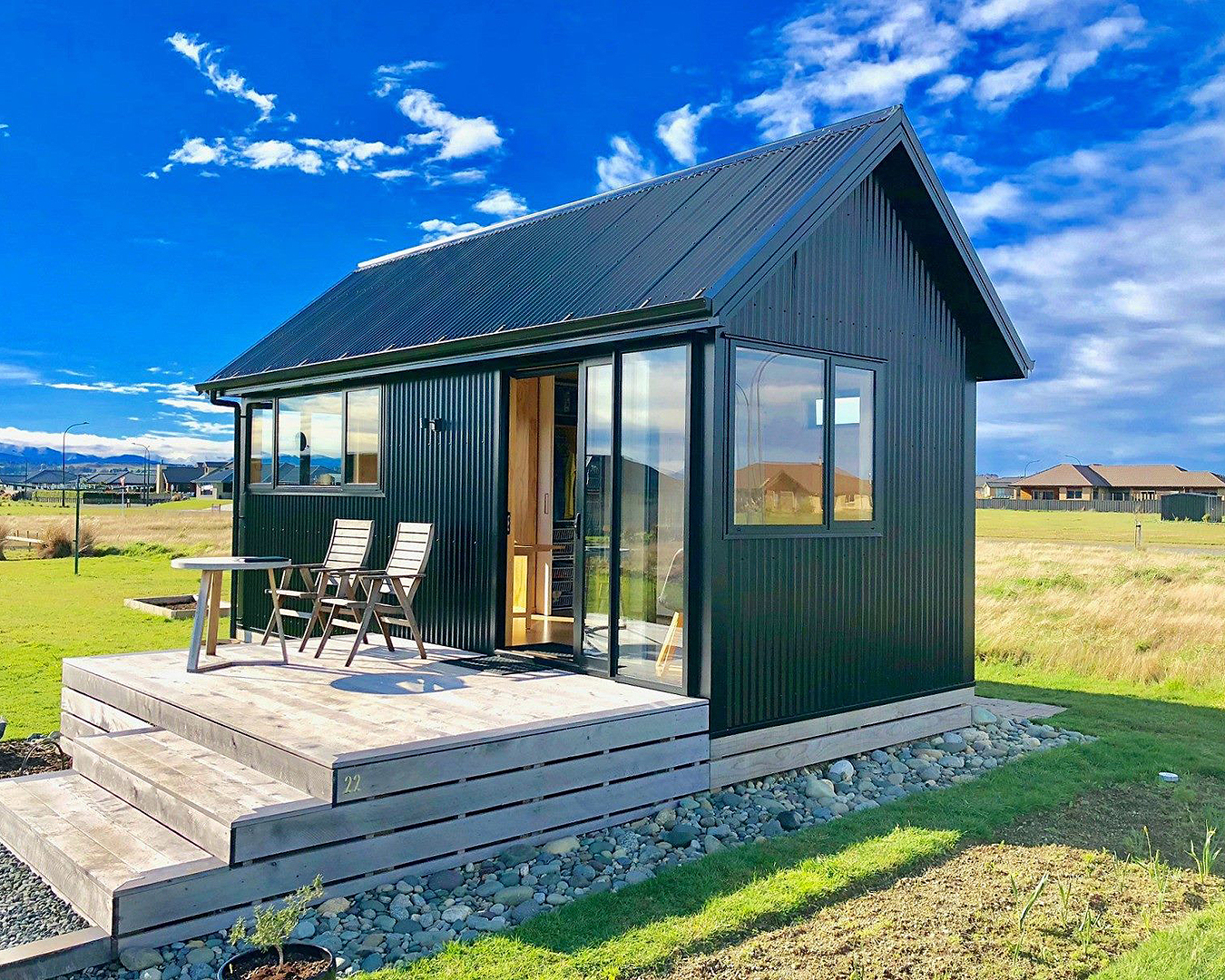 Takahē Nest
Te Anau, Southland, New Zealand
We're all about applying conscientious living to all parts of our life, which is what makes Takahē Nest in Te Anau so perfect. Park right up at the doorstep on NZ's South West World Heritage Area—Fiordland National Park. When it comes to holidaying, you either fall into two camps. There are the relaxers, and the active relaxers, so if you fall into the latter, you're only a hop, skip and a jump away from the lake reserve or bike tracks, with plenty of scenery to take in. This tiny home was named for the recently thought extinct flightless bird, the Takahē which was rediscovered in the same mountains your kitchen window looks out onto. We think that's pretty freakin' cool.
Seaside Studio
Otago
Anyone up for a change of scene? Why else would you be reading this article. How about swapping big city life in exchange for a wonderful, tiny, beachside escape. This adorable little studio is set up in the property's 'beach garden', complete with a track which takes you down to the sweeping sands and rolling waves of the east coast's Ocean View Beach. Perhaps best suited for quicker getaways (one—two night stays), Seaside Studio has limited cooking facilities, it's noted that there is an epic fish and chip shop up the road which should cater for everything one Kiwi getaway could ever need.
Kokako Lodge
Whanganui, Manawatu
After living life in the tiny lane, you'll want to forgo big flashy holidays in favour of this cozy, rustic pads such as these. You'll feel like you're part of the community once you set foot in Kokako Lodge, with local artists work lining the walls and welcoming you to your stay at Whanganui. Your palace comes in the form of a seperate abode that sits on the owners' one-acre property and has everything needed for you, your boo or if you want to take a couple more people along for the ride, there is plenty of space for them too. A stones throw away from the city (not literally, but it is close — around five minutes drive) and the Whanganui river walking track.
Fancy taking your holiday on the road? Check out the best campervans to hire right here.
Image credit: Airbnb
Editor's note: Urban List editors independently select and write about stuff we love and think you'll like too. Urban List has affiliate partnerships, so we get revenue from your purchase.