The Tiny Home movement has taken the world (and our hearts) by storm with the idea of living with less as more, and we reckon the same philosophy applies to the sacred weekend getaway.
We've scoured Airbnb from the top of Aotearoa all the way down for a collection of small spaces with big ambitious plans for your rest and relaxation. Check out of work and into a tiny vacay—small in size, big on adventure, indulgence and memories.
Pisa Cabin On A Hill
Bendigo, Otago
If you're anything like us, you regularly dream of getaways to wine country, so this cabin on a hill should be top of your list for your next wine-filled weekend. The striking architectural cabin boasts a super comfy bed, doors that open wide to take in the fresh countryside air, and an outdoor tub, as well as incredible after-dark views sans light pollution (you might even glimpse the Southern Lights). Basic food prep essentials are provided, but it's recommended that you head to one of the nearby restaurants for your meals—not that you need the excuse to try some of the exceptional cuisine in the area. Surrounded by working vineyards, there's no shortage of spots to visit nearby, either.
Off Grid Arohanui Cabins
Mangawhai, Northland
Need to unwind, stat? Gazing into stunning native bush and farmland at Arohanui Cabins is guaranteed to do the job. Bathed in sunshine and happiness, the eco-conscious Arohanui Cabins can cosily fit four people, making it a great spot to bring your crew or the family to enjoy the rope swing, outdoor pizza oven and solar-powered, open-air bathhouse. While you'll feel totally isolated, Mangawhai village is just a five-minute drive away for any essentials.
Repose x Lepperton Farm Stay
Waiongana, Taranaki
If backcountry adventure meets luxury vacay sounds like a bit of you, you'll fall in love with Repose's stunning cabin in Lepperton. Designed for those after some peace and quiet, this charming abode has everything you need to get rugged up and chilled out. Completely solar-powered, the cabin will whisk you away from the hustle and bustle without having to sacrifice an ounce of modern comfort. This cosy stay boasts an indulgent rain shower, a steamy outdoor tub, and a stoked wood burner to keep you nice and toasty (we'll be keeping this in mind for our next mid-winter getaway). Top it all off with a mesmerising view of mighty Mount Taranaki and you're in for an unforgettable escape to the pastures—Repose style.
Historic Hilltop Hideaway
Sheffield, Canterbury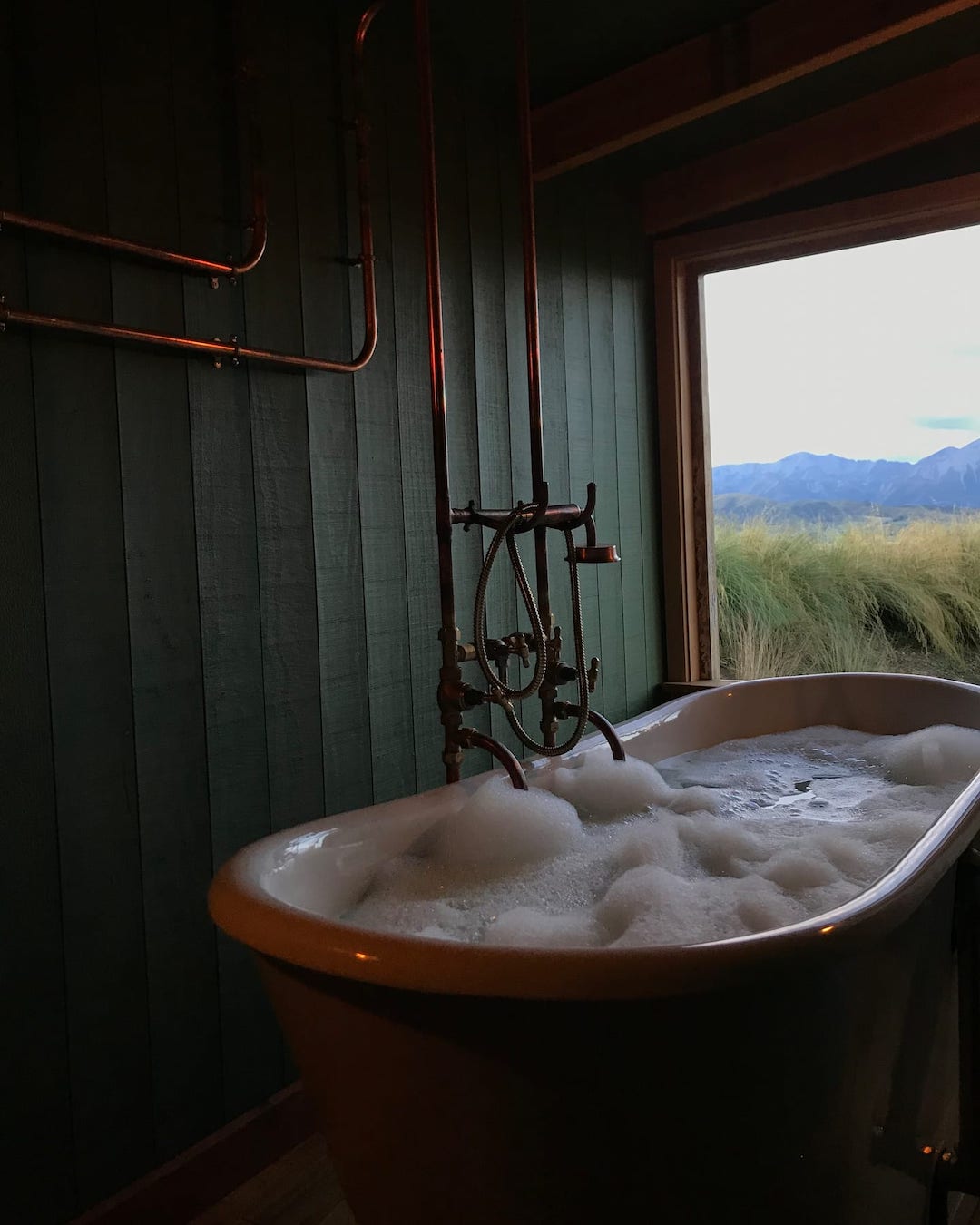 Christened "The Musterer & Me" as a nod to its historic use by wandering stockmen, this secluded, romantic spot is the perfect place to live out your old-fashioned, off-the-grid fantasies, and comes complete with a deep indoor/outdoor bathtub, wood-burning stove and cosy dining nook. You can always duck out to the two pubs and bakery a quick ten-minute drive away but, really, why would you when staying in looks this inviting?
Kiwi Chalet
Lake Hayes, Otago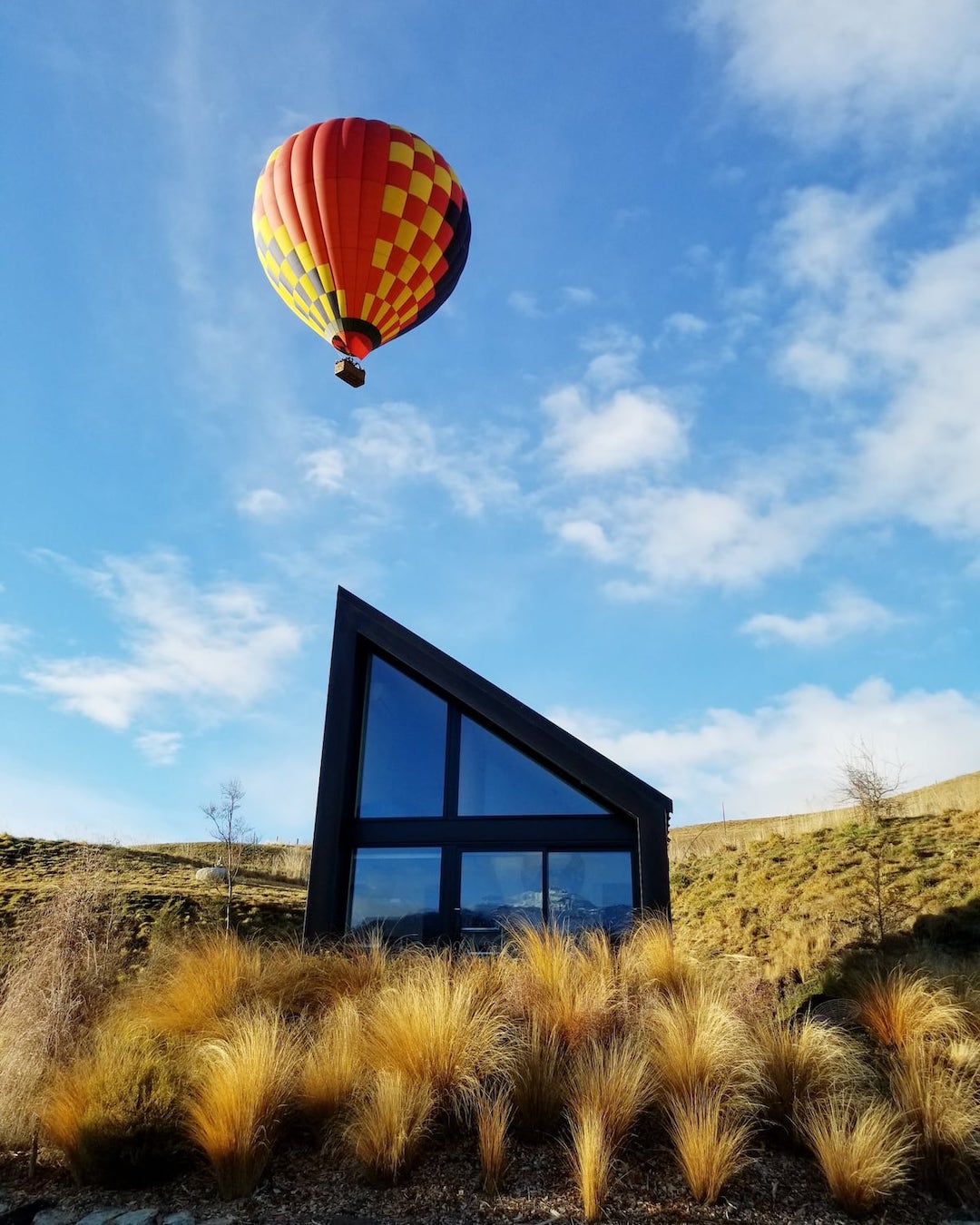 If you need to scratch the itch for some Swiss Alps-style relaxation, we have the next best thing in the form of this Otago tiny home experience: the Kiwi Chalet. Shacked up near picturesque Arrowtown, it's perfectly placed for winter sport aficionados with the Coronet Peak ski fields close by. Unfortunately for you, there's a big chance you won't actually want to leave this tiny paradise, thanks to the floor-to-ceiling double-glazed windows, incredible views of passing hot air balloons and scenery, and full kitchenette making it very easy to check in... and then stay in.
Hinterland Retreat
Gisborne
Seize the day, literally, at Hinterland Retreat, where you can be one of the first people in the world to watch the sunrise over the Pacific Ocean from your gorgeous, glamping-style accommodation. You'll take in sprawling views of farmland and the distant ocean, cook under the stars in the outdoor kitchen, and be one with the elements with the best outdoor bath of your life under the native bush. You're a five-minute drive to an incredible white sandy beach, and the town's just ten minutes in the other direction.
Raglan LoveBus With Outdoor Bath
Raglan, Waikato
A bus counts as a tiny house, right? This unique off-the-grid accommodation is set in a field on 35 acres with an expansive view of the coast and ocean, an outdoor bath on the deck, and a fire pit to toast marshmallows—so it's basically the perfect cosy, romantic getaway. The Raglan LoveBus' fully equipped kitchen, super comfy interiors (yes, in the bus) and surrounding serenity will have you thinking about going off-grid permanently...
Blue Riverview Tiny House
Queensberry, Otago
The incredible outlook over the Clutha River is what will draw you into the Blue Riverview Tiny House, but there's plenty to explore once you're tucked up inside. With room for two in the cleverly designed space, you're set up with everything you need for a romantic getaway within 20 minutes of the bustling Wanaka or Cromwell.
Omaka Valley Hut
Hawkesbury, Marlborough
Put aside any preconceptions you have around the word hut: this stunning stay-cay spot in Marlborough ticks every box for luxury, privacy and sustainability. The off-the-grid hut is located on a working farm and comes with a gorgeous outdoor bath, sweeping views overlooking farmland, vineyards and the southern valleys, and proximity to some epic wineries and the Marlborough Sounds.
Alpine Cubes NZ
Ben Ohau, Canterbury
For a stay surrounded by truly striking wilderness, the Alpine Cubes are a must-book. Located on the edge of the Southern Alps, the 50-square-metre, modern cabins offer incredible stargazing, a wood-fired hot tub, and all the amenities you'll need for a comfy stay. There's plenty to do nearby, especially for the outdoorsy types, and the town of Twizel is a 15-minute drive away for any essentials when you feel like reconnecting with the rest of the world.
Luxury Secluded Wanaka Escape
Luggate, Otago
If there are two things that go hand in hand, it's tiny houses and epic bathtubs. This converted container getaway nestled amongst native kānuka trees is big on the relaxing vibes, in large part thanks to the awesome stone bath that's perched on the deck, ready for some stargazing. An easy 15-minute drive to Wanaka, this stay is perfect for a little peace and quiet while still being close to the action.
Maungatapere Magic
Whangārei, Northland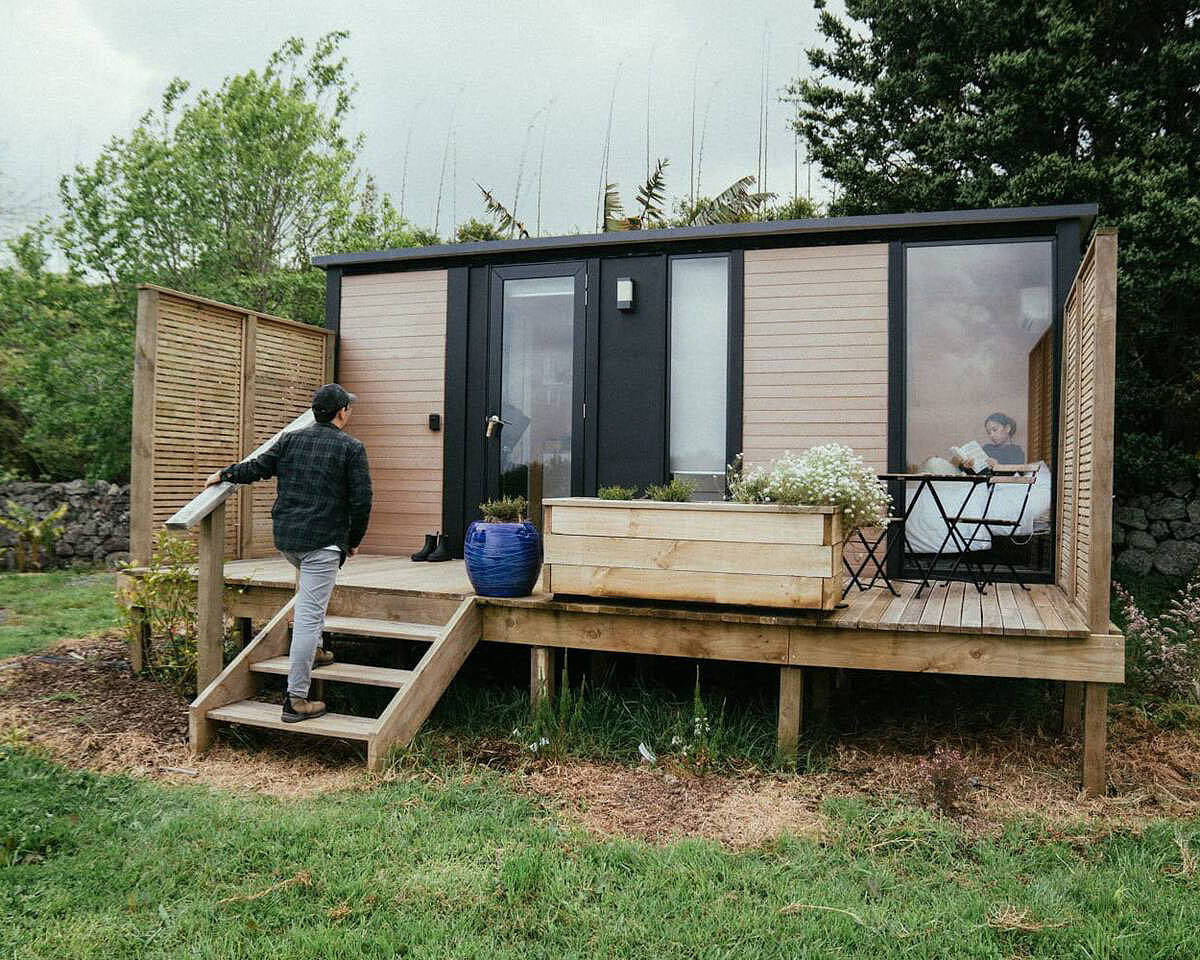 Had enough of the hustle 'n' bustle of life? Then this little farm stay could be for you. Nestled amongst avocado trees and native bushlands, this cosy gem is the perfect spot to kick your feet up and recharge. This eco-friendly, pet-friendly tiny home is great for a peaceful weekend away with some of Northland's best trails and beaches at your fingertips. Enjoy the company of the farms' wildlife or hop on a mushroom and avocado orchard tour just next door. Imagine admiring the beaut orchard views while whipping up the freshest mushrooms or avo toast you've ever had… Doesn't get much better than that.
Forest Hill Farm
Herbert, Otago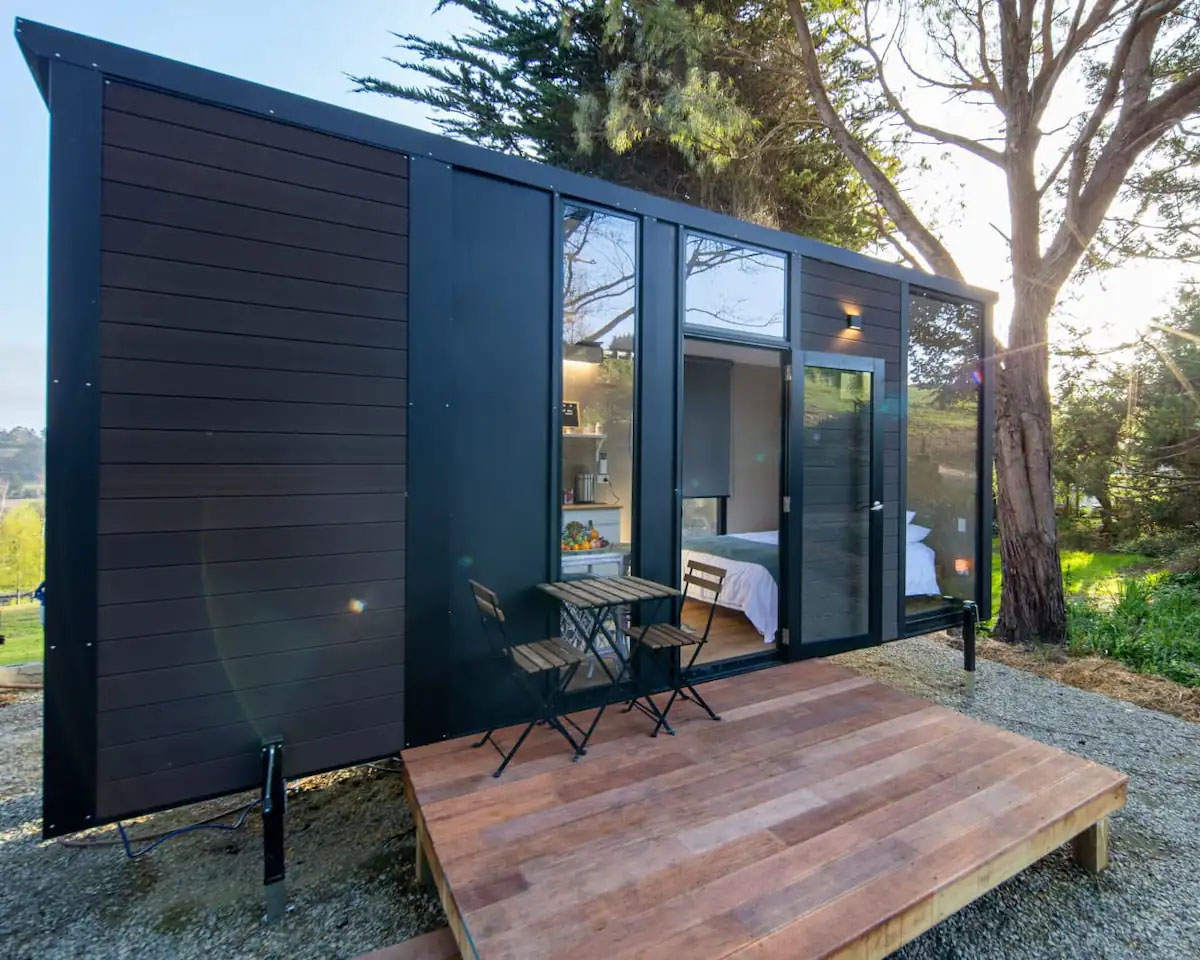 Woods, open fields, fresh air, cows and miniature ponies. The combo you didn't know you needed for your next beautiful tiny home getaway in North Otago. This eco-friendly stay is a great spot for day trips out, taking in the grandeur of Otago's landscapes. Drive just 20 minutes and check out the world's smallest penguins in Oamaru or fascinate over the natural wonders of the Moeraki Boulders before snuggling up in the comfiest bed ever (you can be the judge of that).
Pacific View
Leithfield, Canterbury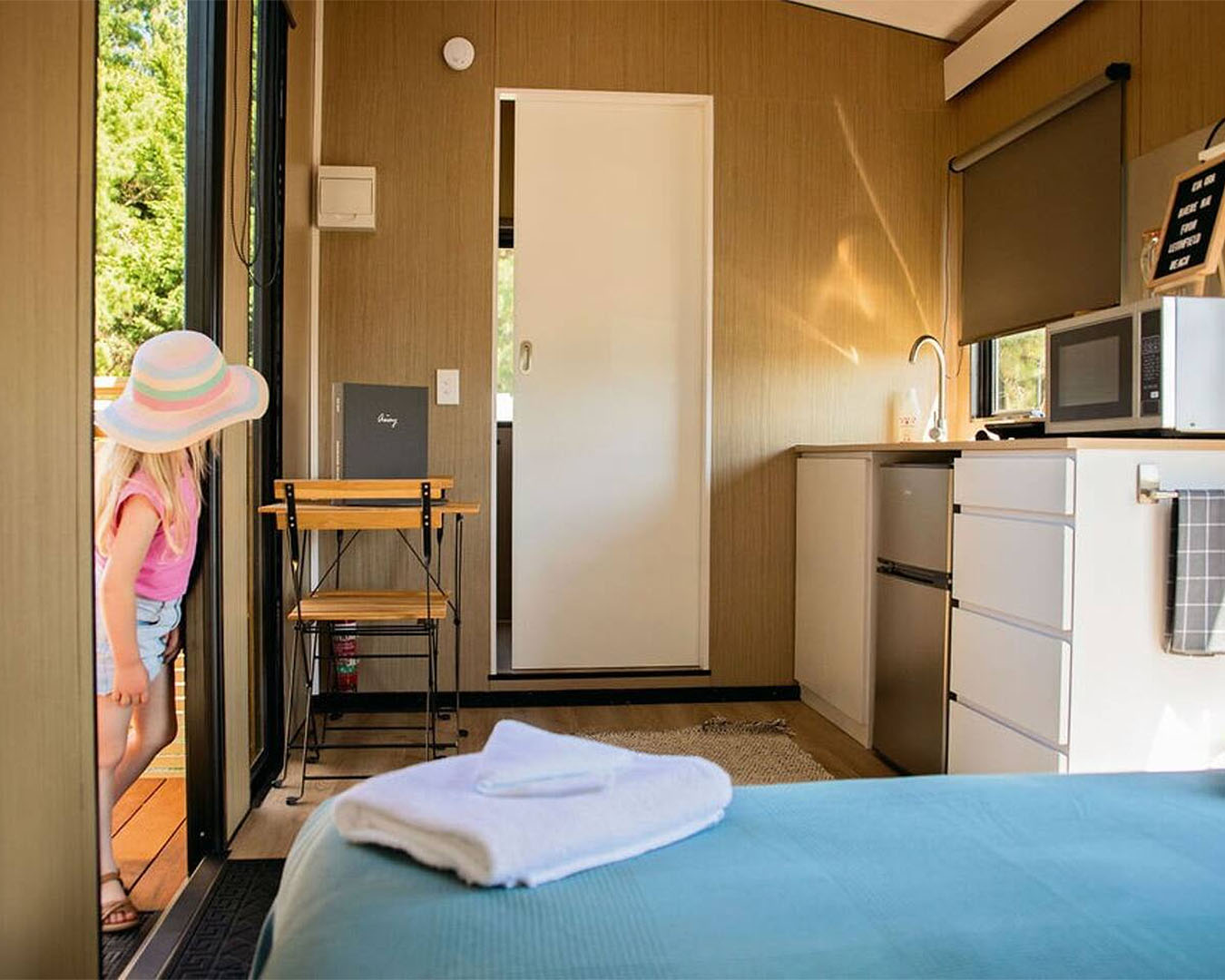 Sea view sunsets, beach strolls and campfires. If that sounds like a bit of you, then you'll love this stay at Leithfield Beach Holiday Park. Nestled on an elevated flat, this tiny home overlooks the marram grass-covered dunes drawing you towards the pebbly beach. The perfect wee escape for you, your person, or even your pup. And if you feel like venturing outside of your tiny paradise, there's plenty to explore from the Kowai Riverwalk, Weka Pass Railway and the Waipara Hills Winery close by.
Mighty Tiny House
Pepepe, Waikato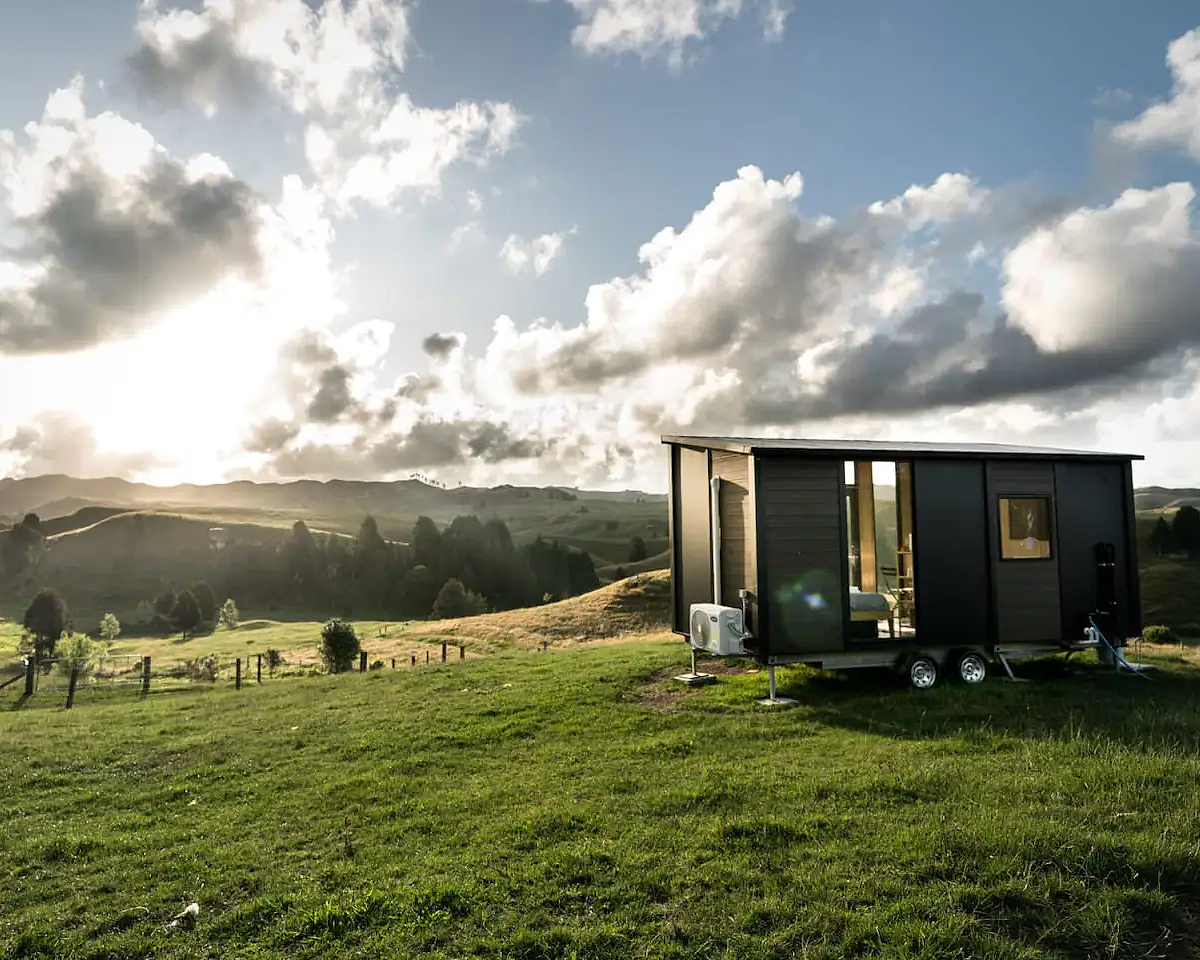 In need of a relaxing escape not too far outta Auckland...? Then the Mighty Tiny House has got you covered. Perched atop a small "Highlands Cattle Farm", this tiny cosy cabin promises ultimate serenity with breathtaking farm views and cute animals to keep ya company. This is the perfect spot to kick back, relax, recharge and enjoy a tranquil weekend away- doing nothing but sleeping under the starry night skies while listening to nature's sounds. Or, unleash your inner tourist and explore the attractions nearby such as Waitomo Caves, Raglan Beach, Marokopa Falls Walk and the Hobbit Village Tours. What a treat.
Escape the cold and check into the best Airbnbs in Fiji, Bali or The Cook Islands.
Image credit: Airbnb.
Editor's note: Urban List editors independently select and write about stuff we love and think you'll like too. Urban List has affiliate partnerships, so we get revenue from your purchase.