You've probably heard that the gut is the second brain, or that you are what you eat. If you're wondering how to approach healthier eating, look no further. The Two Raw sisters are here to help with cookbooks that'll have you making easy, cost-effective plant based dishes.
If that sounds overwhelming, fair enough. You might be wondering—how does plant based eating work? What do you mean by raw food? Will it taste nice? Will I realistically be able to incorporate this into my busy life? These are common questions, which we'd actually like the answers to ourselves, so we had a chat with Rosa and Margo from to shed some light on how eating right is easier than you think.
We've mentioned a couple of common concerns like flavour and time, but what are some of the other misconceptions around plant-based and raw food eating?
We think the biggest one is a lot of the time we are made to believe healthy plant-based eating is expensive due to all the exotic superfood powders and ingredients people have never even heard of before. That instantly puts it in the too hard basket. People forget about all of the ingredients they already have in their pantries at home and have been using for years. The likes of oats, canned legumes, almonds, pumpkin seeds, broccoli, cauliflower, beetroot, potatoes etc—these are all healthy, whole, raw, unprocessed plant-based ingredients that are as cheap as chips! That's why we take these ingredients people are already familiar with and have used many times before but simply inspire them with new, inventive, delicious ways on how they can cook them.
What criteria do you keep in mind when you are testing out recipes to make sure they're doable for busy lives and that cost isn't a barrier?
For us it is really important that every recipe is super flexible. We want people to be able to look at one of our recipes and know that the ingredients can be easily swapped and changed in and out depending on what they already have at home, what's in season and their personal taste preference. This saves time and money not having to go to the supermarket and buying unnecessary ingredients. And of course it has to taste delicious!
What do you mean by raw food and how do you keep the recipes tasty? Do you have any examples of desserts or anything unexpected that'll surprise people with conceptions around healthy food in your recipe books?
By 'raw' we mean using whole, raw and unprocessed ingredients, just none of the packaged crap. So yes, we do cook things! Desserts are our favourite and we blow people away with just how good plant-based whole food desserts really taste. Healthy desserts get a bad rap of being difficult, expensive and time-consuming. The Two Raw Sisters desserts in all of our cookbooks are the total opposite of that. All recipes use little-to-no nuts, have a maximum soaking time of 10 minutes and are instant, or if not take a maximum of three hours to set compared to 12 hours.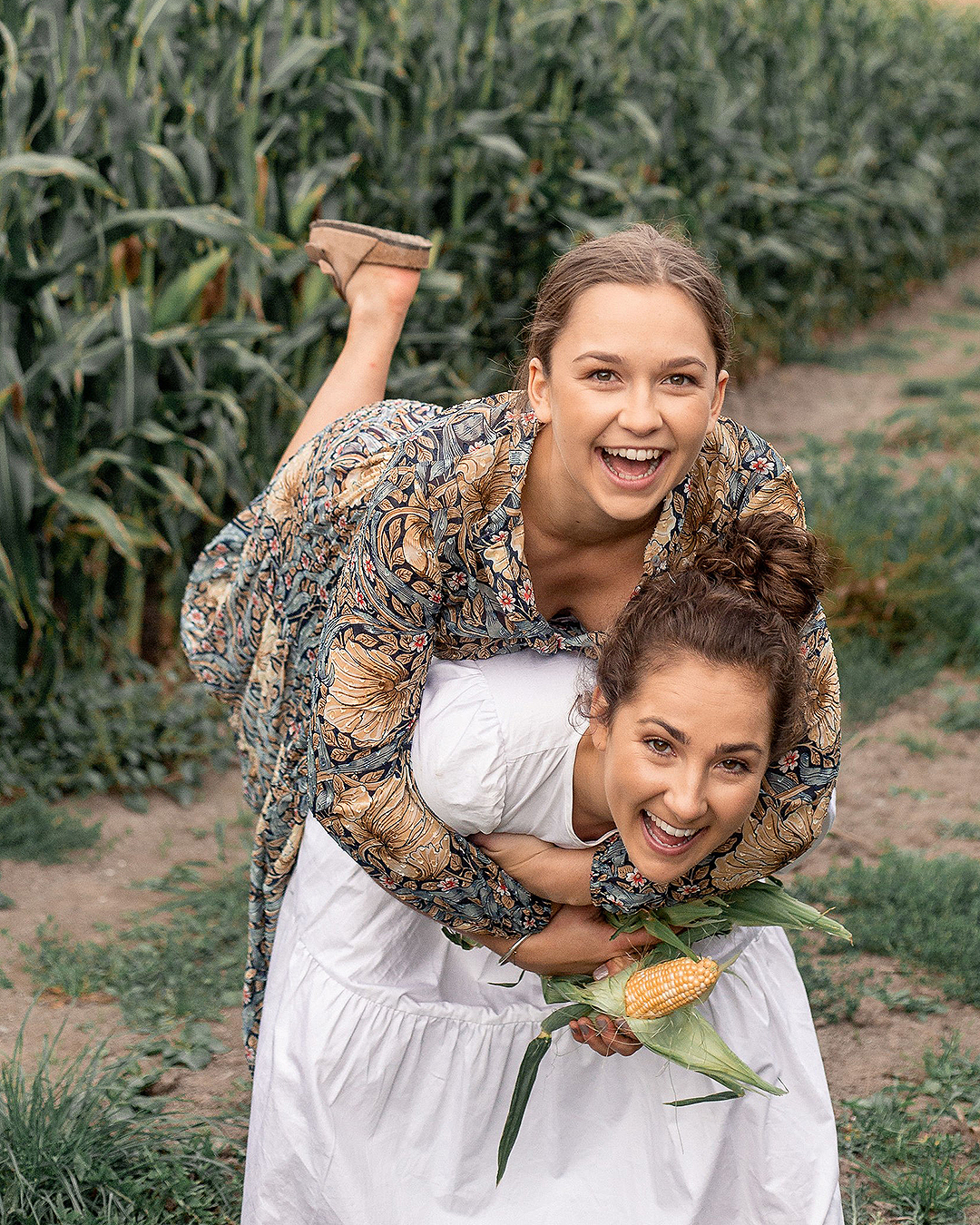 How did you initially get Two Raw Sisters off the ground?
Like most businesses, Two Raw Sisters has had our share of failures, missteps and successes to get to where we are today. However, the main thing that really kicked us off and got us to start Two Raw Sisters was when we went to America to do a plant-based culinary school. While we were there, we helped out with cooking workshops to the public. We loved the idea, and when we were on our way home at LA airport, we rang mum and asked her to get a group of girls together back home, because we wanted to do a workshop that weekend. The rest is history.
What's one of the biggest hurdles you've overcome on your business journey?
About one and a half years into Two Raw Sisters we were getting to a point where we were working 15 hour days, seven days a week and things needed to change as we had no work/life balance. We had to decide what parts of the business we had to let go of and what parts we loved the most and saw the best future and growth in.
What's one piece of advice you'd give to young entrepreneurs starting out?
What we learnt is that you can't please everyone and give everyone what they want. When you start your own business, you will do anything to please everyone—resulting in your business being diluted by doing too many things and covering too many bases. For the extra time and effort we were putting into these people and projects, we realised it just wasn't worth it. It is literally impossible to please every single person. You have to focus your energy, time and money on the people that support and love what you do and ones who will continue to be a loyal customer and supporter of your brand. You also need a great team around you who have your back.
What's it like working together as sisters?
Probably the #1 question that we always get asked haha! It actually works so well. Our strengths are each other's weaknesses, and we have very separate roles within the business, which is why we think we work so well together. Margo does all the graphics, photography, marketing, design, website etc., and Rosa does all the workshop development, recipe development and is the all-round organiser.
So you're going on a tour to launch your next book, All Eaters Welcome. This sounds pretty cool, what will people get to do at your workshops?
Our workshops are super casual, there are lots of laughs, wine and food involved. Not what you would think a typical cooking class would be like. People get to hang with us and we give out heaps of our favourite tips and tricks, like best pieces of kitchen equipment and places to shop. Our favourite part is inspiring people around how to substitute ingredients and have the ability to change any recipe depending on the season or what they have at home.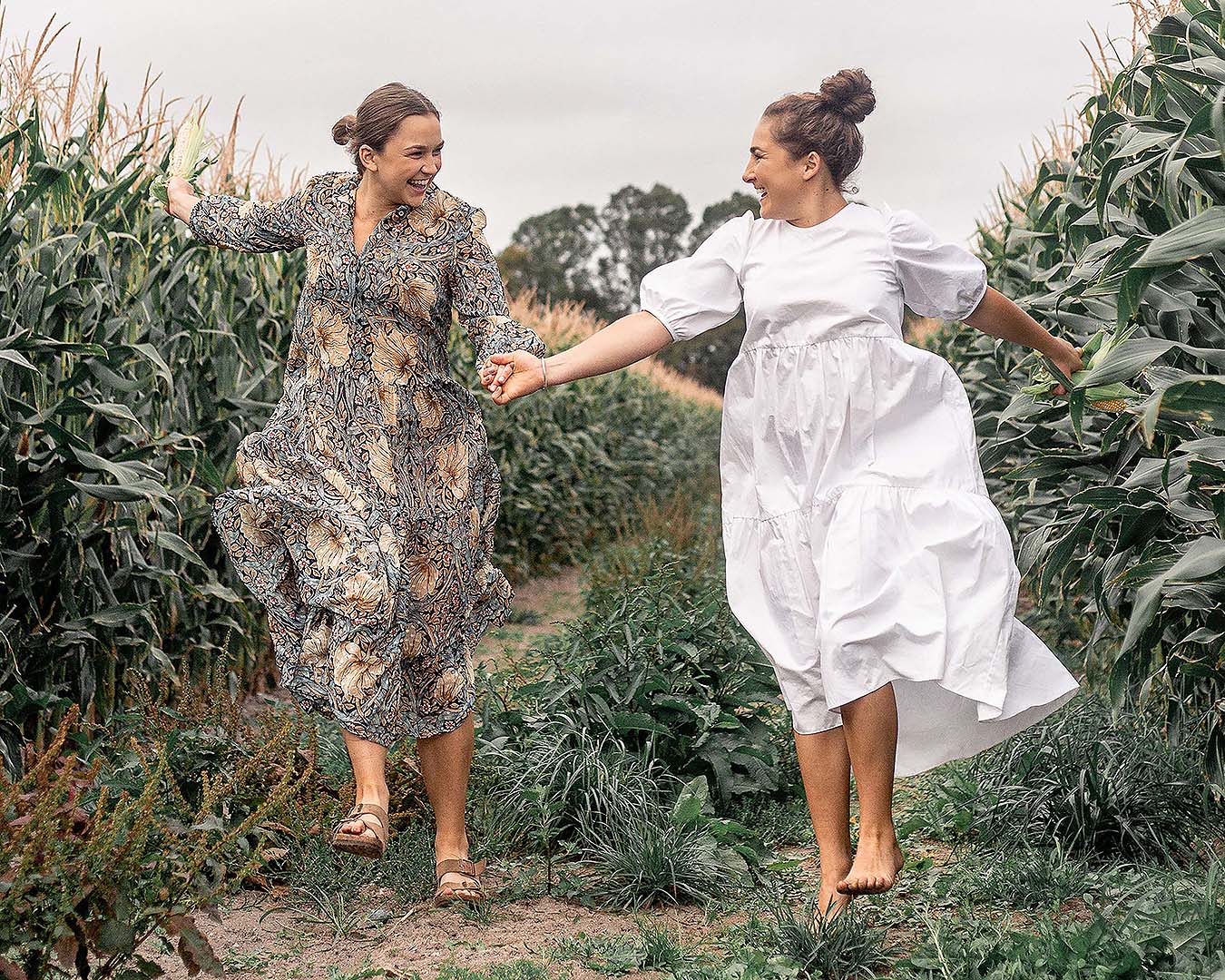 What can people expect from your new cookbook?
Rosa and I aren't vegan or vegetarian ourselves so we wanted to also cater for people like us as well as people who are fully plant-based. Therefore, whilst the book contains only plant-based recipes we have recommendations for meat, fish, dairy or poultry additions have been added to most main recipes if you choose to eat these foods. Taking feedback from cookbook one, All Eaters Welcome has more salad recipes that can be used for entertaining, easy weeknight meals, or portable work lunches.
Every recipe lasts at least three days. We don't like being in the kitchen three times a day seven days a week and we know others don't either. These recipes will help you be more efficient with your time when it comes to cooking and food. We also have cook and preparation times for every recipe so it is incredibly easy for you to choose a recipe depending on how little or much time you have.
What's been your biggest pinch-me moment in your careers?
When our latest book, All Eaters Welcome, was released on pre-order we sold over 6,500 books in less than 2 weeks, double our first book. The overall expectations for our first book were around 400, and we ended up selling over 15,000. We are really bad at recognising our achievements, so this made us realise how much we have grown in a year.
What's next for you both and Two Raw Sisters?
Two Raw Sisters has so many exciting, different projects about to be launched. Obviously our second cookbook, All Eaters Welcome, is OUT NOW. Go get your copy! Since we stopped catering, we consistently get asked where people can buy our salads and sweet treats. So, we're currently working on an amazing plan that means you just might find our delicious salads in your favourite supermarkets in New Zealand, and some of our sweet treats in Australia soon. Watch this space! We also have exciting digital opportunities in the works at the moment, so keep an eye out for that over the next year six-eight months.
Don't fancy cooking tonight? Check out Auckland's best vegan eateries.
Image credit: Malia Rose Photography