Forget everything you thought you knew about vegan food. Far from its can-o'-chickpea origins, vegan fare is now unapologetically delicious. Good for you and for the planet, there's no shortage of plant-based eateries in Tāmaki Makaurau and they're packed with mouth-watering dishes to woo your tastebuds, no matter where you fall on the spectrum of herbivore to carnivore. Although, if you do identify as the latter watch out, your head might just be turned (and you'll be totally stoked that it did).
Here are the best vegan eateries in Auckland, from restaurants and cafes to where to find the tastiest desserts, pastries and sweet treats.
Best Vegan And Vegan-Friendly Restaurants In Auckland

Khu Khu Eatery
PONSONBY
Exotic Asian flavours in big, bold, boisterous dishes await you at Khu Khu, where each bite leaves your palate yearning for more. Mock meats a-plenty, but done frickin' well. This is not your sad vegan lunch of the '90s.
Burgernaut
Morningside
One of the coolest joints in the city and, hands down, one of the best vegan restaurants in Tāmaki Makaurau, Burgernaut dials out finger-lickin' vegan smashed patties and loaded fries with the works. It's a near-religious experience.
Hello Beasty
Viaduct
Contemporary Aotearoan blends with Japanese, Korean and Chinese cuisines at Hello Beasty in a fusion that screams get in my mouth, stat. Many of the dishes on the plant-based menu—like mung bean pancakes, Korean fried cauliflower and BBQ corn ribs—can be made vegan on request. Score.
Java
Karangahape Road
Showcasing Indonesian cuisine, Java is a vegan wonderland with a plant-based spin on traditional meals like satay gado gado, sweet soy tempeh, and crispy vegetable fritter platters (there is a god). If you manage to save room for dessert, dig into their "cendol" a traditional sweet finish that's utterly gorgeous.
Wise Boys
Grey Lynn & Commercial Bay
Promising "a one-stop shop for a face full of indulgent plant-based burger goodness" you can't go wrong with a burg' from Wise Boys. Do get the vegan aioli. It's practically transcendental.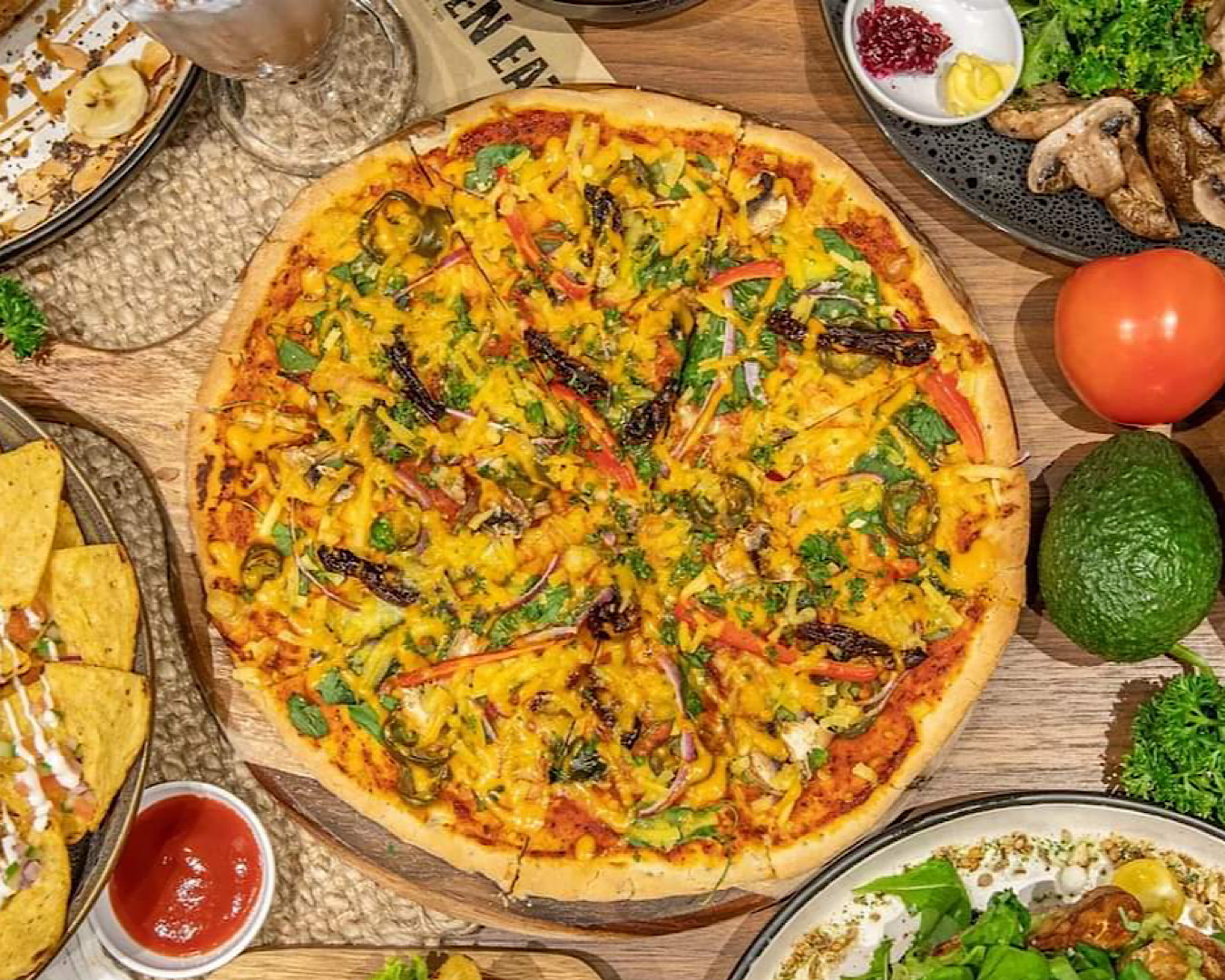 Gorilla Kitchen
Eden Terrace
There's loads to stick your fork into at Gorilla Kitchen—from 'cheesy' nachos to epic salads, waffles and burgers that are totally boss—but the real star of the menu, in our humble opinion, is the fried cauliflower wings. If you're looking for vegan crack, you just found it.
The Butcher's Son
Herne Bay
Boasting monster burgers in 'Beyond Cheese', 'Sunfed Chicken' or falafel, with a hefty serving of kumara or spud fries, The Butcher's Son has got your back when the hungry beast within needs to be fed. Wash it down with a tipple from their vegan wine list, for good measure.
East
Sudima Hotel
75% of East's menu is vegan and with a team of chefs specialising in cuisine from Japan, Hong Kong, China, Thailand, India and Sri Lanka, you know this nosh is going to be mighty fine indeed. Think sticky jackfruit bao, gochujang cauliflower and typhoon shelter fried rice.
Gemmayze Street
Karangahape Road
No one does Lebanese cuisine better than Gemmayze Street—fact. Tucked into the back of St Kevin's Arcade it's one of the best vegan-friendly eateries around. Feast on everything from kūmara pide with za'atar and braised beetroot, to smokey aubergine babaganouj and falafel for days.
Bali Nights
Ponsonby
Like it's sister restaurant, Java, Bali Nights makes a great choice for a vegan night out. Choose from a massive array of vegan dishes including vegetable fritters, Javanese salad, jackfruit rendang curry and, of course, the full heat range of sambal chilli sauces.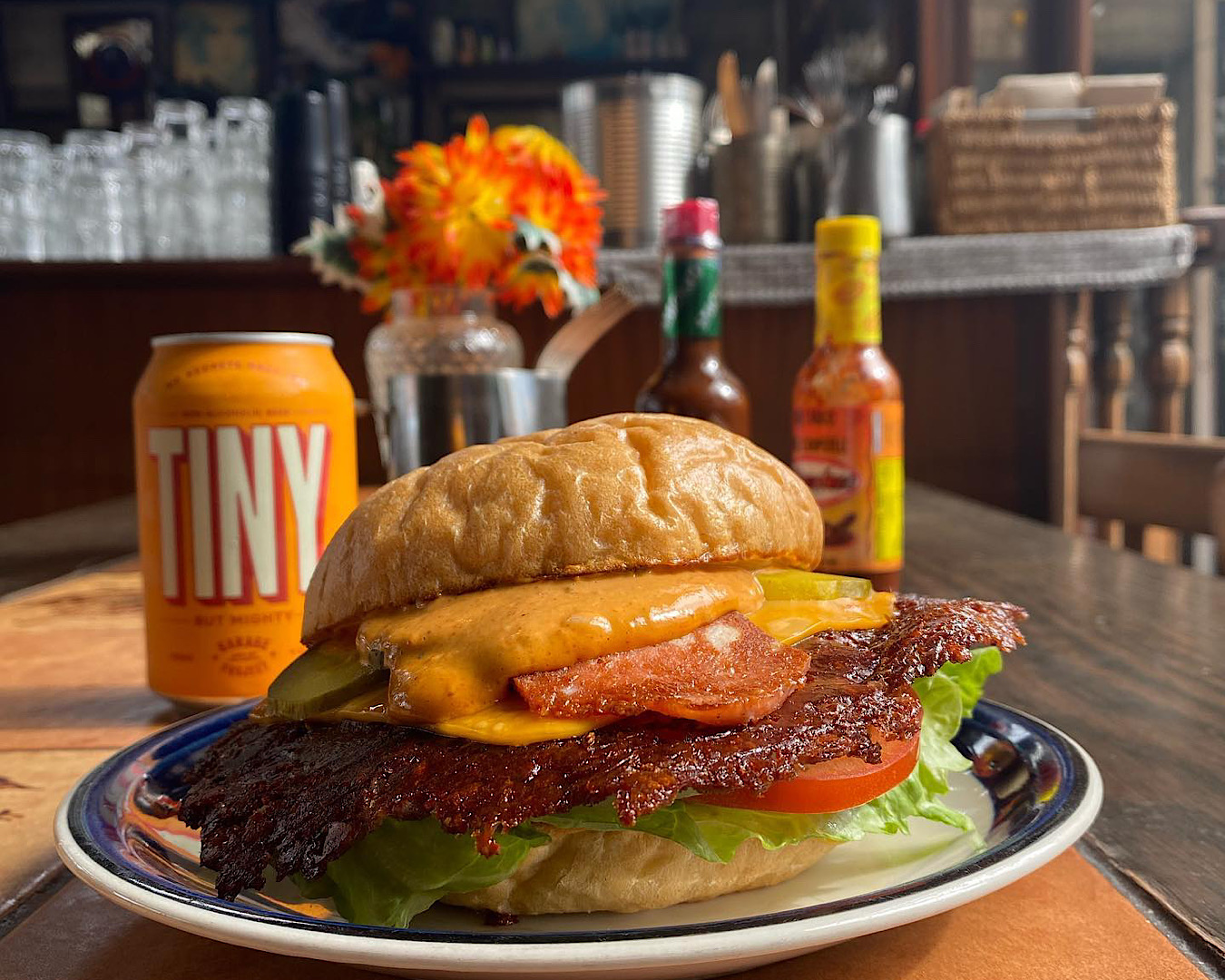 Ralph's Bar And Eatery
Dominion Road
A bit of a Dom Road institution, the crew at Ralph's aren't messing around when it comes to serving a seriously punchy burger. American-style and complete with curly or straight-cut fries, their Veggie Mac can be made vegan on request and it's a 100% must-try.
Sunflower Thai Restaurant
Auckland CBD
A cheap and cheerful vegan twist on traditional Thai dishes, Sunflower Thai Restaurant whips up delights like zesty green curry, dumplings, and crispy fried 'chicken' all which live up to their flavourful roots, minus the animal products. Rejoice.
Mezze Bar
Auckland CBD
If you're yet to venture into Mezze Bar, you should bump it to the top of your list. Serving lip-smackingly good mezze, dips and more, this Mediterranean restaurant is one of Auckland's best and plant-based diners will not be disappointed thanks to a totally separate (but no less deliciou) vegan menu.
Coco's Cantina
Karangahape Road
Vegan Italian food exists, this is not a drill. Enter Coco's Cantina where you can score yourself a bowlful of pasta pomodoro for just fifteen bucks as part of their famed Happy Hour. All their sides and salads are vegan and they also do a wicked pepperonata pasta and vegan margherita pizza. Hot damn.
Best Vegan And Vegan-Friendly Cafes In Auckland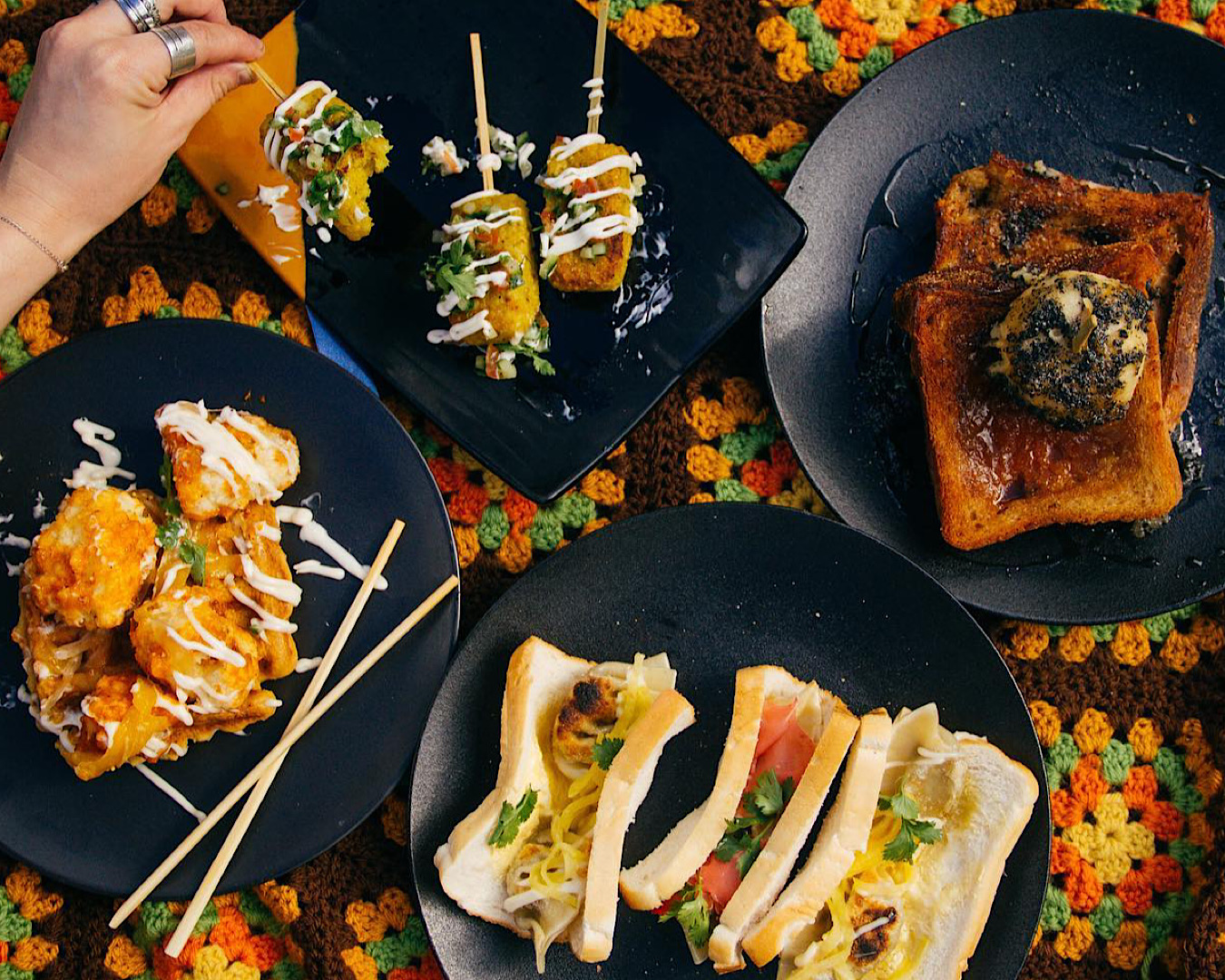 Fat Kitty Cafe
Dominion Road
There aren't enough words to describe just how head-over-heels we are with Fat Kitty Cafe. This queer owned and operated cafe serves pan Asian-fusion cuisine that you'll want to shove in your face over and over again. We're obsessed with their Fat Hashbrown with torched vegan mozzarella cheese…. that and their showstopping chai.
Mimosa
Takapuna
A cosy spot for plant-based foodies, Mimosa serves organic, fair trade, eco-friendly realness in the form of dishes like French Toast, tan tan noodles, and mushroom crepes. Mimosa's cabinet game is also hella strong with an array of vegan goodness from fresh sandwiches to decadent tarts for a grab-and-go pick-me-up.
Revive
Auckland CBD
One of Auckland's oldest, and undoubtedly best vegan cafes, is Revive. Aptly named, the massive range of kai on offer—from hot pots and sides to bangin' salads—are as vibrant as they are good for soul and body. This is a top notch option for healthy food on the go.
Postal Service
Grey Lynn
A bustling cafe inside the old Grey Lynn Post Office, Postal Service's menu is plant-based with a droolworthy selection of vegan eats from a bowl of zucchini fritters with all the trimmings, to matcha waffles topped with chia berry jam, popcorn and white chocolate crumble. They even do a vegan omelette. Respect.
Little Bird Organics
Ponsonby
Plant-based before it was cool, Little Bird Organics offers an entirely vegan menu loaded with things like antioxidant bowls, house-made granola, hotcakes, matcha waffles, and kimchi pancakes. Don't even get us started on their absolute unicorn of a cabinet that's packed with dreamy raw sweet treats.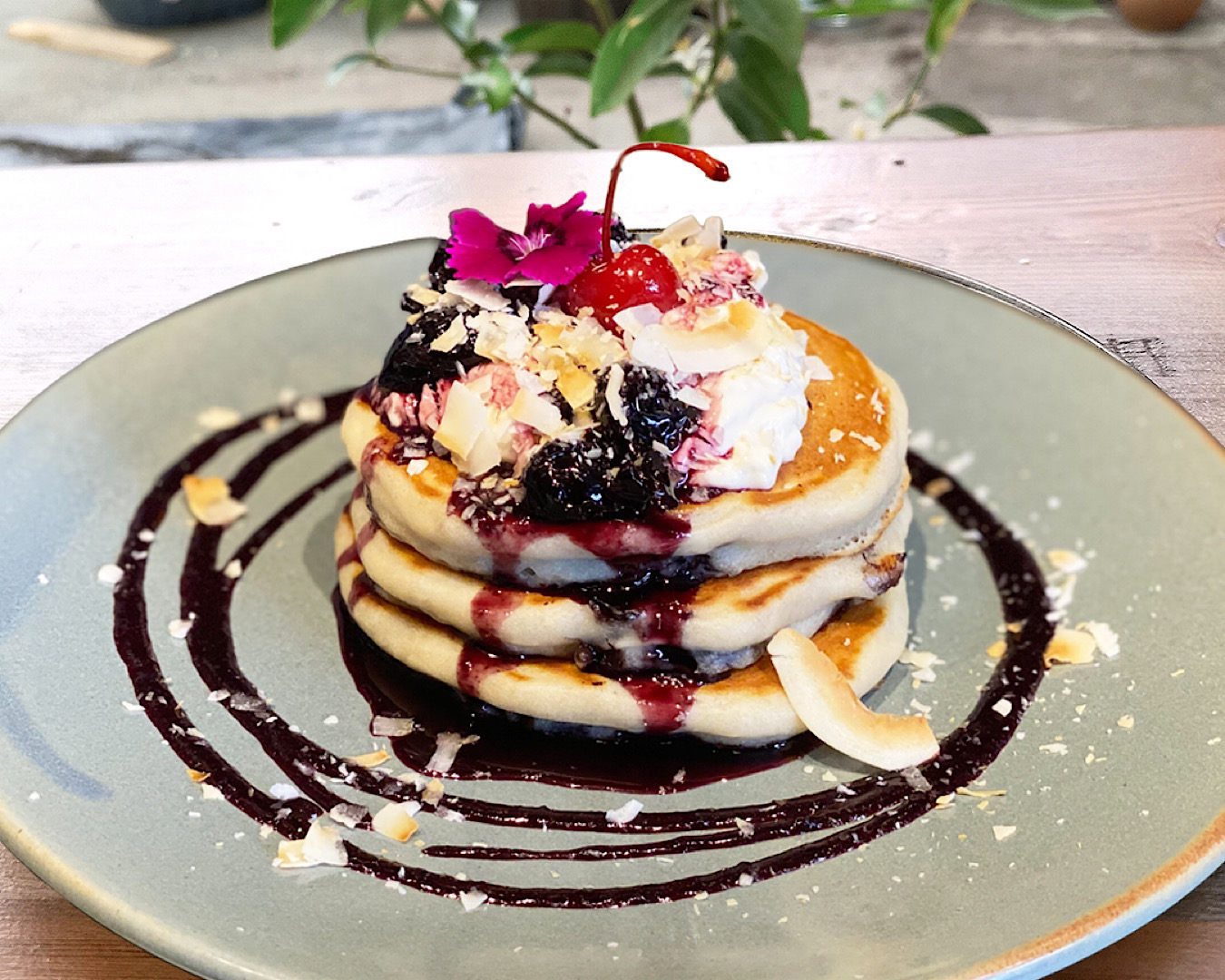 KIND Cafe & Eatery
Morningside
Sustainably-minded, quality-focused cafe KIND is an eco-conscious heavyweight champ but their goodness isn't just behind-the-scenes. The kai itself is top-tier delicious and almost too pretty to eat-emphasis on the almost. Oh, and they do a mean tiramisu inspired pancake stack-just ask for the "vegamisù". (You're welcome.)
JANKEN
Herne Bay
Serving breakfast, brunch, lunch and-on Friday nights-dinner, swing by JANKEN for plant-based Japanese fare at its absolute best with loads of vegan dishes to get amongst. Mochi tofu benedict, plant-based lasagne, breakfast panna cotta, black sesame and cacao waffles… Best to take the whole crew so you can try all the things.
Best Vegan Desserts, Pastries And Sweet Treats In Auckland
Maison des Lys Pâtisserie
Grey Lynn
Live the full French pastry fantasy at Maison des Lys a.k.a. your new favourite hangout and one of Auckland's best vegan eateries. Almond croissants, mille feuille, almond and hazelnut praline-stuffed cruffins, they're the perfect tonic to a resolution to eat healthier this year.
Tart Bakery
Grey Lynn & Commercial Bay
Tart's pies and pastries have been the talk of the town for what feels like eons. 'Mince' and 'cheese' pies, lemon 'chicken' subs, 'sausage' rolls, glazed berry danishes, peanut butter brownie, and cinnamon scrolls. We guarantee you'll be walking out one very happy herbivore.
Grownup Donuts
Henderson, Wairau Valley, Manurewa, Auckland CBD
Sometimes life just calls for donuts and you can rest easy knowing Grownup Donuts are slingin' some seriously good ones you're sure to froth over. Decadent for all the right reasons, the crew always have a vegan flavour or two in their weekly rotation.

Richoux Patisserie
Ellerslie
If you haven't heard of Richoux Patisserie you need to right that wrong, stat, and preferably by way of shoving one of their award-winning vegan pies down your gob. While this spot isn't fully vegan, their plant-based pies are the stuff of dreams. Vegan butter chicken pie anyone?
Duck Island
Newmarket, Ponsonby & Takapuna
There's run-of-the-mill vegan icecream and then there's Duck Island which is the complete opposite. Pop to your local scoop shop for vegan flavours like peanut butter cookie dough, strawberry coconut and lime leaf, chocolate cherry chunk and black sticky rice. Fancy your frozen treats in icecream sandwich form? They can do that too. Delish.
The Caker
Karangahape Road
The Caker's creations alway look too good to eat (but you won't be able to resist). Do yourself, and all your vegan mates, a solid and order, then dig into, the most beautiful vegan cakes you've ever wrapped your mouth around.
The Vegan Treatory
Online
Cruelty-free cookies ahoy. With a touch of a button, The Vegan Treatory will send THICCC (that's right, with three cs), gooey AF cookies hurtling towards your door. The very meaning of life? Absolutely.
Charlie Mia Connective
Online
For soft, spongey doughnuts that puff with cream and raspberry jam when you bite into them, order from Charlie Mia Connective. Do it right now. While you're at it, why not add a cheeky almond croissant, pain aux raisin, sausage roll, or all of the above? Devilish, and we're here for it.
Got some time on your hands? Here are some great vegan docos to watch.
Image credit: Main and top images Khu Khu Eatery by Wono Kim, Gorilla Kitchen, Ralph's Bar And Eatery, Fat Kitty Cafe, KIND Cafe & Eatery, Richoux Patisserie.