I scream, you scream... well, you know how it goes. Whether it's fresh and fruity or rich and chocolatey, in a cone, on a stick or in a cup, we just can't get enough of the cold stuff. So without further ado, here's our pick of the coolest (yes, we did just do that) ice cream and gelato shops in Auckland.
Island Gelato Co.
Auckland CBD, Newmarket, Mission Bay, Ponsonby and Waiheke
Any spot with the words 'award-winning' attached has gotta be good—enter Island Gelato Co., the esteemed scoop shop that started life on Waiheke back in 2014 and has since spawned stores in the CBD, Newmarket, Ponsonby and Mission Bay. Whether you like your gelato laced with Pic's peanut butter, marshmallows and berries, or even gin, grapefruit and yuzu—there's a scoop (or ten) here with your name on it. P.S. Don't forget to check out their jaw-dropping gelato cakes for your next special occasion.
Hawte
Auckland CBD
For the naughtiest ice creams on the block, head on over to Hawte. Located in Chancery Square, this funky spot is the country's first boozy ice cream parlour (or 'barlour') and is home to a changing array of cheeky flavours including mango and Malibu, strawberry and champagne, and rum and raisin (all minus the hangover, we might add). And while booze is certainly the star of the show here, they also have a range of non-alcoholic options on offer, along with some rather insane milkshakes. Check out what happened when we paid them a visit.
Gelatiamo
Wynyard Quarter
What do you get when you pair the finest Italian ingredients with fresh New Zealand milk? Gelatiamo's multi-award-winning gelatos and sorbets, that's what—and you'll find them in the perfect gelato-eating spot, right beside the water in Wynyard Quarter. From banana, bubblegum and berry cheesecake through to crème caramel, cappuccino and crème brulee—this cute wee spot is your one-stop-shop for all things ice cold and delicious.
New Zealand Natural
Mission Bay
New Zealand Natural is a stalwart of the ice cream scene here in Auckland (and indeed, Aotearoa), with a presence in your local supermarket, dairy and petrol station along with parlours and mini parlours across the city including a particularly cool spot in Mission Bay. Here you'll find their much-loved brand of ice cream, sorbet and frozen yoghurt, crafted from natural New Zealand ingredients (hence the name) in drool-worthy flavours like English toffee, matcha green tea and our personal fave—cookie dough. What's not to love?
Village Co-Op
Saint Heliers
Handcrafted, all-natural ice cream is the name of the game at Village Co-Op, a cute spot in Saint Heliers which has been slinging scoops of deliciousness for more than a decade. The ice cream itself comes from Joshua's, an ice cream manufacturer located directly behind the shop (how cool is that?). Wrap your lips around flavours like orange marmalade, boysenberry and white chocolate, cinnamon and ginger, lemon curd, espresso, and coconut and blueberry swirl (pictured). Oof.
Kapiti At Mission Bay
Mission Bay
Mission Bay locals are certainly spoilt for choice when it comes to ice cream, with yet another epic scoopery in their midst—this time 'round, one from well-known Kiwi brand, Kapiti. They have all your fave flavours on lock, including hokey pokey, summer nectarine, chocolate brownie, gingernut, vanilla, and salted caramel and cashew, along with sundaes, milkshakes, and real-fruit ice cream.
Little 'Lato
Kohimarama, Orewa, Point Chevalier and Titirangi
If you know your ice cream, you'll know all about Little 'Lato—the bespoke gelato business whose ice-cold creations can be found at not one but four locations throughout the city. These guys are bringing some seriously incredible flavours to the table, including a few life-changing seasonal offerings (we're looking at you, Christmas Pudding) and even vegan alternatives. And we're not the only ones who love what these guys do—Little 'Lato has scooped up a tonne of accolades over the years including the title of New Zealand's best gelato (twice!). We're not quite sure what their secret is, but perhaps it's to do with the fact that the founder, Hannah Wood, took part in a gelato-making course in Italy.
Takapuna Beach Café
Takapuna
Ice creams and the beach go hand-in-hand, a recipe this waterfront café knows all too well. Takapuna Beach Café's hand-scooped gelatos and sorbets have won numerous awards and come in a range of sophisticated flavours including espresso, lemon curd yoghurt, salted caramel, and vanilla and peppermint.
Duck Island Ice Cream
Newmarket, Ponsonby and Takapuna
The pretty little ice cream parlour with the cute name, this one's a must-visit. Originally from Hamilton, Duck Island now has three branches in Auckland and has amassed quite the following since opening thanks to its fun, often unusual flavours, many of which are also vegan. Indulge your inner child with a cone of sprinkle-filled 'fairy bread'—dig your way through a cup of marshmallow and chocolate-studded 'ambrosia'—or, if you're feeling super adventurous, check out the black sticky rice or raspberry, coconut and coriander offerings. Alternatively, grab yourself a tub of one of Duck Island's core flavours (think peppermint slice and salted caramel with cacao crumb), available from most supermarkets. There is a god.
Charlies Gelato
Matakana
Tucked away down a side street on the way to Matakana lies an institution of a scoop shop that's more than worth a visit. Charlies Gelato's award-winning gelato and sorbetto is made from scratch in very small batches, using their delicious seasonal fresh produce which is grown on-site. With over 40 flavours to choose from and a pretty garden in which to savour them, this spot is an absolute winner.
Giapo
Auckland CBD
If Willy Wonka were to open an ice cream shop, we imagine it'd be something like Giapo. This inner-city outfit definitely sets the bar for originality, serving up epic creations that are known just as much for their looks as they are for their taste. Yes, you've no doubt seen its edible masterpieces popping up in your Instagram feed—perhaps the ice cream in the shape of the Sky Tower, or maybe the one that looks like a giant squid. The flavours, however, are far from secondary—largely inspired by the owners' Italian heritage and ranging from a delicious 'bueno' offering made with caramel, hazelnut praline and amaretti, through to 'Cher's chocolate'—a decadent scoop named after the American superstar who once famously visited the store.
Ollies Burgers & Ice Cream
Royal Oak
If you're in the mood for no-nonsense ice cream, Ollies Burgers & Ice Cream is where you'll find it. The retro fit-out (we're talking chequered floors, arcade games and a shiny red countertop) is reminiscent of the ice cream parlours of old, making it the perfect spot to enjoy a scoop of classic, Tip Top goodness—think hokey pokey, orange chocolate chip, goody goody gumdrops, gold rush and all the other fabulous flavours this iconic Kiwi brand has introduced to us over the years. Alternatively, order yourself one of the eatery's super-nostalgic banana splits, complete with all the trimmings.
Ben & Jerry's
Albany, Commercial Bay and Ponsonby
What started out as a venture between two friends (named—you guessed it—Ben and Jerry) in America more than 40 years ago is now one of the biggest and most recognised ice cream brands in the world. We for one can't get enough of their ridiculously decadent style of ice cream, which you'll find at their dedicated Scoop Shops around Auckland (while some flavours are also available at select supermarkets and other retailers). Take your pick of seriously drool-inducing options including a number of store exclusives, loaded with the likes of cookie dough, caramel sauce, brownie chunks, peanut butter, pretzel pieces... this is certified sugar territory. For the ultimate Ben & Jerry's experience, ditch the cup or cone and opt for a sundae instead.
Scrunchy Millers
Milford
One of the newest ice cream parlours on our list, this little slice of deliciousness popped up on the shore at the end of 2020 after owners Hayley McRae and husband Mike Kitching decided to open their own real fruit ice cream store in Auckland. Having tried the aforementioned Charlie's Gelato and deciding it was the best ice cream they'd ever eaten they were keen to bring it to Milford. Scrunchy Millers sling their own real fruit ice cream which means you don't have to drive out to a farm or up north for the good stuff and we love them for it. With eight delicious real fruit ice cream flavours available (including pineapple!) and the offerings from Charlie's Gelato, this spot is definitely worth a place on our list of Auckland's best ice cream shops. The best bit? As they're all made on-site you can combine as many fruit flavours as you like to make your very own real fruit creation. With ice cream sodas, banana splits and even affogato on the menu you'll be hard-pressed to settle on what to dig into first.
Mövenpick
Maraetai, Mission Bay, Mount Eden, Mount Wellington, Newmarket, Parnell and Takapuna
Mövenpick originated in Switzerland and now has over 150 stores worldwide, including a handful here in New Zealand—while select flavours can also be found in the freezer at your local supermarket. We definitely have our faves, including the pistachio, maple walnut and panna cotta raspberry—however, those with more traditional tastes will be pleased to know that they also sling a damn fine scoop of vanilla, chocolate and strawberry. And let's not forget about their legendary fresh fruit sorbets, which will legit give you chills.
Miann
Britomart, Morningside and Ponsonby
It comes as no surprise that a restaurant specialising in desserts also produces some pretty outstanding gelato. The cabinets at Miann are bursting with experimental flavours, often themed around other sweet treats (case in point, the pavlova—featuring berries, burnt vanilla and chunks of the beloved Kiwi dish with which it shares its name). And while the menu is ever-changing, one thing remains the same–delicious, one-of-a-kind gelato that will definitely have you coming back for more.
Juicy
Kumeu
We'd gladly make the trip out west for a cup (or cone) of something cool from Juicy. Their real-fruit strawberry ice creams are some of the most generously sized in Auckland, while their fridges are home to a vibrant selection of handcrafted gelatos and sorbets. Some of the more novelty flavours on offer include pineapple lump, and Smurf (you can tell this one by the vivid blue colour, offset by tiny pink and white marshmallows).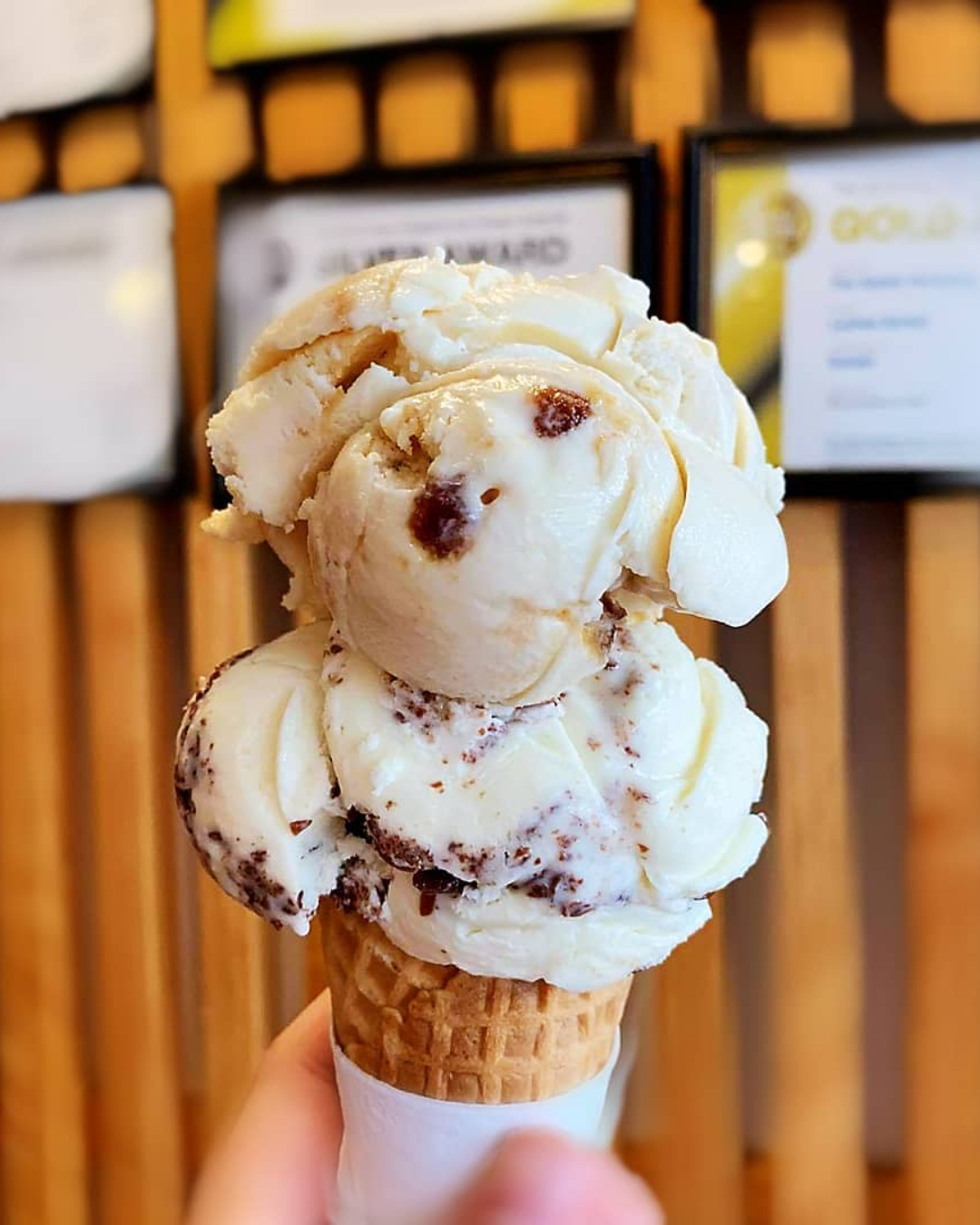 The Gelato Workshop
Birkenhead
If gelato's your thing, you're probably familiar with the superstars at The Gelato Workshop. These guys really know their stuff. Crafted with traditional techniques and quality ingredients, the gelato pays a delicious homage to their time spent in Italy. Go for creamy Belgian chocolate for something seriously delectable, or a refreshing scoop of pina colada to get the party started. Local, seasonal produce takes centre stage in flavours like the strawberry and feijoa sorbets, which are both fan-faves. The best bit? You can even bring your pooch along for a scoop of banana gelato, which is made especially for canine customers.
Can't get enough of the sweet stuff? Here's where to find Auckland's best doughnuts.
Image credit: Little 'Lato, Island Gelato Co., Gelatiamo, Village Co-Op, Duck Island Ice Cream, Giapo, Ben & Jerry's, Mövenpick by Wono Kim, Miann, Juicy, The Gelato Workshop.