One of the best things about Auckland is the fact that writing a list of the best beaches within a region is absolutely possible. We tend to forget other countries that don't have this advantage and we need to pay some respect to the blessing.
In Auckland, no matter where you are, there's a beach on every part of the compass from Central Auckland to the North, East, South and West of Auckland, Waiheke Island and Great Barrier Island. Whether you're wanting a cool dip, a day trip, picnic, photoshoot, surf session or a good stroll, Auckland's beaches can provide everything you want.
So without further ado, here's a list of the best beaches in Auckland.
The Best Beaches In Central Auckland
Sentinel Beach
Herne Bay and Ponsonby residents are locals of
Sentinel Beach
. With sun loungers and plenty of trees for shade, you'll be getting gold-class service here. It's not the largest beach, so get there early to steal a spot.
Home Bay beach reserve
Just around the corner from Sentinel Beach is
Home Bay Beach Reserve
. While there's not much sand around (especially when the tide is in), there's a pretty epic wharf to jump off.
Herne Bay beach
On a weekday morning, think of this beach as your very own private one because it is absolutely empty as all the locals are going about their daily routines. In the evenings though, Herne Bay Beach is pumping with locals unintentionally coming together as they unwind from a long day. This beach has strong community vibes and is perfect for those who want some company.
Point Chevalier beach
Considering the location being so central, Pt Chevalier Beach is a beach that is surprisingly quiet. It is extremely dog friendly, so it's a favourite among the pet owners of Auckland. The waters are calm to make it safe for swimming and the nearby playground makes it a great beach to spend the day with families with kids. Did we mention this beach also gets the sun all day long?
Judges Bay
Below the Parnell Rose Gardens sits Judges Bay. This cute little spot is secluded and the water is calm because it sits between the land and Tamaki Drive. With a raft to jump off and plenty of grass for a picnic, this is one treasure you'll love.
Okahu Bay beach
This picturesque beach arguably gives the best views out of all the beaches in Central Auckland. From Okahu Bay Beach, you can get a good look at the Auckland skyline, Hauraki Gulf and wee little Devonport. This beach has got it all from a basketball court and a playground with a flying fox—a Kiwi favourite. To make the most of this beach, you can hire a kayak and get your paddle on. If you don't want to get in the water, rollerblades are up for hire too.
Mission Bay beach
This beach is the perfect combination between the city and the beach. If lying in the sun on the golden sand gets a bit old, pop over to one of the many cafes for an iced coffee or tropical smoothie to freshen up. For those wanting something a little stronger, nipping over the road for a beer is never a bad idea. Mission Bay Beach is always going off with groups of family and friends so it's the perfect spot for those who want lively Jersey Shore vibes.
Kohimarama beach
Just around the corner from Mission Bay is Kohimarama Beach pictured above, which provides some of the best views of Rangitoto Island. Grab a coffee and a bite to eat from one of the cafes along the beachfront, then take a stroll along the sands.
St Heliers beach
Taking it to the Eastern 'burbs, one of our fave city beaches is St Heliers Beach. Cruise along Tamaki Drive past Kohi and park up at St Heliers for the day. With plenty of eateries nearby, you can spend the day at the beach without having to lift a finger (besides to eat said food).
Karaka Bay beach
For something a little less hectic, drive around St Heliers and head towards Glendowie to land yourself at Karaka Bay Beach. Be sure to check the tide times, as there's not much sand at high tide. You'll get a little view of Rangitoto Island, and you'll be more secluded than other inner-city beaches.
Ladies bay Beach
If it's a beautiful day in the city, take a walk along St Heliers and to one of our favourite viewing spots, Achilles Point. From there, you can head down the stairs and to Ladies Bay Beach. Call it a day and relax and unwind to the soothing sound of the ocean.
The Best Beaches In North Auckland
Pakiri beach
When you imagine the ideal beach, you picture a coastline of gorgeous white sand and clear blue waters. Not many people think of galloping horses! Well, Pakiri Beach has all that and more and is the perfect place for a wee escape from the city life of Auckland. The isolation makes it an idyllic and peaceful place when looking for some downtime. Pākiri doesn't allow amplified music and sometimes, silence is the only thing you need to get away from your hectic schedule. In the summer, swim between the flags and avoid rips.
Goat Island marine reserve
This one's less about lounging about on the sand and more about exploring what's beneath the waves. That's because Goat Island is New Zealand's oldest marine reserve, making it an incredible snorkelling spot that's suitable for the whole family. Don your snorkel and mask or your dive gear, and prepare to enter a world where rays, rock lobsters, and red moki reign supreme (Jacques Cousteau, eat your heart out). Alternatively, take a trip in a glass-bottomed boat or better yet, rent a 'clearyak' (a see-through kayak).
Anchor Bay beach
Nestled within Tawharanui Regional Park lies a golden beach called Anchor Bay. Fill up the tank because this spot is an 80-minute drive from central Auckland, making Anchor Bay the perfect day trip to get away from it all. This pristine slice of Kiwi beauty has golden sand, the cleanest and clearest of water and smooth waves, making it a favourite for people who want a calming swim or to just get their tan on. If you want a little something extra special, head down to the rock pools which are deep enough to dive-bomb into.
Wenderholm bay Beach
Wenderholm Bay Beach is one of our fave beaches and just far enough out of the central city to feel like we've truly escaped. Wenderholm Regional Park is surrounded by lush park-like grounds and thriving native bush with a host of great walking tracks and birdlife to boot, a day here is easily spent. The beach is as beautiful as any you'd find around Auckland, with plenty of pohutukawa trees for shade, and safe waters for swimming (it's particularly good for small children at low tide, offering shallows with almost no end, but do avoid the mouth of the Pūhoi River, where there can be strong currents). Don't forget to check out the historic Couldrey House while you're here—even the Queen herself has paid a visit.
Ōrewa beach
We're not gonna lie—Ōrewa Beach can get pretty busy, especially in the summertime, but with three kilometres of sand to enjoy, it's not as bad as it sounds. Grab a coffee or a bite to eat from one of the countless eateries along the main shopping strip, and enjoy beneath the trademark Norfolk pines—take the kids for a blat on the playground, then on an adventure around the rocks at the Northern end—let your four-legged friend loose for a run upon the sand—or don your wetsuit and hit the waves for a spot of surfing, paddleboarding or windsurfing. Ōrewa is patrolled by lifeguards during the summer months.
Te Haruhi Bay
Shakespear Regional Park is home to one of Auckland's most magnificent beaches—Te Haruhi Bay. Located at the end of the Whangaparaoa Peninsula, this is one hell of a spot with rolling farmland and native bush converging on a stunning, sheltered beach that's primed for picnics, swimming and all the other usual summer past-times (just look at those incredible 360-degree views as you drive down). If you're feeling adventurous, be sure to check out one of the many walking tracks also within the park.
Little Manly beach
Also up Whangaparaoa way is Little Manly Beach. This quiet and secluded beach has the beauty and sun protection of pohutukawa trees as well as plenty of rocks to go exploring. Because it's the little sister to Big Manly beach, it's not as busy so you can unwind in (relative) peace.
Long Bay beach
There's a reason this spot on Auckland's North Shore gets so busy in the summer. The beach itself is stunning (flat, golden, and yes, long) and perfect for dog walks, frisbee-throwing and whatever other outdoor activities you might have in mind; and because Long Bay Beach is part of a regional park, there's plenty of lush green space to also enjoy. Where the magic's really at, however, is in the water, which thanks to its status as a marine reserve, offers some pretty great snorkelling. Try the reefs at either end of the beach for a chance to see stingrays, snapper, and other amazing sea creatures. In the summertime, Long Bay is patrolled by lifeguards.
Murrays Bay beach
Murrays Bay Beach is all sorts of delightful. It has a wharf that is perfect for fishing and diving off (or cannonballing!). Our advice? Seize the day and head here bright and early to watch the sunrise—it's a stunning spot.
Takapuna beach
This is one of the most famous beaches on the North Shore and there's a very good reason for that. Takapuna Beach has calm waters that ensure safe but fun swim sessions but there's also a whole lot surrounding the beach to keep you entertained. Cafes, ice-cream shops and a mammoth playground, it's an ideal beach for a trip with friends or family as there's always something to do. The calm waters make this beach a favourite not only for locals but also sailors as Takapuna often has strong and changeable winds.
Cheltenham beach
If you're looking for something similar to Takapuna beach but want something a little less populated, head on over to Cheltenham Beach. This local gem is absolutely adored by the people in Devonport as it is calm, quiet and a great place to walk dogs. Surrounding Cheltenham are local dairies and fish and chips shops to enhance the Kiwi small-town beach vibe. Our fave is Milk Bar as they do some of the best milkshakes which are so much more enjoyable while tanning on Cheltenham's soft sand. Be sure to check the tide times though, unless you want to wade almost to the shipping lane for a dip.
Devonport beach
There's nothing better than escaping what feels like the city then popping along to Devonport Beach. With real relaxed vibes, you can enjoy exploring the township and working on the tan while looking back towards the hustle and bustle of the CBD.
Kendall Bay Beach
Go exploring through native Kauri forest before ending up at Kendall Bay Beach in Northcote. You'll have to hunt for the right path to take you down to the beach. It's not big, so choose a quiet time to pay a visit.
The Best Beaches In East Auckland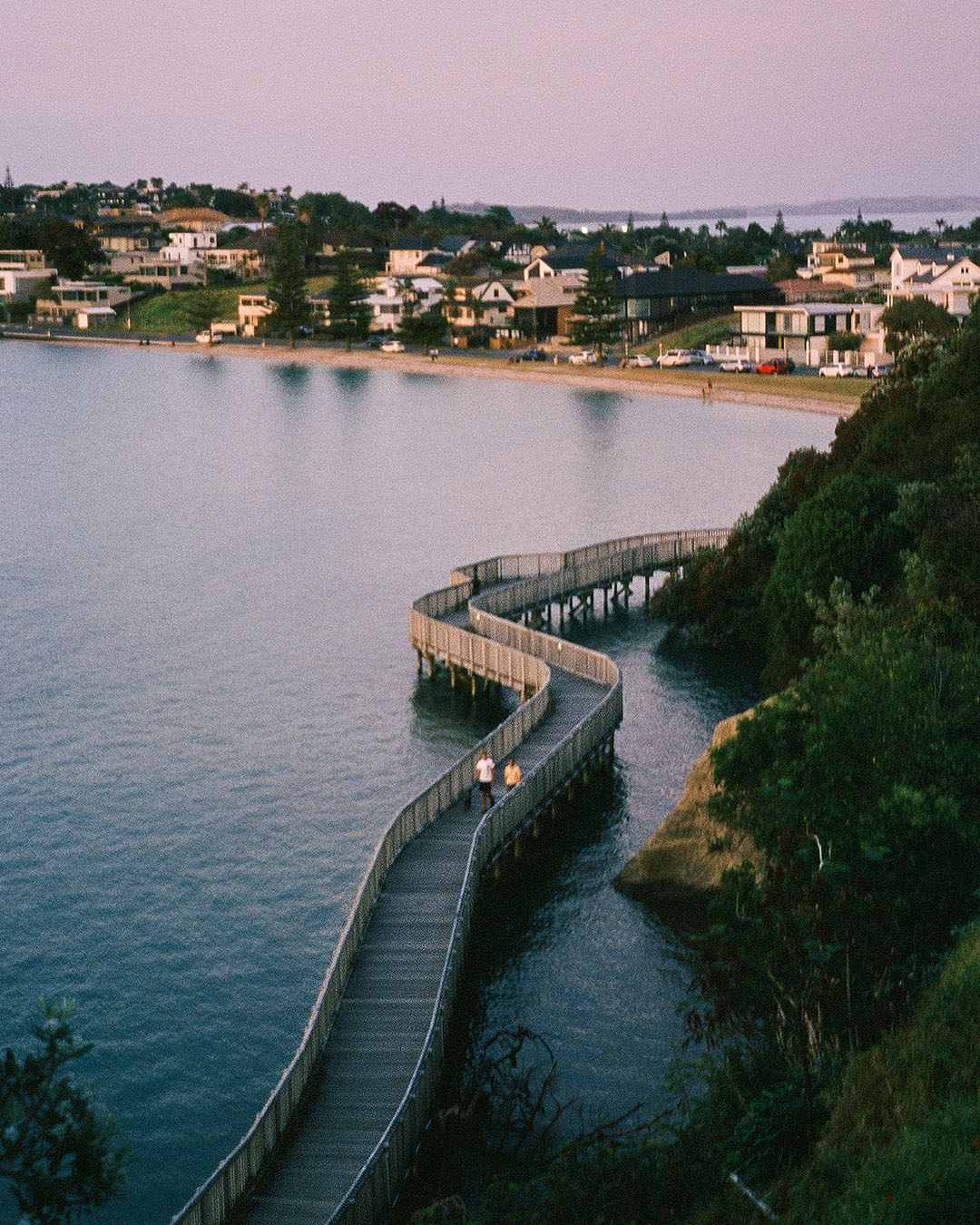 Bucklands Beach
Famous for being the ideal beach for a nice walk to clear your mind, Bucklands Beach pictured above provides a stunning scenic walkway from Half Moon Bay to Farm Cove through Pakuranga. This beach walk is enjoyed by all Aucklanders and visitors, from families, friends and dog walkers. Cyclists are also welcome to join the walkway which makes it a firm favourite.
Cockle Bay
Cockle Bay is a tidal beach with a huge patch of sand, making it ideal for people who want to lie around rather than swim. As it is a tidal beach, Cockle Bay is the perfect beach for shellfish hunting during the season from March 1 to September 31—a great activity to get amongst with your mates.
Maraetai beach
Located just over from Bucklands Beach this beautiful north-facing spot is the perfect destination, with spectacular views stretching from Auckland City to the Coromandel Ranges. Maraetai Beach provides safe swimming with grassed verges suitable for picnicking and relaxing. Also, there's good parking and a playground. Score.
The Best Beaches In South Auckland
Karioitahi beach
This one is for the people who wanna get down and dirty on the beach. This black sand beach is ideal for water lovers as the waters are suitable for activities like paragliding and surfing. But the rugged sand of Karioitahi Beach makes it a favourite for people that want to test out their four-wheel drive. Again, this is a patrolled beach in the summertime.
Āwhitu
A safe, tranquil little beach that's perfect for a short walk, mountain biking and treading the water in a relaxing ocean. The white sand at Āwhitu reflects the sunlight to make the vibe a little brighter and is a favourite beach for friends and families that want a nice picnic and a relaxing day out. Swimming is safe here during the summer months when lifeguards are on duty.
The Best Beaches In West Auckland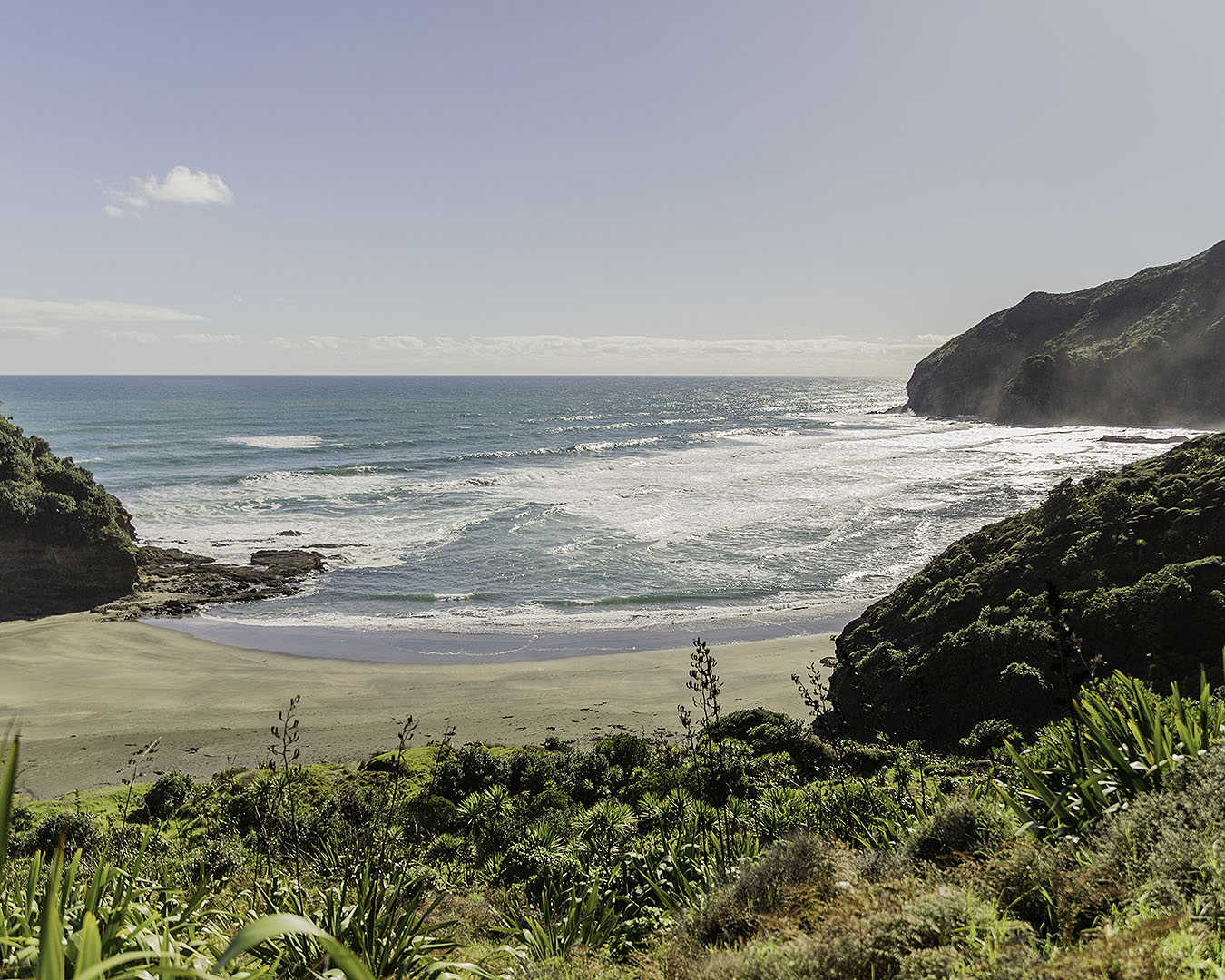 Te Henga (Bethells Beach)
Less than an hour's drive from the city, Te Henga (Bethells Beach) is the place to get some activity into your relaxing day trip. This includes hiking, fishing, swimming (lifeguards are on duty during the summer) and building sandcastles. This one is a little more sheltered and tucked away so it's the beach for those who want some quiet time for themselves. And if you wanna do more beach-hopping, be sure to check out O'Neill Bay pictured above, which can only be reached on foot from Te Henga (swimming not recommended).
Muriwai beach
From surfing to lounging under an umbrella or rolling down the dunes, Muriwai Beach has a lot to offer. Surf lifesavers are on patrol at peak times as the rips can get a bit full-on (in other words, don't go swimming if they're off-duty), and the black sand can be absolutely scorching so be sure to utilise the jandal life hack. On your way back to the big smoke, don't forget to have a nosy at the gannet colony.
Piha beach
This one is for all you surfers out there with Piha's killer swells and massive scale. Seriously, Piha Beach is so big that no matter how many people are populating it with their huge surfboards, it'll never feel overwhelming or crowded. This makes it not only ideal for surfers but also for people who want to go on long strolls along the black sand. You can even climb partway up Lion Rock, but be warned, you'll need a good head for heights. There are lifeguards on duty here from Labour Weekend through to Easter—if you don't see them, don't swim.
Karekare beach
If breathtaking scenery is what you're after, Karekare Beach is the place to go. To confirm the beauty of this place, the infamous film The Piano was filmed at this very beach. This makes it a common beach for people who want to do some test photoshoots as your photos are guaranteed to look 10/10 if taken here. If you do decide to go for a dip, swim between the flags.
Mercer Bay
On the drive to Piha, keep an eye out for the Te Ahuahu turnoff and you'll come across a serious gem of an adventure spot—Mercer Bay. Not for the faint-hearted, pay strict heed to the barriers provided as these are Auckland's tallest cliffs and can be dangerous. With powdery black sand, warm rock pools and a massive cave that's accessible during low tide, Mercer Bay is the ideal day trip for adventure lovers.
Anawhata beach
Anawhata Beach is one of Auckland's best-kept secrets, and can only be reached on foot. On par with other top West Coast beaches like Piha and Muriwai, it's worth every step (of which, be warned, there'll be a fair few). Combining that famous West Coast combo of wild waves and black sand, it really is a spectacular spot and the best bit is, because of the remote location, you won't have to vie for beach space. P.S. This isn't the safest beach for swimming as it's unpatrolled, though a dip in the estuary should satisfy.
Whatipū beach
If you're up for a lil' adventure, Whatipū Beach's the spot. This remote beach pictured above has all the West Coast elements you know and love, along with caves, wetlands and coastal dunes to explore. It's also used by the Department of Conservation as a scientific reserve so if that doesn't tell you it's something spesh, we don't know what does. Despite the crystal clear water it's definitely not advisable to swim at this beach as there are gnarly hidden rips.
Waipiro Bay
A highly remote beach known only amongst locals (until now), Waipiro Bay at Te Rau Pūriri Regional Park is an 80-minute drive from central Auckland in South Head and is the ideal retreat. The beautiful long stretch of clean white sand makes this beach seem like a utopia and is the perfect place to find some inner peace.
The Best Beaches On Waiheke Island
Onetangi beach
Anyone who's visited Waiheke will be familiar with Onetangi Beach. It's the island's most famous beach, and for good reason. Not only is it the largest, with almost 2km of glorious golden sand to enjoy, but it's a safe swimming spot and also perfect for surfing. Plus, a decent bite to eat is never far away with a number of great restaurants and cafes running parallel to the beach (we're looking at you Ki Māha, 372 and up the hill to Casito Miro).
Palm Beach
Palm Beach is another one of Waiheke's most beautiful beaches, where blue waters meet white sand and tropical vibes abound. Taking its name from the phoenix palms planted at one end, this spot is quieter than some of its other, more famous siblings. If you're more of a free spirit, make a beeline for the nudie beach at Little Palm Beach.
Oneroa beach
Oneroa Beach is a fave anchorage for boaties, and an even more popular spot for beach-goers. The name Oneroa means 'long beach' in Māori and that it certainly is, with plenty of golden sand to go around as well as calm waters and ample pohutukawa trees for escaping the sun. A short walk will take you to Little Oneroa at low tide and on a clear day, you can even see the Coromandel Peninsula.
The Best Beaches On Great Barrier Island
Medlands Beach
Medlands Beach is a legit island escape. With dunes and long white sands meeting the rugged ocean, it's a popular spot with surfers but swimming should be reserved for either end of the beach due to powerful swells and the fact that it's unpatrolled.
Kaitoke Beach
White sands and deep blue waters are not the only things this gorgeous spot on the East coast of the island has going for it—Kaitoke Beach is also home to some rather sweet rock pools, perfect for taking a dip, or sitting back and enjoying said scenery. The fishing here is also tops and at low tide, you can walk to nearby Pitokuku Island.
Whangapoua BAY
Whangapoua Bay is a fave surfing spot but this glorious white-sand beach has more to offer than just that. As part of a conservation site for native birds, you'll want to have your camera ready for any avian action, while dolphins have also been known to frequent the bay. And for some of the best views on Great Barrier Island, check out the Whangapoua to Harataonga coastal walkway.
Want to up the adventure? Check out Auckland's top 10 hidden adventures.
Image credit: Piha Tasman Track by Fiona Clyde, Kohimarama Beach by Tim Marshall, Pakiri Beach by Chris McLennan, Shakespear Regional Park by Sonia Gupta, Takapuna Beach by Auckland Unlimited, Bucklands Beach by Douglas Bagg, Kariotahi Beach, O'Neill Bay, Whatipū beach by Auckland Unlimited, Waiheke by Look Up Look Down Photography, Medlands Beach by Auckland Unlimited.