While it's AMAAZING to get out of Auckland for a roadie, we also know that sometimes you've just gotta (or wanna) stay in town. And as the weather heats up, we're lucky enough to not have to drive for a day to feel the cool embrace of the ocean. But all beaches are not created equal, and so we've got the d-low on the best in Auckland. This way, you get to skip out on the traffic, and won't feel too much FOMO when you see all your mates heading out of town.
Sentinel
Herne Bay and Ponsonby residents are locals to Sentinel Beach. With sun loungers and plenty of trees for shade, you'll be getting gold class service here. It's not the largest beach, so get there early to steal a spot.
Home Bay Beach
Just around the corner from Sentinel is Home Bay Beach. While there's not much sand around (especially when the tide is in), there's a pretty epic wharf to jump off.
St Heliers
Taking it to the Eastern 'burbs, one of our fave city beaches is St Heliers. Cruise along Tamaki Drive and park up at St Heliers Beach for the day. With plenty of eateries nearby, including St Heliers Bay Café and Bistro, you can spend the day at the beach without having to lift a finger (besides to eat said food).
Kohimarama
Just around the corner from St Heliers is Kohimarama Beach, which provides some of the best views of Rangitoto Island. We like Kohi because it's not as busy as its sister beach, Mission Bay. We recommend taking a stroll towards Achilles Point for a scenic day.
Devonport
There's nothing better than escaping what feels like the city then popping along to Devonport. With more relaxed vibes, you can enjoy exploring the township and working on the tan while looking back towards the hustle and bustle.
Murrays Bay
Further north, Murrays Bay is all sorts of delightful. It has a wharf that is perfect for fishing and diving off (or cannonballing!). Our advice? Seize the day and head here bright and early to watch the sun rise—it's a stunning spot!
Kendall Bay
Go exploring through native Kauri forest before ending up at Kendall Bay beach in Northcote. You'll have to hunt for the right path to take you down to the beach. It's not big, so choose a quiet time to pay a visit.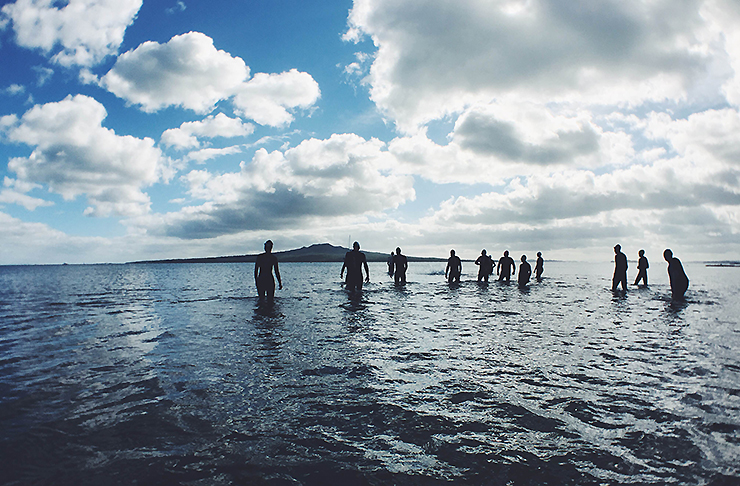 Little Manly
Head up the Whangaparaoa Peninsula to Little Manly Beach. This quiet and secluded beach has the beauty and sun protection of Pohutukawa trees as well as plenty of rocks to go exploring. Because it's the little sister to Manly Beach, it's not as busy so you can unwind in (relative) peace.
Point Chevalier Beach
If you're a Westmere or Point Chev local then Point Chev beach is the perfect spot to cool the jets and take a dip. If you get a bit nibbly there's plenty of food options to grab a feed. With breakfast at Spilt Milk, lunch at Pt.Chev Beach Cafe, and gnocchi from Twisted Tomato, you can spend the entire day eating and swimming.
Karaka Bay
For something a little less hectic, drive around St Heliers and head towards Glendowie to land yourself at Karaka Bay. Be sure to check the tide times, as there's not much sand at high tide. You'll get a little view of Rangitoto Island, and you'll be more secluded then other inner-city beaches.
Ladies Bay Beach
If it's a beautiful day in the city, take a walk along St Heliers and to one of our favourite viewing spots, Achilles Point. From there, you can head down the stairs and to Ladies Bay Beach. Call it a day and relax and unwind to the soothing sound of the ocean.
Judges Bay
Below the Parnell Rose Gardens sits Judges Bay. This cute little spot is secluded and the water is calm because it sits between the land and Tamaki Drive. With a raft to jump off, and plenty of grass for a picnic, this is one treasure you'll love.
Make sure you check out safe swim to make sure the beach in your sights is all good in real time.
Can't get enough of that beach action? Check out our definitive guide to Auckland's best beaches.
Image credit: Supplied, Artem Verbo