Walking is one of the best ways to make the most of the City of Sails. It gets you moving, raises your heart rate, and there are some seriously stunning routes on offer. Plus, it's a tonic to the frenetic pace of everyday life.
So grab some sturdy shoes, make use of the kauri dieback wash stations and get amongst the beautiful coastlines, stunning waterfalls, urban strolls and native bush.
Here are the best walks in Auckland.
Auckland's Own Ring Of Fire
Varies
More than fifty volcanoes make up Auckland City and every cone makes for a great walk. Highlights include Maungawhau/Mt Eden, Te Kopuke/Mt Saint John, Mangere Mountain, Maungauika/North Head, Puketapapa/Mount Roskill, Takarunga/Mt Victoria, Te Tatum a Riukiuta/Three Kings and Maunakiekie/One Tree Hill. Tackle them one by one or link a bunch together for an epic trek, here's a list of our faves.
Karamatura To Mount Donald McLean
Waitākere Ranges, 11.6km/4 hours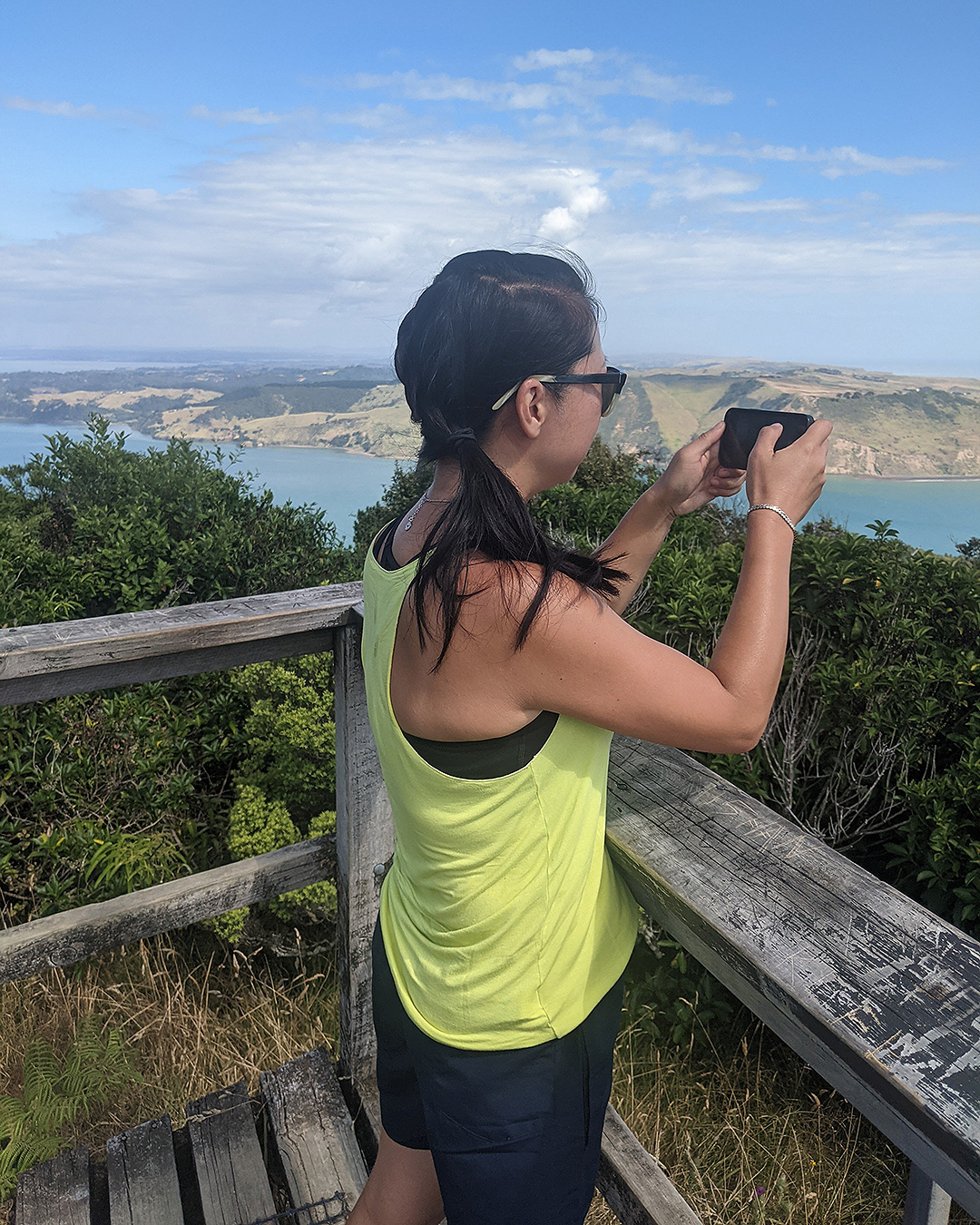 The ultimate stair walk, this track will take you along a forested path (part boardwalk, part loose) up to the Mount Donald McLean lookout and back. Gird your loins because this one's all about the climb. If you reach the top and never want to see another stair in your life (valid), you can trace the road back down the hill and it will eventually lead you back to the Karamatura car park, otherwise, it's back the way you came through stunning bush and canopy and yes, more stairs. This is one of the only tracks currently open in the Waitākere Ranges following Cyclone Gabrielle.
Rangitoto Summit Track
Rangitoto Island | 7km | 2 Hours Return
Speaking of our Ring of Fire, your volcanic scavenger hunt wouldn't be complete without summiting Rangitoto. On your way up you'll be treated to lava fields and the world's largest pōhutukawa forest before arriving at the top to enjoy panoramic views of the Tāmaki Makaurau and the Hauraki Gulf.
Te Ara Hura
Waiheke | 100km | Varies
Technically a network of walks, Te Ara Hura, showcases everything we love about Waiheke Island. Made up of four main areas—'headlands', 'beaches 'n' baches', 'forest heart' and 'far end'—the tracks are well signposted and have loads of entry points so you can dip in and out (and into a top-notch vineyard) as you like.
Karioitahi Beach
Waiuku | 35km one way | varies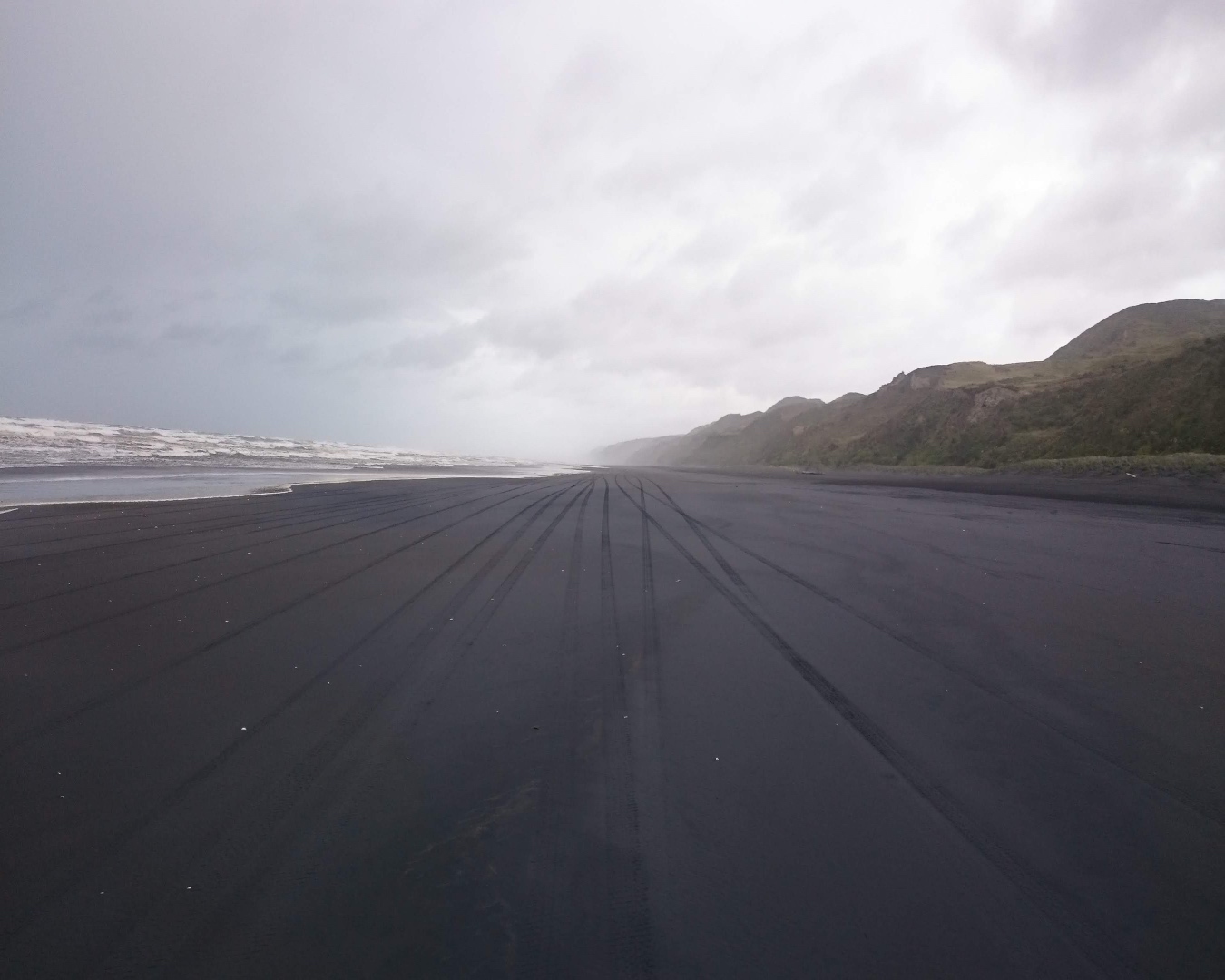 For a walk that feels like you've been transported to a different world chuck on your (old) sneakers, fill your pockets with snacks, grab a friend and catch up while you walk the black sands of Karioitahi. If the wind gets up, this can turn wild pretty quickly so be prepared and book in at the Bersantai Day Spa at nearby Castaways Resort for some well-deserved rest and relaxation.
Puhoi Track
Puhoi | 5.8km | 2 hours
This old ridge track is part of Te Araroa (a trek from Cape Reinga to Bluff). Starting at Remiger Road, you'll cross a swing bridge and climb through pines to a ridge track before descending through farmland. The Puhoi Track ends at the Puhoi Domain which is conveniently close to the Puhoi Pub for some well deserved refreshments. Cheers to that!
Tāwharanui Ecology Trail
Tāwharanui Peninsula | 3.3km return | 1.5 hours
This enchanting bush trail is a bird lover's dream, with the bonus of simply gorgeous sea views. Once you've had a gander, go for a snorkel at Anchor Bay, stroll along the beautiful white sands of Tāwharanui Beach or plant some trees with the Tāwharanui Open Sanctuary Society.
Duder Regional Park
Whakakaiwhara Peninsula | Varies
Get your fill of rolling hills and spectacular sea views at Duder Regional Park. Whether you pick the coastal perimeter track or inner loop you're sure to have an enjoyable stroll. Visit in spring to witness lambs taking their first steps in this world.
Ambury Regional Farm Park
Māngere Bridge | varies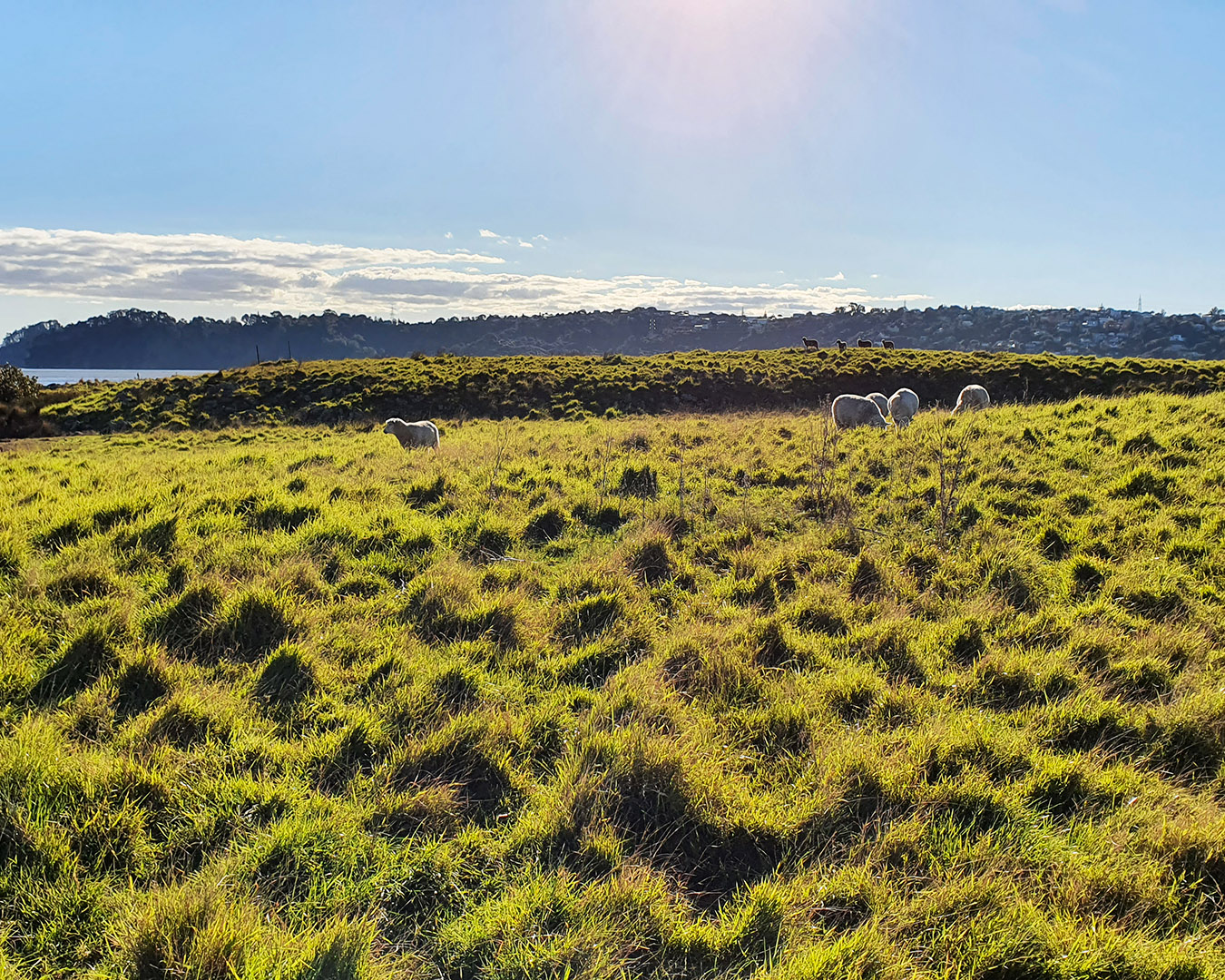 Nestled into the bend of the Manukau Harbour is Ambury Park, a wonderland for cotton ball sheep, adorable pigs, astonishing peacocks and more—literally the best Auckland walk for animal lovers. The walk is more of a wander where you can pick your own pace and track. There are BBQs, drinking fountains, bathrooms, live shearing sessions, and picnic tables on-site, so you can set up camp for a full day of farm life.
Westhaven Promenade Loop
Westhaven Marina | 7km | 1.5-2 Hours
Starting at the foot of the Harbour Bridge end of the Westhaven Marina, follow the wooden boardwalk for seaside views of the Waitematā Harbour, Herne Bay and Cox's Bay, marvelling at the luxury yachts along the way. The walk finishes at Point Erin Park. From here you have the choice of heading to Point Erin Pools for a quick dip to cool down (in the summer), or heading through Victoria Park to Albert Street, the Viaduct and Wynyard Quarter to complete the loop.
Aotea Track
Great Barrier Island | 25km | 2-3 Days
While Great Barrier Island is home to many awe-inspiring nature walks, Aotea Track, named after the Māori name for the island, is a must if you've got a couple of days to spare. Highlights include a vintage tram line operated by the Kauri Timber Company back in 1925, summiting Mt Hobson (627m) and enjoying a well-earned soak in the Kaitoke Hot Springs.
Massey-Cossey Loop Track
Hunua Ranges | 8.3km | 3 Hours
This loop track will get your heart pumping with a fair amount of stairs. You'll then follow the bush track to a lookout point before descending to the Cossey Dam. Once you've finished the track, enjoy a picnic in front of the Hunua Falls. Don't forget to snap an iconic photo in the golden frame before you leave.
Tāmaki Drive Coastal Path
Tāmaki Drive | 9.5km One Way | 2 Hours
If you're after sparkling seas from the suburbs to the city (and back again, if you're feeling particularly athletic), a stroll along Tāmaki Drive will hit the spot. The flat walkway is shared with cyclists and rollerbladers and featured landmarks en route include Mission Bay Beach, Bastion Point and Ōrākei Domain. Keep your eyes peeled for wetsuit-clad marine mammal medics saving faux whales—these beaches are a favourite training spot for local animal rescue charity Project Jonah.
North Shore Coastal Walk
Varies | 22.3km | 6-7 hours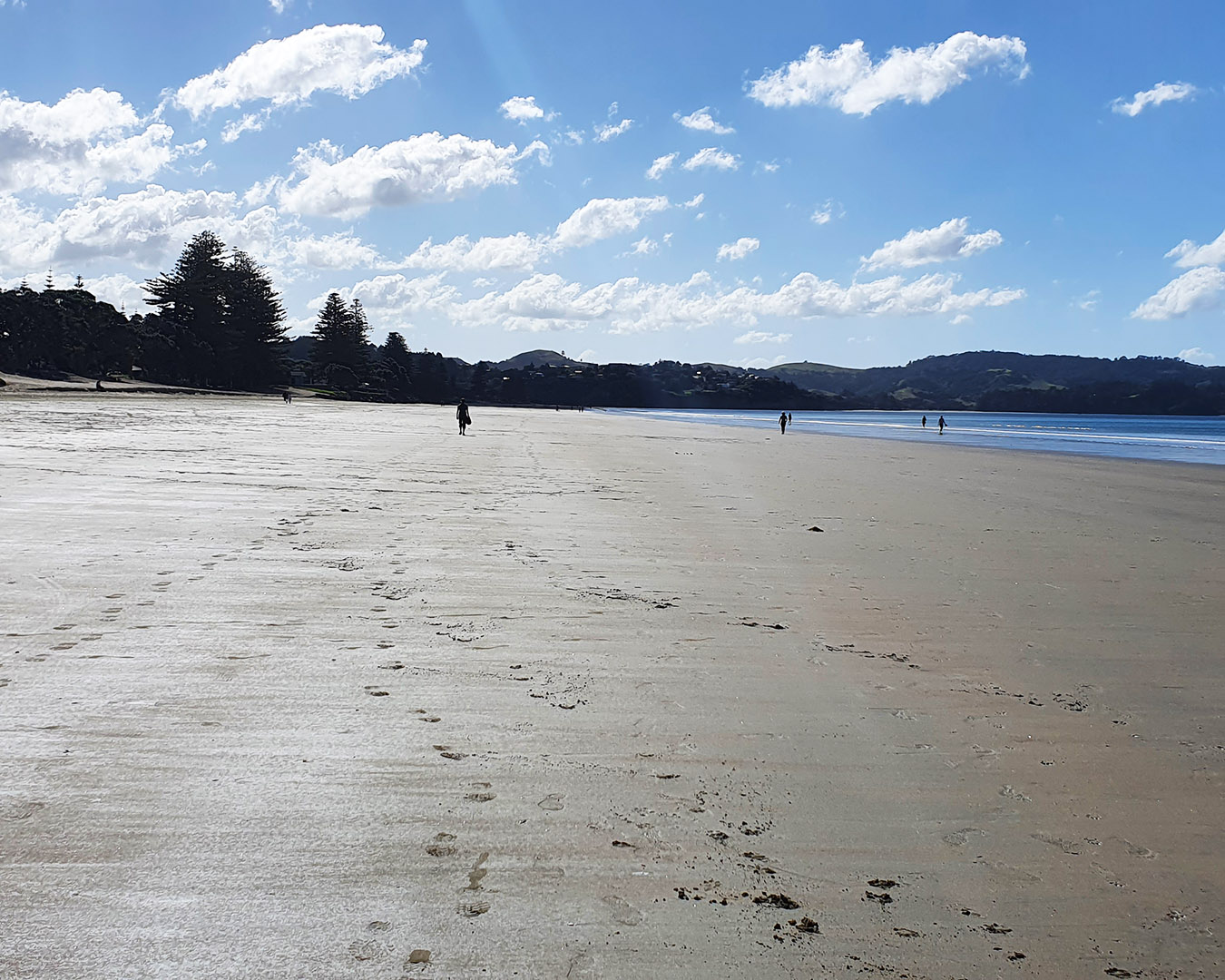 The Northern Beaches are some of the most picturesque places in Auckland City and on the North Shore Coastal Walk you get to enjoy every one of them. Starting at Long Bay you'll follow the coastline—sometimes along sand, sometimes along roads—all the way to Devonport. With stops at Torbay, Browns Bay, Rothesay Bay, Murrays Bay, Mairangi Bay, Campbell's Bay, Castor Bay, Milford and Takapuna you can tailor the length of the walk to your liking (you can even start further north). If you do choose the full day, finish this hike in style by catching a ferry across the gulf and into the heart of Auckland CBD. Magic.
Ōrākei Basin Walkway
Ōrākei | 4km | 1 hour
Catch a train from Britomart and you'll be at Ōrākei Basin in no time. Fascinatingly, this tidal lagoon is the result of a volcanic eruption 85,000 years ago. Circumnavigate the huge body of water via the boardwalk, plus the optional side route through tree-lined streets of Meadowbank and Remuera, finishing with a delicious, healthy victory snack from Bowl & Arrow or perhaps a hit of the good stuff from Moustache.
Western Springs Lakeside Park
Western Springs | 1.75km | 25 Mins
If you're looking for a relaxing stroll, Western Springs is the spot. Start at the car park off Great North Road. From there, wander around the freshwater lake where you'll see familiar native faces like pukeko, teal and shovelers. The final must-see at Western Springs is the Fukoaka Garden—a tranquil Japanese garden and tea pavilion open to the public 10am-5:30pm daily.
Coast To Coast Walkway
Waitematā To Manukau | 16km | 4 hours
Ever wanted to attempt to cross the width of the country on foot in one day? The Coast To Coast Walkway does just that, crossing through the Auckland Domain, Albert Park, Newmarket shops, Mt Eden, Cornwall Park and One Tree Hill. Plus, you'll gain bragging rights of crossing the entire city on foot in such a short amount of time.
All puffed out? Grab your jandals and check out the best beaches in Auckland.
Image credit: Hillary Trail by Mark Meredith, Don Mclean by Armelle Frimpong, all others by Alice Rich.