We've said it before but we'll say it again: rooftop bars are the shiz. What's not to love about sitting sky-high, sipping on a beverage and taking in an epic view? Auckland's best rooftop bars are dotted across the city and come in all shapes in sizes so we asked you for the lowdown on your favourite spot.
Perhaps yours is an Auckland rooftop bar with a bowling alley? Or maybe you're into lush park views? Whatever your rooftop bar criteria, the best rooftop bars in Auckland won't let you down.
Here's where to find all of Auckland's best rooftop bars according to you. Drinking in the sky? You know you want to.
Rooftop At QT
Auckland Viaduct
If you're looking to elevate your next day or night out in the City of Sails, look no further than the stunning Rooftop At QT. Perched six storeys above the Viaduct, this expansive new space will have you living out your boujee dreams in style. Order up some mezze snacks from the on-site restaurant which offers tastes from Esther's Mediterranean-inspired menu. With espresso martinis and a guaranteed-delicious rotating guest cocktail on tap, you may not even need to see the drinks menu, but if you do, you'll find it loaded with the finest libations available in the city. One thing's for sure, if you're looking for a place to chill in the Viaduct, you need to head to the roof. Sudeshna loves their great service and thinks they're comparable to international standards and we quite agree.
The Parasol & Swing Company
Auckland Viaduct
Just when you thought Auckland's bustling viaduct couldn't get any better, The Parasol & Swing Company enters the scene. Perched between Soul Bar and Dr Rudi's, this cool venue fits in perfectly. It spans two levels (check out their equally epic spot Brolly downstairs), ideal for ample hours of vino sipping and sun-soaking—especially since cocktail champion Jason Rosen is behind the eccentric drinks menu. Like every good rooftop bar, you'll find a moreish menu kitted out with staples such as burgers, tacos, salads, shared plates and a whole lot more deliciousness. Grab a round of craft beers if that's up your alley or get sippin' on something a little more creative. If we're not in the office tomorrow—you'll find us here. Gabrielle loves their amazing cocktails by amazing bar staff, great views and that it feels intimate while Louise thinks their food and cocktails are amazing.
Saint Alice
Auckland Viaduct
Soaking up sunny rays and epic views of the Viaduct, Saint Alice is in a league of its own. A unique cross between a bar and eatery, you'll find this hot spot next to brother bar Dr Rudis. The menu has a focus on seafood and is designed to introduce new flavours to diners in a relaxed setting, but as the sun goes down this place really pops off, bring your dancing shoes and fill your boots at the expansive bar. Bobby loves that this spot is pumping day and night with food to die for.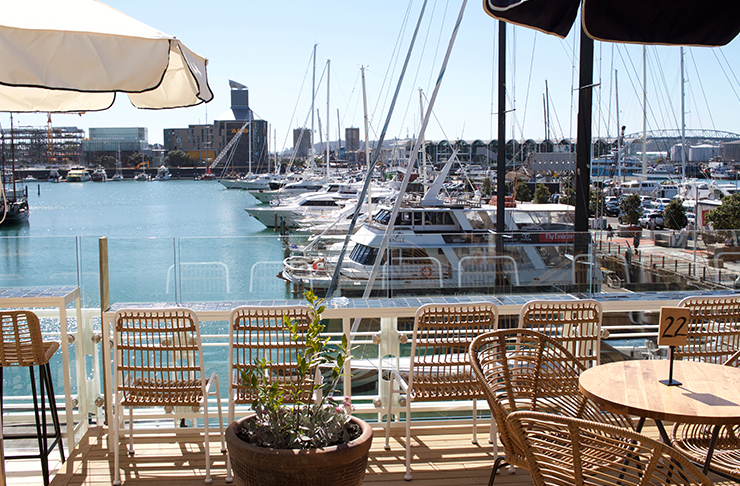 Dr Rudi's Rooftop Brewing Co
Auckland Viaduct
Not only is Dr Rudi's Rooftop Brewing Co one of the best rooftop bars in Auckland, but it's also injected a whole lot of life into the Viaduct. Hop on the escalator to Dr Rudi's and you'll soon find yourself drinking a cold vino or homebrew while eating 15 kinds of metre-long pizza while throwing balls down an indoor bowling alley. Yep, it really is one of Auckland city's best rooftop bars. If bowling isn't your idea of fun (and if it isn't, try it after a few wines and we bet you'll change your mind), then fret not—Dr Rudi's has so much more to offer. There are live DJs, piano players who duel as the night goes on, unbeatable views of the harbour and a delectable line-up of eats and drinks. Better yet, in the a.m. Dr Rudi's turns into a coffee pit-stop serving Atomic coffee and tasty tit-bits to match. Jessica loves that Dr Rudi's is 'always a good time and has the best views'.
Ostro
Britomart
Member-only clubs not your jam? Ostro might be more your style. Set in the Seafarers building, Ostro is the kinda place every Aucklander must visit once (or twice, or more). As one of Auckland's best rooftop bars and eateries, Ostro is divided into two spaces—the restaurant and The Deck. Grab a table at the restaurant and take in the stunning Waitemata Harbour views over beef carpaccio, mushroom gnocchi with truffle cream and their famous new season asparagus (who knew these little green sticks could be made to taste so good?). Or, gather your work crew and head to The Deck for some post-grind tapas, drinks and yarns. Ruby loves their 'epic food and views for days'.
Brew On Quay
Auckland CBD
You've always wanted to go to a topless bar, right? Well, Brew On Quay is the ticket. Dubbed as one of the best rooftop bars in Auckland's CBD, with a dizzying array of craft beers, Brew On Quay is the perfect pozzy for after-work drinks (their beverage list is impressive), grazing menu eats and much-needed fresh air. In need of a quick lunch in the sunshine? Brew On Quay caters for that, too. They specialise in food that's good for the soul. Think truffle mash, bangers and mash, and glazed pork ribs. Their rooftop is the perfect not too big, not too small size to soak in a few rays during the day. Constanza loves their epic terrace and the variety of their weekly beers.
The Glass Goose
Auckland CBD
Firstly, we're utterly obsessed with Federal Street. With the likes of MASU, The Fed, Depot and other Auckland-famous restaurants, it's constantly buzzing with people looking to get their fix of delicious food and good times. Secondly, we're utterly obsessed with The Glass Goose. It's considered to be one of the best rooftop bars in Auckland city and rightly so. Resembling a glasshouse (hence the name), The Glass Goose feels like an inner-city jungle sanctuary. There's fantastic sharing dishes such as crumbed pork belly bites in a mulled wine glaze, potato cod croquette and impressive meat board, as well as a killer cocktail menu. We're talkin' dark chocolate Negronis and espresso martinis made with butterscotch liqueur—gimme! Just a head's up, this Auckland rooftop bar can be a wee bit tricky to find. Head down the little alley and up the stairs behind The Coffee Club—The Glass Goose will be ready and waiting. Dom loves the vibe, especially when it's popping at the weekend.
La Zeppa
Victoria Park
Ah La Zeppa, you Auckland rooftop bar legend, you. As one of the most well-known and best rooftop bars in Auckland, La Zeppa is the place to be when the sun is shining and you need to get your booze and Vit D combo, stat. Grab a spot under those brightly coloured lanterns and unwind as the arvo fades and the stars take over the sky. The industrial, cosmo feel will transport you straight to the famous rooftop bars in NYC...except the up close and personal view of the Sky Tower will bring you back to our wonderful city of Auckland. There's often live beats to set the tone and the big-ass indoor fireplace will warm your cockles in the chilly season. Get there. La Zeppa is one of the best rooftop bars in Auckland and you don't want to deprive yourself of that, do you? Jack says La Zeppa gets his vote for always being a great spot to meet with friends.
Basalt
Howick
Whether you call Howick home or you're keen to escape the bustle of the city, get yourself to Basalt, home to one of the best rooftop bars in Auckland. There's a collection of colourful country flags lining the ceiling and plenty of bar tables to perch on, making it a welcome change from the more sophisticated rooftop bars in the city. Basalt's staff are super friendly and go out of their way to make you feel at home. They'll help you navigate their huge and varied menu, which features everything from soft shell tacos to homemade burgers and Angus Blackstar eye fillet and make sure you have a blast. Sal loves the great rooftop bar with good vibes and tasty food.
Sweat Shop Brew Kitchen
Freemans Bay
An arvo-turned-evening at Sweat Shop Brew Kitchen is always a winner. Boasting a huge outdoor deck, Sweat Shop knows how to get the punters going. There's slow-cooked smoky meat platters, award-winning beer brewed on-site and DJs that provide killer tunes. BYO appetite because the food is outrageously good. Our picks are BBQ bourbon pork ribs, southern spiced squid, and the ultimate American hotdog. One of Auckland's best rooftop bars? We think so! Crystal loves their beautiful deck and awesome staff while Jem digs their massive rooftop deck with floor shuffleboard and thinks it's epic for sunshine drinks.
Plan your next adventure with 8 of the best day trips out of Auckland.
Image credit: QT Auckland, Parasol & Swing Company, Dr Rudi's, Brew On Quay, La Zeppa, Basalt.