Va Bene is an Italian term meaning 'goes well' and we have to say, Parnell's newest restaurant is definitely living up to its name. In fact, we reckon this is somewhat of an understatement but hey, there's nothing wrong with being a touch humble, right?
This charismatic new eatery—styled much like a European wine bar—can be found at 131 Parnell Road and is the baby of chef Paul Patterson (who some of you will know from the latest season of The Bachelorette New Zealand) and his friends Esmeralda Kasmara and Brent Newdick. Rounding out the team is head chef, Leo Hendra as well as front-of-house superstar, Taylor Altmann.
Paul has spent much of his time living overseas, including a lengthy stint in Paris, opening and consulting on restaurants. In fact, he was about to open a restaurant in New York when COVID hit, meaning of course that a return home was imminent.
However, the Big Apple's loss turned out to be Auckland's gain, because guys—Va Bene is one seriously vibing spot. The eatery is testament to Paul's time abroad, evident in the décor (the rad Parisian skull art, for example) and of course, the menu. However don't expect to be tied down to just one kind of cuisine—instead, Paul has focused on bringing us the overseas dishes he loves and misses most. And the most impressive part? Each one is made from just six ingredients or less (you can let your jaw drop any time now).
So settle in at the large communal table, which seats up to 24 people (encouraging chit-chat amongst strangers, as is the European way) or one of the smaller, raised side tables dotted around the edge of the space and prepare for one mega tasty feed.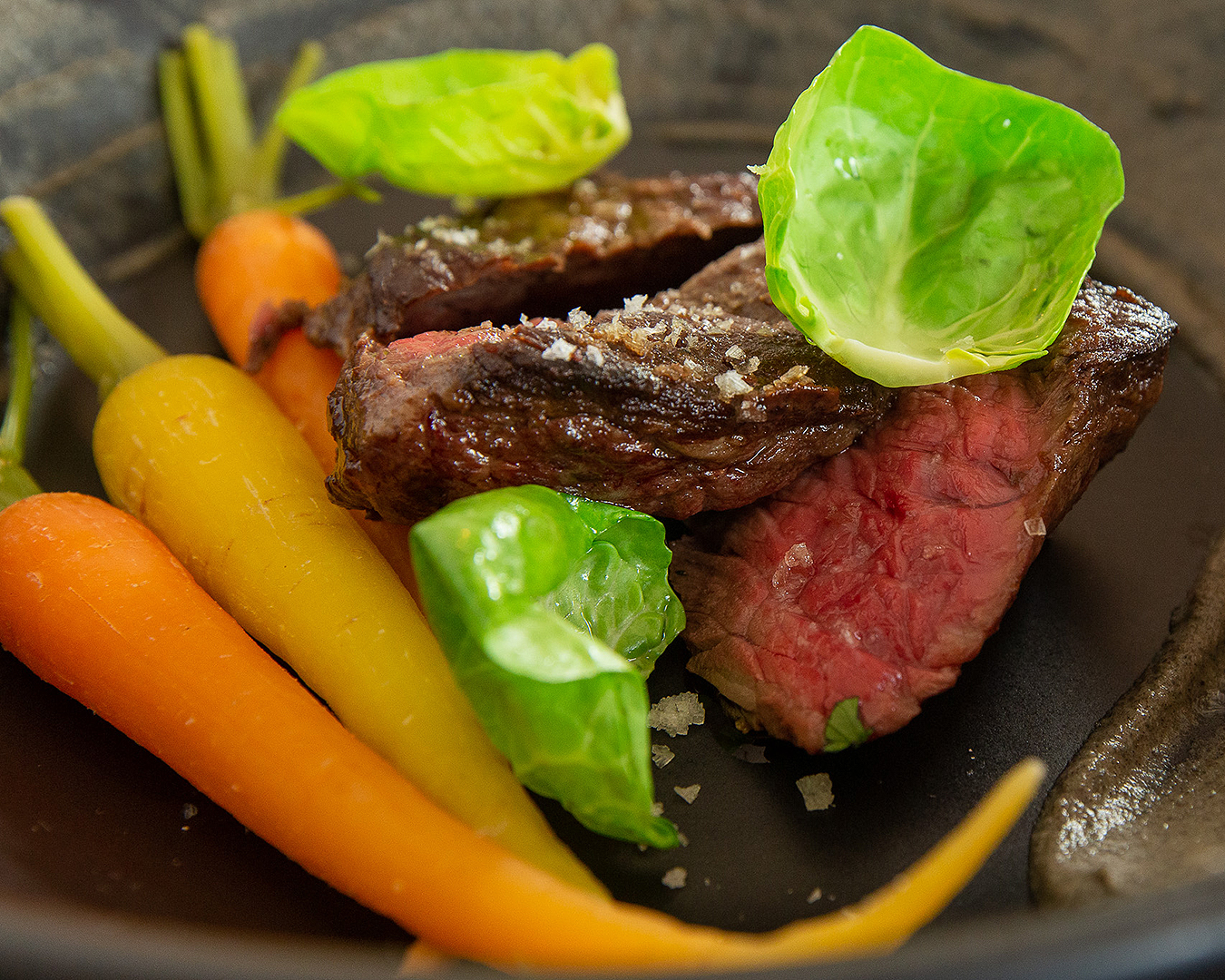 Meals here come in the form of small or large plates, designed to be shared. Meat takes a starring role and on that note, you should make the beef bourguignon your top priority. Featuring generous chunks of melt-in-the-mouth beef (smoked for 6-7 hours in the impressive on-site smoker, before undergoing a number of other steps) and served alongside a fluffy smoked butter potato purée, it's the perfect antidote to this bleak winter weather and more importantly, bloody delicious.
The wagyu beef bavette is another killer dish, as juicy and tender as you could ever want a piece of beef to be and paired perfectly with a gorgeous burnt eggplant purée and garden greens.
And if you're after something a little lighter on the protein front, may we suggest the pan-seared fish of the day with feijoa and rhubarb salsa. Where the bourguignon will have you thinking of cosy winter nights by the fire, this one will have you dreaming about hot summer days by the beach (or perhaps the French Riviera, non?).
We're huge fans of halloumi, so no surprises that the version at Va Bene is one of our menu highlights. Grilled until golden and topped with a halo of garlic mushrooms and roasted almonds, it's all kinds of heavenly.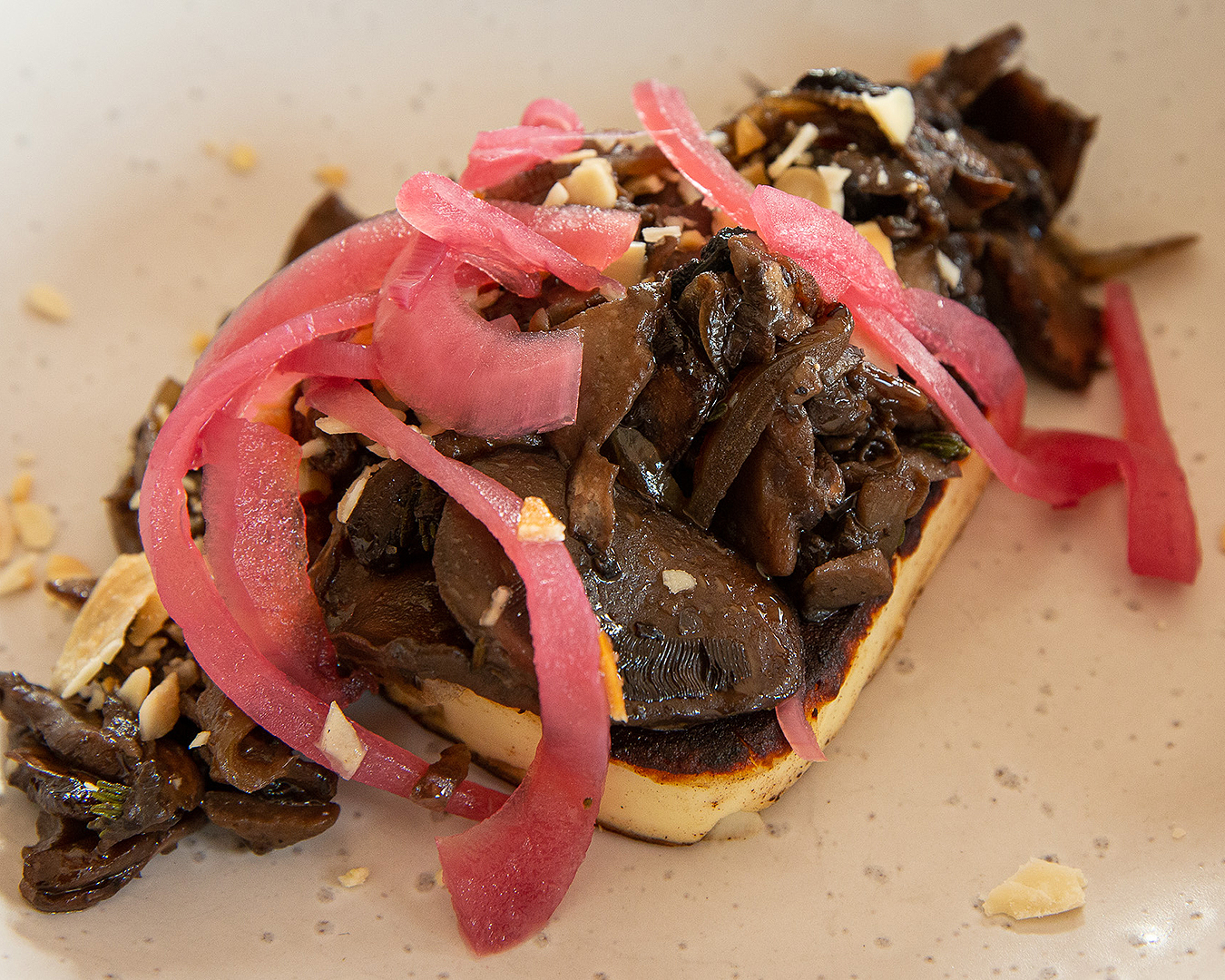 Va Bene is also home to some standout veggie dishes. We'll be the first to admit that Brussels sprouts have never been top of our leafy greens list, but that's probably because we haven't had them pan-seared to perfection and served alongside pieces of moreishly crisp pancetta, a la Va Bene's version. Take note, parents—this is how every Kiwi kid should be eating them.
Special mention also goes to the beautiful manuka honey and garlic glazed heirloom carrots, artfully presented atop a plate splattered with a vibrant veggie purée—and the lush kale mushroom melody.
While you're here, it would be a shame not to try the champers selection, a vino, or at the very least, a selfie in front of the wine bottle feature wall (we hear it's a bit of a thing). This might also be just the conversation starter you need when chatting with fellow diners—something that, as we've mentioned, is actively encouraged and adds to the whole Va Bene experience.
Speaking of encouragement, what more do you need? Make yourself a plan and get along to Va Bene ASAP, where you'll find all goes (very) well indeed.
For more images and information, including opening hours, click here.
Image credit: Wono Kim