Waiheke Island is well-known for being one of the best islands in the world due to its pristine beaches and—of course—world-class wineries and vineyards. Just a short hop from Auckland CBD will find you a world away from the hustle and bustle.
Wineries are a field that Waiheke has got down pat—it'd be criminal to leave the island without having visited at least one. Without further ado, here's our list of the best wineries and vineyards in Waiheke.
Tantalus Estate Vineyard
Onetangi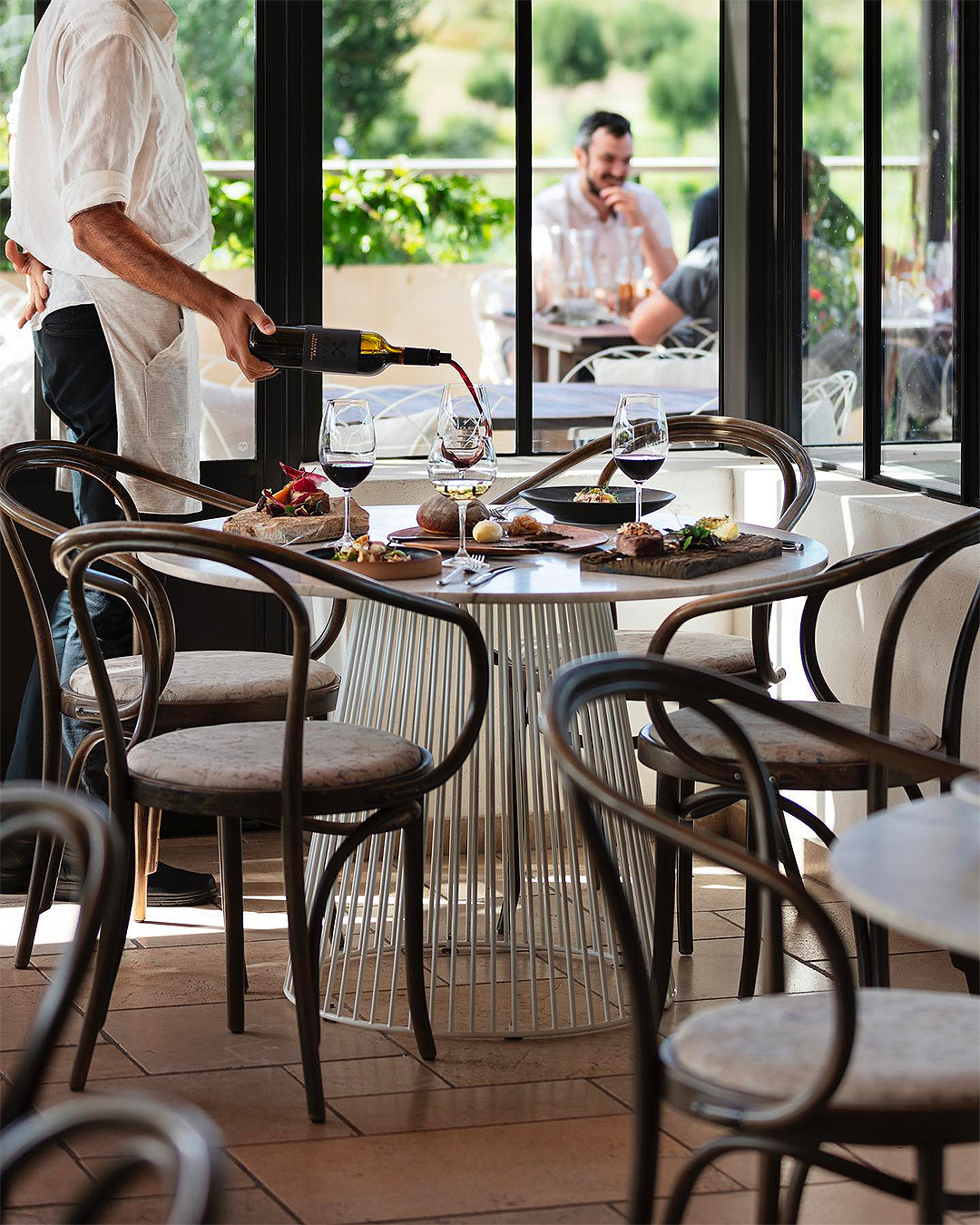 Situated in the heart of Onetangi Valley is the utterly stunning Tantalus Estate Vineyard. Transformed from what was once a charming barn with a vineyard attached it is now one of the island's top must-visit destinations—in fact, they have just been awarded Best Destination Venue 2023 at the prestigious Hospitality Awards. Tantalus Estate has it all. With a craft brewery on site as well as unrivalled quality wines, the space is gorgeous from every angle.
A glorious light-filled restaurant with seamless indoor-outdoor flow onto the terrace overlooking the vines serves as the backdrop to some of the island's best food. Using fresh seasonal produce the dishes produced here are nothing short of sublime and if you're stopping by for a tasting it'd be a crime not to sample their cellar bar snacks. Since Tantalus is such a hot spot, reservations are essential.
Mudbrick Vineyard & Restaurant
Oneroa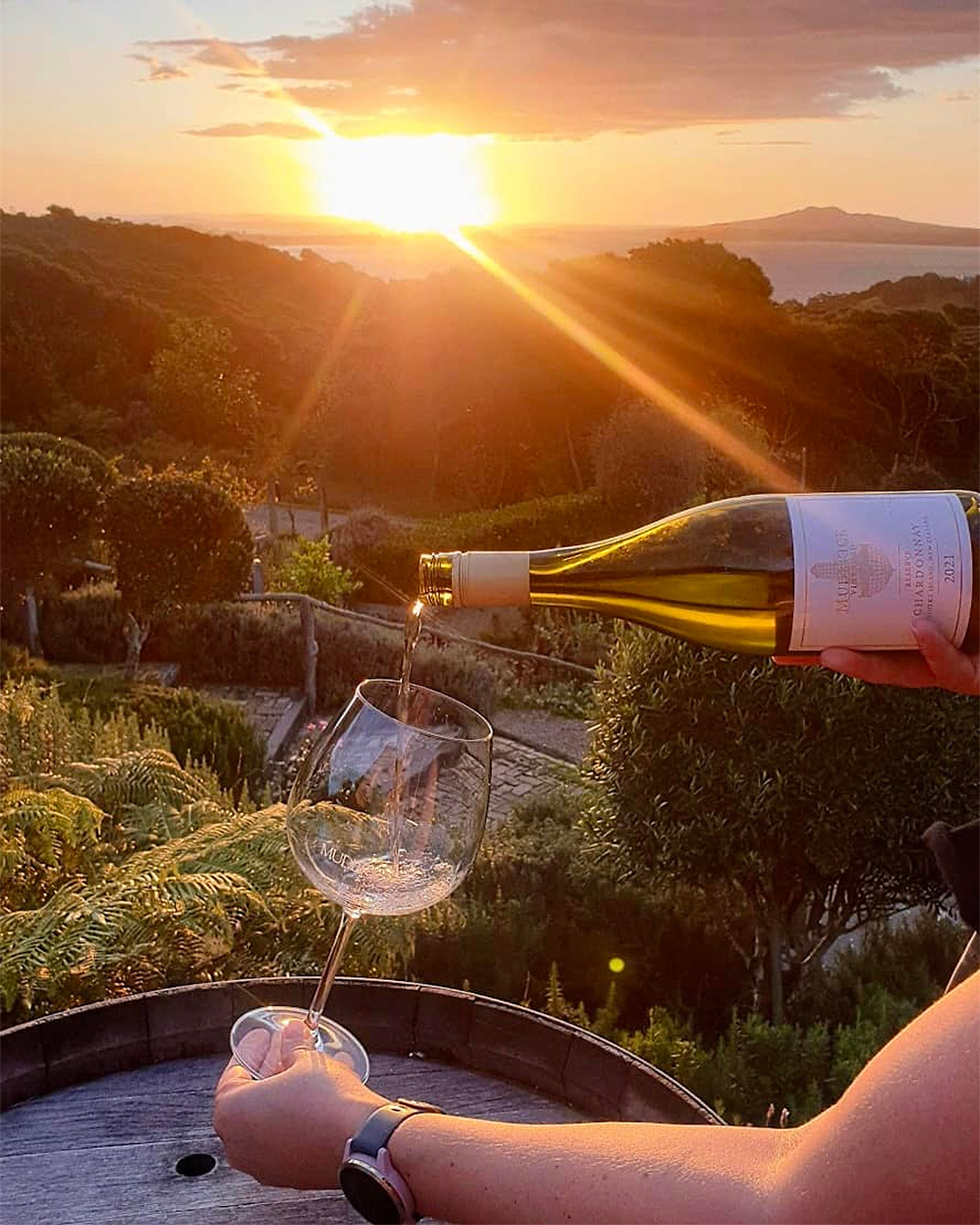 Nestled in the vines and offering panoramic views, Mudbrick Vineyard & Restaurant is the ideal destination for a long lunch, wine tasting or even a walk in their gorgeous gardens. An absolute Waiheke Island stalwart, over 25 years have gone by since they first opened and Mudbrick has since grown into a Waiheke empire. Not only do they have a restaurant with an impressive degustation menu, a more casual modern bistro the Archive and of course, Mudbrick wine, but they also offer accommodation and is often a wedding venue—it's that beautiful.
Casita Miro
Onetangi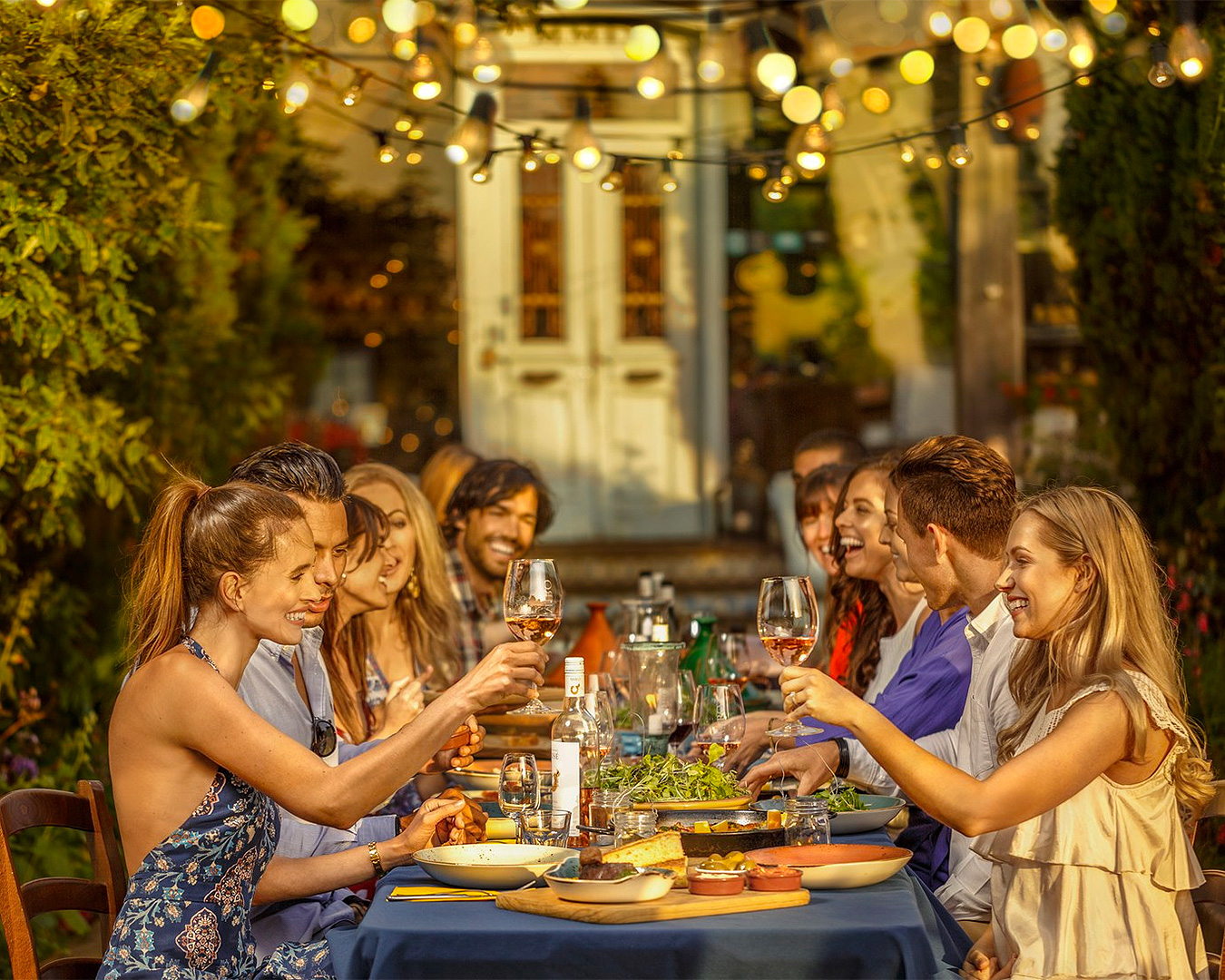 Casita Miro offers premium Bond Estate wine and the most delicious food that's inspired by the kitchens of Spain. Their fiesta menu consists of a three-course dining experience which is a seasonal journey through their Iberian-inspired menu. With sweeping views over the vineyards, a stunning dining room, you'll feel as though you're in a hidden and luxurious retreat. Take a tour around the garden between courses, relax in a garden chair or two and be sure to check out the beautiful mosaic-encrusted space at the very top of the garden.
Poderi Crisci Restaurant
Awaawaroa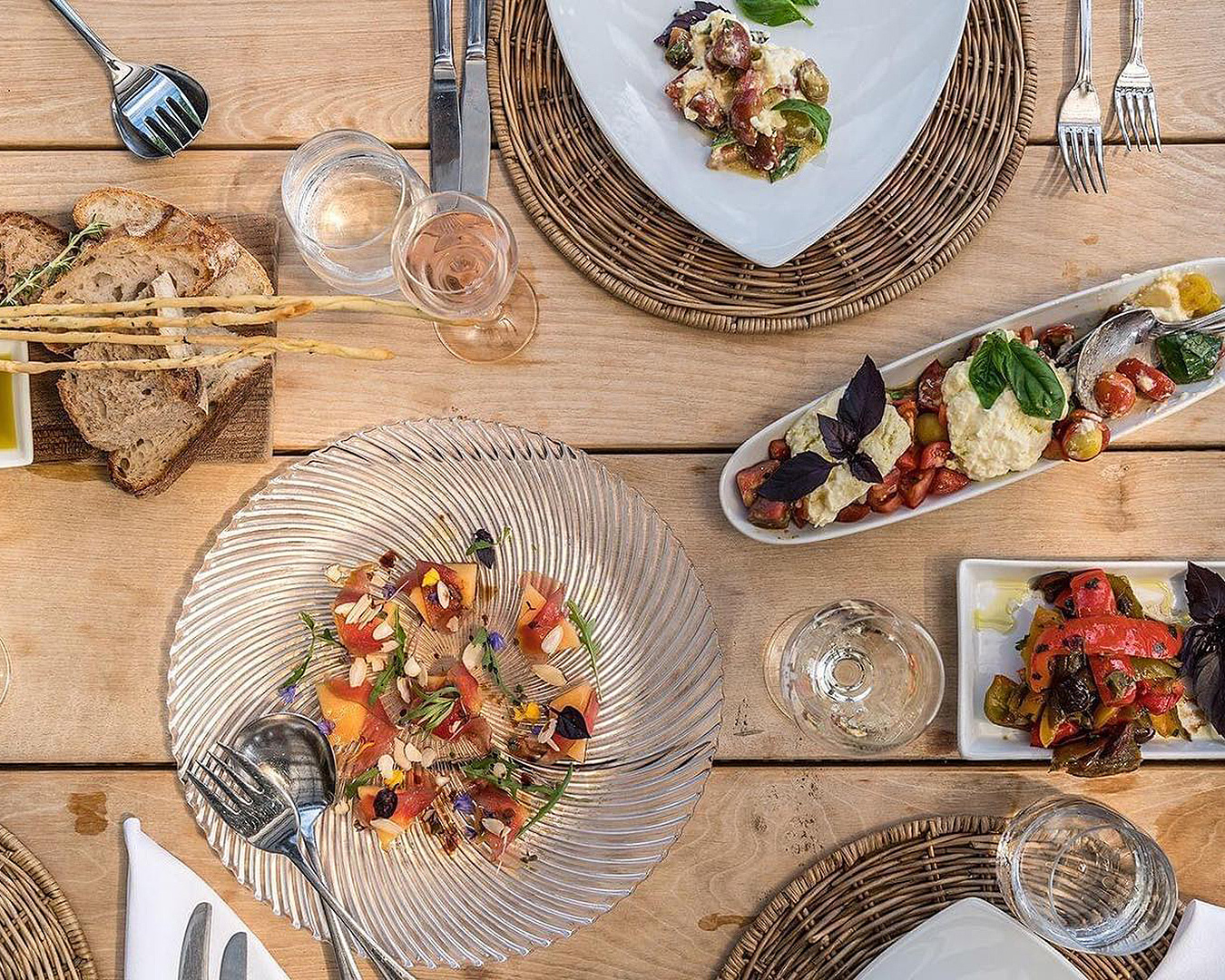 Just a 25-minute drive from the Kennedy Point wharf, you'll find a vineyard and fine-dining Italian restaurant called Poderi Crisci. With a Tuscan-style setting overlooking rolling hills and picture-perfect gardens, wines being produced and bottled on-site, Poderi Crisci has made a name for itself as one of the best wineries in Waiheke. Not sure about you all but when we think wine, our stomachs demand Italian cuisine. We're talking antipasto boards with premium cheese and finely cut meats and of course, pasta and Poderi Crisci has it all.
Wild On Waiheke
Onetangi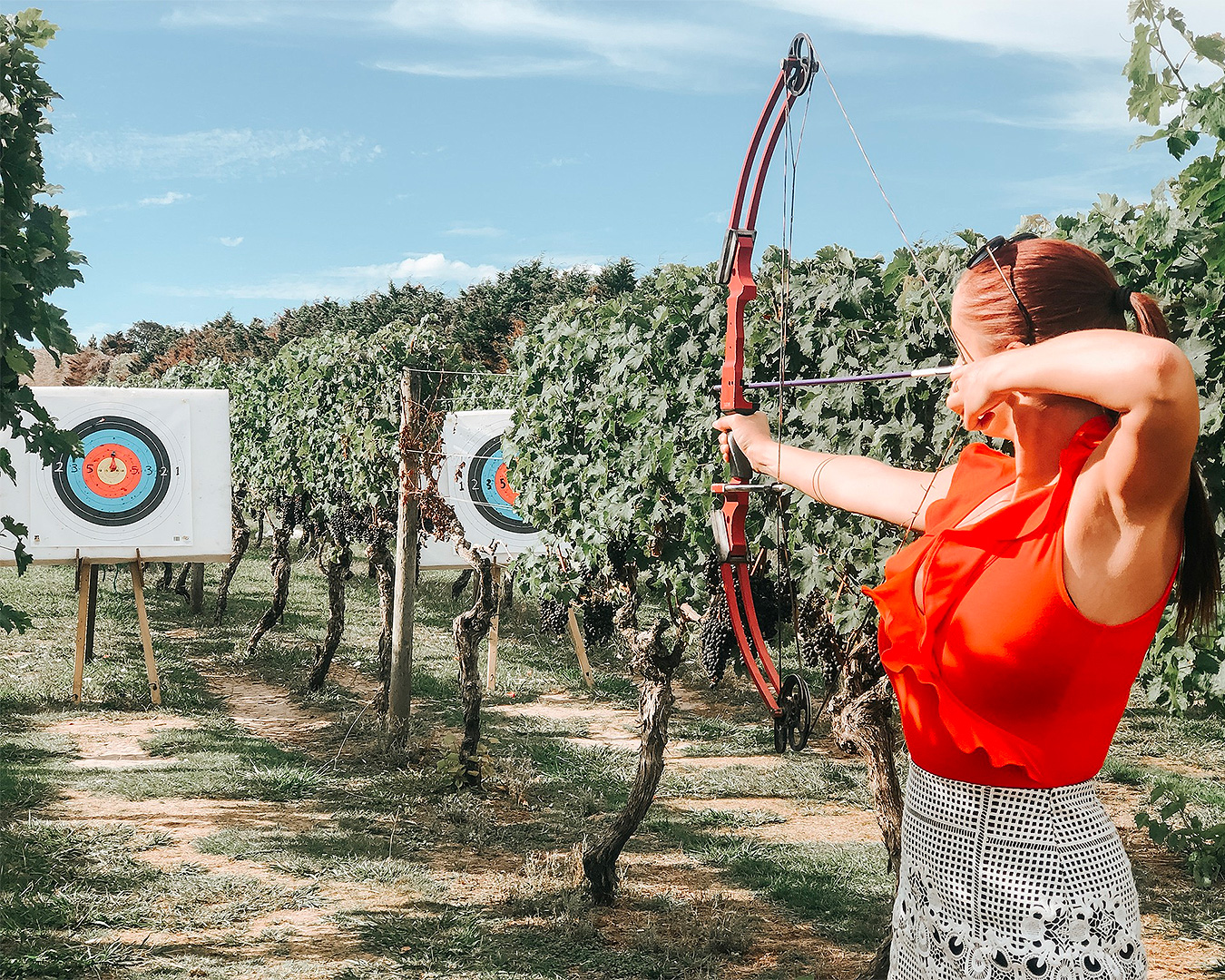 Not all experiences at a Waiheke winery have to be upscale! Wild On Waiheke offers a much more casual and relaxed vibe but don't let that impact the quality of their wine, food and service. The home to Waiheke Island Brewery and Wild Estate Vineyard there's a huge outdoor garden for you to soak up some sun. Wild On Waiheke's laid-back atmosphere makes it a perfect setting for enjoying a nice glass of wine, a refreshing pint of beer or even trying some of their activities which includes archery and clay bird shooting. Enjoy your beverage with one of their gourmet pizzas, a true match made in heaven.
Man O' War Vineyards
Eastern End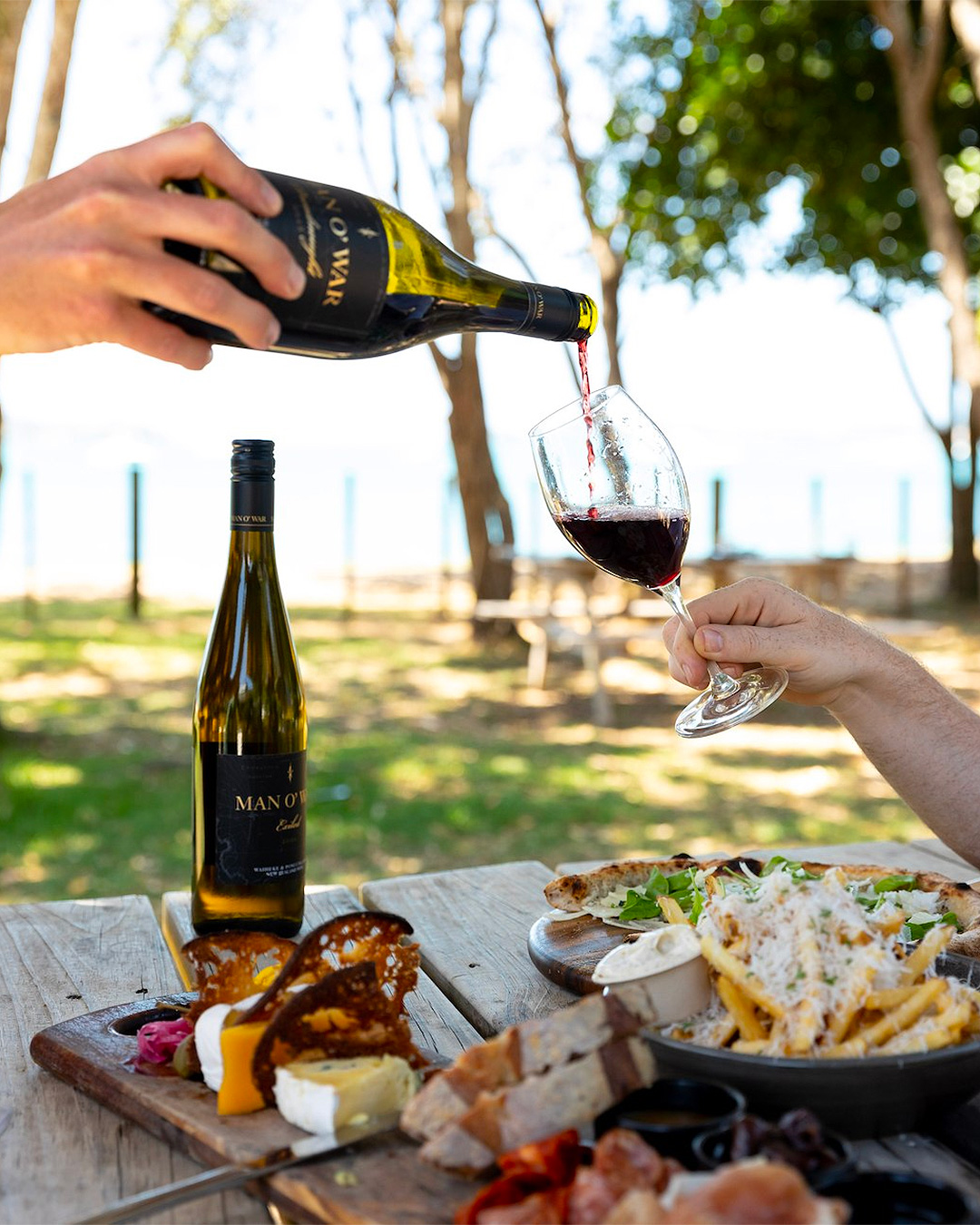 Right on the opposite side of the island sits Man O' War—a vineyard that you absolutely must visit. Head inside the 18th-century style villa (aka the tasting room) for a memorable wine tasting of fine wines with names like Valhalla, Dreadnought and Pinque where you'll no doubt join legions of fans of this exquisite wine. Pull up a pew on the expansive lawn or on the deck and order a couple of platters and while away a leisurely afternoon. Head out onto the beach to take in the stunning views and maybe even go for a dip—go on, you know you want to. Don't have a car? Relax on the Man O' War coach and arrive in style.
Te Motu Vineyard Restaurant & Cellar Door
Onetangi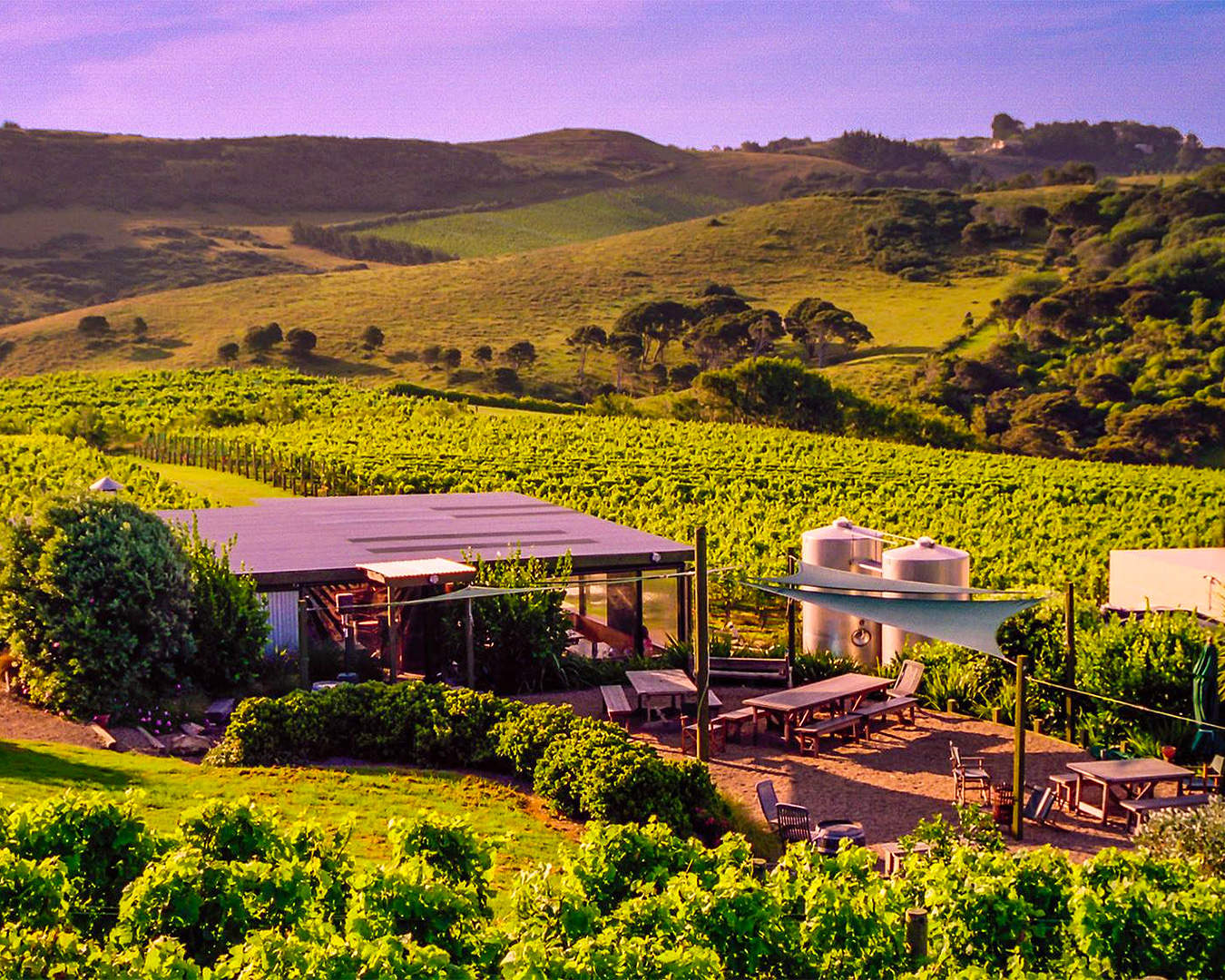 The home of Te Motu wines is Te Motu Vineyard Restaurant & Cellar Door. The Shed offers a menu that has been designed to pair perfectly with its iconic wines. The semi-rustic ambience and vineyard surroundings don't let you forget that you're on a little rural retreat. The food menu only uses the best and freshest ingredients and produce. Some of their most popular dishes are the lamb shoulder, chicken liver pate. And, for dessert, the coconut tapioca with feijoa is to die for.
Passage Rock
Eastern End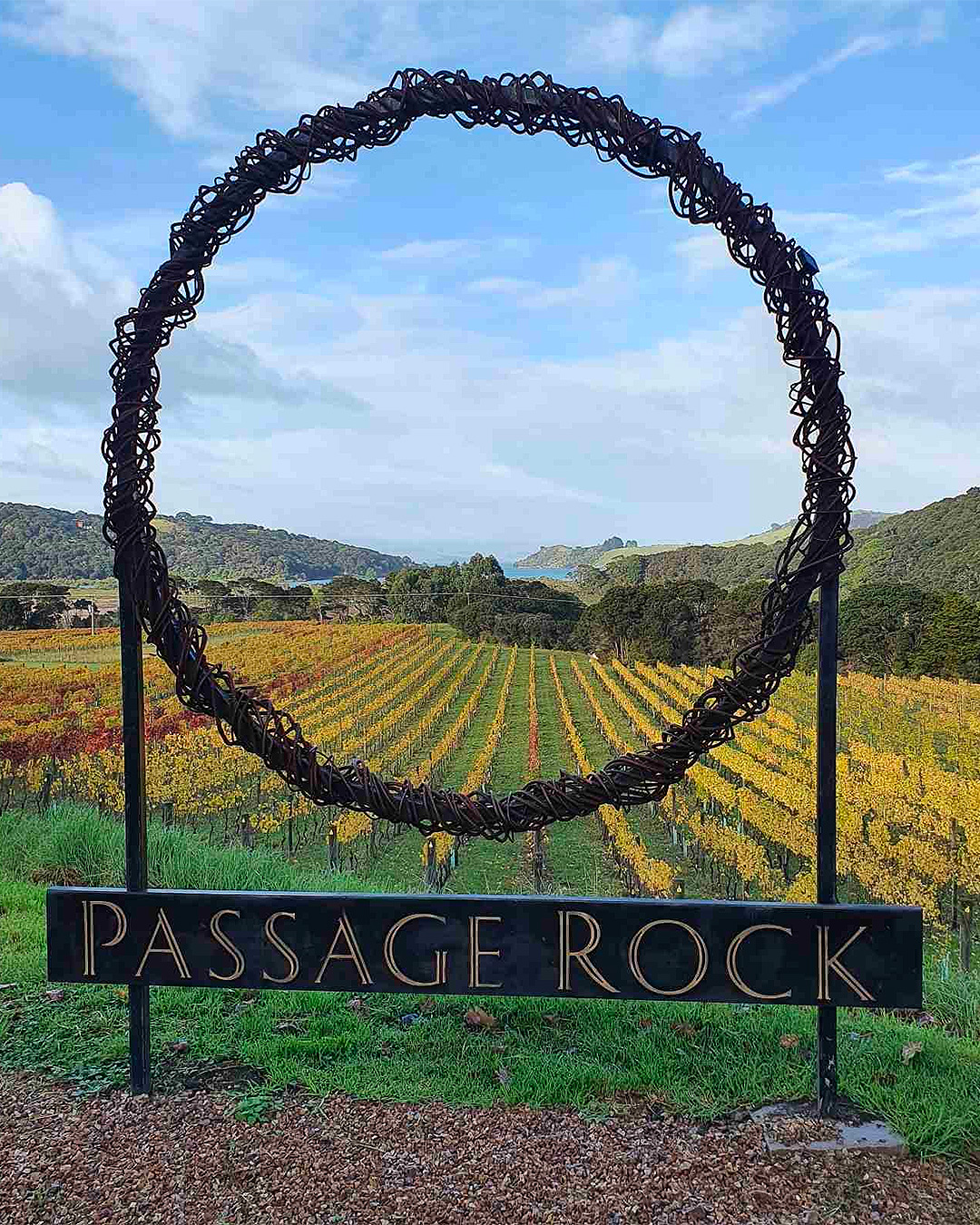 Sooner or later, you're going to want to explore all of the island, and this will take you onto a gravel road that will take you through lush sub-tropical scenery and stunning views. Keep going all the way around the loop until you finally alight, dusty and tired at the oasis that is Passage Rock. Waiheke's most-awarded winery offers a legendary cellar door experience. With every varietal available for tasting, you can complement these most delicious of drops with a visit to the stunning on-site bistro which sits serenely amongst the Syrah vines. One of the island's most glorious spots to lose a few hours.
Batch Winery
Oneroa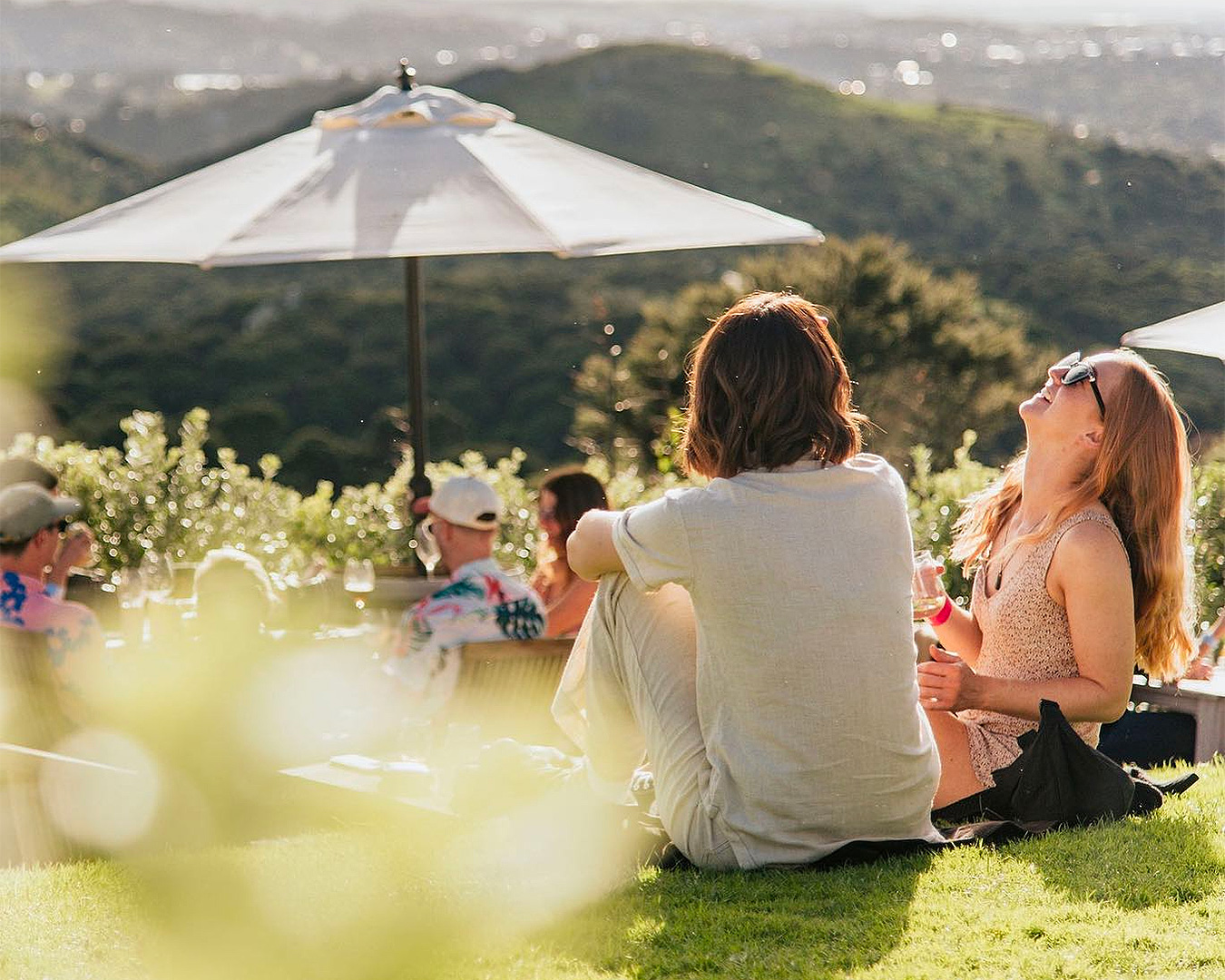 A marriage of a casual setting and million-dollar views, that perfect balance between laid-back and luxury is what Batch Winery has in store for us. Previously known as Thomas's Bach, what makes this winery a little bit different to the rest is that they also offer a high tea experience which comes with pairings of wine to elevate the flavours and experience. We are aware that this is a round-up of wineries but it would be wrong of us to not give their smashed pavlova a special mention—truly a must-have.
Awaroa Organic Winery
Waiheke Road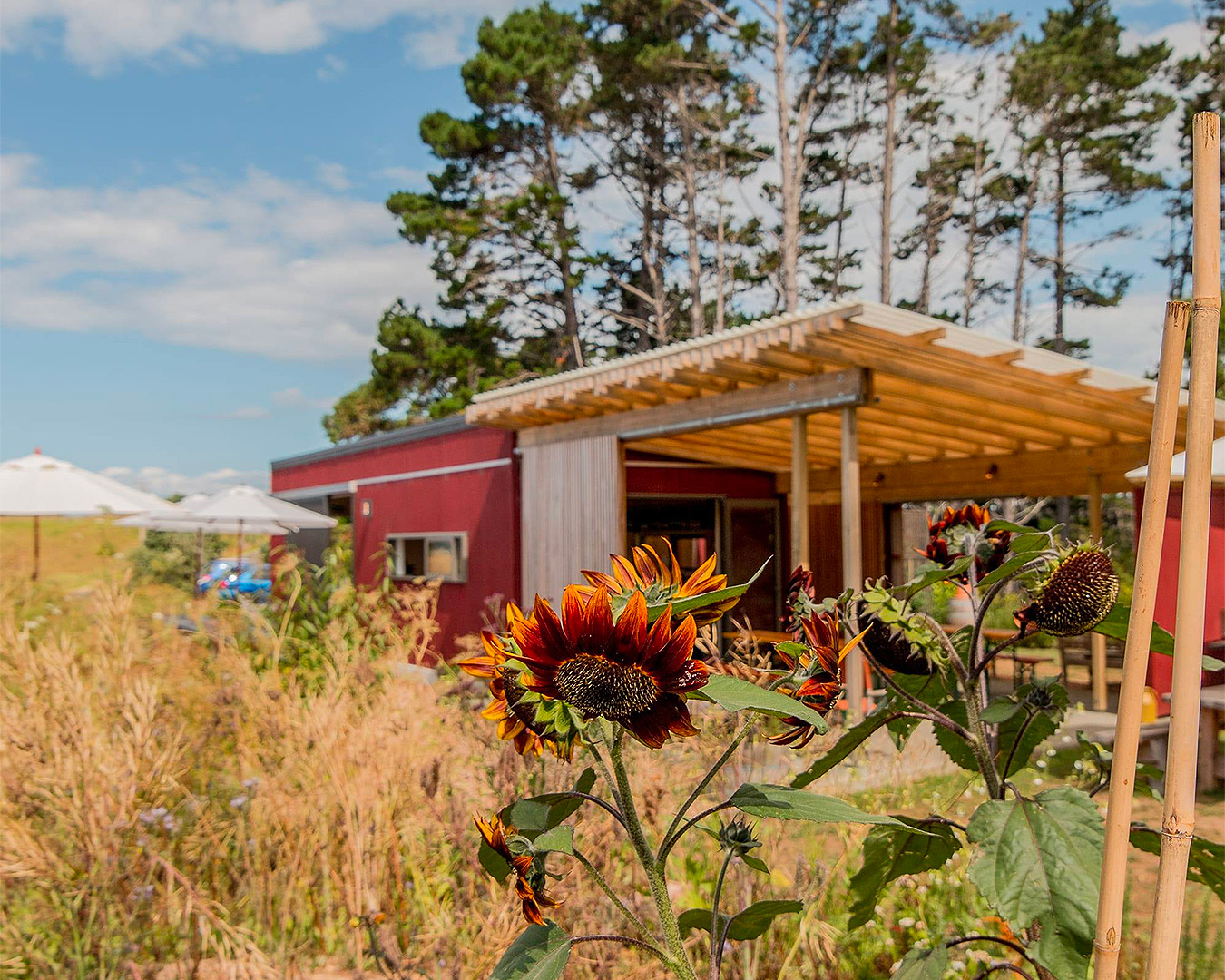 Don't miss sweet organic vineyard Awaroa Organic Winery on your genteel journey around the island. Awaroa, as one of the smallest wineries on the island is here to prove that you don't need to have acres of vines to produce some of the best wines. First planted in 1998, "Awaroa", means 'long river' in Te Reo Māori, and was taken from the name of the nearby stream. Sample their proudly organic wines in their tasting room, or settle yourself at a picnic table under an umbrella in their gorgeous garden for a leisurely tasting accompanied by locally grown snacks. Glorious.
Cable Bay Vineyard
Oneroa
If you're a sucker for a wine and dine session with a view, Cable Bay Vineyard is where you should be. This winery will not let you forget that you're on an island of paradise as it's located on top of the hills and overlooks the clear blue water and lush greenery. Cable Bay has an impressive wine menu (as they should) but doesn't fall short when it comes to food either. Offering an elegant menu inspired by Mediterranean cuisine, Cable Bay take sharing plates, platters and grazing boards to a whole new level.
Now you've toured Waiheke's vineyards, check out the best restaurants on the island.
Image credit: Mudbrick Vineyard & Restaurant, Tantalus Estate, Mudbrick Vineyard & Restaurant, Casita Miro, Poderi Crisci, Wild On Waiheke, Man O' War Vineyards, Te Motu Vineyard Restaurant & Cellar Door, Passage Rock, Batch Winery, Awaroa Organic Winery.