Who says you can't work out and have fun? If you are looking for a workout that combines strength training, agility, stability, yet a conventional run or workout routine at the gym just doesn't quite get your adrenaline rushing, look no further.
Rock climbing is a great full-body workout that will sculpt a six pack while having a ton of fun
. Burning more than 300 calories per hour, it can be more energy-intensive than an hour of juggling or biking. It's also an addictive sport where every hour spent at the climbing gym translates to visible improvements. Auckland has a great community of climbers, outdoors and indoors.
Join the action at some of the
best venues in Auckland for rock climbing, your bod will be summer-ready in no time.
Live life on the edge at Extreme Edge. It is exactly as the name suggests:
there are 200 top rope and sports climbing routes, as well as a bouldering section. They also provide automatic belays for some of the routes, if you fancy a quick individual workout sesh. The routes go up to grade 30 for top rope and sports climbing, with a clear, simple and easy to navigate grading system. The staff will also provide safety introduction sessions to get all new climbers briefed and ready. With an extremely helpful and professional staff,
Extreme Edge has routes suitable for all ages and abilities, whether you are a very first timer or a seasoned pro.
Vertical Adventure
Glen Eden
Ready to get vertical, horizontal, and upside down on the wall? With walls ranging from 10-15 metres,
Vertical Adventure
has over 65 top ropes as well as an impressive overhand session for those looking to get into lead climbing. A little overwhelmed? No worries, the venue also offers regular classes on climbing, abseiling, and leading to get you moving like a pro in no time. The venue is also disabled friendly, boasting an extensive experience from hosting para-Olympians as well as students from the Blind Foundation. With a team of staff that truly cares about climbing and the outdoors, Vertical Adventure is a great place to, well, get vertical.
Birkenhead Leisure Centre
Birkenhead
Birkenhead Leisure Centre has everything you need. Their 216 square metre rock wall also comes with a pool and gym facilities at the leisure centre, so you can extend your day of climbing. There are 26 lines of varying difficulty to cater to everyone's ability, as well as a massive six-metre overhang section for sports climbing enthusiasts. As always, the staff are super professional and always around to ensure your safety, even when you are hanging upside down six metres off the ground.
Clip 'N Climb
Mt Eden, Albany
What do you get when you cross a theme park with a rock climbing centre? Why Clip 'N Climb Mount Eden and Albany of course! They take creative climbing to a whole next level. You'll be overcome by an explosion of colours, shapes, and themes—there are striped blow up walls, timed walls, stained glass walls, glow in the dark walls, ropes, poles, ladders, and more. It's a party. You won't even need a partner with their auto belay system. For those keen to get more adrenaline rushing, they even have a vertical drop slide and a bunch of other fun adventures to keep you entertained while you rest between climbs.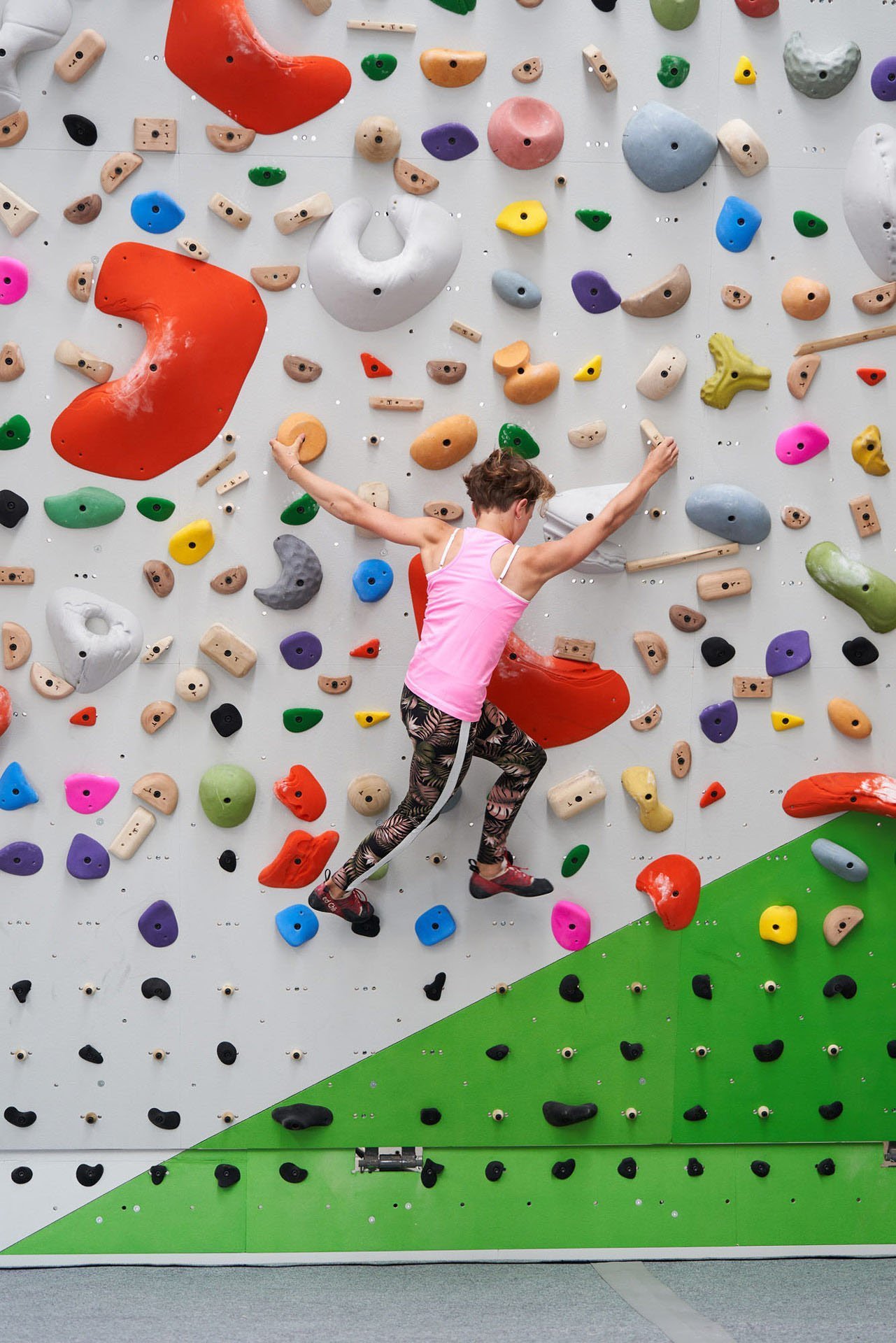 Northern Rocks
North Shore
Rounding up the list, we present you with the largest bouldering venue in Auckland. Northern Rocks boasts a range of professionally designed routes, fit for complete beginners as well as long-time professionals. Even better, the gym regularly hosts yoga classes, climbing workshops, and offers fresh apples – all for free! They also have a weight lifting and workout area for those looking to break a few more sweats. The staff is super friendly and always happy to give tips. There is also a real sense of community here, perfect for striking up a conversation and meeting your next climbing buddy. While you are here, don't forget to say hey to the gym pup Meg, a black lab who can often be seen lounging around the couch areas sniffing for snacks.
Image credit: Yns Plt, Northern Rocks