fu/nis EMS Training CBD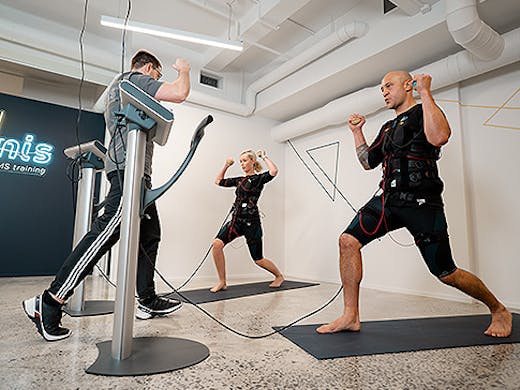 The Verdict
Let's be honest, who has time to workout these days? Yep, we understand the struggle. But what if we told you, you can get fit in just 20 minutes a week?! It sounds too good to be true, right? Wrong!
Allow us to introduce you to the wonderful world of EMS training. "Um, what's that?" we hear you ask. Electro Muscle Stimulation (aka EMS) training is a full-body training that contracts your muscles for you with small electric impulses as you complete a personalised workout.
The high-intensity, bodyweight exercises are challenged by your own resistance (imagine reaching to pick up a shopping bag without actually having one). EMS activates up to 90 per cent of the muscles—including those deep-lying ones you'd otherwise struggle to train.
The innovative (and super speedy!) training has taken the world by storm, and now, it's Auckland's turn. Located in the heart of the CBD, you'll discover the boutique fitness studio, fu/nis. Perfect for those who are too busy (guilty) or just want more time to themselves (you and I both), EMS training will help to transform your body in just 20 minutes a week. Not only will you feel and look healthier but you'll have more time to yourself—it's a win, win, win!
When you arrive for your session, you'll get your gear, quickly change and—in less than five minutes—you'll be working out with one of fu/nis' expert trainers. As your muscles buzz from the impulses, you'll do exercises that range from simple ab crunches and bicep curls to functional compound movements like the infamous 'pick up the box'.
Under your trainer's watchful eye, not only are you safe, but you're also challenged to push yourself to achieve better results. They'll keep you focused on your goals and ensure no two workouts are the same by integrating new movements and increasing intensity. You'll get through those 20 minutes in no time!
And there's no need to carry around a heavy gym bag. Travelling light = working out hard! You can do the training barefoot if you want and towels are provided for your session. And despite having a challenging session, you might not need a shower afterwards—you can literally be in and out in half an hour. Better yet, the fu/nis' inner-city location means you can dash in between meetings or on your lunch break. Score!
As for the results? In just one or two epic sessions a week, your body will noticeably tone and shape, you'll increase endurance and gain strength (without pumping weights for hours on end). You'll feel the muscle burn the following day and feel better than ever. Don't believe it? Here's what happened when we tried it for a month.
EMS training can be complementary to normal training or if you simply want to switch things up. Or, if you don't workout at all, it's fab for sneaking in at least a little bit of exercise! The low-impact nature also means it's great for people who are recovering from a recent injury—it's easy on the ol' joints.
Whether your goal is to shred for the wed, train for a marathon or simply have more "me time", fu/nis is your one-stop workout. Lock in a 20-minute session and experience it for yourself.
Image credit: fu/nis
---
You May Also Like
Health & Beauty
There's something sensational about businesses popping up in unexpected places…
Fitness
Grey Lynn, Auckland
Want to up your fitness game? Head to the heart of Ponsonby where you'll find…