Baan Baan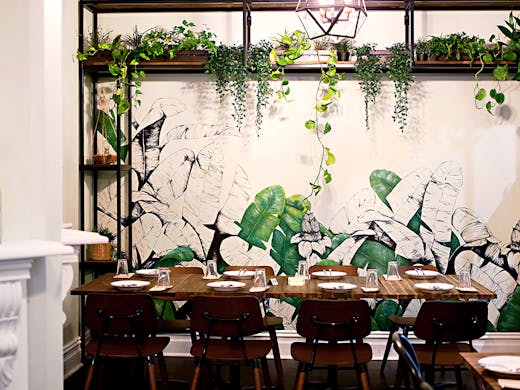 The Verdict
If you could capture the warmth, vibrancy and spiciness of Thailand in a bottle and bring it back to Perth, it would look a lot like Dao Thanasothorn's Baan Baan. Oozing with flavour, this Northbridge restaurant is a must for Perth diners, with its homestyle and regional Thai eats, thoughtfully decorated space and bustling atmosphere.
The integrity of the Northbridge heritage building in which Baan Baan resides (formerly The Old Crow) has been maintained, while the story of Dao is splashed around the dining area thanks to plenty of greenery cascading from pot plants and local street artist @emblem_ink being unleashed on the walls.
The menu is loaded with food based on Dao's family kitchen in Bangkok and her travels throughout Thailand, so the flavours aren't restricted to any region, rather a happy collective of her favourites. She's tried to steer clear of many typical Thai meals, although she couldn't let punters down by missing a decent Pad Thai so the rice noodle favourite is still repped here.
With beer on tap, local wines, a decent cocktail list and Dao's elixir of Lemongrass Butterfly Pea for the non-drinkers, Baan Baan is the next spot for you and your crew to hit up—and trust us, you'll need them all to help you try the whole menu.
Image credit: Elle Borgward
---