Valentine's Day is fast approaching and, if your interstate or international holiday has inevitably been postponed due to coronavirus, it's likely you're looking to fill that getaway hole in your life.
So we've trawled the coast for our favourite Sunshine Coast cabins and cottages, perfect for a romantic getaway. They're cosy, private, and can be found surrounded by lush forests or sitting on a lake's shore.
So, grab your lover, pack up the car and get your staycation on at these cute-as-a-button digs.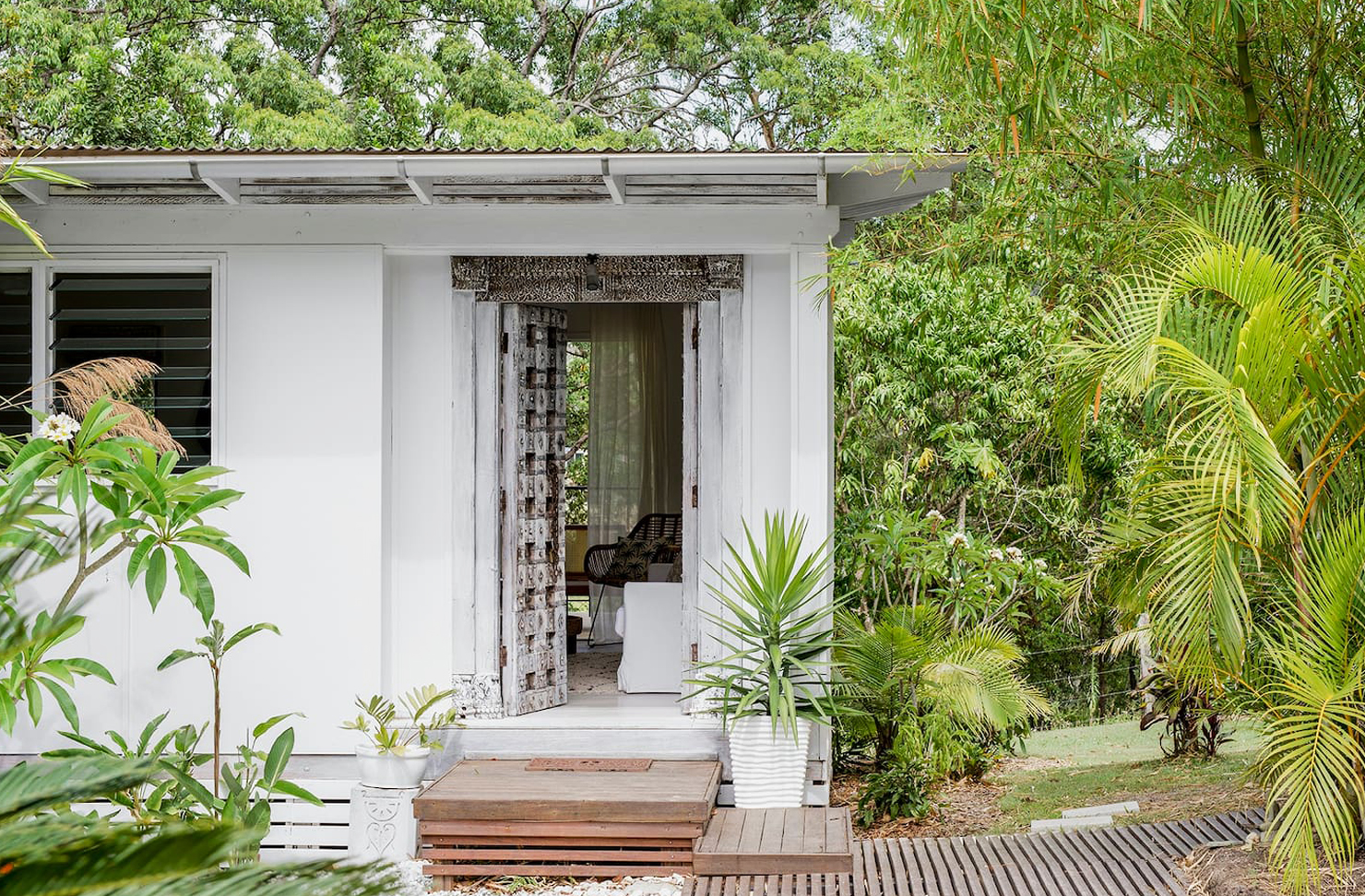 Treehaus Cottage
Valdora
Hidden away off the beaten track in Valdora, this all-white, photo-ready bush cottage ticks all the boxes for a romantic getaway on the Sunshine Coast. Wedged between the coast and the hinterland, it's central location makes it the perfect place for exploring the region…that's if you can resist the urge to stay in and bask in the tranquillity. With one bedroom, no tv and sketchy phone reception, you'll be spending your time soaking up your cabin buddy's presence and toasting marshmallows around the fire pit. Kitted out with Aesop soaps, linen bedding and organic cotton towels, you'll be relaxing in luxury.
Glass on Glasshouse
Glass House Mountains
Love the idea of a cottage, but the reality of staying in a poky, timber-filled space is torture to the "designer" in you? Glass on Glasshouse is your cottage soul mate. These three super luxe pavilions with floor-to-ceiling glass windows are contemporary masterpieces set to a backdrop of the rocky Glasshouse Mountains. Freestanding double spa bath—check! Fireplace—check! Wildlife in abundance (outside, of course)—check! You'll be left wanting absolutely zilch.
Spicers Tamarind And Spicers Clovelly
Maleny And Montville
If you're looking for a Sunshine Coast cabin with all the trimmings that also happens to be set in a stunning rainforest surroundings in Maleny, with an incredible onsite restaurant and day spa, then you really needn't look beyond Spicers Tamarind. A fan of French Provincial instead? Well then, you're in luck. Sister property Spicers Clovelly has a darling little French cottage and it's luxe to say the least. It's three bedrooms and the perfect home-away-from-home in the hinterland. The best part about staying at Spicers Clovelly is the fact that you're walking distance from the fabulous and celebrated The Long Apron. Their degustation menu is a must-try of all guests. Spicers are currently offering a special Birthversary offer, to help celebrate any occasions that went a little under-the-radar due to COVID-19. You can view their deals for Maleny and Mapleton here.
The Pines
Doonan
Rustic and packed with them homey-vibes, if you're lookin' to connect with your lover, the smaller the space the better, we say! And that's where The Pines studio comes in. This little A-frame cabin is perched on top of an old barn and is surrounded by acres of lush countryside, perfect for capturing those getaway couple selfies you've totally mapped out in your head. Not fussed on cooking dinner? No worries! Take your pick between Eumundi or Noosa, both a short drive away.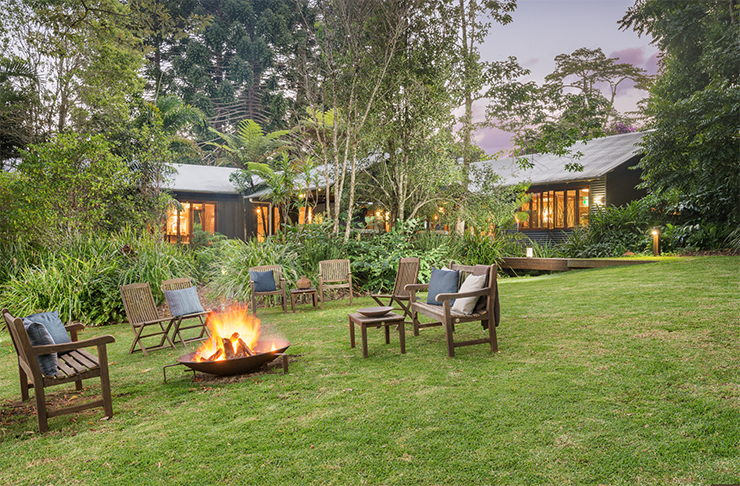 Kin Kin Hideaway
Kin Kin
Tucked in the Noosa Hinterland you'll find this eco cabin, complete with a king-size bed and super fast wifi—things we rate both high on the "importance" list. Sprawl on the open deck for an epic view of the sunrise over the valley below, or hang by the outdoor fire at night and look up to more stars than you could ever be bothered to try and count.
Narrows Escape
Montville
If a friend has come back from Montville raving about a cottage getaway they experienced, chances are they're talking about Narrows Escape. Why? Because everyone who stays there, only says great things. Curl up in the hammock and read a book, tramp through the rainforest, or feast on all the goods crammed into the specially-made gourmet hampers. Relaxation will hit an all-time high here, so don't come with a to-do list.
Whistle Stop Cabin
Lake Baroon
Part of the renowned Secrets On The Lake property which covers about 40 acres, this heritage-listed cabin used to be a local train station before it was transported to its new location. Quaint, eclectic, and super cosy, you'll find a log fire, couple's love swing, and freshly-baked scones on arrival. Could this be the ultimate winter getaway? Possibly!

Seek Pavilion
Maleny
So technically it's more of a treehouse than a cabin or a cottage, but we're not ones for labels. And if you're wanting to make an impression on a special someone, then this could be the place. Towering over stunning bush land, Seek Pavilion is super private, spacious, and modern. Expect your days to drift by slowly to a soundtrack of chirping birds and crackles from the fire.
Cosy Spa Cottage
Weyba Downs
Don't worry, you're not the only one who's never heard of Weyba Downs. But after a stay at Lake Weyba Cottages, you'll know exactly where it is on a map. Tucked on the shores of Lake Weyba, behind Peregian Beach, Cosy Spa Cottage can be found on a luscious 20-acre property. Book a stay here and wrap up in a snuggly bathrobe and slippers, perfect to take you from the double spa bath to the log-fire to the private deck overlooking the water.
The Love Shack
Diddillibah
A romantic stays list doesn't really exist without featuring a place aptly named The Love Shack, does it? Lucky for us, this list is now totally legit thanks to a little cabin in Diddillibah. Handmade with love, naturally, this sub-tropical one-bedroom retreat is somewhere we'd totally like to recharge and unwind.
Want more staycation inspiration? Check out our list of the best Airbnbs on the Sunshine Coast.
Image Credit: The Pines, Treehaus and Spicers Estates