Dog-in-public-anxiety—it's a thing. If you're prepping for a puppy outing but aren't sure where to go, we already know what's running through your mind.
Will my dog pounce on an elderly person? Will my dog wee on someone's shoe? Will my dog be welcome beside me while I wolf down my eggs benny?
There's nothing like a Sunday morning brekky with your little mate panting along, and as dog lovers ourselves, we know it can be stressful picking an eatery that won't oust you for sharing your bacon with the pooch.
Here's our list of the best dog-friendly cafes on the Sunshine Coast.
The Velo Project
Velo is all about being super kitschy, super cute and SUPER pup-friendly. The "Dogue Menu" (a menu designed especially with doggy tastes in mind, including a dog doughnut!) and the exclusive puppuccino are Velo's way of saying everybody's welcome, and helps to stake its place as one of the best dog-friendly cafes on the Sunshine Coast. Oh, and the human food is pretty awesome, too. We recommend the spinach crepe with spiced peas, goats curd and sprout salad.
The Attic Café
For a cosy fur-friendly experience, give The Attic on Alexandra Parade a go. With food that's been described as "genuinely astonishing", we recommend starting your day with a hike from Mooloolaba Spit to Alex Surf Club, then cooling down with one of The Attic's yummy smoothies across the road. Rumor has it the staff at this little café have even been known to treat visiting pups to a spare sausage or two.
Costa Noosa Espresso
If croissants and long blacks tickle your hound's fancy as much as your own, look no further than Costa Noosa in Sunshine Beach. This humming, beachside espresso haunt is the ultimate pit stop for a morning pick-me-up if you're about to hit the sand with your pooch. With tonnes of outdoor decking and shade, dogs are permitted on the lower level deck, and in selected areas on the top deck. Easily one of the best dog-friendly cafes on the Sunshine Coast.
The Moorings Café
The good guys at The Moorings Café are loud and proud when it comes to family outings that don't leave four-legged members at home. The Moorings are fully licensed and have a killer breakfast and lunch menu that'll impress you as much as the pup. Leashed, well-behaved dogs are welcome on the deck area to bask and take in the views (and smells… mmm).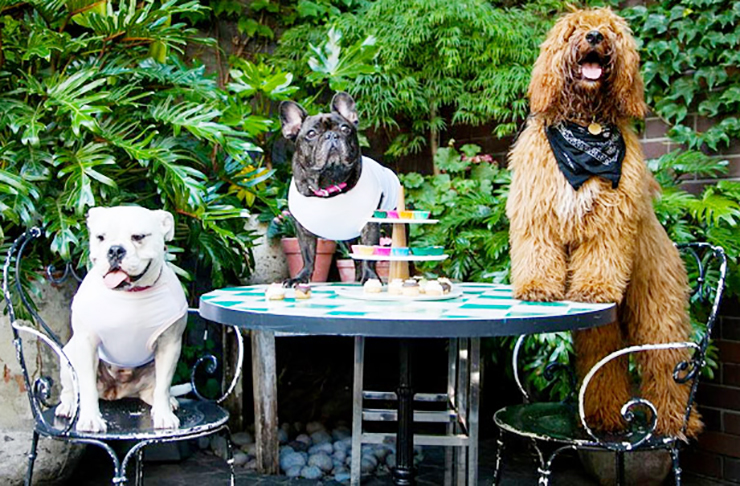 Murray's Café
Murray's licensed café and espresso bar stocks everything from healthy treats to all things just a little bit naughty (ah, hello freshly baked lemon and blueberry XL muffins). This one's the perfect spot for a bit of pup pampering—with homemade doggie treats and puppuccinos at the ready, meaning everyone goes home with a full tum.
Hand of Fatima
Dubbed as having some of the best coffee on the Sunshine Coast, Peregian Beach's Hand of Fatima is a buzzing hive of awesome aromas, salty locals, and pups looking for leftovers. Bring your pup along to sample Fatima's awesome Middle-Eastern fare or just pop in for a muffin and coffee on your morning stroll. If you're looking for outdoor seating, get in quick. This place is always busy—and if you try a coffee, you'll understand why.
Raw Energy
It's a well-known fact that ALL Raw Energy stores across the Coast are extremely accommodating when it comes to hounds, but Raw Energy Cotton Tree has just that little bit of extra seating if you've got a few pups in tow. Raw is also known for their fresh, healthy approach to food. You'll be gobbling things that taste so good, they should be bad. Our personal fave is the five-bean Mexican wrap.
Poets Café
For a little bit of France in the hinterland, head to Poet's in Maleny for the ultimate Saturday in the sun. This quaint café slash bar slash restaurant allows puppies to hang where there is street-facing seating, meaning you can take in the views as you sip a house white with your littlest love under your feet.
Our Dog Friendly Beaches
Ok so this technically isn't a cafe BUT you can still grab a coffee and head to one of our many beaches for an epic patting sesh. Can we get a heck yeah?!
Love camping with your pupper? The Best Dog-Friendly Camping Spots On And Around the Sunshine Coast. Looking for more things to do on the Sunshine Coast with your pup? Check out the best dog beaches on the Sunshine Coast.