There are certain places you probably shouldn't take your dog: job interviews, dentist appointments, the airport and weddings. Having said that, we probably would take them everywhere if we could.
Whether you're a pup parent in need of a directory of dog-friendly cafes so you can grab your coffee and breakfast with your four-legged friend in tow, or you're just looking to fulfil your weekly dog-pat quota, this list is for you. Read on for the best dog-friendly cafés on the Sunshine Coast in 2023.
Glass Coffee House
Maroochydore
We couldn't write about the Sunshine Coast's best dog-friendly cafes without talking about Glass. This health-orientated cafe focuses on whole food ingredients and all of its dishes are seed oil-free. The indoor-outdoor seating is super dog-friendly and we promise your furry best friend will be greeted enthusiastically—most likely with a puppachino too. And yes, the two stunners in the image above, Camilla and Apollo, were snapped at Glass.
The Velo Project
Mooloolaba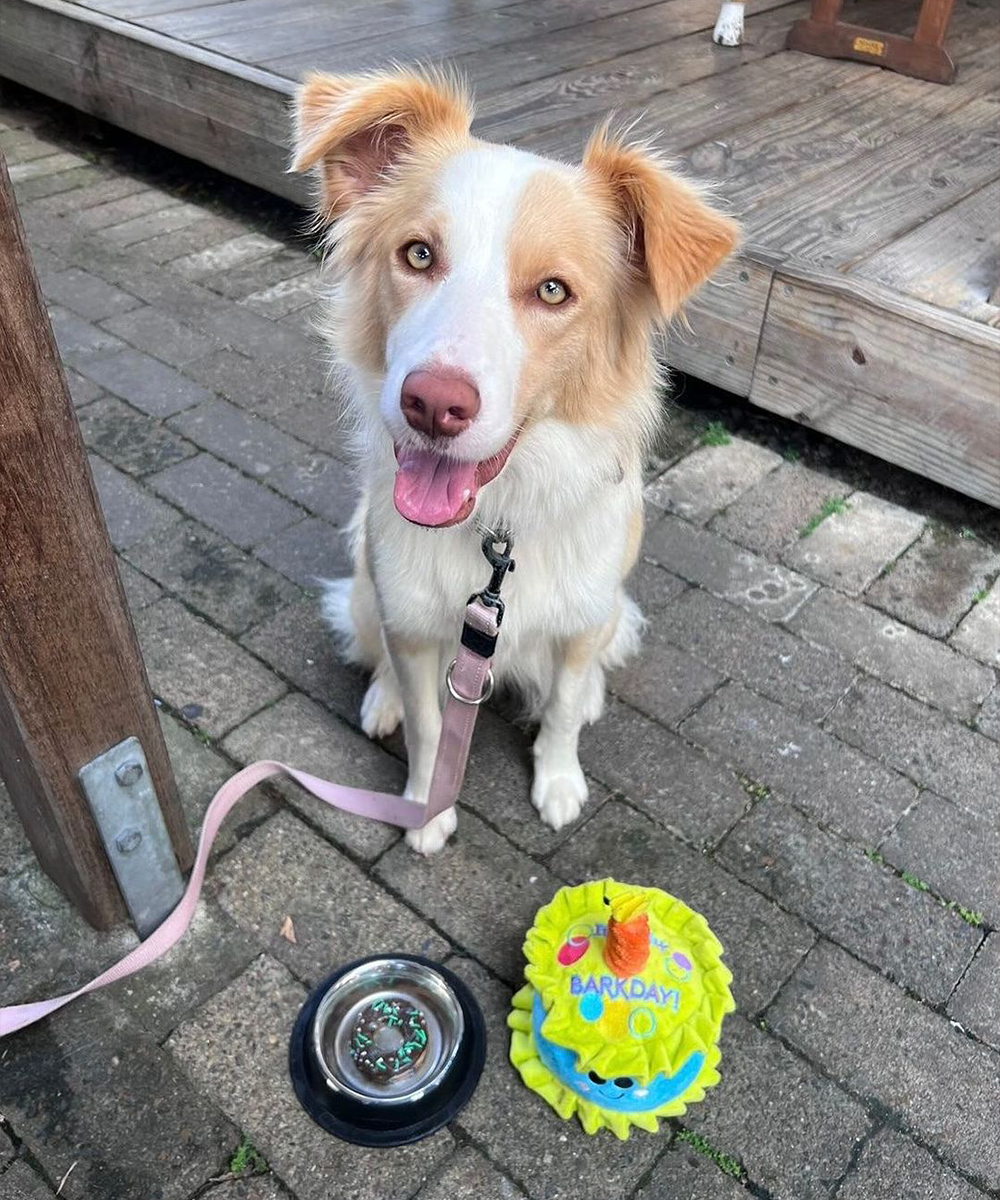 The Velo Project is all about being super kitschy and super pup-friendly. Their 'Dogue Menu' is a menu designed especially with doggy tastes in mind and it includes a dog doughnut, doggy ice cream and exclusive poochy chino. With these delicious doggy treats in mind and a comfortable outdoor seating area for dogs and humans alike, we think The Velo Project is one of the best dog-friendly cafes found on the Sunshine Coast. Oh, and the human food is pretty awesome, too. We recommend one of their delicious crepes—the grilled cajun and lemon chicken, cheddar, spinach, aioli and fried egg is our favourite.
Murray's on Sixth
Maroochydore
Murray's on Sixth is a licensed café and espresso bar that stocks everything from healthy treats to all things just a little bit naughty, hello freshly baked raspberry and white choc muffins. This one's the perfect spot for a bit of pup pampering—with homemade doggie treats and puppuccinos at the ready. It's also a short walk from dog-friendly Cotton Tree beach, so by the time you've jumped back in the car to head home everyone will be well and truly Murray.
Tribe Cafe
Maroochydore

Nestled in the small but popular streets of Cotton Tree, Ocean Addicts is not only home to one of the best local surf shops found on the Sunshine Coast but also the deliciously pet-friendly, Tribe Cafe. With a wide-open courtyard and only a few metres from dog-friendly Cotton Tree beach, these guys are the perfect pre-beach pit stop for you and your four-legged mates. Serving some of the best St Ali coffee, fresh pastries and puppuccinos on demand this is the perfect spot for doggies big and small.
The Wonky Loaf
Kuluin
Not only are these guys baking some of the best loaves of sourdough on the Sunshine Coast, but The Wonky Loaf in Kuluin will also welcome your doggos too. You may have seen these guys—and their great bread selection—down at the local farmer's markets but they also have a shop front serving delicious goodies to go. With an outdoor courtyard and cubby house for human and dog children alike, settle in at The Wonky Loaf for a morning of delicious gourmet toasties, brownies and a relaxed dog-friendly atmosphere.
Cafe Vie
Buderim
Perched at the very top of Buderim, Cafe Vie has the perfect outdoor setting for you and your furry friend to lounge back and take your time at this vegan foodie haven. Already known for some of the best vegan food found on the Sunshine Coast. Cafe Vie will be sure to ply you with delicious vegan bao buns, great service and an on-hand doggie water bowl for a wholesome and all-inclusive dog-friendly outing.
One Block Back
Moffat Beach
One Block Back, known for its rustic warehouse-style interior, delicious RAWR treats and mouth-watering meals, also doubles as a great place to rock up with your pooch in tow. With a picturesque outdoor terrace, One Block Back is a great place to stop by for a relaxed morning coffee or cocktail -their strawberry daquaries are perfect on a sunny afternoon—while your fur baby chows down on a delicious doggy treat.
White Picket Fence
Caloundra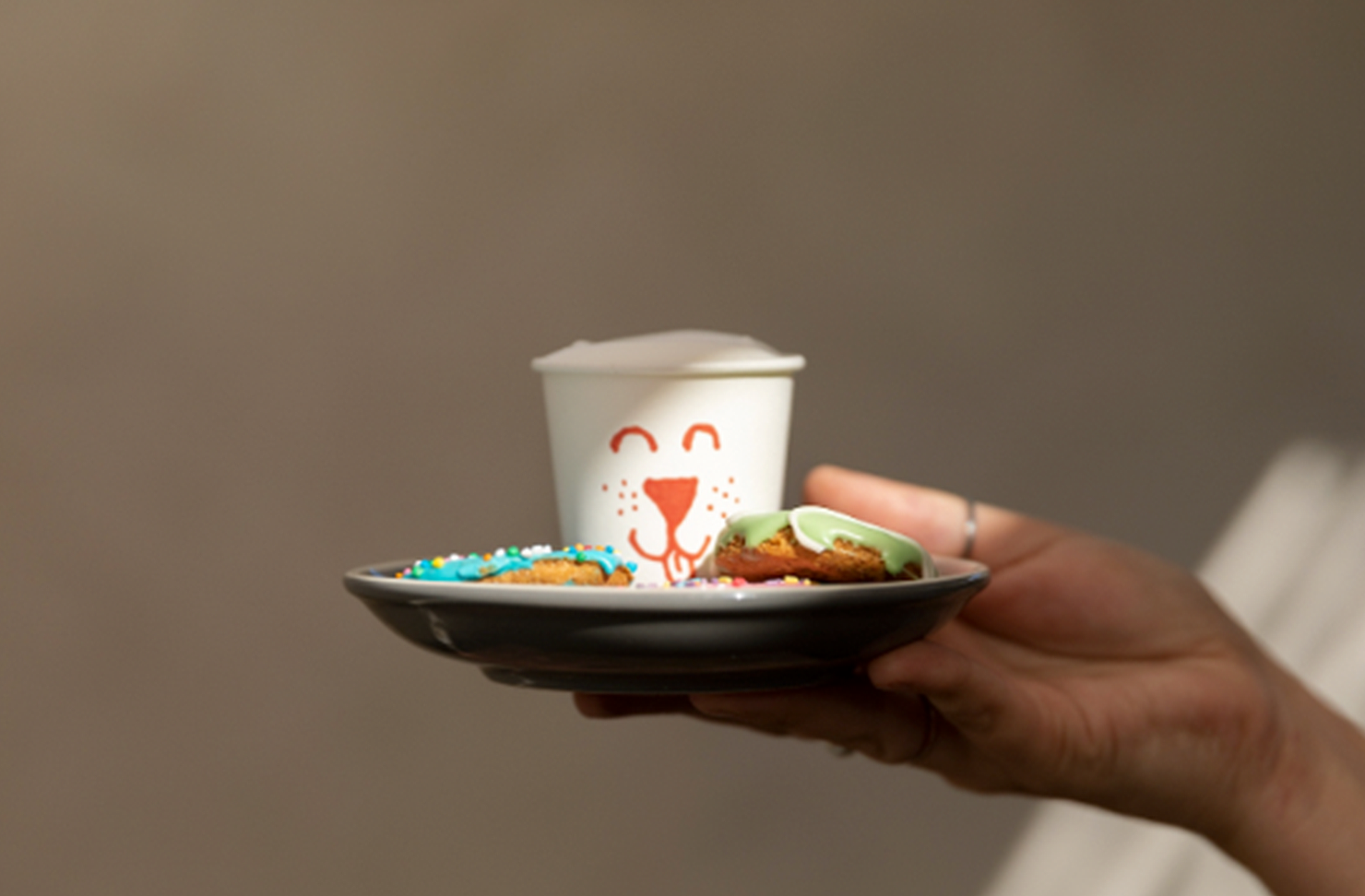 Blush walls, archways and indoor plants, White Picket Fence is a dream come true for you and your beloved furry pet. This epic cafe is not only serving up some truly photo worthy shots but doing it all with their best four-legged friends alongside. So book this place in ASAP for your next doggy date and check out White Picket Fence's picturesque shady outdoor seating, doggy doughnuts and puppuccinos. Hot tip - we also hear there is no shortage of puppy pats at this awesome dog-friendly venue.
High Tide
Mudjimba
I there is one doggy beach we know a love it's the North Shore down in Mudjimba. After an off-leash all-out run or short paddle along the river, we've got the best dog-friendly cafe for you and your furry friend. High Tide is only a short 10-minute drive from North Shore and is a great spot for you and your worn-out pet. With an open outdoor dining area, tasty brekky option and puppuccino at the ready, there won't be any complaints from doggos or otherwise at High Tide.
Hand of Fatima
Peregian Springs
Dubbed as having some of the best coffee on the Sunshine Coast, Peregian Beach's Hand of Fatima is a buzzing hive of awesome aromas, salty locals, and pups looking for leftovers. Bring your pup along while you sample Fatima's awesome Middle-Eastern fare or just pop in for a muffin and coffee on your morning stroll. If you're looking for outdoor seating, get in quick. This place is always busy—and if you try a coffee, you'll understand why.
Raw Energy
Various Locations
It's a well-known fact that ALL Raw Energy stores across the Coast are extremely accommodating when it comes to hounds, but Raw Energy Cotton Tree has just that little bit of extra seating if you've got a few pups in tow. Raw is also known for their fresh, healthy approach to food. You'll be gobbling things that taste so good, they should be bad. Our personal favourite is the five-bean Mexican wrap.
Love camping with your pupper? Check out the best dog-friendly camping spots on the Sunshine Coast. Looking for more things to do on the Sunshine Coast with your pup? Here's our picks of the best dog beaches on the Sunshine Coast.
Image Credit: Camilla and Apollo, The Velo Project, Tribe Cafe and White Picket Fence