It's true some may complain about camping, and to them we say move on with your whinging and let those who actually enjoy sleeping to the sounds of cicadas, waking up at 5.30am with the first light, and strategically manoeuvring through the tiny unzipped gap in the mosquito net at night, read on.
The Sunshine Coast might abound in natural splendours but camping takes getting back to nature to a whole new level. Not all camping spots are made equal, which is why we've taken it upon ourselves to whip up our 2022 guide to 17 of the best camping spots on the Sunshine Coast. Now all you have to do is gather the crew and pack the car.
Bluff Creek Campgrounds
Kenilworth
Head a little more inland to Kenilworth and be blown away by the Bluff Creek Campgrounds. Created by avid and passionate campers, this 100-acre patch of camping paradise has water-frontage on a creek and direct access to the Mary River. A few nights here will be a dream for anyone who loves lots of space, beautiful views, and great facilities. They already had us at hot shower and flushing toilet, but the fact that they're close to swimming spots on the river and bike trails, allow open fires and are close to local eateries (when we're tiring of burnt sausages); make it an ideal spot to set-up camp. Weekend = sorted.
Cobb & Co. Nine Mile
Tandur
One of the best camping spots on the Sunshine Coast for families Cobb & Co. is situated on 50 acres of lush grounds near Woondum National Park and Six Mile Creek. There's a long list of activities to entertain the kids, including swimming in the billabong, playing on the massive pirate ship fort, flying foxes, petting farm, BMX track and horse rides. Making life even easier, there are some luxury camping options; a couple of fully-equipped camp kitchens; and a kiosk for when you run out of supplies (you'll just need to bring your own drinking water). So while you can still get out into nature and visit some beautiful walking tracks and rock pools, there's so much to keep the kids busy onsite.
Habitat Noosa
Noosa National Park
Habitat Noosa is an eco-camping spot that's located 25 minutes north of Noosa at the stunningly beautiful Elanda Point. Sprawling across 65 acres of bushland, you can choose to camp at unpowered or powered sites, book a cute little cabin or go all out and sleep in a luxury glamping tent, complete with an ensuite. There's also an on-site bar serving up Habit Noosa's own in-house craft beer, meaning there will be ample afternoon drink opportunities to be had. This has got the be one of the best camping spots on the Sunshine Coast, if you're not looking to rough it.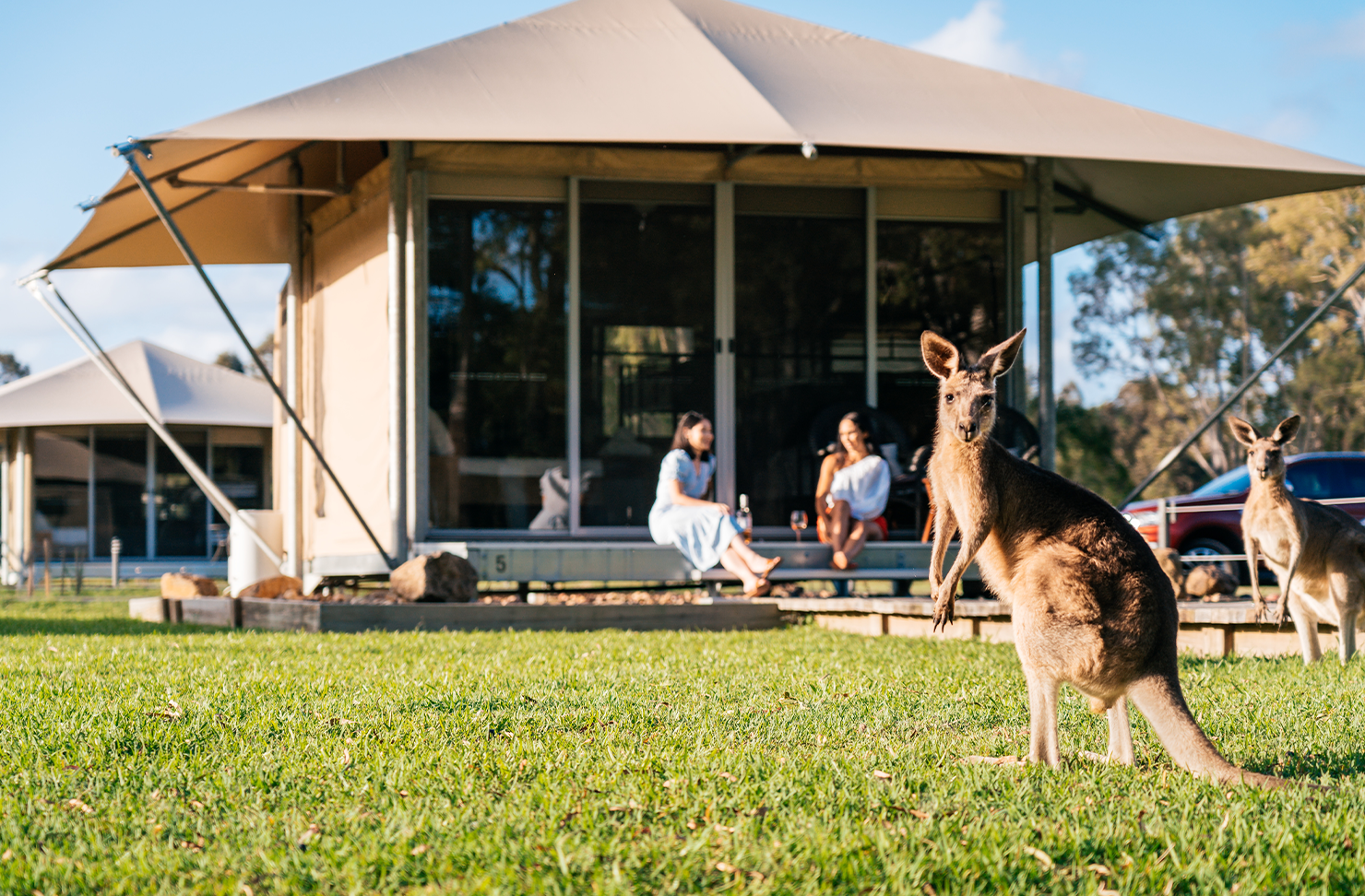 Inskip Point
Inskip Peninusla Recreation Area
If you're looking for a no-frills, beachfront camping spot on the Sunshine Coast, head a little north until you find yourself pulling up at Inskip. You won't need a 4WD for this camping ground, so unlike Teewah, nobody will be excluded based on the car they drive. And that we like! With plenty of beachfront campsites to choose between, this place is popular, so make sure you book in advance.
Teewah Beach
Cooloola Recreation Area
If you own or can get your hands on a 4WD for a weekend, then cruising up the coast along the sand can be a reality for you. It also means Teewah can be your beach. Don't know how good you've got it, because you haven't camped there yet? Let's paint you a picture. You'll wake up in the morning, literally having slept ON the beach the night before, and you'll sleepily walk across the sand until you reach the water. You'll dive in to the ocean, as the sun rises, and you'll realised how lucky you are to have camping spots like this on your doorstep. When night comes, you'll sit around a make-shift campfire with the wood you brought from home and sip on beers and vino under a starry sky. Hands down, one of the best camping spots on the Sunshine Coast.
Log Dump
Tuan State Forest
While the name doesn't sound very appealing, Log Dump is probably the most secluded camping spot on the Sunshine Coast—that also has a toilet! Situated on the edge of Kauri Creek, near the Great Sandy Strait, this small site is accessible by normal vehicle (conditions considered) and then you're only a 10 to 15-minute boat ride from Fraser Island. You'll need to bring your own water and will have to give up showering for a couple of days, but considering you can throw a kayak on the creek and have the opportunity to spot turtles, dugongs, and dolphins—it's totally worth it.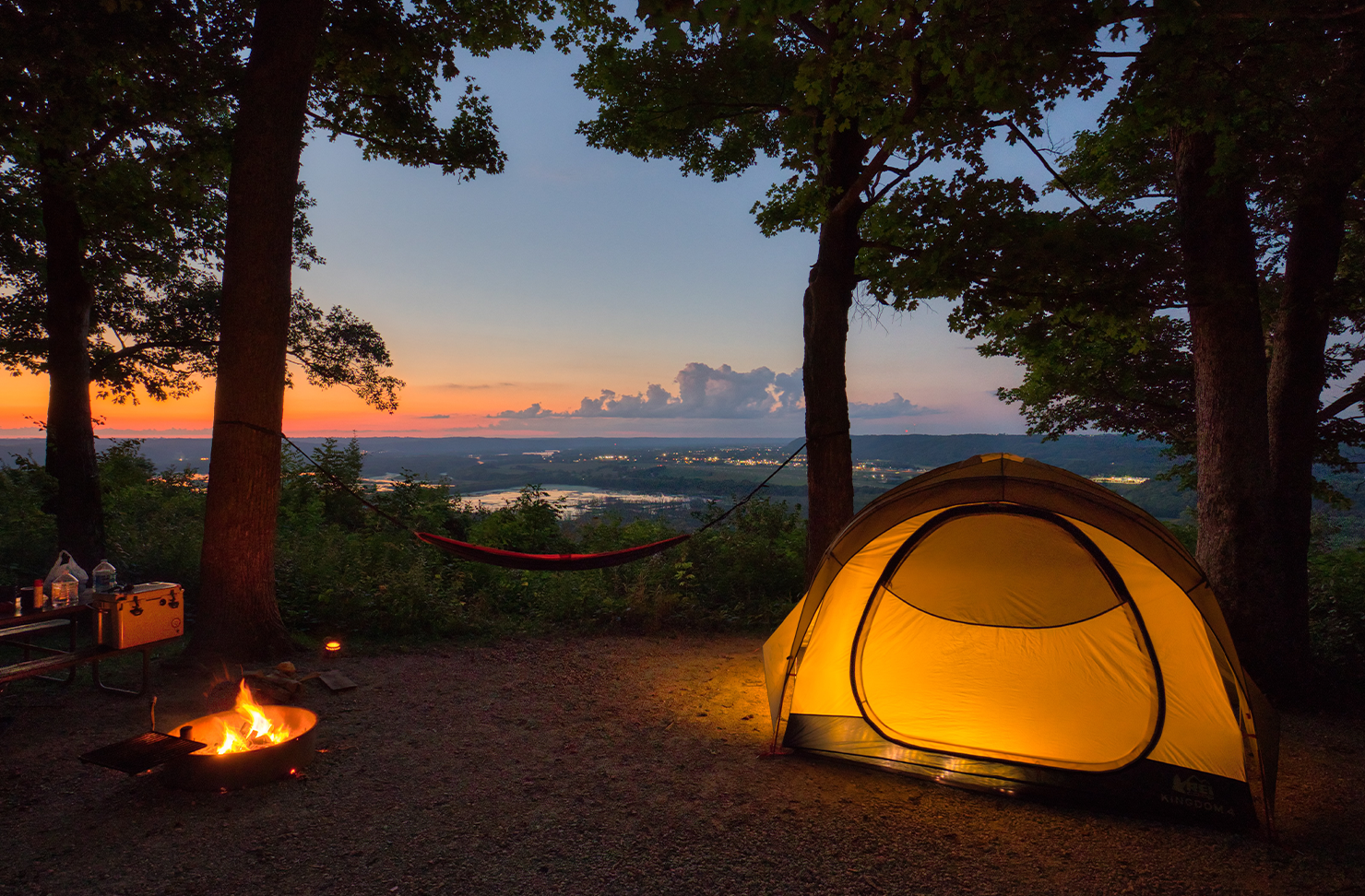 Dicky Beach
Caloundra
Alright, so it's not like Dicky Beach campground is in the wilderness. To be frank, it's in the middle of a suburb in bustling Caloundra and directly across the road from the local shops. But, that doesn't mean it isn't special. And if you're a hinterland inhabitor or a camping rookie, then this Sunshine Coast camping spot could be the perfect base for you.
Boreen Point Campground
Great Sandy National Park
Right on the edge of Lake Cootharaba, with water views and shady trees, you can't go wrong with the Boreen Point Campground. It's not too far to drive, is easy to access, and has loads of great facilities including hot showers, flushing toilets and drinking water, gas barbecues and wood burning fireplace barbecues (BYO firewood). There's also a great little cafe a short walk away to get your morning coffee fix (stocking our favourite Doonan roasters', Flying West Coffee) and a kiosk to hire canoes or SUPs.
Mooloolaba Beach
Mooloolaba
Like Dicky Beach, Mooloolaba Beach Holiday Park is in the centre of town which makes it an awesome option for those who are just starting to dip their toes in the camping waters, and aren't ready to survive without electricity, a supermarket or tonnes of dinner possibilities. You won't have to plan a weekend menu before you pack the car for this trip, with handfuls of the best restaurants in Mooloolaba just a short stroll away. Our picks? Spice Bar for a little luxury when you're sleeping on the ground or duck across to The Wharf, where you'll find Rice Boi, The Dock and so much more.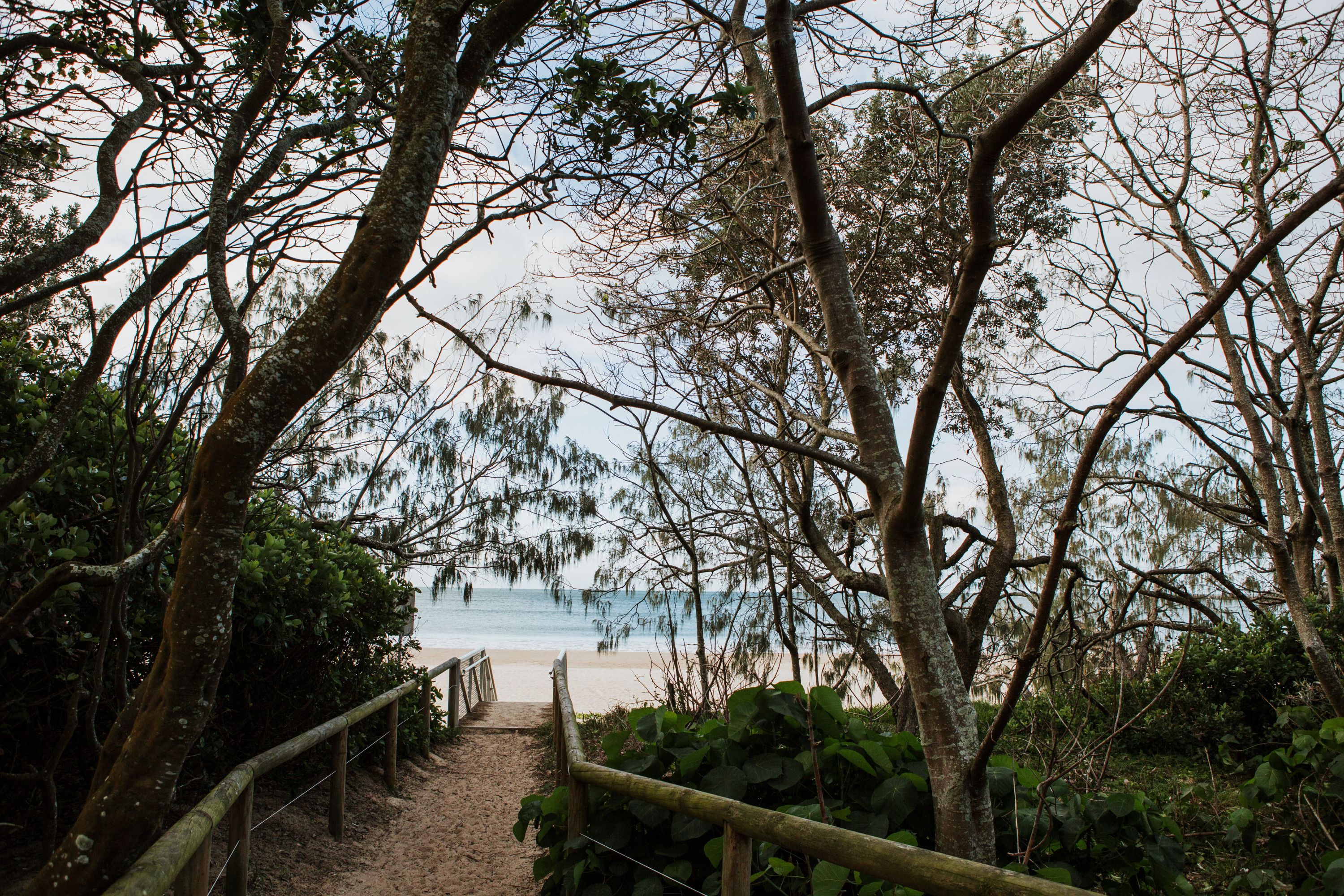 Upper Noosa River
Cooloola Recreation Area
These secluded spots takes a little bit of work to get to, but that's what makes it one of the best camping spots on the Sunshine Coast. It also means that you'll shake off any non-serious campers, who don't want to work up a sweat finding and then setting up camp. There's a few ways you can get to these campsites, but our tried and tested option is hiring a kayak or canoe (it'll fit your tent, Esky and anything else you may need) from Elanda Point and paddling across Lake Cootharaba and up the Everglades to campsite 3's cute dock. It's about a 28-kilometre paddle each way and the lake passing is tough if there is wind, but when you experience the beauty of this untouched paradise, you won't give a damn. The further you venture upstream, the more secluded and stunning your camping spots become.
Rivershore Resort
Diddillibah
For camping newbies who can't tear themselves too far from an iPhone charger, hot shower or handy convenience store for ice cream and all of the outdoors activities for kids (think: waterslides, pools, a Kangaroo Jumper and mini golf) we suggest you set your GPS for Rivershore Resort on the banks of Maroochy River. There's powered and unpowered sites available, or if you really just want to dip your toes in the camping scene, book the luxury safari tent—complete with a king-size bed, ensuite and wifi, it's got all the essentials and then some. So pack your fishing rods, deck of cards and bottles of red vino; this camping trip will be like picturing your future self as a retiree, and you'll love it.
Booloumba Creek
Sunshine Coast Hinterland
Get away from the coast, and retreat to the bush where waterfalls, creeks, rock pools and cascades become your cooling-off options. Booloumba Creek is tucked in the Conondale National Park and campsites one to three contain grassy sites perfect for pitching a tent. There's not much in the way of facilities when camping in the forest, so remember to bring drinking water, bags to take your trash away and plenty of insect repellent.
Fraser Island
If camping on an island is your idea of the ultimate outdoor holiday, then hop a barge to Fraser Island and take your pick from a smorgasbord of incredible campgrounds—we're talking 28, if you need specifics. Depending on how you want to spend your downtime, there are sites more suited to boaties (Garry's Anchorage, Ungowa, and Waddy Point beachfront camping area), those looking for a remote experience (Coongal Creek or Moon Point) and those who are with child and need to spend nights at a dingo-fenced site (Dundubara and Central Station). Make sure to book and secure your permit before heading off.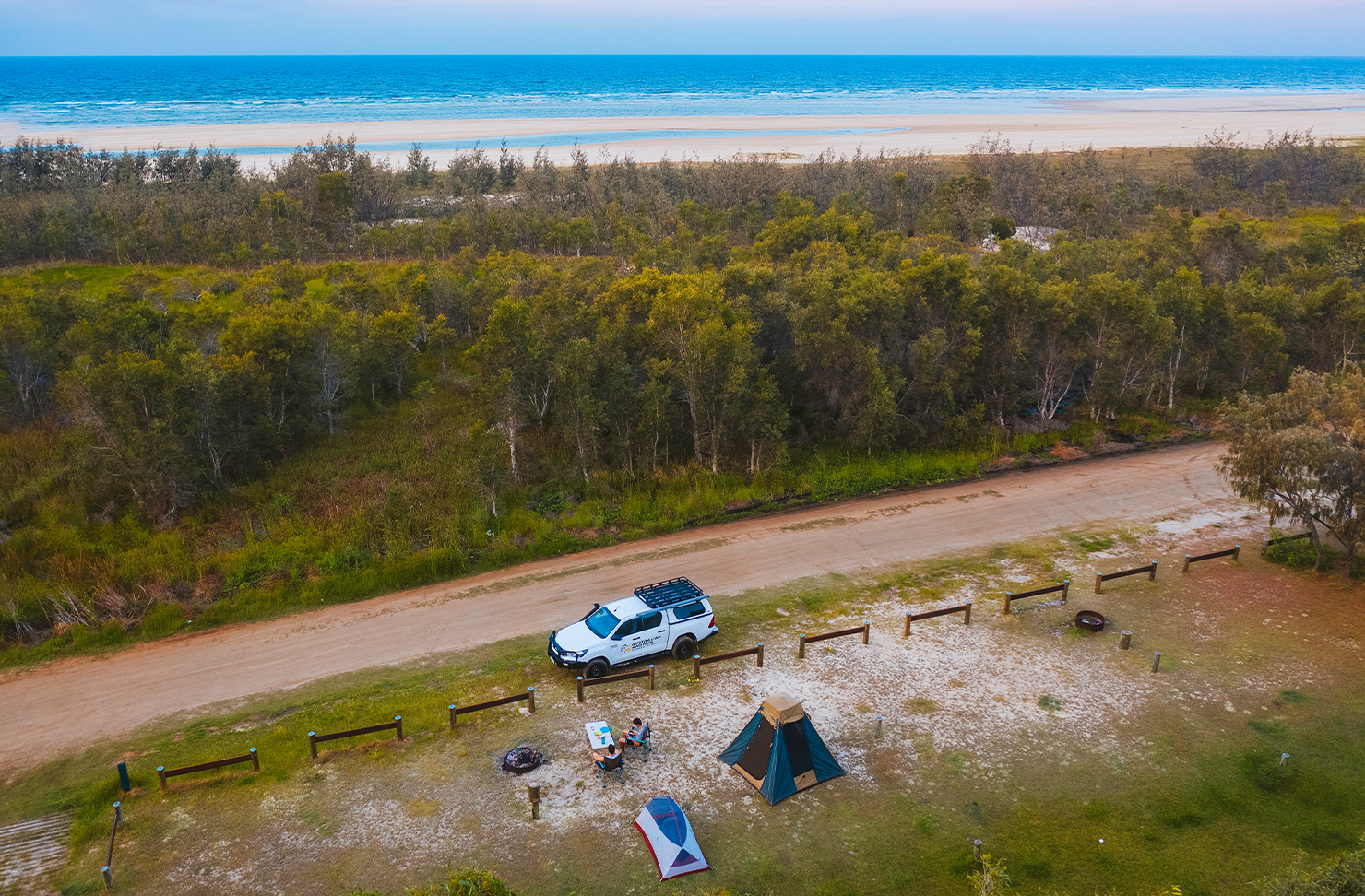 Borumba Deer Park
Yabba Creek
Another family-run camping park perfect for the kids (or the under-prepared camper) is Borumba Deer Park. Situated on the beautiful Yabba Creek, there are loads of outdoor activities to occupy all ages, with the convenience of boats and kayaks for hire, great fishing spots, and even mini-golf! The facilities are great and include a kiosk, camp kitchens, log-fire spaces, kids' playground and the usual (but very necessary) amenities blocks. If you're lucky, you'll get to feed some of the wild deer; and the Mary Valley and Borumba Dam are just a stone's throw away. Sounds like the perfect family camping spot on the Sunshine Coast.
Noosa North Shore Beach Campground
Noosa North Shore
If waking up on the beach is more your style, you couldn't ask for a more beautiful spot than the Noosa North Shore Campground. There are powered and unpowered sites, all nestled amongst the natural vegetation right on the beachfront. You'll need to take your own drinking water, but there is a small kiosk down the road for when you run out of ice, as well as an amenities block. But the key thing here, is that you get to wake up to the sound of crashing waves and can get away with a morning swim in place of your usual morning shower. Pure and utter bliss if you're looking for the best beachfront camping spots on the Sunshine Coast.
Amamoor Creek
Sunshine Coast Hinterland
Set amongst a tall rainforest and beside the creek, Amamoor Creek campsite is the epitome of tranquility. There are an endless number of walks in the area and the creek is great for spotting platypus. The facilities include water (not suitable for drinking!), toilets, cold showers, barbecues and fire rings for an open fire. This is the perfect Sunshine Coast camping spot for anyone who wants to get away and live simply for a few days, but doesn't want to pee in the bush.
Youcamp (The AirBnB Of Camping)
You know when you hear about something and go "why did we not think of this?" This is one of those times. A couple of legends realised that if you can AirBnB a bricks and mortar type of situation, you can do the same when it comes to private land. Genius, really. Behold, Youcamp. Giving you access to the Sunshine Coast camping spots of your Instadreams, take your pick from the downright basic to the luscious of luxury. We're talking everything from glamping to those 'how's the serenity' type deals. Whether it's a free-range camping experience to get you off the grid, an interactive farm stay or a creek-side oasis with nary another tent in sight, consider your next Sunshine Coast camping trip sorted.
Love to glamp? We've found the best glamping spots on the Sunshine Coast.
Image credit: Tourism And Events Queensland, Amy Higg, Jonathan Forage & Melissa Walker Horn