With Easter rapidly approaching there are so many options for accommodation on the Sunshine Coast. But have you ever considered camping?
It's true some may complain about camping, and to them we say move on with your whinging and let those who actually enjoy sleeping to the sounds of cicadas, waking up at 5.30am with the first light, and strategically manoeuvring through the tiny unzipped gap in the mosquito net at night, read on.
Basically, we're a camping bunch at Urban List. And with so many places to explore across the region, we've done the hard work to bring you the best Sunshine Coast camping spots to pitch a tent this Easter long weekend.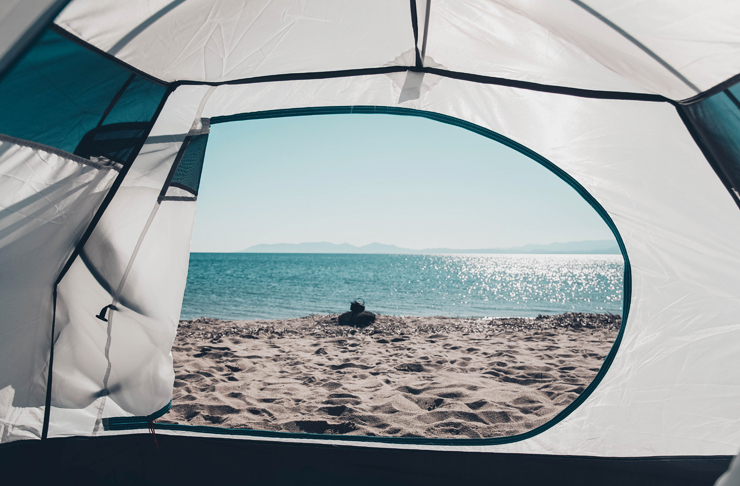 Booloumba Creek
Get off the coast and retreat to the bush where waterfalls, creeks, rock pools and cascades become your cooling-off options. Booloumba Creek is tucked in the Conondale National Park and is easily one of the best camping spots on the Sunshine Coast—campsites one to three contain grassy sites perfect for pitching a tent. Seeing as you'll be proper bush camping, there's not much in the way of facilities, so remember to bring drinking water, bags to take your trash away and insect repellent.
Teewah Beach
Let's paint a picture. You'll wake up in the morning, literally having slept ON the beach the night before, and you'll sleepily walk across the sand until you reach the water. You'll dive in, as the sun rises, and you'll realised how blessed you are. When night comes, you'll sit around a make-shift campfire with the wood you brought from home, and sip on beer. If this sounds like paradise, then camping at Teewah Beach is for you. Just make sure you have a four-wheel-drive or access to friends who have a four-wheel-drive.
Dicky Beach
It's not like Dicky Beach camping ground is in the wilderness. To be frank, it's in the middle of a Caloundra suburb and directly across the road from the local shops. But, that doesn't mean it isn't special. And if you're a hinterland inhabitor, then this could be the perfect base for a short-term sea change. Just think: you can wake up on Easter and grab yourself a hot cup of coffee and breakfast from Lamkin Lane Espresso Bar, or our new favourite, White Picket Fence. Sounds like the best of both worlds to us.
Inskip Point
Renting a house on the beach with your mates can be ridiculously expensive, so if a lack of funds is putting a dampener on your beachside getaway, camping at Inskip Point is the better/next best option. And you don't need a four-wheeler, so unlike Teewah, nobody'll be excluded based on the car they drive. With plenty of beachfront campsites to choose from, this place is popular, so make sure you book in advance.
Mooloolaba Beach
Like Dicky Beach, Mooloolaba Beach Holiday Park is in the centre of town which makes it an awesome option for those who are just starting to dip their toes in the camping waters, and aren't ready to survive without electricity, a supermarket or tonnes of dinner possibilities. You won't have to plan a weekend menu before you pack the car for this trip, with handfuls of the best restaurants in Mooloolaba just a short stroll away. Our picks? Spice Bar for a little luxury when you're sleeping on the ground. Or, head straight to the wharf precinct and take your pick from spots like Rice Boi, Saltwater and Il Vento.
Campsite 3 or 4, Noosa Everglades
This super secluded spot takes a little bit of work to get to, but that's what makes it one of the best camping spots on the Sunshine Coast. It also means that you'll shake off any non-serious campers, who don't want to work up a sweat finding and then setting up camp. There's a few ways you can get to these campsites, but our tried and tested option is hiring a canoe (it'll fit your tent, Esky and anything else you may need) from Elanda Point and paddling across Lake Cootharaba and up the Everglades to campsite 3's cute dock. It's about a 19-kilometre paddle each way and the lake passing is tough, but when you experience the beauty of this untouched paradise, you won't give a damn. If getting away this Easter long weekend is your thing, then this could be the perfect spot for you.
Fraser Island
If camping on an island this Easter is your idea of the ultimate outdoor holiday, then hop a barge to Fraser Island and take your pick from a smorgasbord of camp grounds—there's 28, if you need specifics. Depending on how you want to spend your down time, there are sites more suited to boaties (Garry's Anchorage, Ungowa, and Waddy Point beachfront camping area), those looking for a remote experience (Coongal Creek or Moon Point) and those who are with child and need to spend nights at a dingo-fenced site (Dundubara and Central Station). Make sure to book and secure your permit before heading off!
Love to glamp? We've got The Best Glamping Spots On And Around The Sunshine Coast.
Image credits: Jonathan Forage