Up here in sunny Queensland, your average vacay typically involves road tripping along the coastline to one of our many white sandy beaches. But some of the state's most breathtaking natural wonders are a little further inland. We're talking rugged outback oases surrounded by towering sandstone cliffs in the heart of the Aussie outback. Sounds like your kinda jam? Ours too. We've rounded up a few of Queensland's epic gorges worth braving the red dirt roads for while you explore the best our state has to offer. Plus, it's a pretty awesome excuse to rock an Akubra, which is always a win in our books.
Cobbold Gorge
CLOSEST to: CAIRNS
Nestled between ancient sandstone formations in the heart of the outback, Cobbold Gorge is a breathtaking example of the power of Mother Nature. The youngest of Queensland's gorges, Cobbold is home to plenty of wildlife—so keep an eye out for crocs. Get the lay of the land with a stand-up paddle board tour, a lazy afternoon cruise, or even a scenic helicopter flight.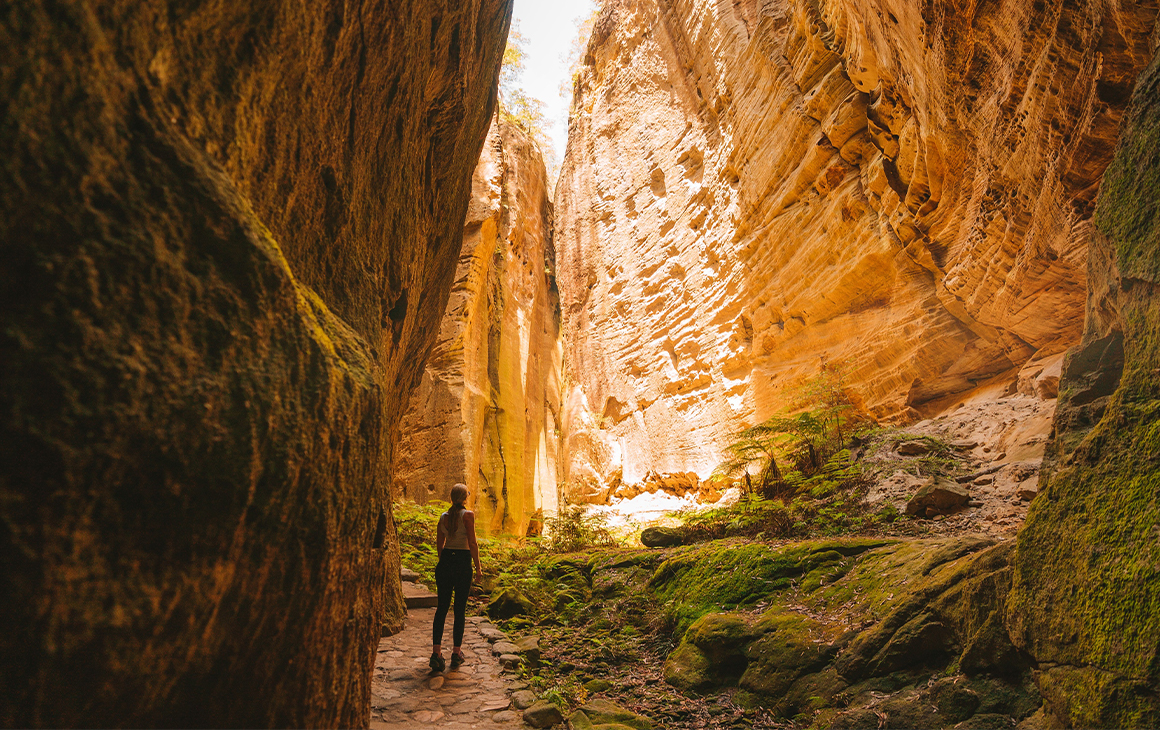 Carnarvon Gorge
Closest to: ROMA
Home to more than 2,000 Aboriginal etchings, paintings, and ochre stencils, Carnarvon Gorge is a site of living history. The gorge stretches out over 30 kilometres, and reaches depths of up to 600 metres at its mouth. Take a dip in the designated swimming hole, or meander round the untamed eucalypt and cabbage palm forests for a true taste of this pristine landscape. This one's only about an eight-hour drive from Brisbane, so it's driveable.

Lawn Hill Gorge
Closest to: Cloncurry
Set in Queensland's north-west corner, Lawn Hill Gorge is best reached by 4WD—but trust us, it's well worth the tanks of fuel. The gorge's burnt orange cliffs and glassy emerald waters make for a truly picturesque paddle, and there's plenty of bushwalking trails to keep you on your toes. Of course, the neighbouring Riversleigh Fossil Fields are a must-see for any adventurer, so be sure to pack your hiking boots.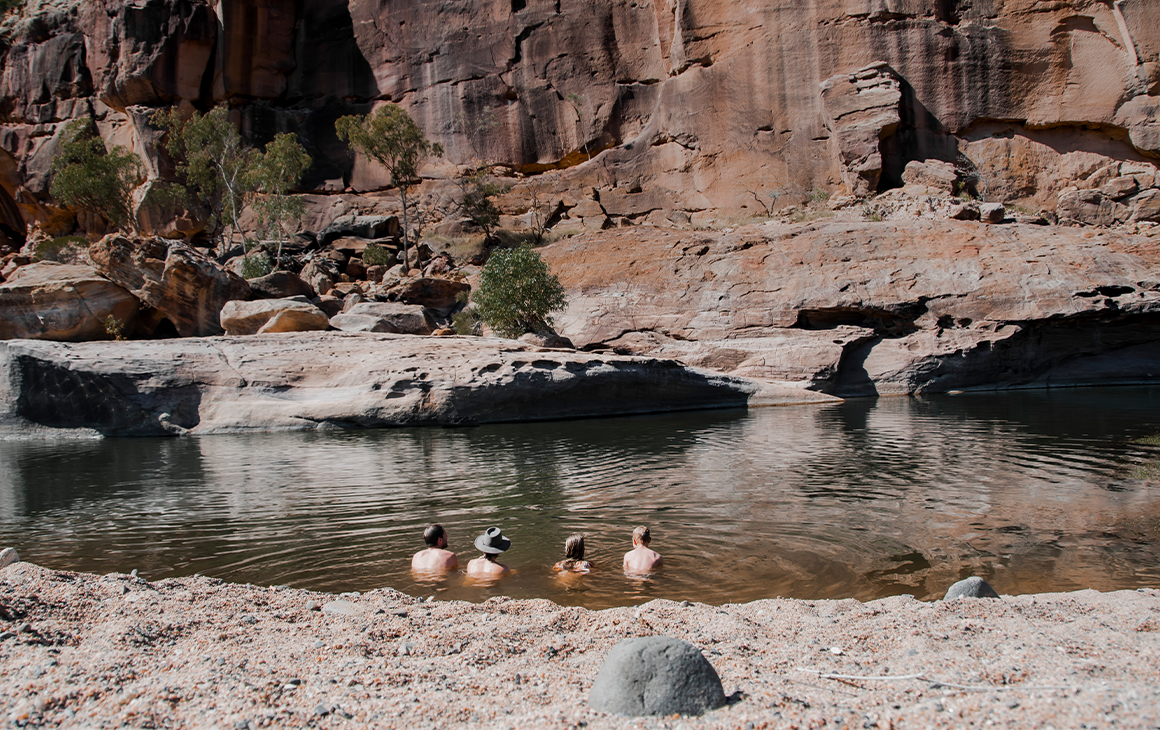 Porcupine Gorge
Closest to: Townsville
Okay, okay—we know it's a long drive, but Porcupine Gorge will take your breath away. The multi-coloured sandstone cliffs stand tall against the surrounding plains, and plunge to create deep pools in the gorge floor. The waterholes are fringed by pockets of vine forests, which offer some much-needed relief from the harsh Queensland sun. You'll definitely want to slip, slop and slap for this one.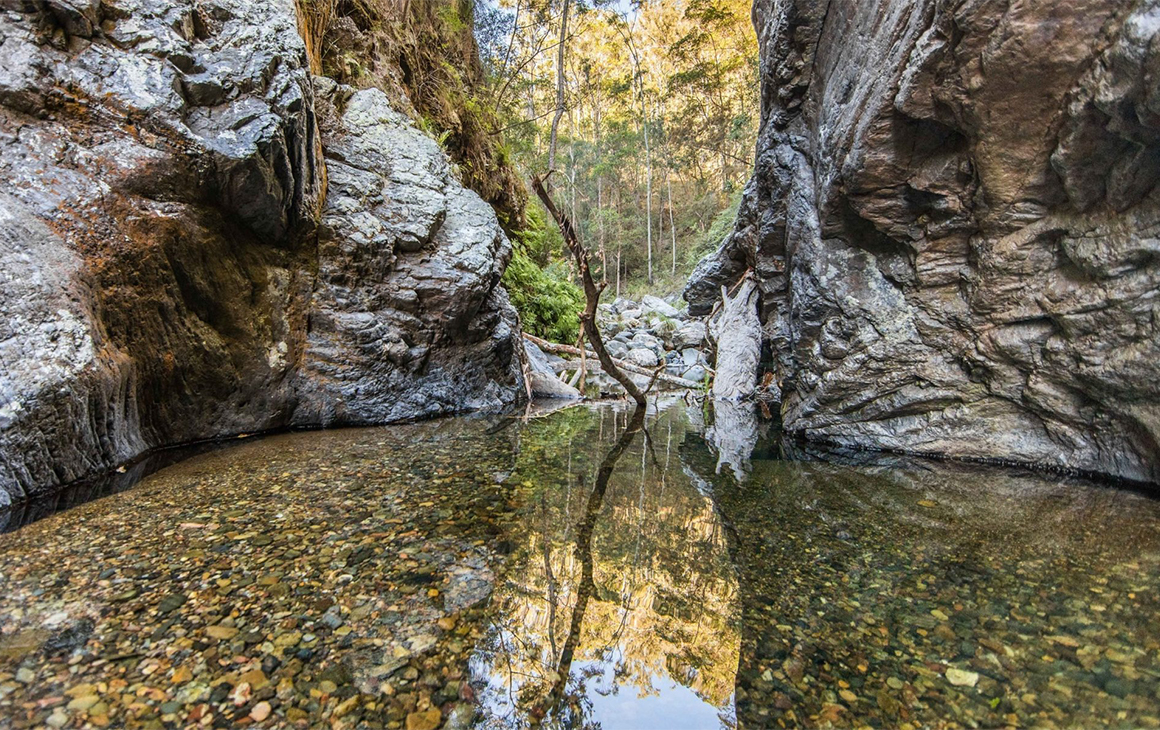 North Brook Gorge
Closest to: Brisbane
Good news, North Brook Gorge is way closer to home—we're talking a mere hour's drive from the Brisbane CBD. Part of D'Aguilar National Park, the gorge is packed with plenty of rock pools and swimming holes to keep you cool all summer long. Prepare to get wet (and put your phone in a plastic baggy), as you'll literally be wading and swimming through the gorge on your way past gushing waterfalls and lush forests filled with native wildlife. Bonus points if you spot a platypus—those bills really do blend in.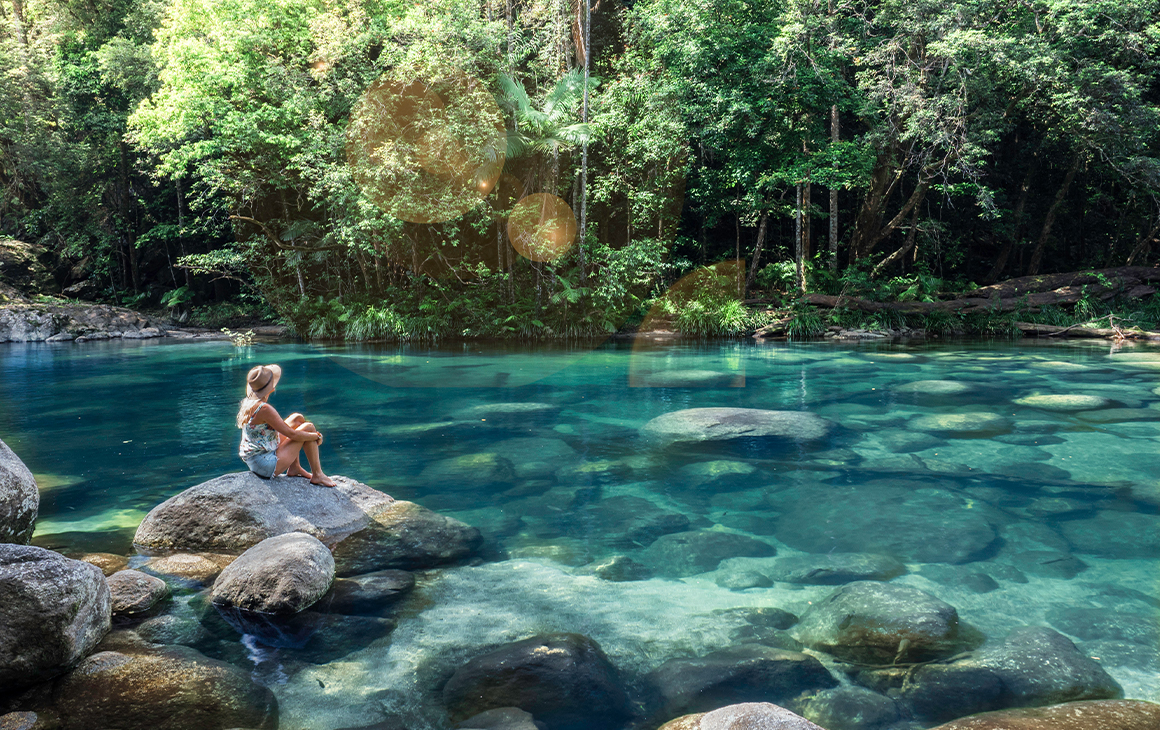 Mossman Gorge
Daintree National Park
Less gorge, more spectacular swimming hole, Mossman Gorge is one for the bucket list. Just 20 minutes north of Port Douglas, the gorge is smack bang in the middle of a lush tropical rainforest, so come prepared for crystal-clear rockpools and plenty of birdsong. Warm up with a stroll along the boardwalk before taking a dip—even up north, the rainforest springs are surprisingly cool.
While you're at it, you should head underground and explore these Queensland caves.
Image credit: Tourism & Events Queensland, Visit Moreton Bay