If the only time you've seen the sun come up is when you've been on your way home from a night out, you need to sort your life out.
Home to some of the world's best-kept beaches, mountain ranges and national parks, that small window of time each day where dark becomes light is when the Sunshine Coast's natural beauty shines ever so brightly.
The thing about sunrise though, is that it's just so early that if you're going to drag yourself out of bed before most coffee shops are even open (how dare they?), it had better be worth your while. Right?
We're pretty confident this list of the best sunrise spots on the Sunshine Coast will convince you. With views so spectacular, they're worth the 4.30am wake-up sans caffeine.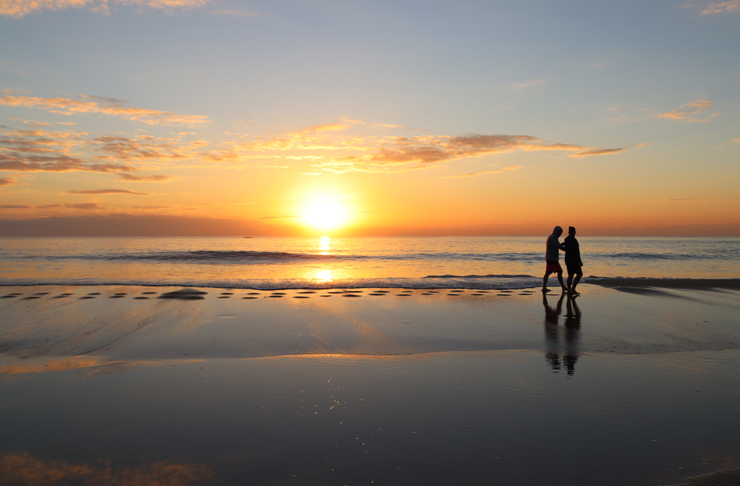 Picnic Atop Mount Tinbeerwah
Dig out your binoculars for this one. Just inland from Noosa and Tewantin, Mount Tinbeerwah offers a 1km hike featuring glorious 360-degree views of the coast and hinterland. Our tip: take plenty of drinking water (there is none available at the site) and pack a delish breakfast to enjoy at the rocky summit.
Jog To Point Cartwright
Park your car further down towards Buddina and follow the path up towards the headland on your early morning jog. Stop at the Point Cartwright Lighthouse and take in the uninterrupted sunrise view in all its glory. If you're lucky, you might also see some turtles, dolphins or whales.
Sip Coffee At Mooloolaba
For a more laidback sunrise experience, set up camp between the Loo with a View and the Surf Club to see the day in. Mooloolaba Beach faces north to north-east, so the sun emerges from just behind the Point Cartwright Lighthouse, making for a stellar photo. Arm yourself with a coffee to-go from one of Mooloolaba's many cafes, and sit back, relax and enjoy the show.
Catch A Wave At Mudjimba
Why watch an epic sunrise on land when you can soak it up on a surfboard? Zip into your wetsuit, grab a surfboard and head to Mudjimba Beach for a one-of-a-kind sunrise experience. The more skilled (and fearless…*cough* sharks *cough*) surfers among us may wish to paddle out to the break off Mudjimba Island to ride some seriously sweet waves as the sun comes up.
Stroll Along Sunrise Beach
With a name like that, it's no surprise that sunrise views are to die for at this stunning Noosa beach. Sunrise Beach's endless stretch of white sand and pristine rolling waves make it the perfect spot to soak up the earliest rays of sunshine. Take a picnic blanket and get cosy on the hill. Then, once they're open, duck across the road to get your morning fix from Chalet & Co.
Climb Mount Coolum
We get it—every man and their dog has posted a photo on Instagram within the last year on Mount Coolum, so much so that you can instantly recognise "that view" from a mile away. It's old news. But we figure that if so many people keep doing it, it must be good, right? The sunrise from Mount Coolum is certainly worth the early mark, and while it is a very popular walking/running track for Sunny Coasters far and wide, it's somewhat less crowded before sunrise. It's also way easier to get those candid shots with less randoms to crop out.
Walk The Pup At Shelly Beach
Shelly Beach is the middle child of the Caloundra coastal town family. Sandwiched between Kings and Moffat, Shelly Beach is often overlooked, but when she gets her turn in the spotlight, she delivers the goods. A large stretch of the beach is also dog-friendly, so take your puppers for an early walk. While they probably won't appreciate the view as much as you will, even the most stunning of sunrises are made better when dogs are involved.
Can't imagine getting out of bed before 7am? Our short Sunshine Coast road trips might be for you.
Image credit: Leio McLaren and Jason Polley