Some occasions call for beer, some celebrations demand champagne, and every now and then, you just need an amazing cocktail. But at the end of the day, you can never go wrong with a great glass of wine. And if you can enjoy it in a buzzy bar, or a classy speakeasy, or a sunset waterfront deck, so much the better.
So stop whatever you're doing, and check out the best spots on the Coast to sip Chablis, quaff Viognier, or dabble in a cheeky Nebbiolo with your mates.
Corbins
Maroochydore
Pull up a seat in the heart of Maroochydore, pour a glass of wine and watch the world go by. Even though this place is better known for its "beer-cha" tasting nights, they boast a pretty great wine list, with plenty of Aussie drops, including some exclusive limited runs from smaller, independent vineyards. Follow them on Facebook and Insta and you might catch one of their carefully curated wine dinners. For a nice drop, Corbins is a must for us.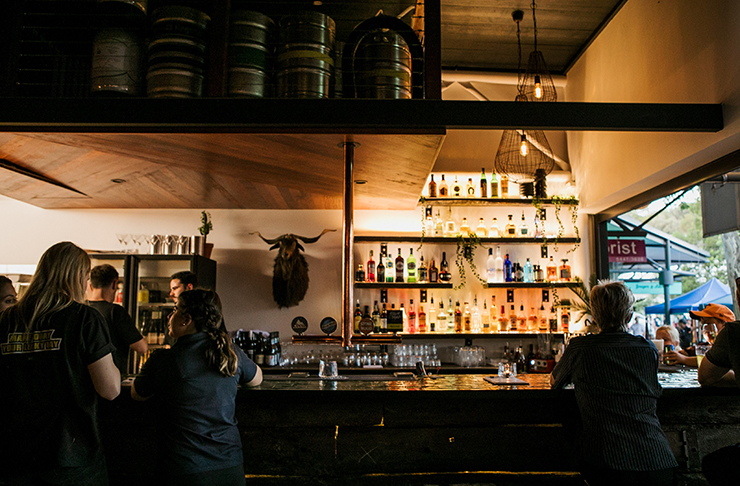 26 Degrees
Caloundra
Hold everything, we've found your perfect day drinking HQ. That's right guys. At 26 Degrees you'll feel like you're in Vegas at a hot poolside club, with cane lounges, a beer garden and a sleek timber bar. Get your mates to head over early to grab the best spot, then cruise in after a day at the beach and join their table to soak up the vibe and start the afternoon right!
Locale Noosa
Noosa
OK so it's not strictly a wine bar, but the wine list at this Noosa fave is truly epic. You could pull a deltoid just lifting the thing. It skews Italian—as you'd expect—but with plenty of Aussie and Kiwi options to make you feel at home. There's a really reasonable price range if you're feeling a bit povvo but you still need to treat yo'self, and the expert staff can help you out if you're feeling overwhelmed by the choices. Grab a seat in the sexy, dimly lit bar, and order by the glass or by the bottle, with some frittelle on the side. Locale is a MUST when in Noosa.
Backlane Tapas and Wine Bar
Mooloolaba
The Spanish invented the idea of glasses of chilled wine and salty, spicy, smokey nibbles at the bar, and Backlane Tapas and Wine Bar has brought Barcelona to Mooloolaba. The menu is made for sharing, and the Aussie-heavy wine list is a perfect match for the tapas plates. We swear by the white anchovies and pickled veg *swoon*. And they're open until late-late—European-style, baby.
The Bison Bar
Nambour
Bringing glam, Art Deco vibes to Nambour, you can't go past this uber-cool speakeasy-style Bison Bar. Kick back in the cosy lounge with some chilled live music and a glass of something sophisticated. That's right guys, we said keep it classy.
Miss Moneypenny's
Noosa
There's no wrong time to head to Miss Moneypenny's for a glass of wine—after a crappy day at work, late on a Friday night, or for a cheeky Sunday sesh, you're guaranteed pumping tunes, an awesome wine list, and some serious eye candy. There's a huge range of wines by the glass and the bar menu will keep those hunger pangs at bay.
Pier 33
Mooloolaba
If you want to sip your wine in one of the hottest new spots on the Coast, head to the old Yacht Club Mooloolaba. This Hamptons-style bar overlooks the water so you can drool over all the yachts you wish you had. We recommend you secure a seat in the outdoor lounge area to watch the sunset with a glass of Pinot Gris. We couldn't round up the best wine bars on the Sunshine Coast and not mention Pier 33. (As a side note we highly recommend the Noosa Reds if you stay for dinner).
Rumba Wine Bar
Noosa
Tucked away at behind Sails, right on Main Beach, Rumba is the best wine bar you've never been to. Pop into this chilled lounge for a sneaky pre-drink before you head out for the night, and we promise you'll have trouble leaving. Their wine list is epic, boasting one of the best cellars in Queensland, so this is the spot to impress your date with that rare bottle of Grange you've been saving up for. It's also available for private hire, so if you want to feel oh-so-exclusive, book it in for your next event.
Peak Wine Bar
Maroochydore
Score a spot looking out on the buzzy hub of Ocean Street in this oh-so-stylish industrial space. Order a bottle of something chilled, and watch the beautiful people come and go. If you're feeling energetic, there's a killer dance floor at Peak Wine Bar, but make sure you're looking hot before you head out to mingle—you're likely to end up on their Insta page in all your 2am, smudgy makeup glory. But you likely won't care, cause the buzz will be so worth it.
Noosa Boathouse
Noosa
Nab yourself the best spot in Noosa with a million dollar view from the Sunset Bar on the top deck of Noosa Boathouse. Order up some oysters, chips and aioli, and a next-level cheese plate, and feel sorry for all the plebs on ground level.
Eddie Cheeba's
Noosa
We're loving this uber-sexy new joint, and so will you. Eddie Cheeba's is a calm, cool and chilled spot where you can grab some amazing street food and a perfectly-paired adult beverage while you watch the world walk on by, Noosa style. Their eclectic wine list will not disappoint. Featured are a few of our fave Aussie bottles like the Shaw and Smith Sauv Blanc and Red Claw Pinot Noir, as well as a few out-there drops from New Zealand and Italy to tantalise your already salivating taste buds. And while we are on the beverage selection, the cocktail list has got 'Sunday Sesh' written all over it. Try the tequila-based Boris-you won't regret it (until Monday morning, that is).
Maybe you want dinner with a view now? We've rounded up The Sunshine Coast's Best Waterfront Restaurants here. What about 30 Things To Do In Noosa? We've got you covered here.
Image credit: Cameron Whitman, Federica Portento, Elle Borgward, Claire Plush and Amy Higg for The Urban List