With short roadtrips and picnicking back on the cards for Queenslanders, we're all feeling more at ease about exploring our own backyard again. While we're still confined to 50km of the Sunshine Coast region for now, there are so many things to do in the Sunshine Coast Hinterland, making it the perfect place to start your local adventures.
From walks and hikes to tasty eats and the Sunshine Coast's most scenic mountain view, here are all the best things to do in Maleny and Montville.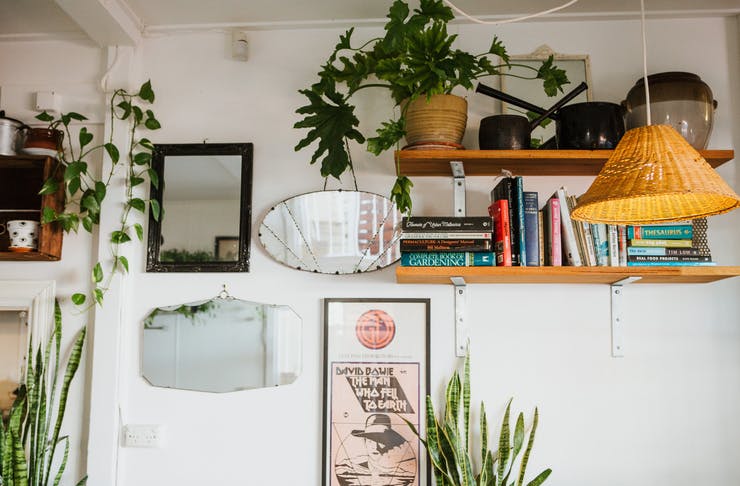 Stop One: Grab Breakfast
Today is going to be active, so before you do anything else, you'll need to fuel up—with food that is. Monica's Cafe in Maleny is still open every day and is dishing up all-day breakfast and lunch from 7am to 2pm, while Shotgun Espresso is serving belly-warming soup and delicious coffee. Prefer your brekkie with a bit of gusto? The Maleny Pie Guy is still pumping out golden, flaky pies that taste even better on a chilly hinterland morning.
Stop Two: Find A New Pageturner
You'll get lost in the shelves of page turners at Rosetta Books, but thankfully the lovely team behind what is clearly one of the Sunshine Coast's best bookstores are renowned for helping avid readers find their next score. There's something about that bookshop smell and who would've known how much we'd miss it.
Stop Three: Pick Up Supplies
You've got your reading material, so it's time to stock up on picnic goodies. Grab your freezer bag from the car, the one you brought along to keep your cheese selection from melting, and head straight for Maleny Food Co. This one-stop shop has all your picnic goodies at the ready, from a mammoth range of international and Australian cheeses, freshly-baked muffins and pastries, plus a deliciously creamy cabinet full of mouth-watering gelato. And yes, you do need it.
Stop Four: Take In Those Mountain Views
It may be somewhat of a tourist attraction but you can't go to Maleny and not take in the majestic sight of the Glass House Mountains. The best place to do this is from Mary Cairncross Park, so pull up, grab the camera and snap your best post-iso selfie with your roadtrip buddy. From there, take a stroll through the park, wandering along the bush-fringed pathways until you're ready to go and discover Montville.
Stop Five: Detour Past Lake Baroon
After getting your mind blown, keep travelling to Mapleton. But instead of heading straight for town, take a left onto Western Avenue and find your way down to Baroon Pocket Dam, also known as Lake Baroon. This hidden body of water is picturesque, and if it's warm we can totally vouch for jumping in for a dip. Keep your eyes peeled for koalas and kangaroos, this area has an abundance of wildlife.
Stop Six: Picnic In Kondalilla National Park
If fresh air, lush rainforest and the sound of a running waterfall take your fancy, head straight to Kondalilla National Park. Whilst the rockpools and swimming area are still closed to the public, the tracks and picnic areas have been reopened, so grab your freezer bag, throw down the rug and feast on your locally-sourced picnic spread.
Stop Seven: Wander Through This Charming Village
Get your shopping fix with a wander through Montville. Whilst there might not be a lot open, you're bound to find something you'll want to take home.
Stop Eight: Cruise Down To Palmwoods For Takeaway
Rather than following the Blackall Range north towards Mapleton, head east down the hill instead, through Hunchy until you get to Palmwoods. This super-cute town is more of a day spot, but when night falls you can always count on Pizza Pizza Palmwoods for straight-out-of-the-oven rounds of goodness and Rick's Garage for all your OTT burger and shake needs.
Stop Nine: Book In Your Next Visit
Overnight stays are unfortunately not permitted until June 12, as part of Queensland's easing of coronavirus restrictions. So while you won't be able to stay the night this time around, there's nothing stopping you from planning your next visit and locking in your perfect Sunshine Coast Hinterland accommodation. From cute cabins to sprawling rainforest retreats, the only thing better than a day trip to this part of the Coast is a weekender.
Looking for more short scenic Sunshine Coast drives to take this weekend? Head here.
Image credit: Lumea Photo for Urban List