Hikaru Sushi Train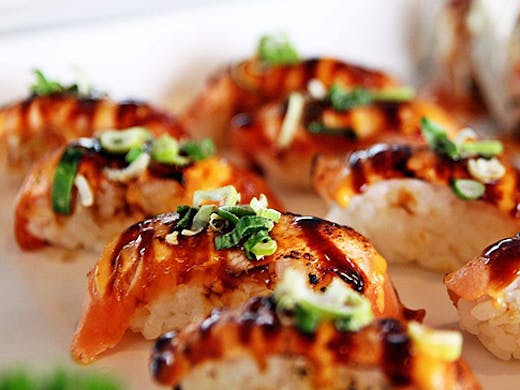 The Verdict
Choo choo! All aboard the sushi train.
We're talkin' hand rolls, inside out rolls, nigiri, sashimi…There's no wrong way to enjoy this Japanese gift to the world. So when we found out a new sushi joint had just opened on the Coast we were literally drooling.
Let us introduce you to Hikaru.
There's a good chance you might already recognise the name. And that would be because these guys already own two other locations (Beerwah and Buderim) on the Coast that are absolutely killin' it.
Hikaru is sah popular with local sushi train lovers on the Coast that you just know their new location is gonna' be a hit.
Their latest opening is in the ever-expanding suburb of Kawana, neatly nestled near the shopping centre.
Every time we chow down on sushi there's something about the experience that we just love. It's fun, fresh and most importantly no fuss. You also leave feeling full but not like an over-stuffed piggy.
And the best part is it's one of the best cheap eats to be had on the Sunshine Coast. For a mere handful of gold shrapnel you can devour some amazing noms.
When you're ready to expand your order to include a tad more than nigiri and rolls, order the teriyaki chicken and salmon. This is a delicious decision you won't regret.
The karaage is also an amazing and slightly naughty treat, whilst the tuna and avo rolls leave us asking for more. We love a bit of miso too!
Cue Oprah voice my fellow Coasters… You get some sushi, you get some sushi, eeeeevverryybody gets some sushi.
Image credit: Hikaru Sushi Train
---