Glass House Brewery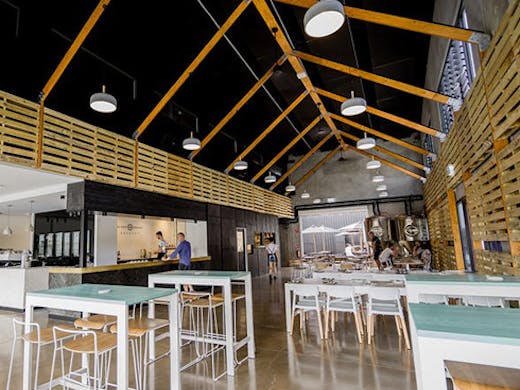 The Verdict
This fancy brewery ticks every box for all occasions. Think boozy brunches with the girls, lunch sorted with the boys, or a classy night with your significant other. Boasting slick décor, an Italian menu, top-notch beer and an extended drinks list, say hello to your new favourite Sunshine Coast hangout, Glass House Brewery.
Located in Forest Glen, this brewery used to be nothing more than a shed. Stepping into the space today, you'll notice its high ceilings with large wooden beams, a gorgeous beer garden, spacious dining hall and function room. One thing's for sure, this is a brewery with style.
Proof that the Sunshine Coast brewery scene is on the rise, there are five different kinds of liquid gold brewed in-house, plus a bunch of other local beers on tap. Glass House do a pale ale, black lager, mid-strength session ale, red IPA and organic saison, so whatever it is you're after, you're in the right place for a refreshing pint.
The beer is outstanding, and the good folks at Glass House Brewery have got a menu to match. Experienced Italian chefs will plate up dishes like arancini risotto balls with mushrooms and parmesan, zucchini crisps and everyone's old-school favourite, golden pizza puffs for a slice of childhood nostalgia. And because there's no better duo than pizza and beer, you'll spy a variety of tried and true favourites like meat lovers, plus gourmet options like roasted pumpkin with pine nuts and goat's cheese.
Don't waste another second, unwind at Glass House Brewery, Wednesday through to Sunday, for pizza, beer and guaranteed good times.
Image credit: Amy Higg for Urban List
---