Hello Gelato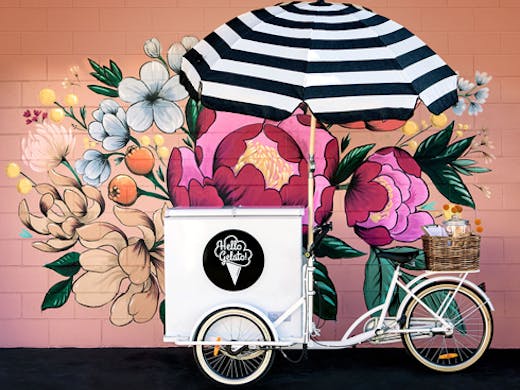 The Verdict
A super-cute and tiny gelato bar has rolled into the Sunshine Coast and is up for hire for weddings, birthdays or anything else you can dream up. Meaning you could possibly be everyone's favourite person if you get Hello Gelato to show up to your shindig.
Peddling gelato across the region on a magical vintage gelato bike, this Riviera-style set-up holds up to 60 litres of creamy goodness, which is enough for 300 gelato-loving people. Pretty cool, huh?
Scooping some of our favourite gelato flavours from Maleny Food Co. who are known for using local ingredients and steering clear of artificial colours, flavours and preservatives, you'll be licking your lips and asking for another before you've even finished.
With the likes of white chocolate and raspberry, salted caramel and hazelnut roche, as well as moreish gelatos sorbets—think blood orange, lychee and watermelon, and mint—you'll be thankful you have the Hello Gelato team on hand to help you decipher which selections best suit the crowd you're trying to impress.
Image credit: Supplied
---