HOLA Eumundi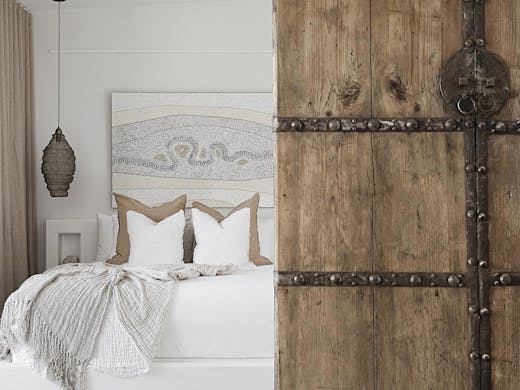 HOLA, or House Of Local Art, in Eumundi is so much more than just accommodation. It's in the name—HOLA is all about celebrating the talents of local artists and creatives in the Sunshine Coast area.
Nestled in the idyllic village of Eumundi, this unique boutique accommodation houses 15 rooms, but no two rooms are the same as they have all been individually designed to showcase different local artists' work. The rooms are contemporary chic but emulate Eumundi's laid-back spirit, inspired by the Sunshine Coast's landscapes and combining intricate details to create a welcoming home away from home. Think—authentic timber furniture, natural linen furnishings, locally handcrafted ceramics and artisan tiles. Yes, it's as dreamy and luxurious as it sounds.
Each HOLA room has been designed to connect with nature, whether that's with a balcony overlooking the treetops or with a custom-designed planter box of greenery. The rooms all have their own personality, reflected in the paintings, crystals and design, so each time you stay at HOLA you can experience a different space. Where you're looking for a romantic getaway with your lover, a vacation with your friends or simply a solo retreat to rest and recharge, HOLA is one special place you need to rest your head at.
If you want to stay nestled in your cosy, luxurious villa we totally get that. But on the off chance you want to venture out and leave the humble abode for a couple of hours, there's a plethora of things to do. Explore the laidback village of Eumundi, jump in the car for an easy 20-minute drive to Noosa's beachfront or explore the hidden gems of the Sunshine Coast Hinterland.
Image Credit: HOLA Eumundi
---