Honeysuckle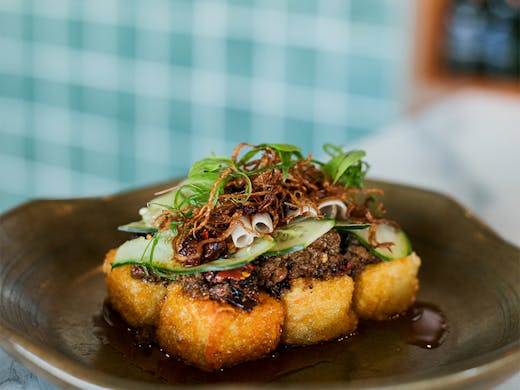 'Buderim' is a word in the Kabi Kabi language that means 'honeysuckle', which is where owner Seung Joo Kim got his inspiration for the stunning restaurant. There isn't a restaurant like it in Buderim, offering refined Yumcha share-style meals at incredibly affordable prices.
Boasting both an extensive lunch and dinner Yumcha menu with separate vegetarian menus and a very popular dinner banquet menu, it's safe to say your tastebuds are in the ride of their life at Honeysuckle. During lunch (or brunch Yumcha, as they call it), you can make your way through East Asian-inspired dishes like Mooloolaba prawn milk bun with cashey satay, Thai coconut soup, sweet and sour eggplant with pineapple and Korean rice cakes. At night, you can expect a casual fine dining menu, with the likes of scallop dumplings, red duck curry and crispy chow mein all designed to be shared.
Honeysuckle is also fully licensed, which means you can sip on local sparkling, wine or beer while you wolf down some of the best dishes in Buderim. Pro tip: order the lychee green tea martini and thank us later.
Image Credit: Lumea Photo for Honeysuckle
---