Ikatan Balinese Day Spa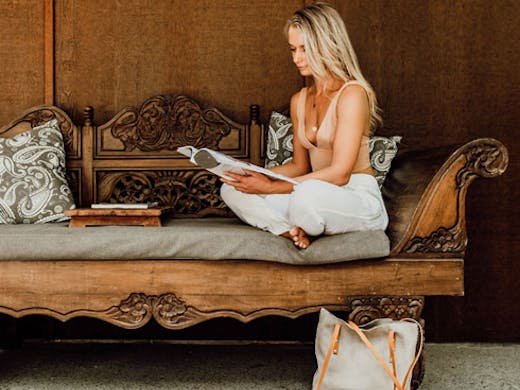 The Verdict
Dying to holiday in Bali and relax by the pool with a back massage and pedicure? Save money on those flights to Indonesia and instead, book in a visit to Ikatan Day Spa, just minutes from Noosa.
This beautiful facility is run by Katrina, who taught massage in Bali for many years and had the idea to bring the practices and local recipes she learnt, as well as her passion for wellness, to Queensland. Her husband Nicholas is a landscape gardener and was the brains behind the luscious tropical garden setting where the guests can enjoy their treatments.
The retreat resembles a Balinese village where treatments take place in outdoor villas, with air conditioning and a complimentary pot of tea or champagne. Ikatan offers a vast range of services, including massages for expecting mothers to full wellness packages, which feature a wrap, massage, facial and a mezze platter to feast on afterwards. Other treatments such as head, feet and hand massages take place in the beautiful communal gardens filled with flourishing greenery and shaded areas.
Ikatan has won multiple awards in 2018-2019, including the prestigious Australian Luxury Spa of the year award and is easily one of the best day spas on the Sunshine Coast.
Image credit: Ikatan
---