Juan Fifty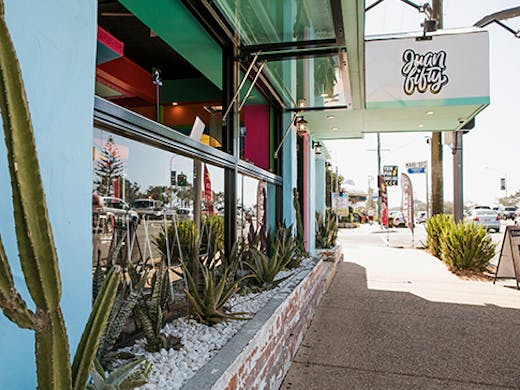 The Verdict
Fresh, fragrant and fun. When we think of authentic Mexican cuisine these are the first three words that come to mind.
So, when we heard that Juan Fifty (a sassy Mexican joint had just opened on the Coast) we decided to head on over and add some spice to our lives, immediately.
Juan Fifty is a restaurant where bright colours, strong cocktails and mouth-watering dishes come to life. (TBH: They had us at Huervos Rancheros).
Now, maybe you're familiar with this spot on the bustling Alexandra Parade. It's where perennial fave Ol' Cactus used to call home, until new owners took over the business and Juan Fifty was born. Hurrah!
Now something you might not know about traditional Mexican cuisine is how truly incredible their breakfast options are. Diners often immediately think of lunch and dinner options, but in our opinion an authentic Mexican breakfast is where it's at ppl.
Well, Juan Fifty is set to change all that with their incredible and daring new brekky options. Think: Chimichangas laced with spinach and ricotta, avocado tostadas, black bean and rice bowls or what about sweet corn and jalapeno fritters. And voila! All these options are the ideal way to start your day. Need we say more?
We also tried our hand at The Big Juan. Yes, it was massive and yes it was delicious. Starting with two fried eggs, paired with chimichurri chorizo, charred bacon and lashings of black bean stew. It's not a nom for the faint hearted, but we savoured every last mouthful.
There are also lunch and dinner options with burrito bowls and tacos being the two preferred choices on their extensive menu. There is gluten free, vegan and vegetarian options on the menu so it's a great place for dates and groups of people with varied tastes.
Image credit: Amy Higg for The Urban List
---