Maleny Lodge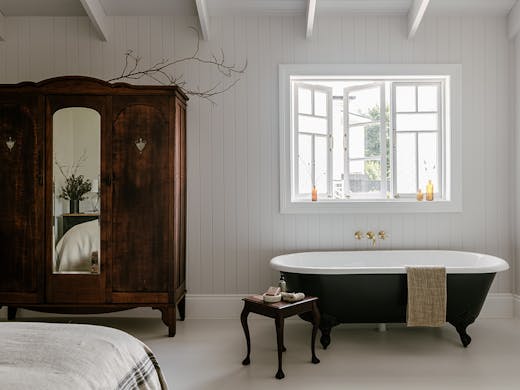 Maleny Lodge is a lovingly restored boutique accommodation, set in the heart of the Sunshine Coast hinterland in Maleny, that will have you falling love before you even step foot inside.
Originally built in 1905, under the name Rosedale Lodge, the now re-named Maleny Lodge has been given a new lease on life while still retaining its old-time charm and original features. Owners Andrew and Lucy Pink have an impeccable eye for detail and have mindfully given the heritage house a complete interior update, full of luxury finishes, modern comforts and a beautifully curated collection of vintage furniture.
The Sunshine Coast's newest boutique offering has seven individually designed bedrooms and boasts gorgeous luxe additions like a stunning claw foot bath, a log fireplace, a heated magnesium pool and picturesque woodland grounds. Yes, it's just as beautiful as it sounds. Maleny Lodge blurs the lines between boutique hotel and holiday home, offering an exclusively adults-only space where guests can disconnect from everyday life, relax and rejuvenate in luxurious surroundings.
Co-owner Andrew Pink said that it had been a pleasure for Lucy and him to revitalise the impressive property. "It has been a very careful balance between preserving the distinctive heritage character of the property and renovating it for the ultimate in contemporary luxury," he said.
Maleny Lodge is also available for exclusive hire and the boutique accommodation sleeps up to 14 people, so it's the perfect venue for weddings, retreats and private functions. Maleny Lodge will open on 30 May and to celebrate, they will be offering 20% off all stays until 31 August.
Image Credit: Maleny Lodge
---