Moonstruck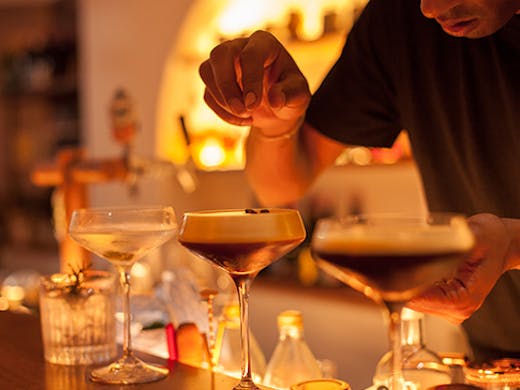 The Verdict
If you were looking for somewhere to cosy up during the winter, we just found your new favourite spot.
Moonstruck is the lovechild of roaster and barista Boy Driessen and naturopath Mell Thompson, locals to Noosa for six years. Extremely passionate about local, sustainable products and produce, Boy and Mell's main goal is to share that love with locals and they've definitely succeeded.
Once you step inside Moonstruck's snug interior, you're immediately enveloped in the warm lighting and glinting mosaic marble floors that emanate old-school European cafe vibes. You'll notice right off the bat that a big part of Moonstruck's charm is in all those unique, well-thought out details.
Besides amazing boutique roasted coffee—courtesy of Boy himself—and an unique range of gin, Moonstruck's menu will not let you down when it comes to food.
If you're after a quick breakfast or lunch you can dip in and grab a coffee, a pastry, a toastie or even a classic Reuben sandwich. If you're looking to stay a bit longer, you can indulge in one of Moonstruck's cheese and charcuterie platters, of which there are vegan and vegetarian options.
Only the best local gins have a space on the Moonstruck shelf, including a few rare limited-edition bottles. A new gin is added every week and is carefully paired with the tonic or mixer that will make it shine the most.
The best part? All of Moonstruck's menu is sourced from 100% local produce and providers, from the unique gins to the delicious food. So really, you've got no reason not to show this little local gem the love it deserves.
Image credit: Moonstruck
---