Solitude Coffee
CONTACT
Ph: 0499 482 949
Visit Website
4/40 Dacmar Rd
Coolum Beach, 4573 QLD
Show on map
---
The Details
Need to Know
Serving
---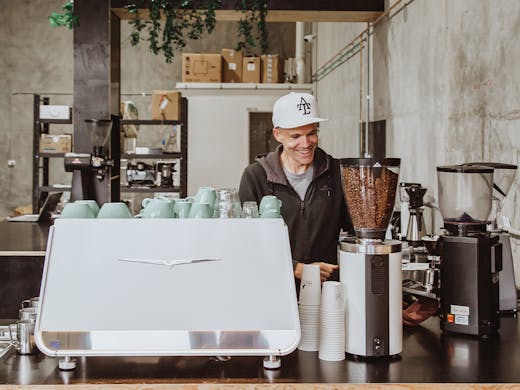 The Sunshine Coast is home to many top-notch coffee joints, but when a specialty coffee roastery-coffee bar opens up, we pay attention. As avid coffee drinkers, it's our duty to pay it a visit. Solitude Coffee has already set tongues wagging in the Sunshine Coast coffee space, and for good reason too.
The simple, pared-back coffee bar is reminiscent of Melbourne's thriving coffee scene—it's simple, it's unassuming and it serves up goddamn delicious coffee. The brains behind the operation, James Miller, aims to share his love of coffee through Solitude Coffee with the community and "to help customers realise that good coffee is very approachable and achievable". James explains the name 'Solitude' comes from the peace and calm he finds at the start of the day, and the ritualistic moment of solitude when brewing a coffee. We dig it.
The welcoming espresso and filter coffee bar in the industrial estate of Coolum Beach is certainly all about community; it's welcoming, it's relaxing and there is always time for a chat. It's dog friendly too, so your furry friend can even snag a puppachino.
In terms of what they're brewing up, Solitude has just launched their new specialty espresso blend, Wake Up Call, which will be served in-store and distributed wholesale throughout Australia. If you're looking for some friendly conversation, we recommend popping your head into Solitude Coffee HQ in Coolum, where you'll not only leave with a delicious coffee but plenty of newfound brewing knowledge. If you're more of an at-home drinker, you can order freshly roasted beans straight to your doorstep and can even start up a weekly or monthly subscription.

Image Credit: Solitude Coffee
---