Famous British Formula 1 driver James Hunt once said: "the closer you are to death, the more alive you feel". That may be an extreme way of putting it, but it's likely why humans jump out of planes, climb up bare rock faces, and take on the planet's natural elements daily.
If you ever identified with Patrick Swayze's free-spirited character, Bodhi, in Point Break (minus the violent bank robbery and kidnapping stuff), you probably know what we mean. Sorry in advance, but more hard-hitting action movie references are coming.
If you have a little bit of daredevil, thrill-seeker, or adrenaline junkie deep in you, or if you're looking to test your own limits, then the following list is for you.
Here are 10 adrenaline-filled activities you can do in and around Sydney.
Sky Diving
With bungee jumping not yet available in NSW, sky diving is about as thrilling as it gets around Sydney. It goes without saying that jumping out of a plane at 15,000 feet isn't for the faint-hearted, but you won't regret challenging yourself by taking on this thrill of a lifetime. While there are a few places offering sky diving around NSW, our pick has to be propelling yourself through the clouds at speeds of 220km/h above the beautiful Wollongong coastline. Your brain might not fully appreciate the view until the parachute is pulled, but trust us, it's worth it.
Drag your friends along, and strap in for the most exhilarating 60 seconds of your life as you freefall and the most picturesque five minutes as you glide safely back to earth. A beer at North Gong Hotel afterward will be a mighty reward. Book yourself in here.
Indoor Rock Climbing And Bouldering
Just finished watching the boundary-pushing Alex Honnold free climb El Capitan in the documentary Free Solo and wanting to try your own hand at the extreme sport? Or maybe you're looking to replicate Tom Cruise outrageously scaling Utah's Dead Horse Point in Mission Impossible 2. Well, you can start with the basics in the safety of an indoor gym at Sydney Indoor Climbing Gym, located in St Peters and Villawood.
The bigger of the two gyms, St Peters, offers 420 different routes, 800m square of bouldering wall with 180 boulder problems, and 11 - 16m high walls. In a harness, forearms pumping, the ground getting further away, jumping for that final handhold—you know you want to. No bookings necessary; walk-in and have a blast.
Paintball
If you're reading this and wondering why anyone would purposefully spend their day being shot at to return home with large bruises—that's fair. But if deep down, all you want to do is put on camo gear and a helmet, lock and load, and shoot some paint bullets at strangers (or your friends), then this is for you. If action movies have taught us anything, it's that human is the most dangerous game and this is legally as close as you can get to testing that theory. Book yourself and your friends a spot here.
High Ropes And Zip Line
Looking to get up nice and high above tall forest trees with the whole family? Well, this zip line treetop walk should be first on your list. Suspended up to 35 metres above the Southern Highlands rainforest floor with a panoramic view of the Illawarra and the Pacific Ocean, this guided tour will challenge you in a fun and safe way! Walking along ropes, ziplining at speed through the trees, and keeping your balance on suspension bridges higher than your logical brain can comprehend—it's an absolute treat. If you're up for it, there's even the opportunity to do the course after dark. Allow about 2.5 hours for the whole experience. Book yourself in here.
Abseiling
We're in agreeance that harnessing up, lowering yourself over the ledge of a cliff face, and then pushing outwards with your legs to descend that cliff is objectively insane. And yet, it's exhilaratingly fun. We reckon abseiling is a good steppingstone activity before getting into the more hardcore stuff. There's no better place to do it around Sydney than in the gorgeous Glenworth Valley, just an hour north of Sydney. Kick it off with a safety briefing (of course) before taking on increasingly exciting, steeper, and higher cliffs. By the end of the day, you'll be flying/running down the side of the cliff like Dwayne Johnson down a skyscraper in Hobbs & Shaw (legally, not recommended). Book your day right here.
Canyoning
We could have recommended a good chunk of these adrenaline escapades all in the Blue Mountains' breathtaking surroundings. But our pick for the adventuring NSW hotspot, only two hours from Sydney, is canyoning. If you've never done it, canyoning takes you down into the depths of rainforest caves, rivers, and creeks, with a mix of abseiling, hiking, swimming, and getting deep into some tricky and challenging routes. On a guided tour, you'll make your way through rainforest, natural watercourse, encounter rock slides, water pools, and then finish with the chance to jump off a five or eight-metre ledge if you're up for a few more thrills. Summer or winter (with a wetsuit), hot or cold, this is a picturesque adventure you need to tick off your bucket list. Bring all your mates and allow a full day for this activity. Check out more details here.
Jet Boating
We're all guilty of strolling through Sydney's Circular Quay, seeing a jet boat full of wet, screaming people, and thinking, "Wow, that looks like fun". Well, we reckon next time, instead of just thinking how insanely thrilling it looks—go for it. And seriously, where better to throw yourself around at speeds of 75km/h than in our world-famous Sydney Harbour, surrounded by the Opera House and Sydney Harbour Bridge. Put on your poncho and let your hair down, you've been putting this one off for way too long. Check out what's available here.
V8 Supercar Hot Lap
If, like Dominic Toretto from the Fast & Furious franchise, you live your life "a quarter mile at a time" because "for those ten seconds or less, I'm free", then this is the option you've been searching for. At Sydney Motor Sport Park in Eastern Creek, suit up and take the wheel of a powerful V8 supercar under the tutorage of a professional race car driver and live out every racing fantasy you've ever had. Or jump in the passenger seat, strap in tight, and let the pros drive you around the track for a hot lap, reaching up to 200km/h and testing the g-force limits your body and mind can handle. The number of laps is up to you. Check out your options for an unforgettable day right here.
Whitewater Rafting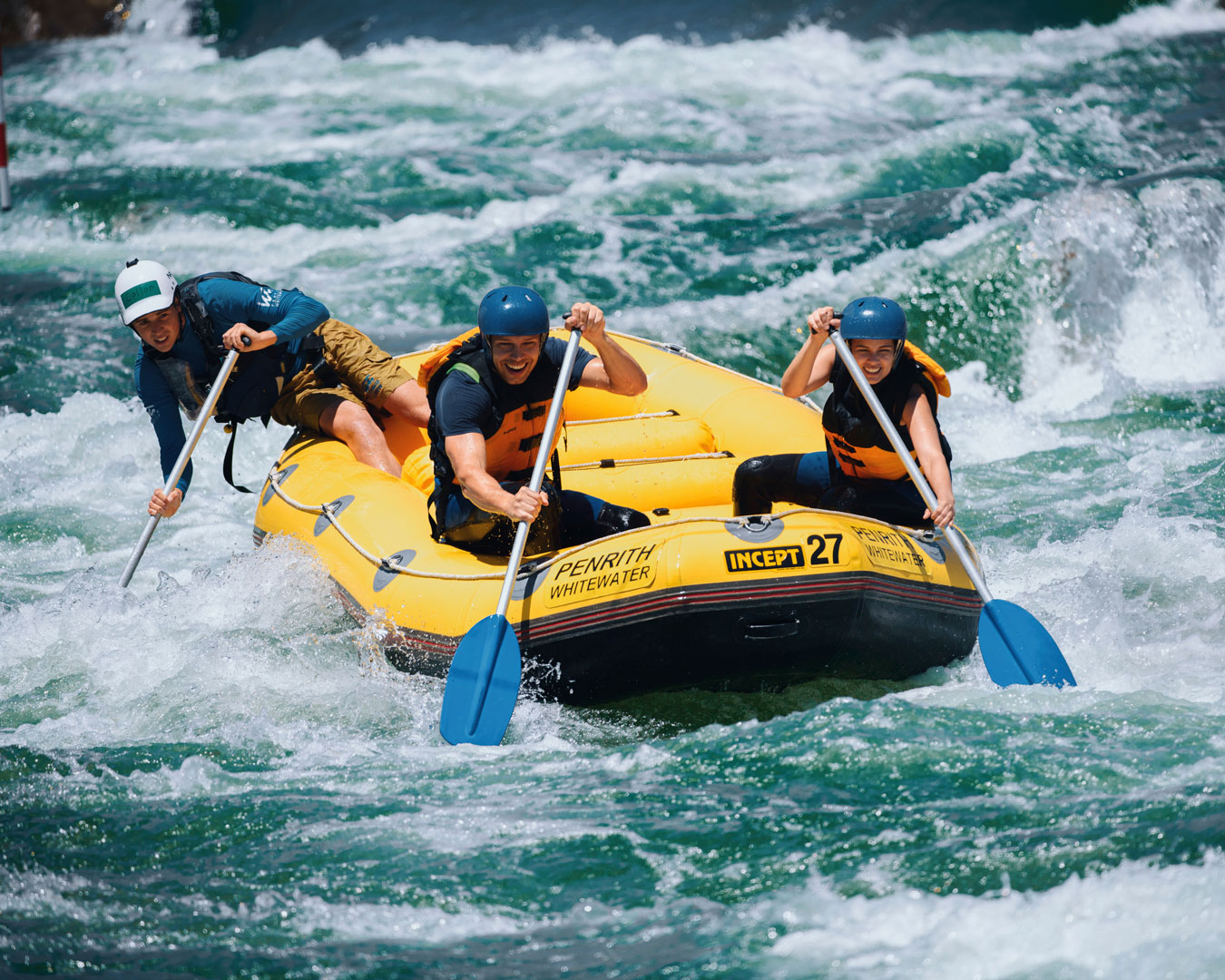 Alas, we hear you say—if only the adrenaline-pumping activity of whitewater rafting was available somewhere near Sydney. Well, put on your lifejacket and your helmet because you can jump into the natural rollercoaster of a rushing watercourse right here in Western Sydney. Remember when Sydney built a bunch of crazy venues to host the 2000 Olympics? Well, Penrith Whitewater Stadium, initially built for the Games, now lets you jump into the only human-made river of its kind in the Southern Hemisphere. With 14,000 litres per second of raging whitewater, roughly guiding you through a course filled with obstacles, you can challenge yourself to a day of whitewater rafting, kayaking, and even swift water rescue training. Take up the challenge and book yourself online here.
Jet Skiing
If you thought jet skiing was unobtainable in Sydney, think again. It turns out you don't need a license to solo jet ski, and the good people at Jet Ski Safaris NSW near the Central Coast, just an hour outside of Sydney, are here to accommodate. You can spend the day speeding through the Hawkesbury River, making your way between islands, exploring mangroves, and gliding under towering sandstone cliffs. Jump on and head out for 45 minutes, 1.5 hours, or 2.5 hours; it's up to you. Make sure you book right here.
Now, tick off these 7 Sydney bucket list adventures.
Image credit: Destination NSW, Lina Trochez, Bady Abbas, Vince Fleming, Destination NSW, Destination NSW, Destination NSW, Destination NSW, Bas van den Eijkhof
Editor's note: Urban List editors independently select and write about stuff we love and think you'll like too. Urban List has affiliate partnerships, so we get revenue from your purchase.