A good bagel has the power to make an ordinary day great. This buoyant bakery treat should be crispy on the outside and soft and chewy on the inside. Resembling a doughnut, and never to be confused with regular bread, these holey delicacies are truly in a league of their own.
When it comes to sinking your teeth into this city's best plain, seeded, stuffed, and blueberry sacred rolls with holes, it pays to know where to look—and that's where we come in. In this list, you can expect a whole lot of chewiness, secret bagel recipes, vegan-friendly bagels, and look, even a bagel drive-thru (because why not, you know?).
Check out the best places for bagels in Sydney.
Brooklyn Boy Bagels
Marrickville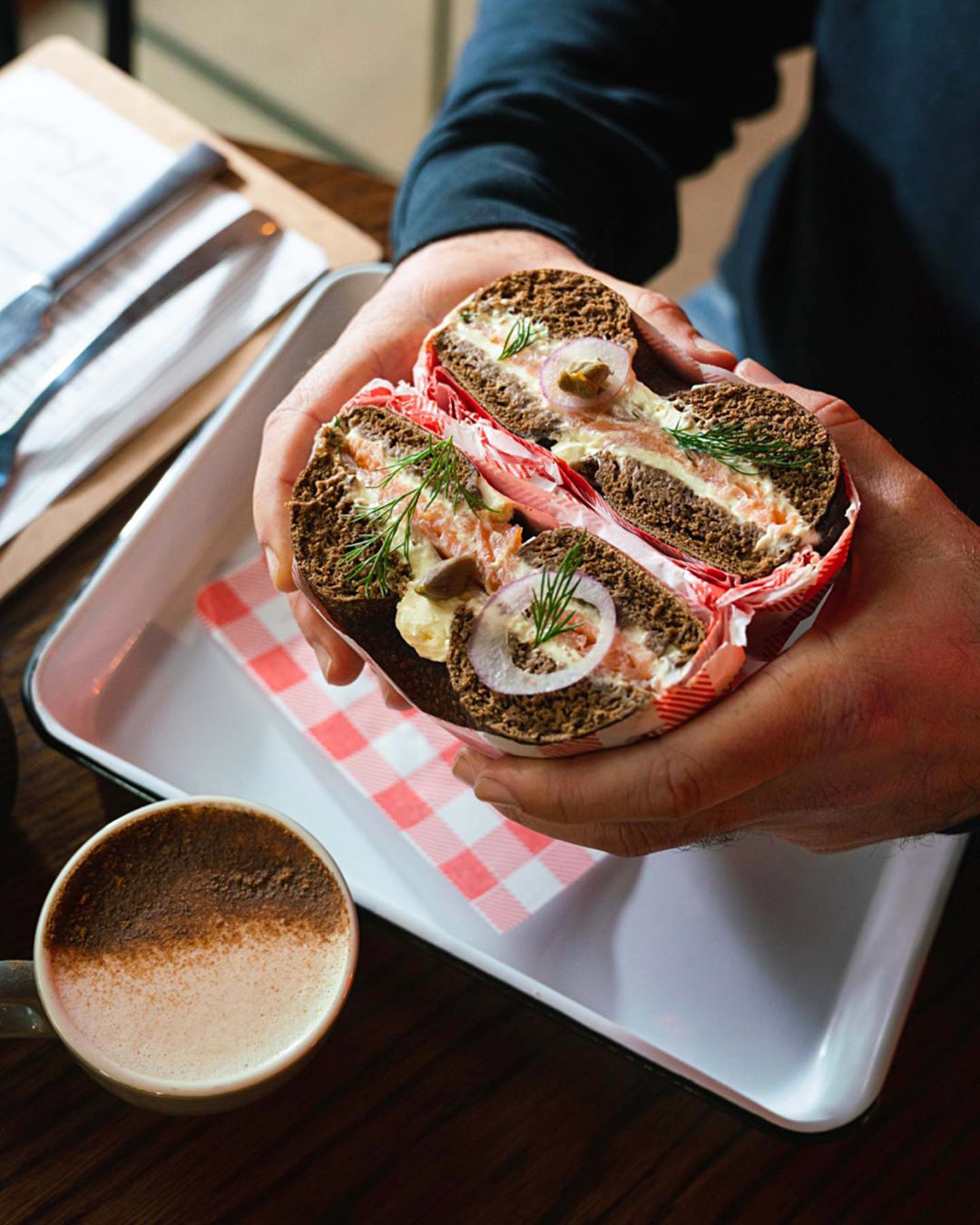 An authentic, NYC-style bagel can be hard to find in Sydney—but Brooklyn Boy Bagels' mission is to bring a bit of those Big Apple vibes our way. Brooklyn Boy's HQ is in Marrickville, and during lockdown, the team turned the venue into an actual bagel drive-thru (swoon). On the menu, you can expect the black hole bagel, black sesame, a blueberry bagel, cinnamon raisin bagel, the epic "everything" bagel, gluten-free bagels, and even mini bagels perfect for snacking.
"Our bagels are made with a traditional combination of baker's flour, sea salt, malt, and fresh baker's yeast, " says Brooklyn Boy Bagels founder Michael Shafron. "We only use top-quality ingredients, such as single-origin flour from Provenance Flour in NSW's golden triangle and American beer malt."
Basically everything the team does at Brooklyn Boy Bagels is tied to the artisan techniques of the New York-style bagel shops that Shafron grew up around, with Ess-a-Bagel in Manhattan a big favourite for him.
"A real bagel needs to be boiled, not steamed, so you get the right chew on the inside, not just the outside, " Shafron adds.
On his precise bagel science, he says, "We also perform a two-day fermentation process that builds this beautiful natural flavour, where the yeast slows down and enzymes have time to build and create that distinct taste. Enzymes also break down gluten strands, so that the bagels are better for your gut than those that are made quickly. A bagel recipe isn't enough, since the results always change based on seasonal variations in ingredients and weather. You need to have a mental compass as to where you want to get, or else you'll just wind up making a roll with a hole."
As for what sells out faster than you could say "bagel'—it's the "everything" holey morsel here. This guy is loaded with all the toppings: poppy, sesame, garlic, onion and caraway. If you're going for an actual bagel sambo, most people find it hard to go past that classic combination of lox with smoked salmon, capers, red onion, and dill.
Keep your bagel-loving eyes peeled for another Brooklyn Boy outpost opening before the end of this year.
The Bagel Co.
Rose Bay, Surry Hills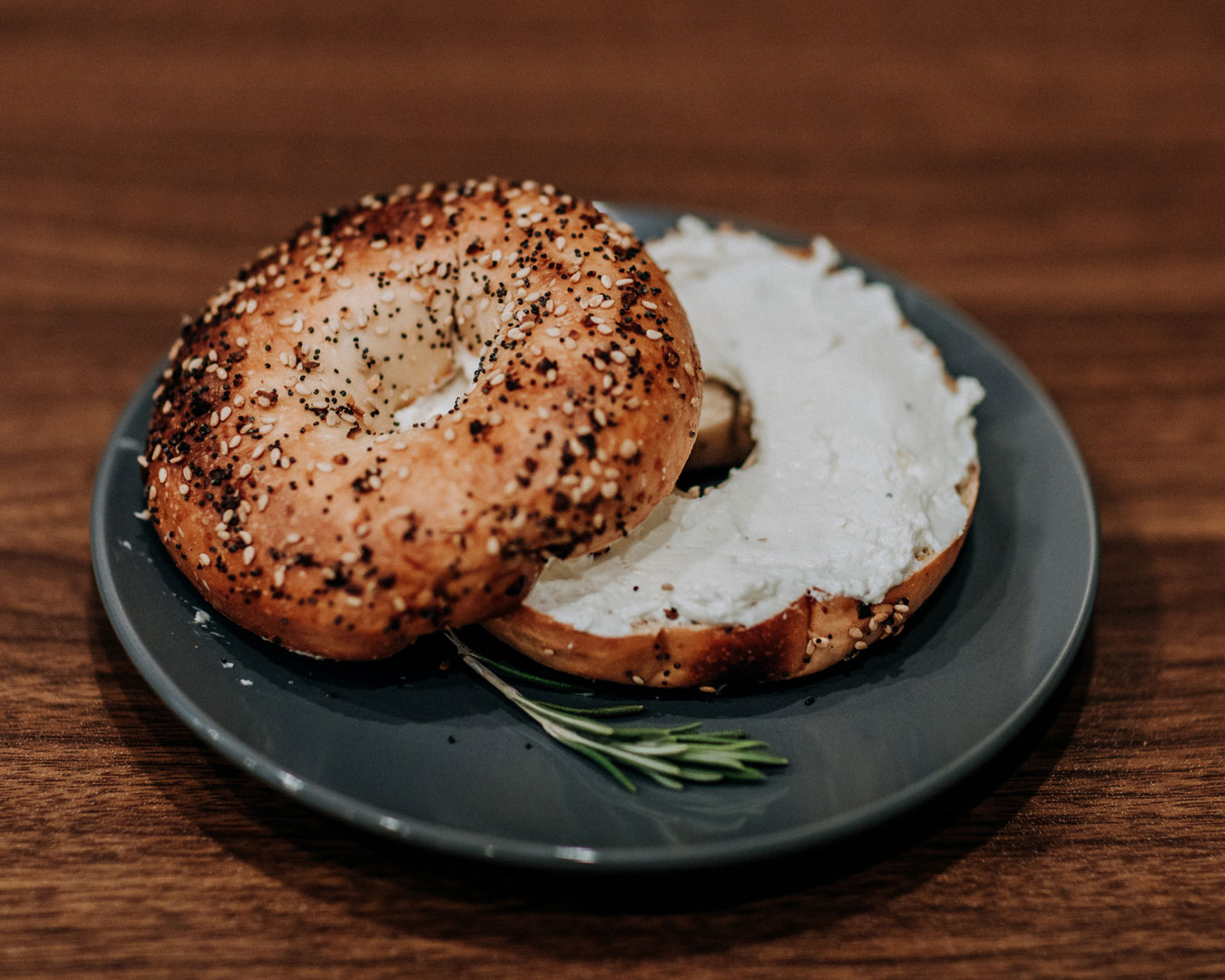 When a secret bagel recipe can sail its way through three generations and two continents, and it ticks all the boxes when it comes to nailing the sustainability game, you know you've struck some serious bagel gold.
The Bagel Co. has two stores in Sydney; the latest venue opening up shop in the heart of Surry Hills. Barry Kluwgant is the owner of this enduring bagel way of life and has spent his whole life around the good stuff. He was born into, if you will, a life of bagel royalty and spent a whole lot of his younger years hanging out in the back of his grandfather's bakery in Melbourne, pretty much mastering the bagel-making process.
"The bagel itself takes about 2 - 3 days from start to finish," Kluwgant says. "We prepare the dough and shape them, and allow them to sit in a special retarder. We then prove the dough in a purpose-built prover and then use a unique method of steaming them at a very high temperature before baking. This method, in part, was passed down to me from my grandfather Mr. Glick."
And if you know anything about Mr. Glick's bagels, you know this bagel maestro was the absolute godfather of the holey stuff in Australia. The bagels at The Bagel Co. are fully kosher as well, alongside being vegan friendly.
"By far the most popular bagel is good old fashion plain, or the classic as we call it, but in saying that, we have quite a few options and fillings," says Kluwgant.
"You can choose to have a New York-style bagel, pastrami cured gravlax, garlic cream cheese, pickles, mustard, and rocket, and choose from one of our 15 different bagels and have a different experience each time. We take great pride in not only making our very own bagel, but we cure our own salmon and flavour our own cream cheeses."
Wellington Street Cakes
Bondi
It'd be pretty remiss of us to skip out on the holy grail of all bagel bakeries—Wellington Street Cakes. This small family-owned patisserie specialises in Austro-Hungarian cakes and tortes and has been a big fixture in Bondi's gastronomic scene since the late 70s. When strudel and ice-cream aren't front of mind, the box full of bagels is the way to go and these bad boys have a reputation as some of the very best in Sydney. Made the traditional way, boiled and then baked, you may as well scoop up one of the fourth generation recipe cheese pockets here too, it'd be rude not to.
Lox In A Box
Bondi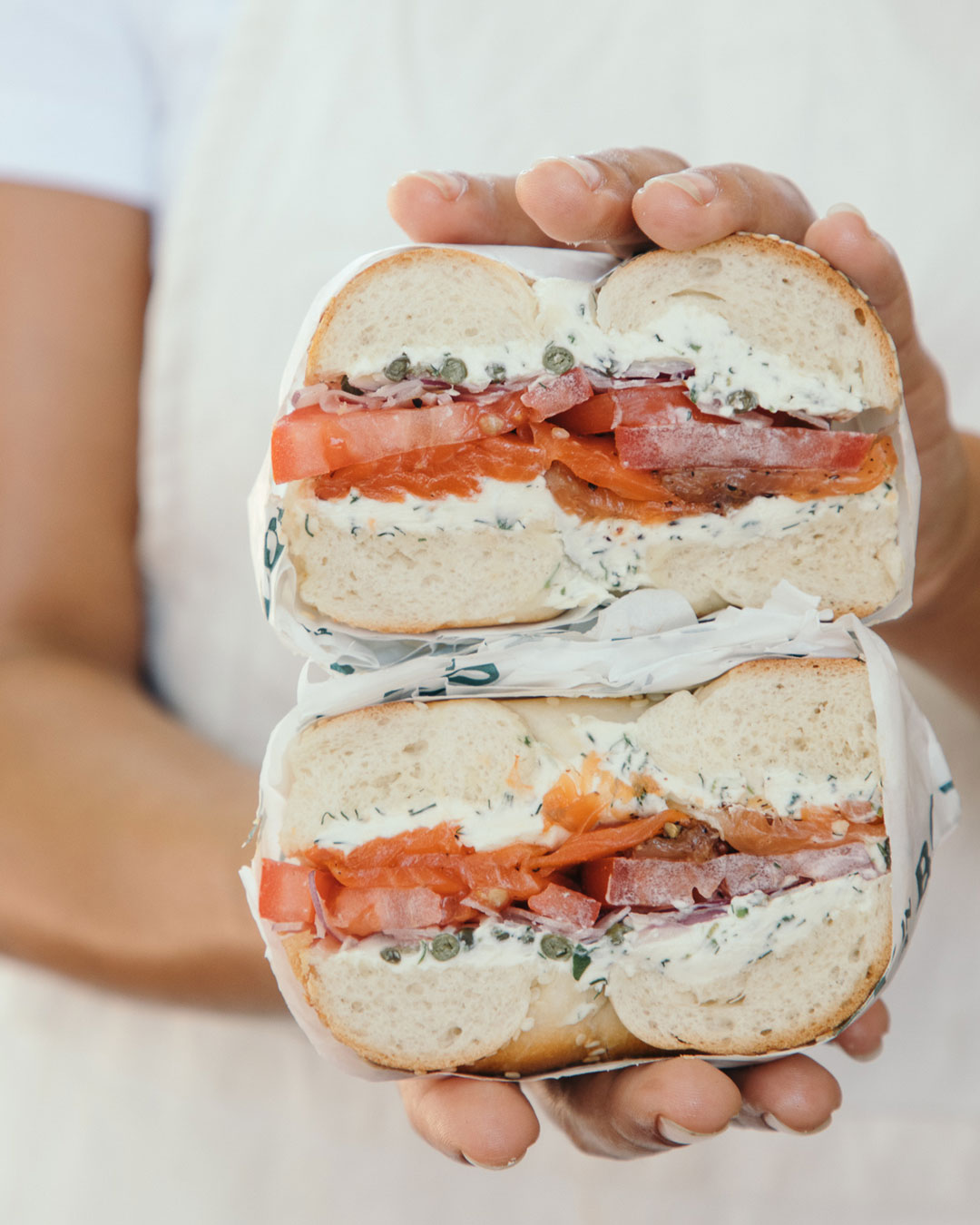 Much like its name suggests, Lox In A Box marries up two winning concepts—bagels and deli feeds and the perfect convenience of takeaway. Inspired by traditional Jewish delis, this takeaway joint is only open four days a week—Thursday through to Sundays (arguably the best days of the week). Its retro shopfront features a deli menu scribbled on butcher's paper taped to the window, and you won't find more than a couple of benches out the front to soak up all the vintage vibes.
Lox In A Box sources its bagels from the legends at aforementioned Wellington Street Cakes—here it's all about the fillings, toppings, and, naturally, the lox.
On the no-frills menu, there are fine standouts like a salt-beef bagel (loaded with mustard and pickles) and a vegetarian stack pumped with actual jalapeno schmear. You can also expect the staple lox affair with one of the best herb cream-cheeses Sydney has ever been privy to. And to build on your bagel feast, you'll also be able to pick from more than 20 sides to throw into your takeaway lox box including "Nanna's smashed avo" and an extra creamy potato salad.
"We have the freshest lox in Sydney," says owner Candy Berger. "It arrives from New Zealand fresh on a Thursday and in our shop Thursday lunchtime. We then start the curing process and one week later it's cured, crusted, and hand-sliced in-house! We also make all our bagel filling in-house and that's also the same with all our hot salt beef."
The hot salt beef bagel is also about to get a makeover, with LP's Quality Meats cheeky Reuben amping up your bagel antics. You can expect a smoked beef cheek, spicy Russian dressing, Swiss cheese, bread and butter pickles, and sauerkraut combo and if that doesn't sound like the best thing ever—we don't know what does.
Iggy's Bread
Bronte
Iggy's Bread is as much a part of Bronte and the Eastern Suburbs as the ocean water is to its sparkly beaches. Iggy's Down Under (or just "Iggy's" if you're one of the regulars on a Saturday morning) makes the best sourdough loaf in Sydney (there, we said it) but it's also home to a solid bagel selection that will bring you all the brownie points for an at-home weekend breakfast worthy of the carb gods. The hearth-baked bagels come loaded with a tonne of flavour plus a chewy texture based on the bready goods from Montreal but with a slight twist.
The line-up here beats the Coachella line-up of 2018 with sesame bagels, poppy, multi-seed bagels topped with organic flax seeds and sea salt, raisin bagels, onion bagels, and garlic bagels too.
Lox Stock And Barrel
Bondi
Lox Stock and Barrel take care of your breakfast, lunch, and dinner cravings on the daily. This is one of Bondi's best, featuring brekky cocktails like pink Aperol and a jalapeno margarita that are both must-tries. And while you could very much spend an entire day feasting your way through the cafe menu, the bakery is well worth your time because if it's bagels you're after, it's some big bagel fun you're going to get.
It should come as no surprise here that the plain bagels tend to sell out pretty early, but if that happens—fear not. Try the sesame bagels, the poppyseed, and the seeds and spices bagel. If you're keen to expand your horizons, you can't really go past the cheese bagel or the textured onion bagel.
Seeing as you love baked goods, why not make a road trip out of it and check out the best country bakeries in NSW.
Image credit: Brooklyn Boy Bagels, Brooklyn Boy Bagels, Kreated Media, Lox In A Box