If there's one thing we can thank each and every winter for, it's dark beers. The flavours of roasted malt, chocolate, coffees, caramels and vanilla, barrel-aged, hoppy or smoky—it's an ideal profile for a cosy night in.
We particularly love the style that can please the deepest craft beer fanatics or appeal to those who claim to hate "all beers" without realising the delicious spectrum of flavours available. From dark ales to stouts, porters and black IPAs—Sydney craft breweries have plenty on offer this winter in tinnies, bottles and—when pubs are open again—in your schooners too. While we're in lockdown, look for these in your local bottle shop or safely order them direct from the breweries online.
Here are the best dark beers on offer from Sydney craft breweries this winter.
Batch Brewing Co
MARRICKVILLE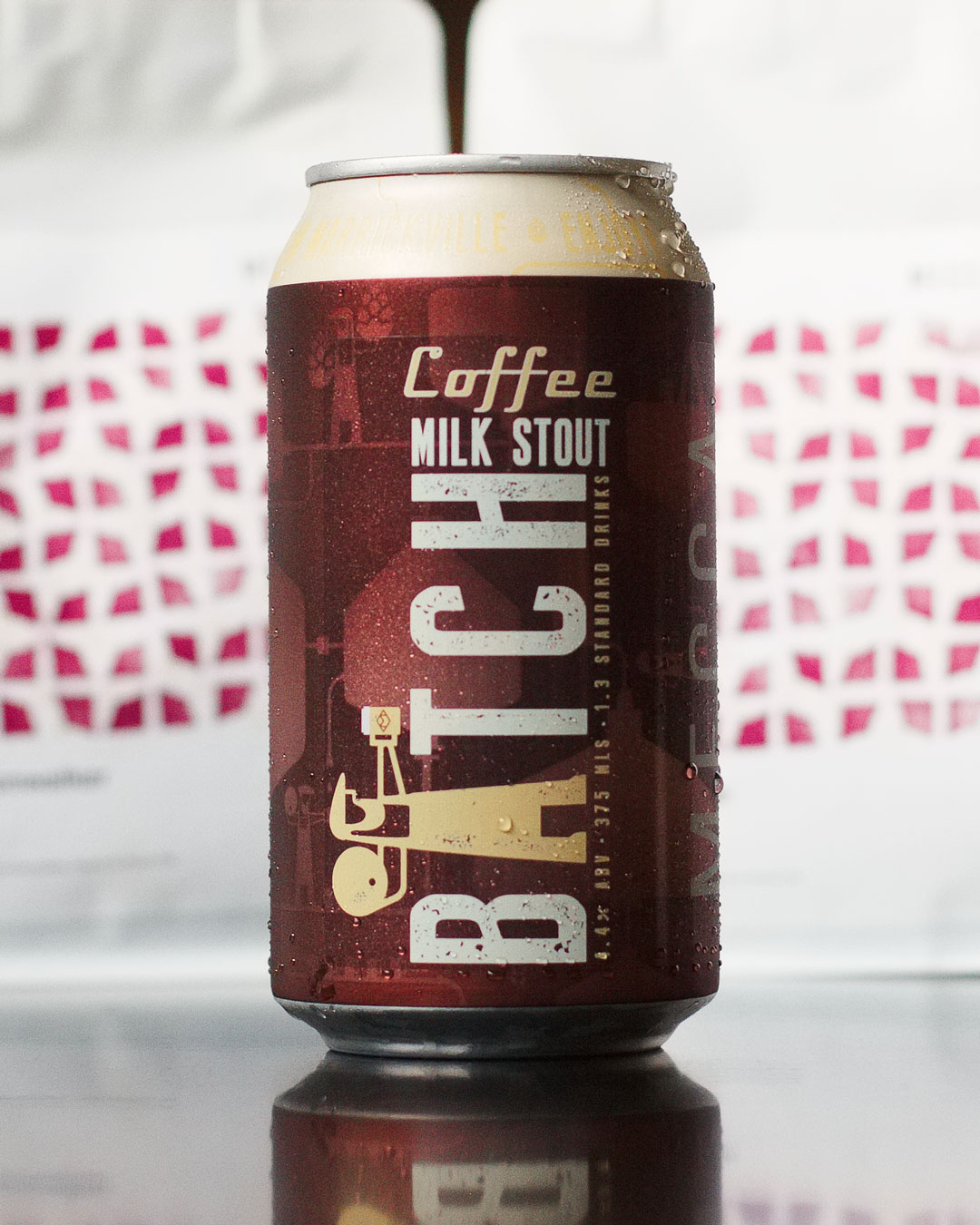 Founded in 2013 by American ex-pats Andrew Finneran and Chris Sidwa, Batch is a founding member of Marrickville's thriving craft beer district. The pair have long prided themselves on two key elements: community and producing funky, creative small-batch beers. Batch's core range "Elsie" nitro milk stout is in the conversation for Sydney's best when it comes to dark beers. Either on tap or in a tinnie, Elsie uses nitro gas and unfermentable lactose to give it a soft mouthfeel and a thicker, creamy consistency with lower carbonation.
As for Batch's rotating winter seasonals, the Inner West brewery doesn't disappoint. Get your lips around a nearly 8% crème brulée pastry stout that can replace any dessert or the local favourite "Big Kahuna" coconut brown ale. But our pick of the bunch for this winter has to be the coffee milk stout with a special roast from Mecca Coffee that'll quickly make you forget all about espresso martinis. Check out Batch's full range online here.
The Grifter Brewing Co
MARRICKVILLE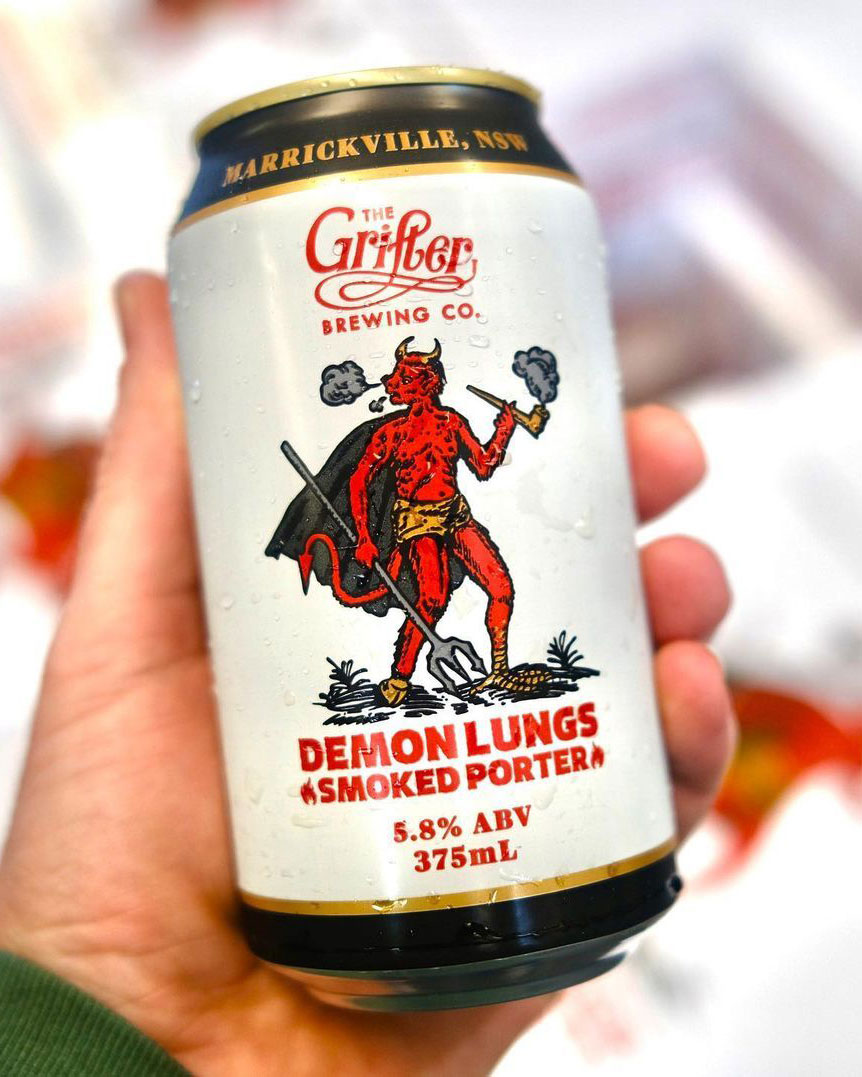 As they'd tell you themselves, since opening its doors at the very end of Enmore Road in 2012, Grifter has always run its own race. The boys from Marrickville have found an extremely loyal customer base across Sydney by pumping out awesome merch and even better brews. If you know the core range, then you're likely well versed in the smooth, roast coffee and chocolate notes of "The Omen" oatmeal stout rocking one of the most visually appealing tinnies in Sydney.
But for something you absolutely must get your hands on this winter, try the "Demon Lungs" smoked porter. Made in collaboration with LP's Quality Meats, the beer is brewed with oats, and manuka smoked malt, giving it a unique character. It's almost as unique (or normal, for Grifter) as the devil smoking a pipe on its tinnie. Check out their range here.
Yulli's Brews
ALEXANDRIA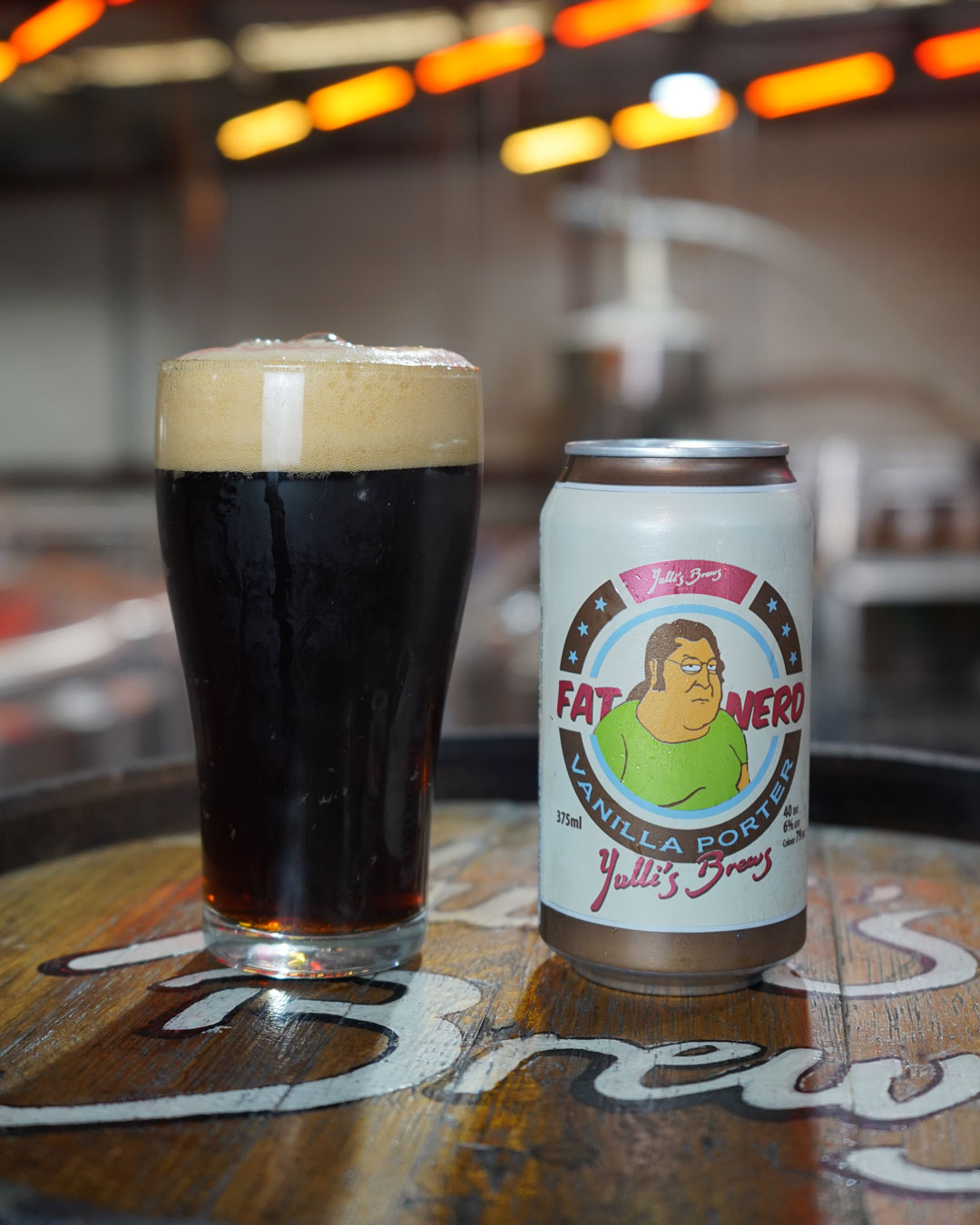 Releasing their first batch of beer in 2014, Yulli's Brews, under James Harvey and Karl Cooney, originally began working out of Yulli's restaurant in Surry Hills. Now officially brewing out of Alexandria, Yulli's has established not only itself but so many of its beer characters. From "Amanda", the mandarin IPA, to "Slick Rick", the rampaging red ale. But in winter, there's one fella we always turn to: the "Fat Nerd" vanilla porter. The creamy dark beer is brewed with stacks of vanilla beans and given a chocolate and roasted malt character, making it the perfect beer for those after a bit of sweetness.
And in some exciting news, Yulli's have just announced the return of their "Dad's Army" barrel aged imperial stout—aged for over three months in Starward Whiskey barrels. The 2021 vintage sits at 9.4% and we're guessing it's going to be bloody delicious. Shop Yulli's here.
Modus Operandi
MONA VALE
Pouring their first pint in 2014, owners Jaz and Grant Wearin found the absolute best home in Mona Vale for their brewery. Now, with a range of beloved beers and a second location soon opening up in Newcastle, the Northern Beaches brewers are absolutely killing it. With Dark beers being Jaz's favourite style, their core range dark was always going to be something special.
Starting off as a seasonal and one of their first beers brewed, the dark and decadent "Silent Knight" fast became a local's favourite and earned a year-round spot in the tanks. And for a worthy seasonal, you'll want to hurry and grab yourself the Koko Black Chocolate limited release collaboration. The 6.9% choc hazelnut Belgian stout is still available at some bottle shops, but your best bet is to order it online directly from the chocolate makers in a sweet-as-hell hamper (twist your arm, right?). Shop Modus Operandi beers here.
One Drop Brewing Co
BOTANY
One of the relatively new kids on the block in Sydney's craft beer scene, Botany's One Drop burst onto the scene with big beers and bold flavours. Alongside their extensive range of brews and even their own spirits are a couple of dark beers worth your time. For something more sessionable, get around the 4.5% creamy and full-bodied oatmeal stout. And for something a little (well, a lot) bigger, track down "The Big Bad Wolf", a 10% nitro imperial pastry stout with big hits of vanilla, chocolate, whiskey, cake and molasses. Keep your eyes peeled in the next month with a choc porter expected any minute now and a barrel-aged dark blend coming in August. Shop One Drop here.
Young Henrys
NEWTOWN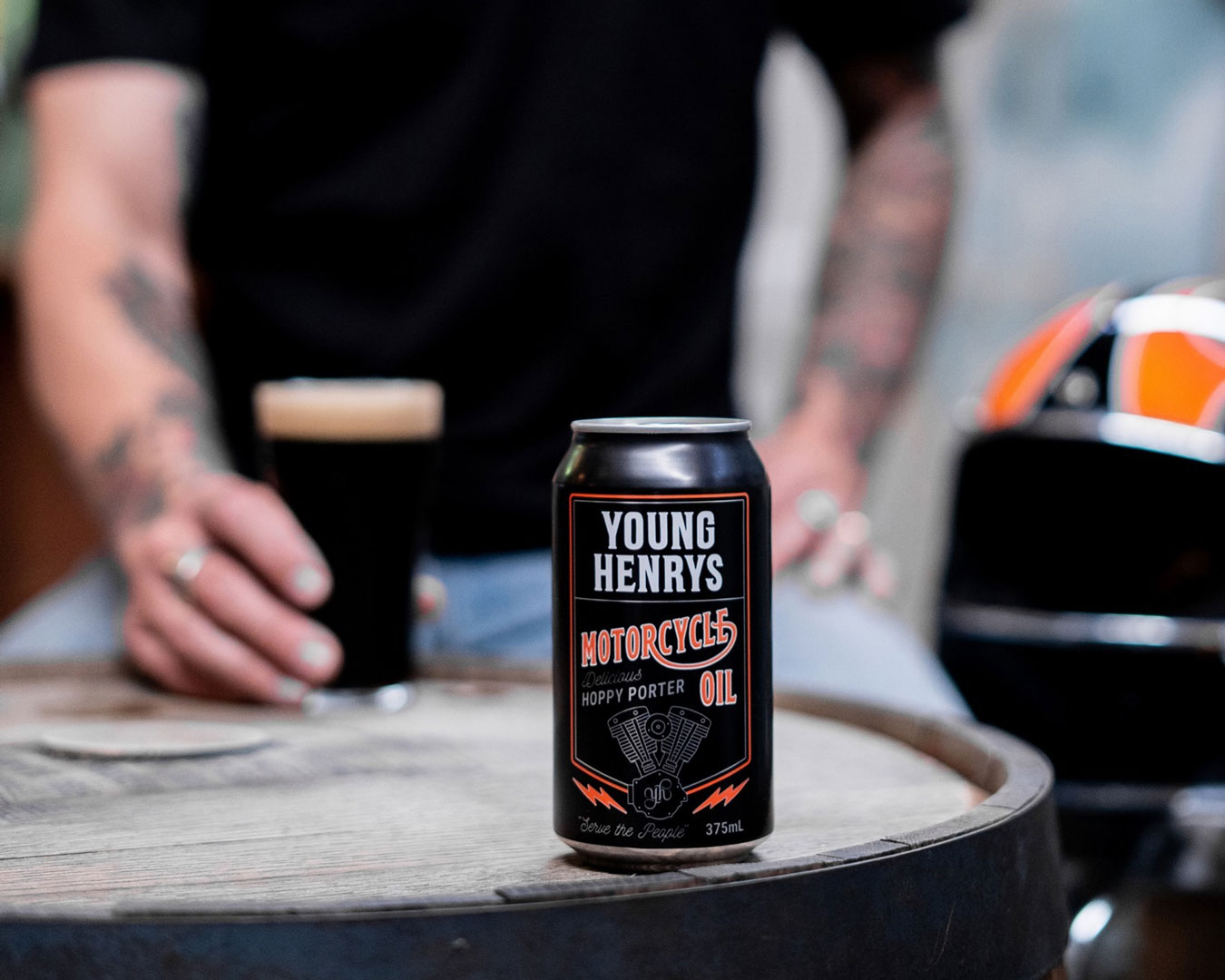 To call Young Henrys an Inner West institution is about as obvious a statement as you can possibly make. Founded in 2012 by Oscar McMahan and Richard Adamson, YH and their beers (especially their famed Newtowner) have become an integral part of Sydney's hospitality scenes.
While not brewing any dark seasonals this winter, you can always get your hands on their core range, "Motorcycle Oil". Like a few of the beers featured in this article, the smooth, hoppy black beer was originally made as a small batch but clawed its way into regular rotation thanks to popular demand. And as an absolutely striking visual, the name motorcycle oil is as good as it gets to describe a dark beer. This is a cracking brew and arguably the best drop in their core range. Shop it here.
Willie The Boatman
ST PETERS
Founded in 2012, Willie the Boatman has created its fair share of iconic Sydney beers, such as the "Albo" corn ale named after Anthony Albanese or the "Nectar of the Hops", a juicy and fruity New England IPA. Nestled in St Peters, the brewery established by Pat McInerney and Nick Newey underwent a small move and a huge renovation a couple of years ago to create one of the best tasting rooms in Sydney.
As for darks, the brewery just underwent its "Winter Dark Beer Fest", including stouts of all flavours from Turkish delight to blood orange and from peanut to coconut—if you're looking to drop past to fill up your growler or squealer. But for Sydney bottle shops, we definitely recommend keeping an eye out for the cappuccino nitro stout brewed with Colombian and Rwandan beans from Sample Coffee, as well as roasted cacao nibs and vanilla extract. Shop Willie the Boatman here.
Lord Nelson Brewery
THE ROCKS
Operating since 1986 out of the brewery-pub that's been continuously trading since 1841, Lord Nelson is the wise grandfather of Sydney's craft breweries. And in its years, the Lord has produced some of Sydney's most delicious beers, including one of its best pale ales: the "Three Sheets". But if you prefer something dark, It's got to be the "Old Admiral", which was recently packaged into new tinnies. The 6.1% old ale is a big (but easily downable) full-bodied British and German malt-driven deep red ale.
When pubs re-open, make sure you also make your way down to The Rocks for the limited-run coffee brown ale "Nelspresso", and the "Nelson's Blood" porter—both on tap. For now, you can shop Lord Nelson beers here.
Philter Brewing
MARRICKVILLE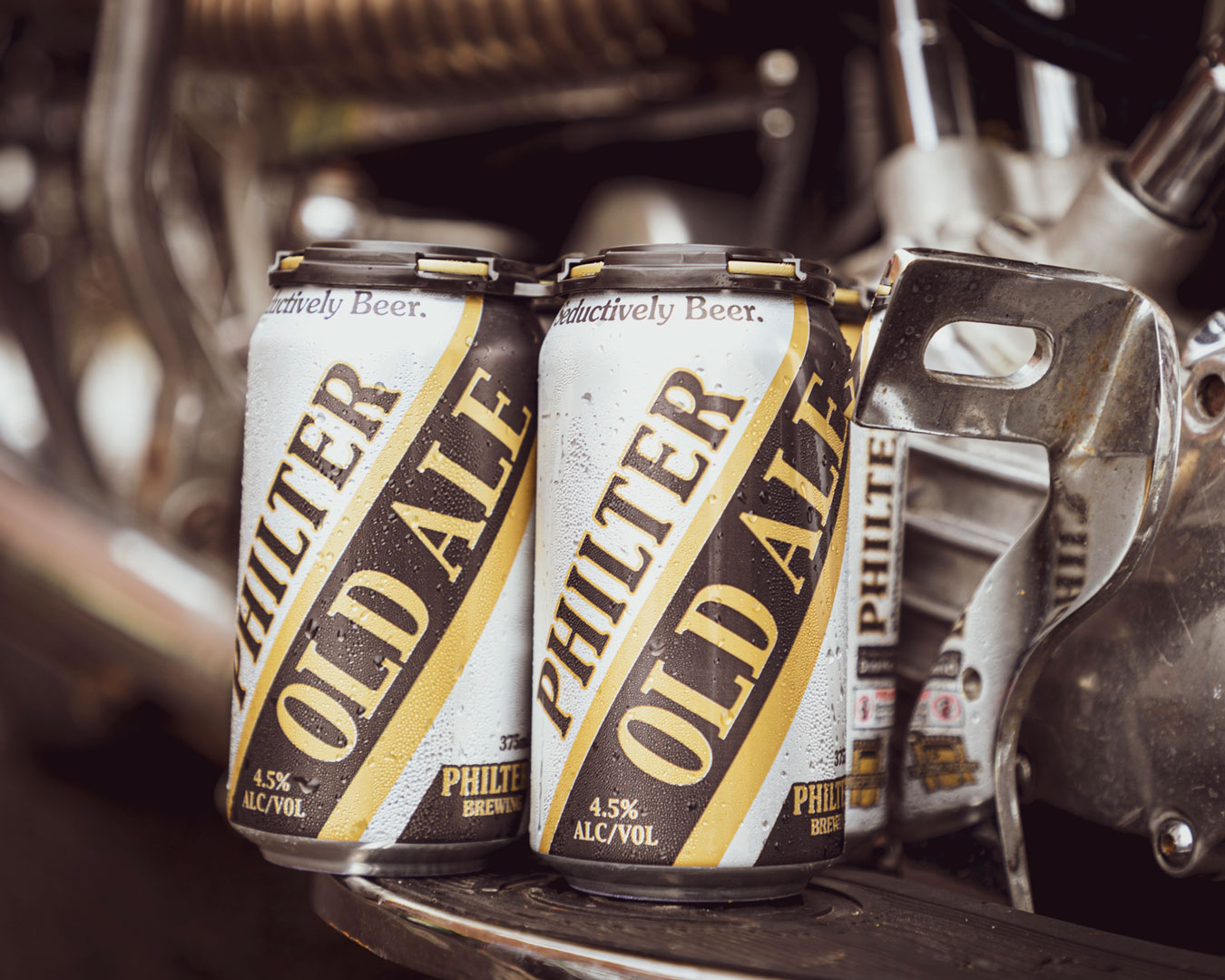 Established in 2017 by Mick Neil and Stef Constantoulas, Philter quickly made itself known to Sydney craft brew lovers with one of the best beers going around town: the Philter XPA. Gaining the local trust with that exquisite beer, some bloody nice branding and a killer tasting room, the Marrickville brewery is now well settled in. Lucky for us, they also don't mind a dark drop for the colder months.
If you're after some classic old school Aussie vibes, definitely order the "Old Ale" with roasted malts and plenty of coffee and chocolate notes–for craft beer drinkers and any old cobbers stuck in their ways. But our favourite has to be the 7% "Caribbean Stout" with its big flavours, topped off with some rum raisin notes. But be mindful of how easily drank this bad boy is. Shop Philter here.
Sauce Brewing Co
MARRICKVILLE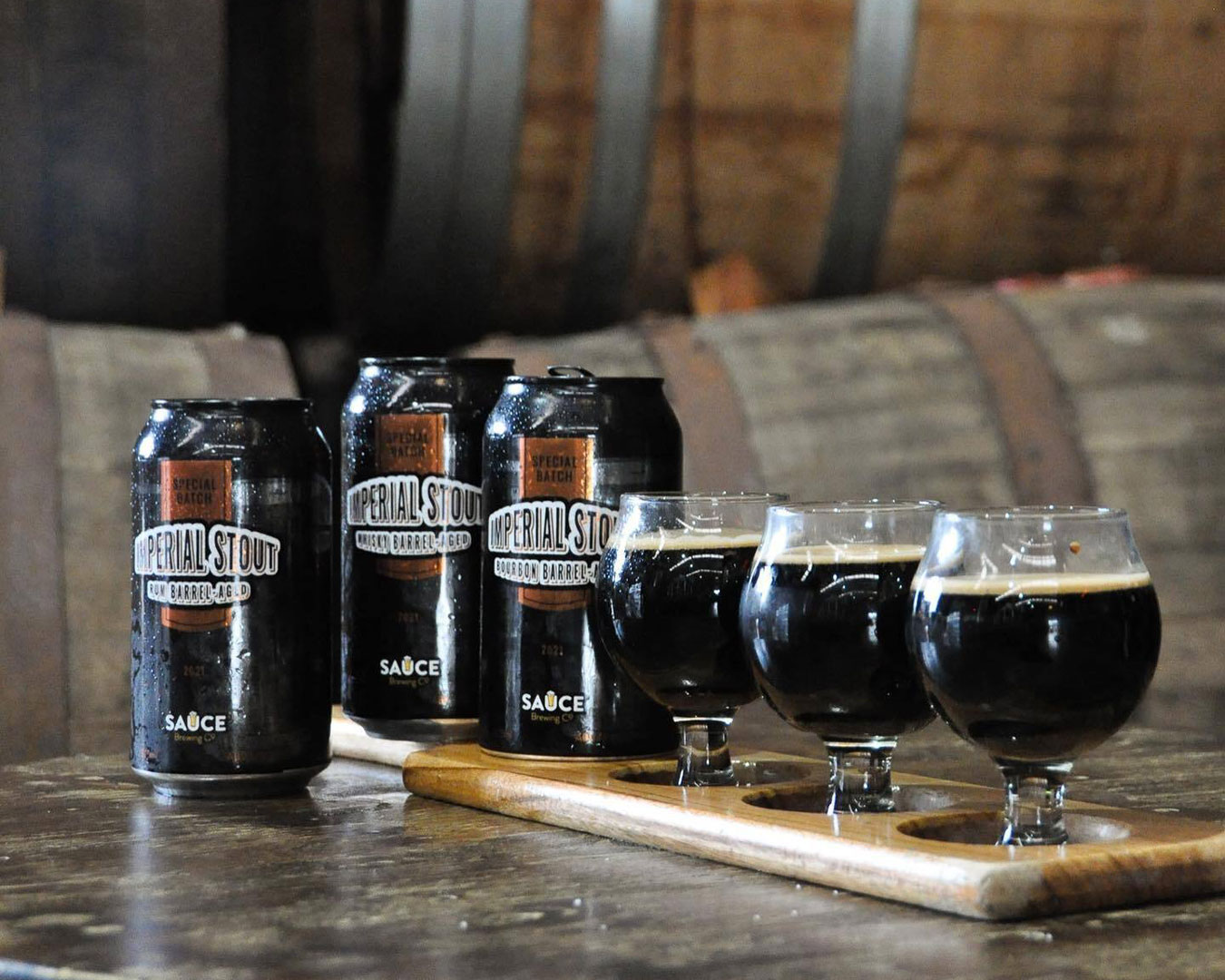 It's fair to say that Sauce doesn't mind going big—both with its beers and with the size of its amazing beer garden. One of the best spots for a sunny arvo in all of Sydney. Tucked away at the end of a small Marrickville laneway, Sauce is delivering the goods this winter with a couple of delicious dark beers. First, we have the smooth and dry "Celtic Rock" Irish stout, which was such a hit when brewed for St Paddy's Day; it's now made a comeback for the winter months. Then, we meet Sauce's barrel-aged imperial stouts, some big players ready to knock your socks off. These 12% stouts were brewed in mid-2020 and don't muck around when it comes to bold flavours—each separately aged in bourbon, rum and whisky barrels. You can shop Sauce's beers here.
4 Pines
MANLY
A Northern Beaches institution for over a decade, 4 Pines is one of Sydney's true craft beer OGs. From humble beginnings, 4Pines has become one of the biggest craft breweries in the country and they've got a couple of dark beers you'll want to get your mitts on this winter. It's hard to go past their tried-and-true nitro stout. Like any bottled or canned nitro, make sure you vigorously pour the dry Irish stout, with its coffee, chocolate and caramel aromas, into a glass to get a nice creamy head.
As for seasonals, well, we might have one of the greatest beer-dessert collaborations of all time here. Don't go thinking your eyes have deceived you; 4 Pines has indeed created a Ben & Jerry's beer. The choc chip cookie dough-inspired nitro beer is a lactose-infused nitro golden brown ale with some serious ice cream vibes—nuff said.
Akasha Brewing Company
FIVE DOCK
Five Dock's Akasha is known for big hop flavours–that's what they do well, and that's what we love about them. So, it's not surprising that they bring that same spirit to how they approach dark beers. When bars and pubs re-open, make sure you track down their American stout, which stays away from the usual sweet and malty flavours of typical stouts and is instead packed with American hops alongside a roasty backbone. Or try the "Water Buffalo" American-style brown ale with some more traditional caramel, toast and chocolate flavours.
Currently, these guys don't have any core range or seasonal darks available for takeaway package. But we wanted to include them because word around town is that a coconut milk stout will soon be available in tinnies–perhaps within the month. Shop Akasha here.
Looking for home-delivered booze in lockdown? Head over here.
Image credit: Batch Brewing Co, Batch Brewing Co, Grifter, Yulli's, Young Henrys, Philter, Sauce