To celebrate our 10th birthday here at Urban List, we're asking you to tell us your top 10 lists over on our Instagram—this week, we asked and you delivered on Sydney's best desserts.
Sydney has been the birthplace of some absolutely incredible sweets. From Bennelong's Opera House-shaped passionfruit pavlova to Black Star Pastry's Strawberry Watermelon cake, Andy Bowdy's insane tiered creations, the Snow Egg at Quay (RIP), and the Dragon Egg at Saké—there's a lot of dessert greatness and a lot of dessert history in Sydney. Even the inimitable Gelato Messina got its start on the streets of Sydney.
This makes choosing Sydney's best dessert one of the trickiest tasks. Do we go for a list of the high-brow dessert art at our top restaurants? Our standout bakeries taking lamingtons to the next level, or the best coffee-laced tiramisu from our Italian favourites? What about the no-fixed-address Insta bakers who saved us all with sweet dessert deliveries during lockdown?
Well, to help us decide, we handed you guys the mic for this one—and below are 10 of your favourite desserts in Sydney right now.
Lotus Biscoff Burnt Basque Cheesecake | Burnt Sydney
Delivery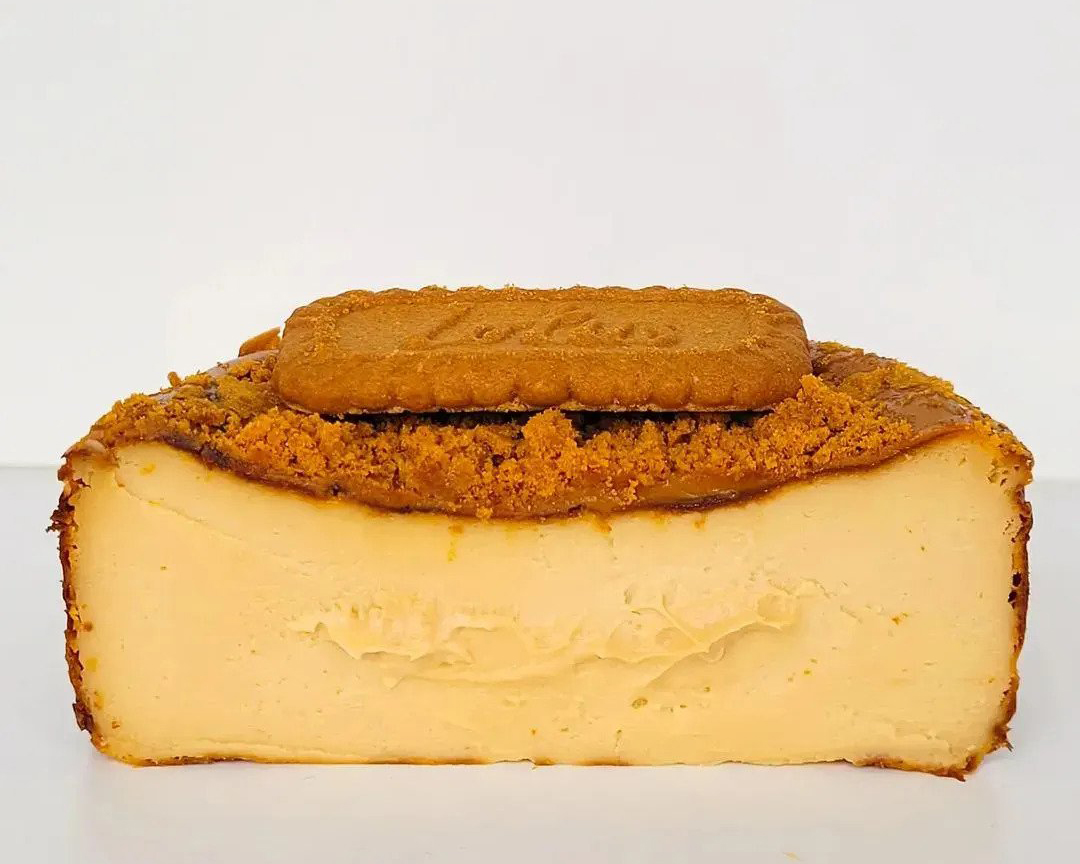 Combining two of the biggest trends in the dessert world right now—Lotus Biscoff and burnt Basque cheesecake—Burnt Sydney needs to be on your speed dial if you have a sweet tooth. Burnt falls into the Insta baker category, meaning you'll order online and pay a flat $20 delivery fee (delivery is available across most of Greater Sydney). A quick scroll through their feed and you'll see a whole world of Basque cheesecake inspiration. The latest flavour to drop is an Ube Coconut Snow burnt Basque cheesecake, but the hero has to be the Biscoff. Caramelised Biscoff features both inside and outside of the cake and it is somehow crunchy, creamy, and buttery all at the same time. Order yours here.
Burnt Sydney was a top dessert pick for @hong94422, @catkipz, @chrissy.he97, and @anneeatssydney.
Dragon Cake | Black Star Pastry
Rosebery, CBD, Newtown, and Moore Park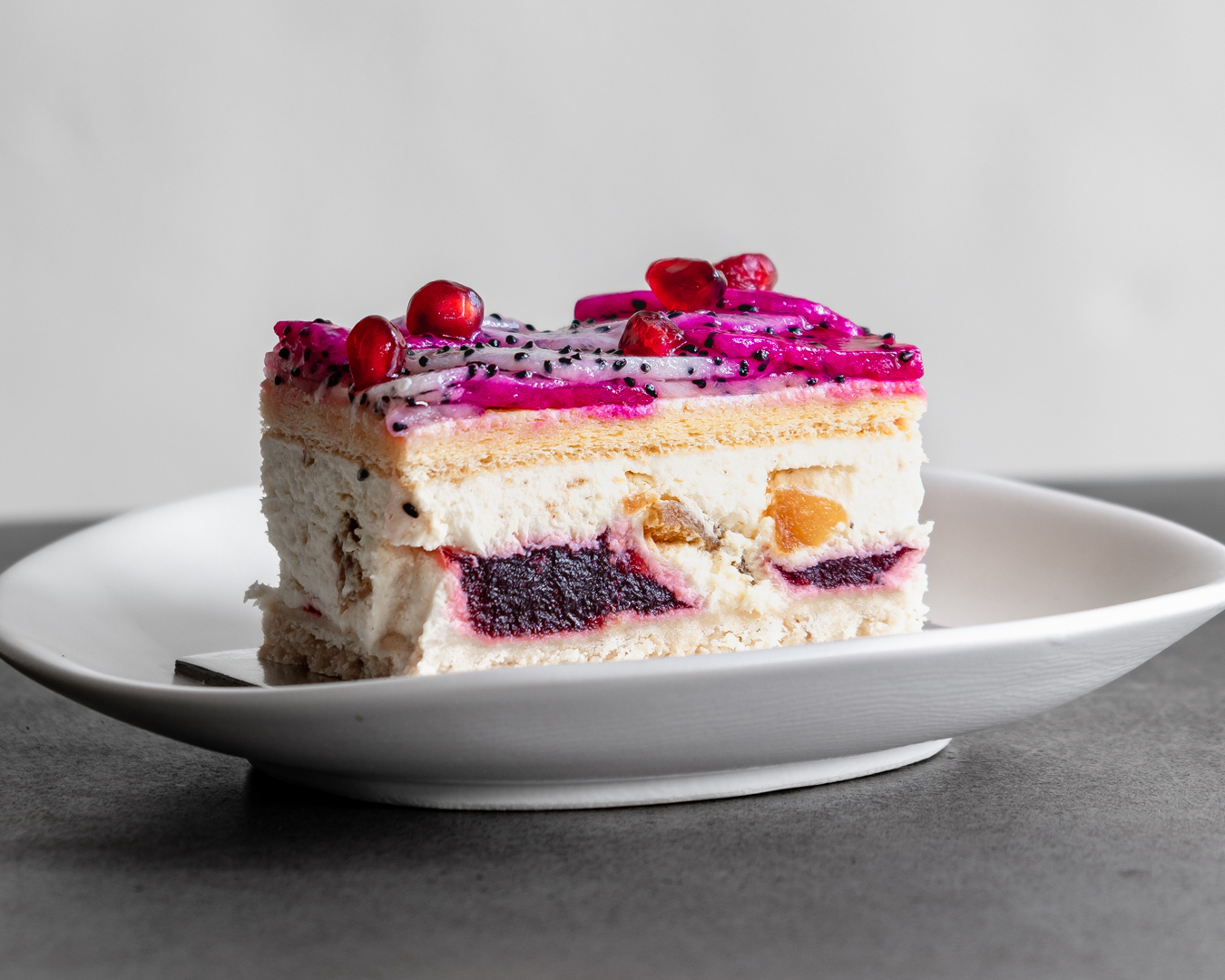 It might have been the Strawberry Watermelon that set our hearts on fire and made Black Star a household name in the world of cake, dessert, and baked goodness—but the purple and pink-hued Dragon cake is an elite alternative for Sydney dessert fiends in the know. Made with finely sliced dragon fruit, pineapple vanilla cream, pomegranate jelly ripples, and a biscuit base, it's a true work of art, an undergod deserving of more of the spotlight. Order yours here.
The Dragon cake is the fave of @heyheyhillary.
Knafeh | Knafeh Queen
Delivery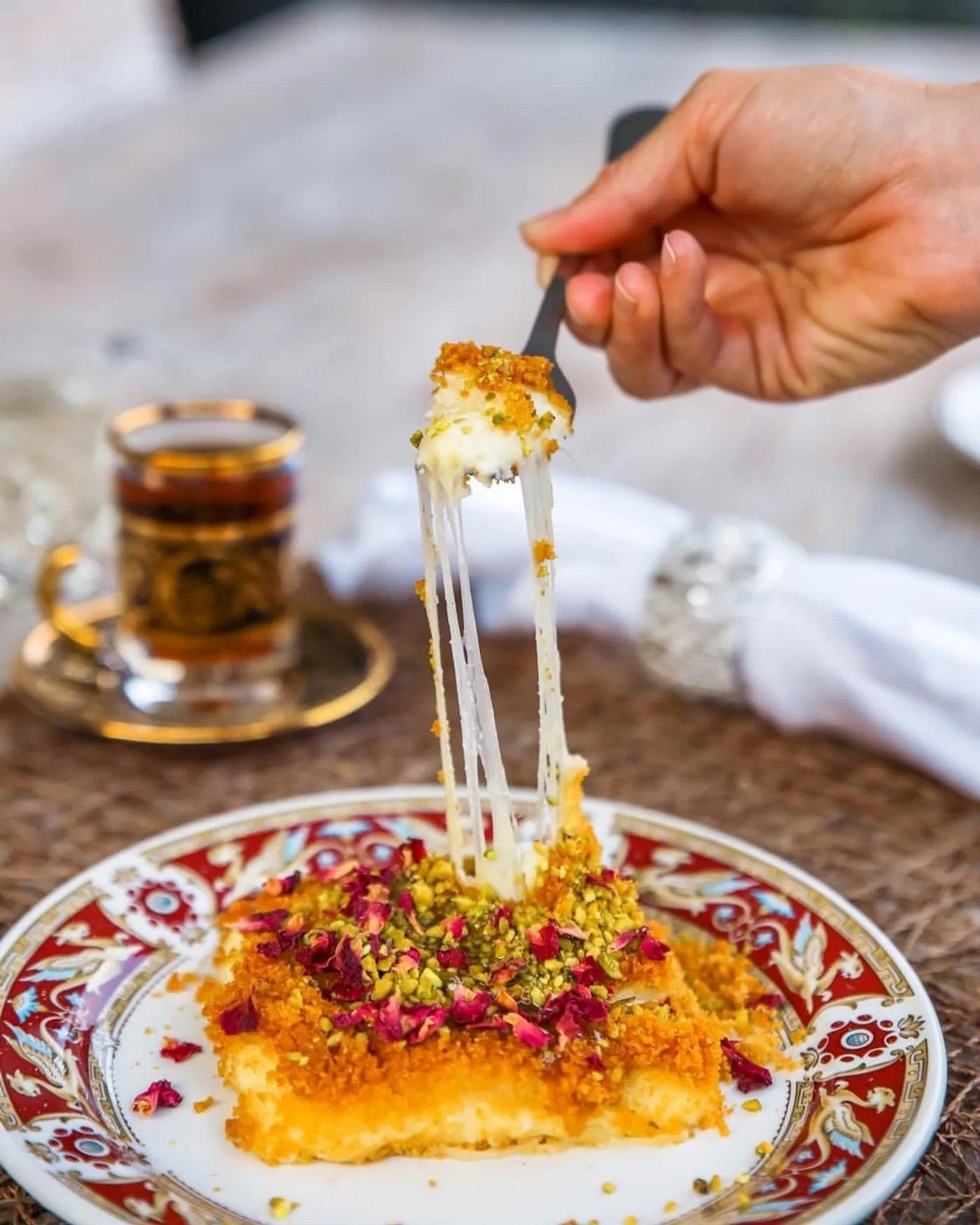 Knafeh Queen is another of Sydney's standout Insta bakers. You'll have to DM to order this knafeh goodness—ranging from classic knafeh, filled with sweet cheese wrapped in spun pastry and topped with rose water syrup, Lotus Biscoff knafeh, cute knafeh pannacotta cups, and even a loaded knafeh cake. Knafeh Queen partners with Cake Hero, and so delivery is available in most of Greater Sydney. Check out their Insta here.
Knafeh Queen was a top pick for @mandybaby88.
Burnt Basque Cheesecake Doughnut | Don't Doughnuts
Darlinghurst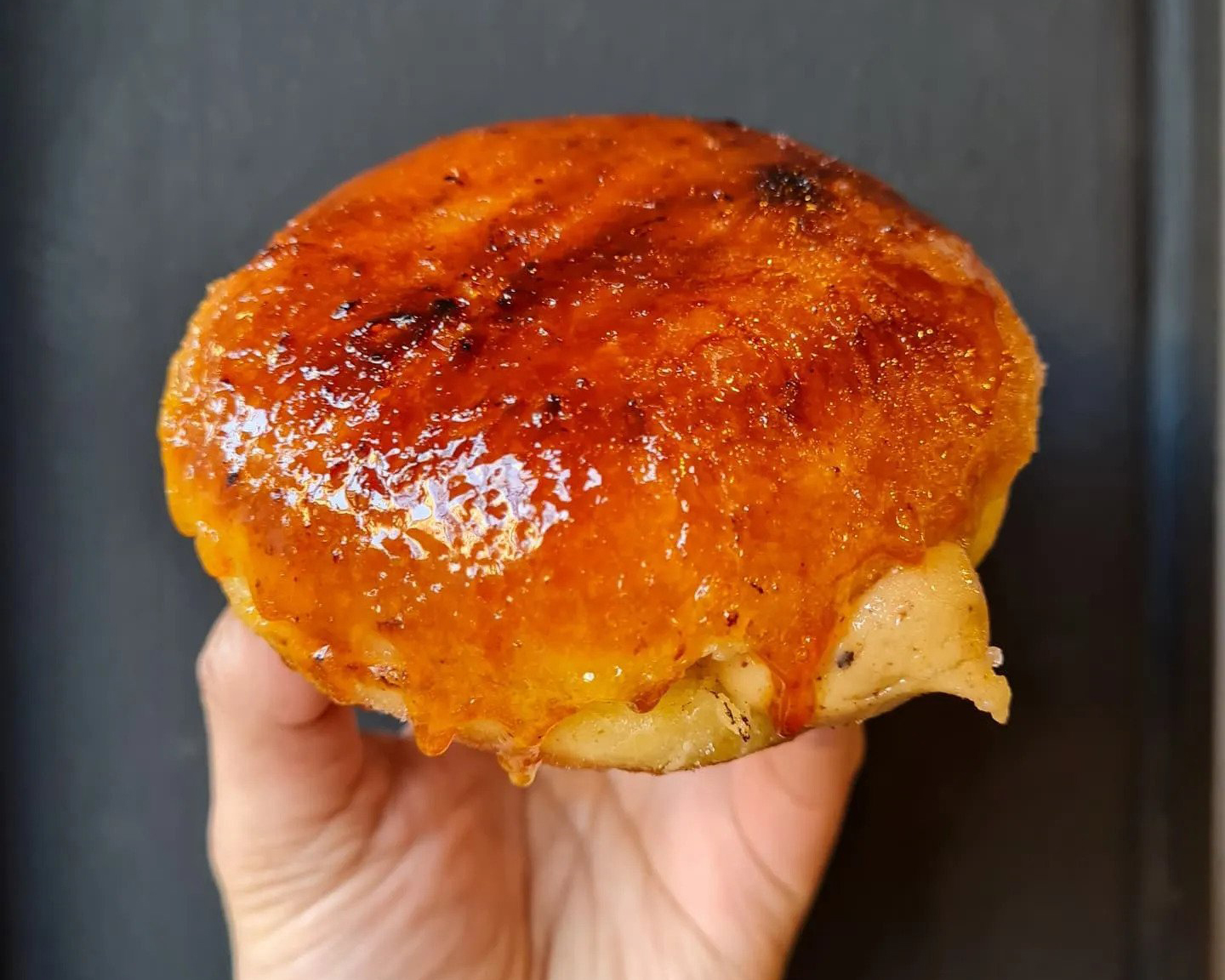 Sydney loves a doughnut—and Don't Doughnuts caused quite the stir when it opened its doors in Darlinghurst last year. While we're all for a pink iced doughnut or a classic hot cinnamon number, Don't Doughnuts is a little more extreme. Here, the doughnuts are a tasty hybrid of sourdough and brioche, typically sporting some pretty wacky (but delicious) flavours. The go-to? The burnt Basque cheesecake doughnut, duh.
This cake-doughnut is a favourite for @tuafatongiatau.
Honey Cake | Christina's Honey Cakes
Newtown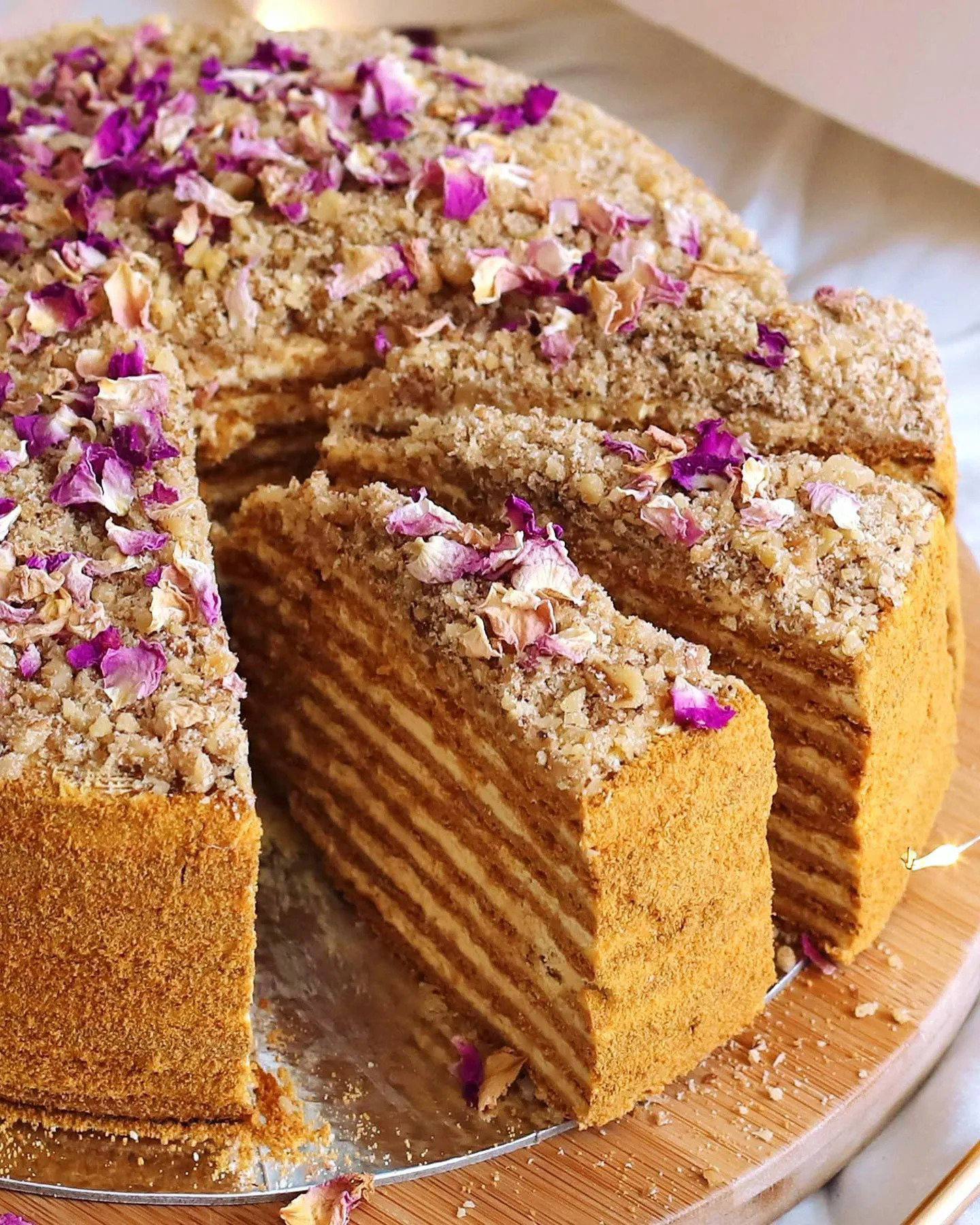 For a taste of Eastern Europe, we love (like, really love) the honey cake from Christina's Honey Cakes in Newtown. This pint-sized cakery is dedicated to medovik, a layered cake loved in Eastern European countries like Ukraine and Russia. Made of layers of thin caramelised honey, sweet and sour cream, dusted in honey crumbs and topped with crushed walnuts, the cake is tricky to make but the crew at Christina's absolutely nail it (theirs comes dusted with rose petals too).
Right now, Christina's Honey Cakes is creating welcome packages for Ukrainian refugees arriving in Sydney. To find out how you can help, read more here.
The medovik at Christina's Honey Cakes is the top pick for @sergeykochevstev, @frncsmkl, @ejlp94, and @meljane_watson.
Tiramisu | 10 William St
Paddington
From the wine to the vibes, that iconic pretzel and the tiramisu too—there's not much that 10 William St gets wrong. It's one of our favourite bars, a go-to date spot, a forever fail-safe option for a Friday night catch up with mates, and yep, it also has one of Sydney's greatest desserts. A perfect airy balance of sabayon, mascarpone, and espresso-soaked savoiardi biscuits—Dan Pepperell made it famous from his days at 10 William, and these days it's the work of head chef Trisha Greentree. Just stunning.
This tiramisu is a clear winner for @suckmyquoc.
Panna Cotta Lamington | Flour & Stone
Woolloomooloo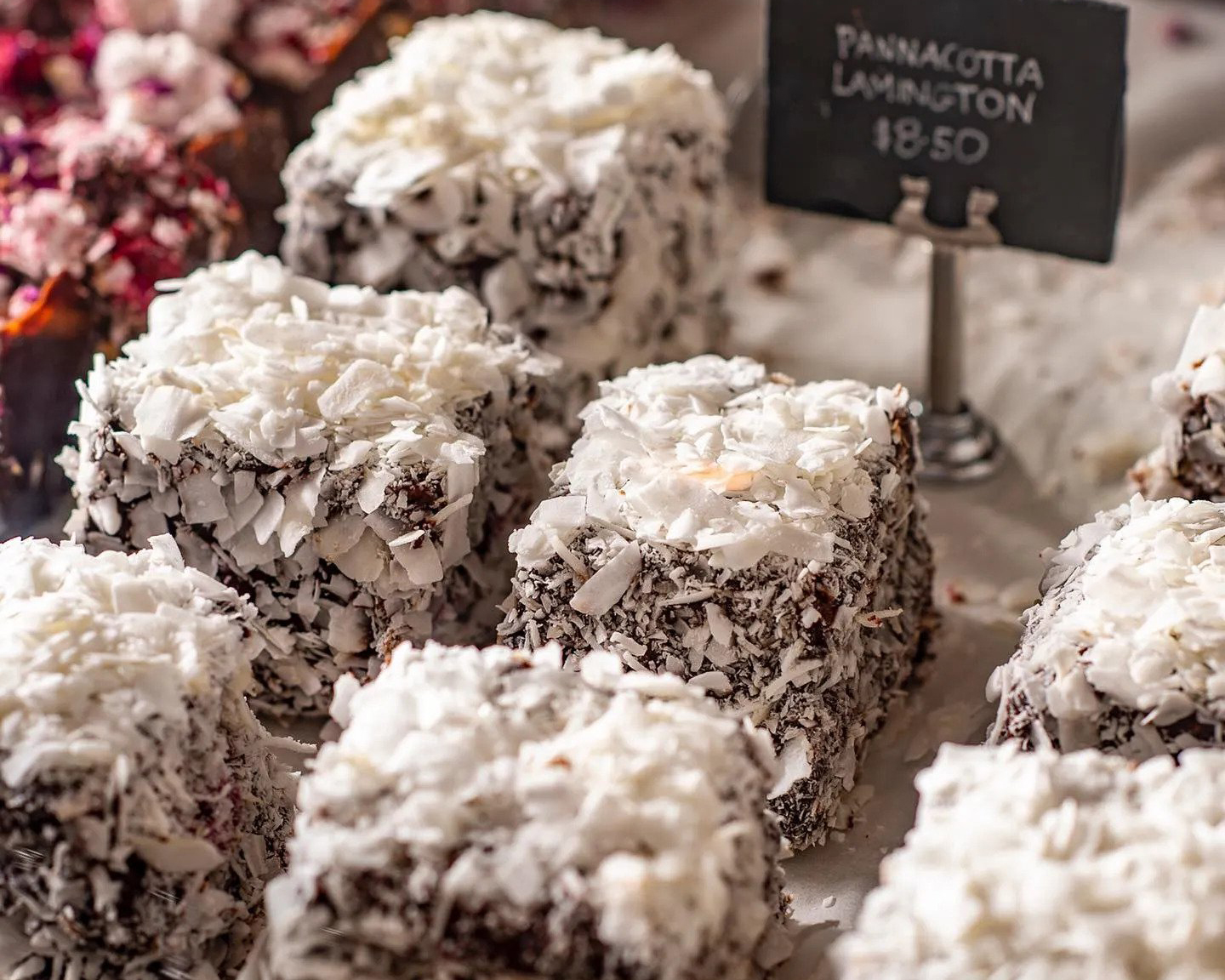 Picking one single cake or pastry to hero from Flour & Stone isn't easy. Led by Nadine Ingram, this fairytale-like bakery in Woolloomooloo creates perfect croissants, an artistic vanilla slice, and some of the city's best hot cross buns too. Everything is beautiful and everything tastes as divine as it looks. But if we had to pick, it's Ingram's panna cotta lamington that truly steals the show. Made with a vanilla sponge that has been soaked in pannacotta, with a berry compote centre, slathered in dark chocolate and rolled in flakes of crisp coconut, it's the classic Aussie cake, elevated. We love.
This lamo is the go-to dessert for @scarey0909, @_evelynwilling, and @biarta.
Nutella Kürtősh | Kürtősh
Various Locations
Kürtősh is a big-time crowd favourite in Sydney. The Hungarian-inspired bakery does incredible cake slabs which you can order by wieght—like a poppyseed and sour cherry crumble, a tiramisu, and a gluten-free flourless chocolate cake. But the hero of the menu has to be the bakery's namesake—the kürtőskalács. Sometimes called "chimney cake", ribbons of dough are curled around a baking spit to form a spiral of baked deliciousness. Kürtősh does cinnamon, almond, coconut, and pistachio flavours—but the Nutella will change your life. Trust us.
Kürtősh was a top dessert pick for @cafeblackorwhite, @veronicawxng, and @phoebe_pollard.
Carrot Cake | Humble Bakery
Surry Hills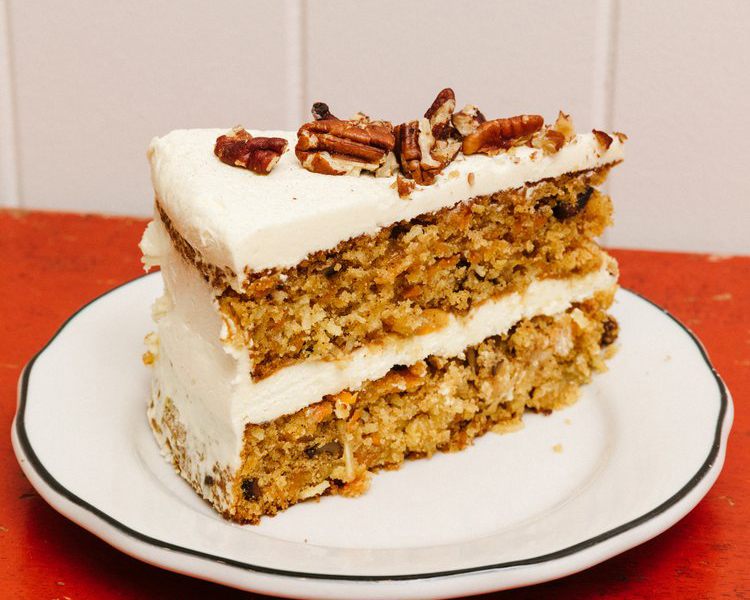 You wouldn't have thought that Surry Hills could squeeze one more bakery in without actually imploding on itself but, when you're as good as Humble, we're more than happy to accommodate. Tucked down the slope of Holt St, right next to sister venue Porteño, Humble is often bustling, with lunchtime patrons spilling onto the pavement. There's a lot to love here—those pink-iced finger buns are a standout with plenty of nostalgia value—but it's Humble's layered carrot cake that wins out on the ultimate dessert front.
This creamy carrot cake is the fave of @vtbozinovski.
Lemon Meringue Pie | Sweet Meringue
Delivery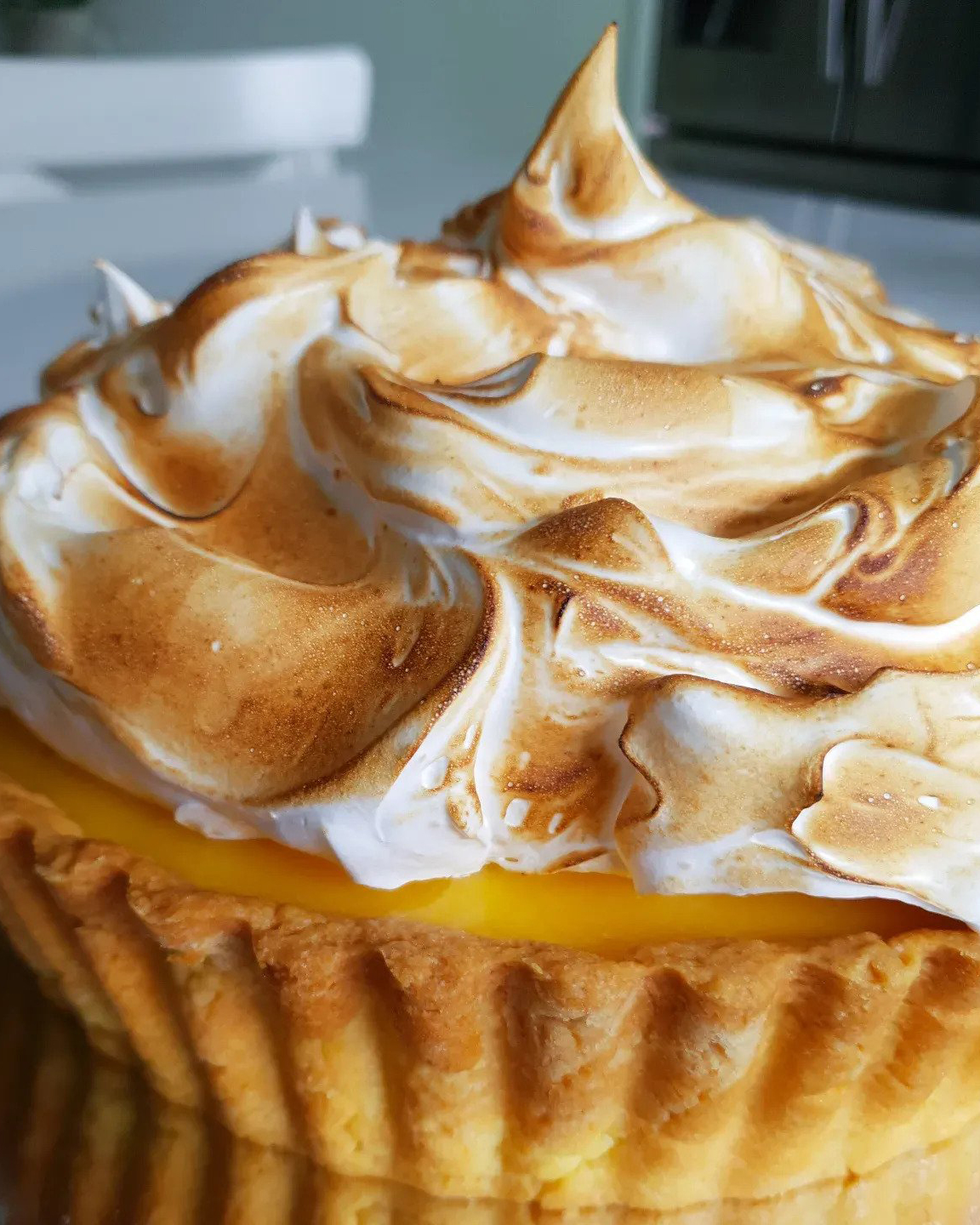 Last but not least, we have another Insta baker entry for our list. Sweet Meringue has been causing quite the stir on socials with baker Sarah's signature Turkish rose pavlova, gluten-free Persian orange cake, and adorable lemon meringue cupcakes. Aside from the pavlova, Sarah's lemon meringue pie—topped with a dense layer of crisp meringue—is unbelievably good. Got a special occasion that requires cake? DM Sweet Meringue, you won't be disappointed.
Sweet Meringue is a favourite of @riri.osm.
Still hungry? Check out Sydney's best doughnuts, as picked by you.
Image credit: Christina's Honey Cakes, Burnt Sydney, Black Star, Knafeh Queen, Don't Doughnuts, Christina's Honey Cakes, Flour & Stone, Humble Bakery, Sweet Meringue