There's nothing more nostalgic than Australia's most distinguished and sacred after-school treat—the finger bun.
In your adult years, sinking your teeth into the popular fruit bun topped with sweet icing is an instant throwback to any childhood or even the first time you got to try one of these bad boys—it is, after all, a bakery staple across the entire country (a "bite" of passage, if you will).
From classic versions of this fluffy sugared log to full-blown finger bun loaves and finger bun pull-aparts, whatever stage of the nostalgic sweet treat journey you're on, Sydney's packed out with all sorts of finger bun creations ready for the taking.
Here's where to find Sydney's best finger buns.
Sydney Street Patisserie
St Mary's
With simplicity the key ingredient at Sydney Street Patisserie, the finger buns at this classic treat haven don't need to prove a damn thing. What this patisserie lacks in size, it makes up with mammoth finger buns the size of your forearm, and we're not exaggerating in the slightest. The finger buns here come with pink or white icing and come in two sizes; regular or the size of a loaf of bread, you don't need to think twice as to which one you're going to go for.
Flour And Stone
Woolloomooloo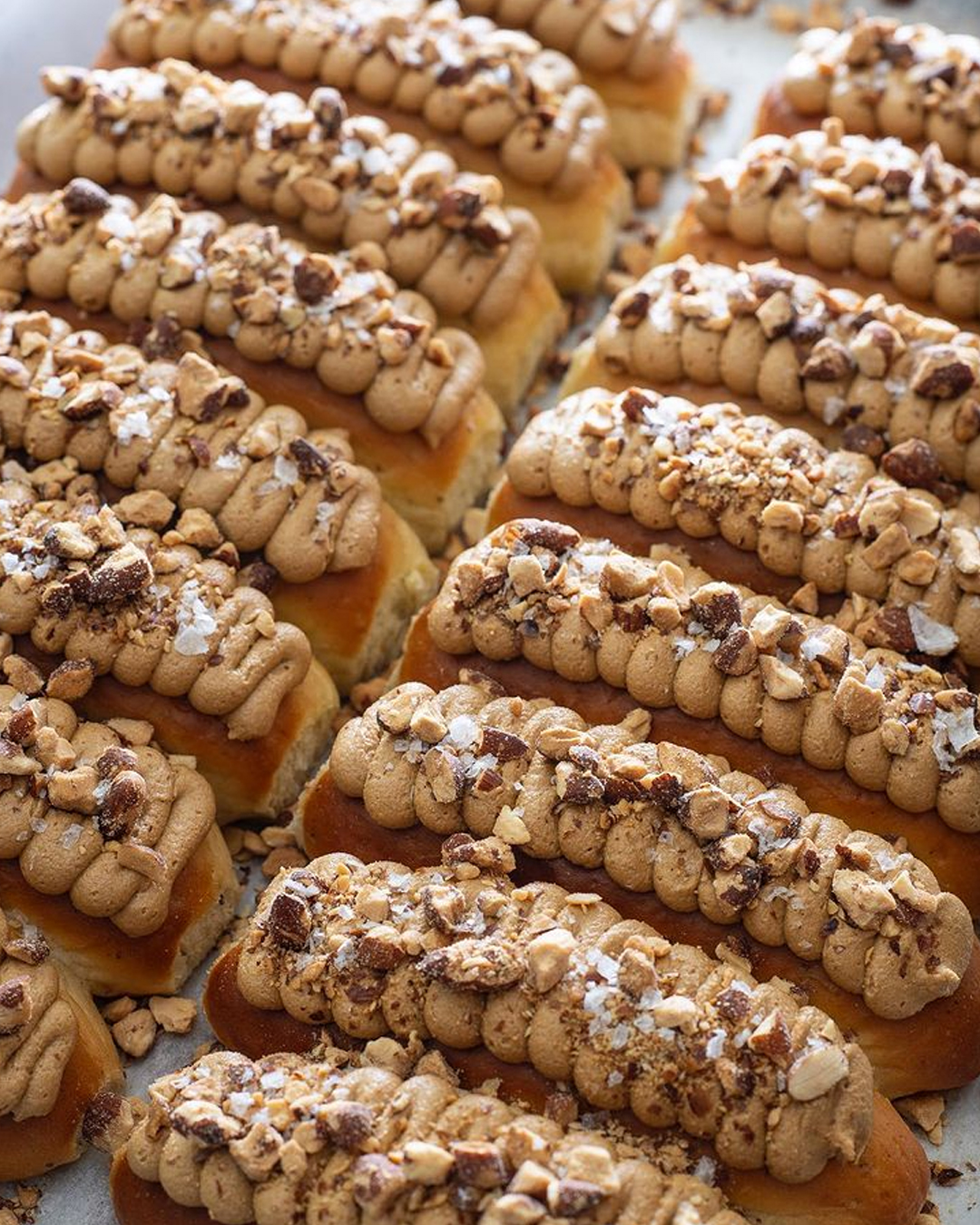 Flour and Stone really needs no introduction as there are few bakeries that rival its quality. Brimming with savoury and sweet treats, from classics like melt-in-your-mouth lamingtons, brownies, and scones to fresh creations like spelt carrot cake, it's hard not to be a regular at Flour and Stone. Along with these, Flour and Stone also sport a pretty famous finger bun creation, which is a groovy take on the coconut goodness you're all too familiar with. Instead, the golden buns are loaded with coffee and cardamom cream, and let's just say, it should be a sin not to try them.
South Hurstville Bakery
Hurstville
You might have missed this bakery on your usual weekend foodie adventures, but rest assured this little bakery is high on the list when it comes to housing Sydney's best finger buns. The finger buns here lean more into finger-loaves that are much bigger than the average human head with the fluffiest sweet bread we've ever come across. Along with this, the team here does not shy away from shrouding this bread-size finger bun with all the pink icing.
Humble Bakery
Surry Hills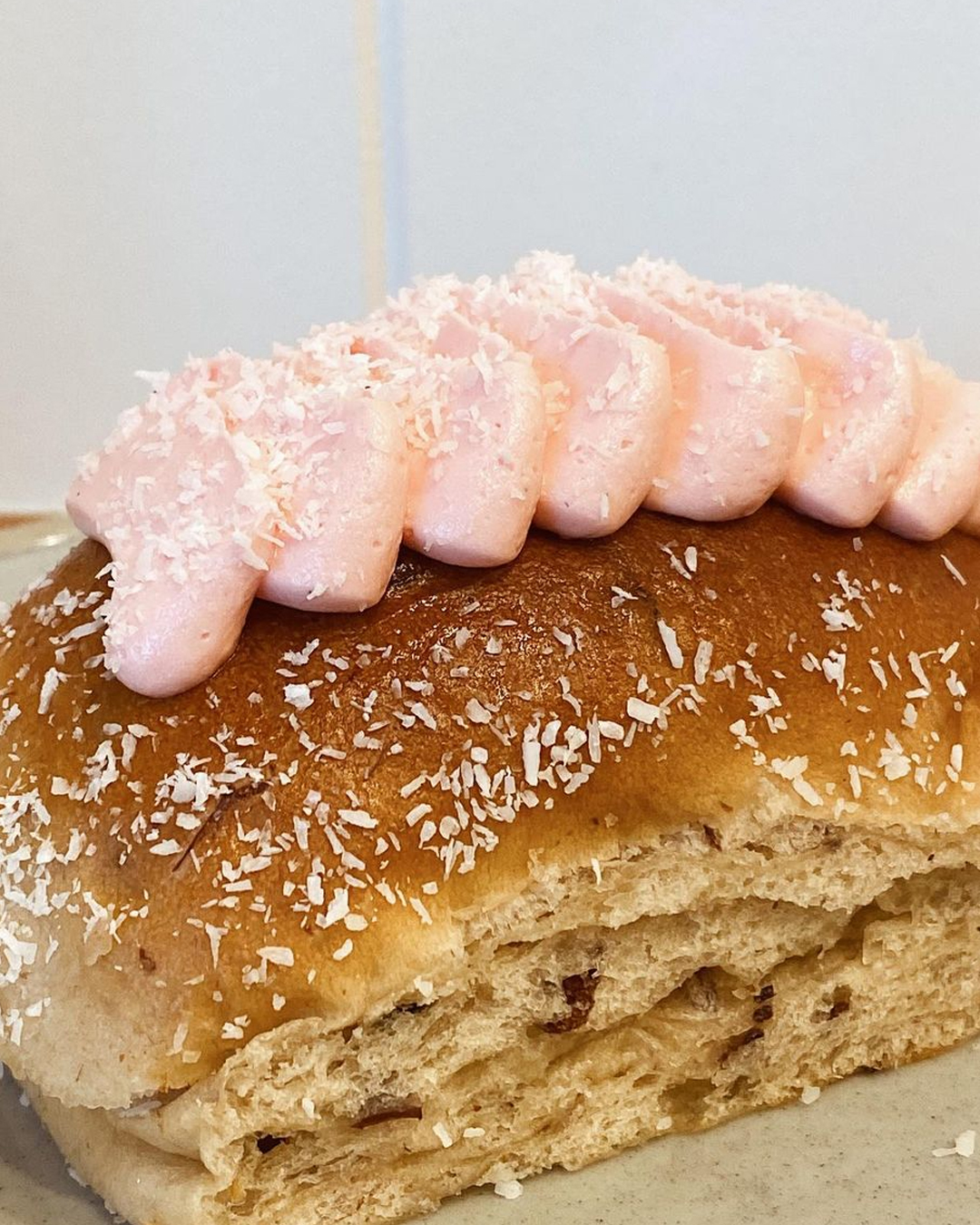 Tucked down the slope of Holt St, right next to sister venue Porteño, Humble is often bustling, with lunchtime patrons spilling onto the pavement. Following in the South American footsteps of its older sibling, Humble puts refreshing, south-of-the-border slants on the classics with treats like jamon and cheese croissants and chorizo snails, but the heavy hitter here has to be the big finger bun logs. With sweet bread pumped with fruit, piped with pink cream cheese frosting, and topped with desiccated coconut, you'll have throwbacks of your childhood before you know it.
Cheryl's Patisserie & Bakery
Illawong
Regulars at Cheryl's Patisserie know that between the smokey hot dog banh mi and the balloon-like hot cross buns at Easter, this bakery holds the upper hand when it comes to finger buns. For those that have a soft spot for the sweet bun part of the ol' Aussie classic, the finger buns here are an edible cloud with less emphasis on the icing.
Poles Patisserie
Penrith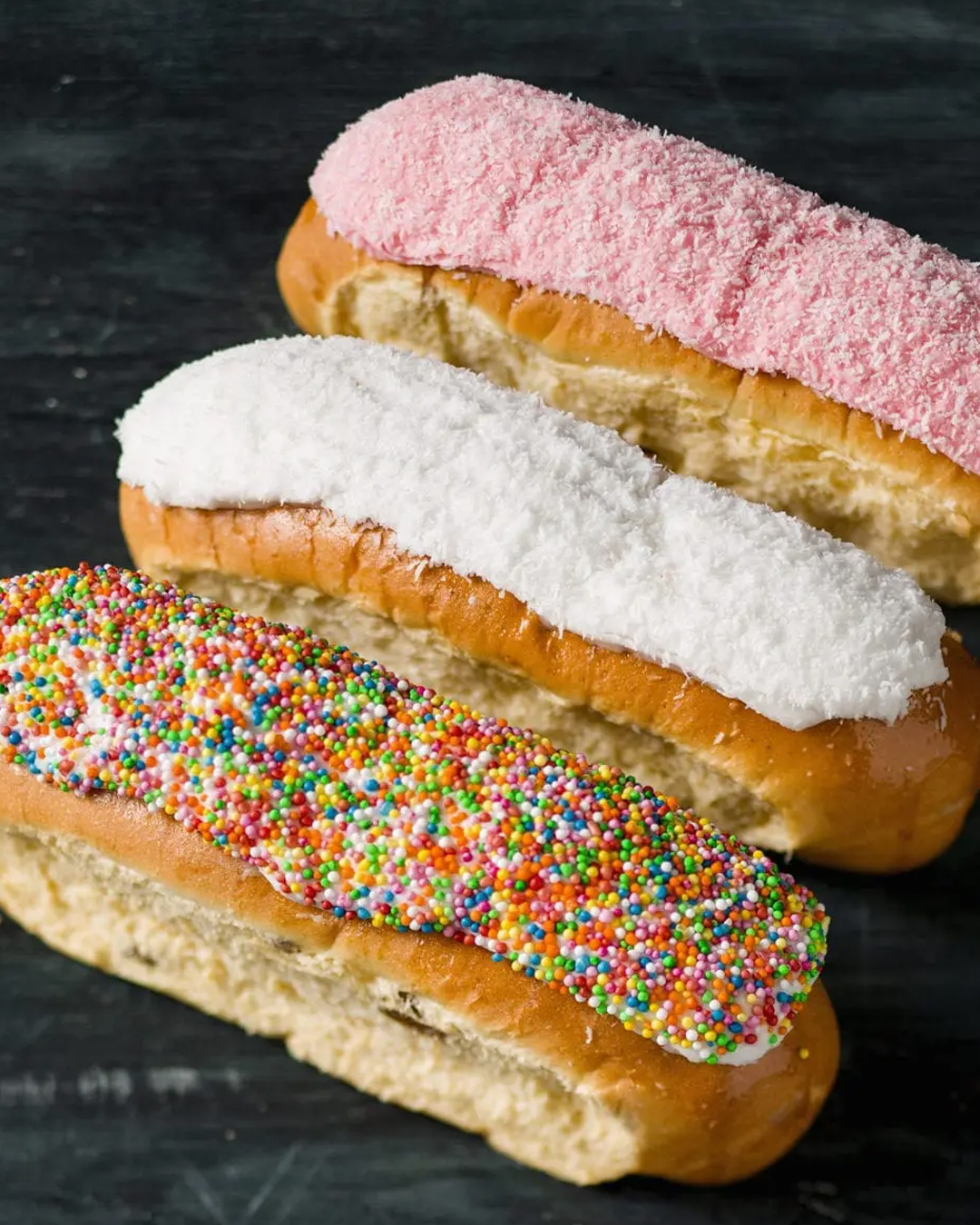 Poles Patisserie, simply put, is a goldmine of baked goodness. This family-run business was founded on the very idea that handmade pastries and cakes are the glue to any local community and we mean, they're not wrong. For over 30 years the legends here have been keeping close ties to classic tea cakes and treats. Special mention goes to their bread and butter pudding, which is made with croissants and custard. On the finger bun front, you'll find
sweet yeast-raised dough buns mixed with sultanas and covered in plain or strawberry fudge icing or rainbow sprinkles. Naturally, these finger buns then dipped into all the desiccated coconut.
Manly Bakery
Manly
The ideal spot for quick and tasty takeaway treats is Manly Bakery. You'll find this small set-up near Manly Beach on Sydney Road and it's an absolute must for any pre-swim, post-swim, or weekend indulging pit stops. The stickler here is that while the finger buns are also the size of a football, they remain pocket-friendly at $2 a pop. Fate? We mean, nothing is a coincidence (and you're going to take the entire finger bun tray home with you).
Clemton Park Cake Shop
Earlwood
Clemton Park Cake Shop is a local legend for pumping out some of Sydney's best meat pies but if you've been here long enough, you'll know that the crew here also have an affinity for the three c's (that's cakes, cream buns, and coffee) as well as the art of the almighty finger bun with a lot of variety. You see, Clemton Park Cake Shop not only whips up brick-size finger buns but it also whips up finger bun cakes and finger bun pull-aparts. Delicious.
Now, keep the nostalgia coming with Sydney's best vanilla slice.
Image credit: Humble Bakery, Flour And Stone, Humble Bakery, Poles