As anyone who's ever pointed out the window on a long car ride will tell you, regional New South Wales has a lot of cows. Why is this important? Well, cows make milk, milk makes ice cream and ice cream makes everyone happy.
So, with an abundance of cows and delicious local ingredients to choose from, it's no surprise that NSW's picturesque country towns are serving up some of the best ice cream and gelato in the whole country. From Berry to Bellingen and Broken Hill to Byron these 10 ice creameries are all serious contenders in the game of cones (and we'd like to apologise in advance for any and all ice cream puns to follow, it's a cream of passion).
Winter or summer, we say ice cream transcends the seasons. So here's the scoop on the 10 best ice cream shops in regional NSW.
Up North
In The Pink
BYRON BAY
If you're heading up to Byron for a mini-break or to partake in some light Efron-spotting, a favourite Aussie tradition, then you'll have to allow time for a gelato pit stop at In The Pink. This family-owned gelato joint has been serving up the goods for over 25 years. Located just a few minutes from Main Beach, the secret to In The Pink's rich taste is the traditional artisanal methods they use to make their gelato, and the ingredients bought from the farmers market that highlight the local flavours of the region. On the flavour front, you can expect salted caramel nutella, dragon fruit and lemon cheesecake gelato. In The Pink even has a range inspired by cocktails—espresso martini gelato, anyone?
Bernardi's Gelato And Espresso Bar
BRUNSWICK HEADS
Just twenty minutes from Byron in the picturesque little holiday town of Brunswick Heads you'll find Bernardi's, a little Italian dream. Bernadi's produces an amazing range of traditional ice creams, gelati and sorbets that are, wait for it, dairy-free and fat-free (which in our books essentially makes them a diet food). With a secret 50-year old recipe and fresh modern flavours—it's definitely worth a visit. Plus, a lurk on their Instagram reveals they also make some pretty delicious looking cakes, so yeah, you may as well pick up one of those too.
Bellingen Gelato
BELLINGEN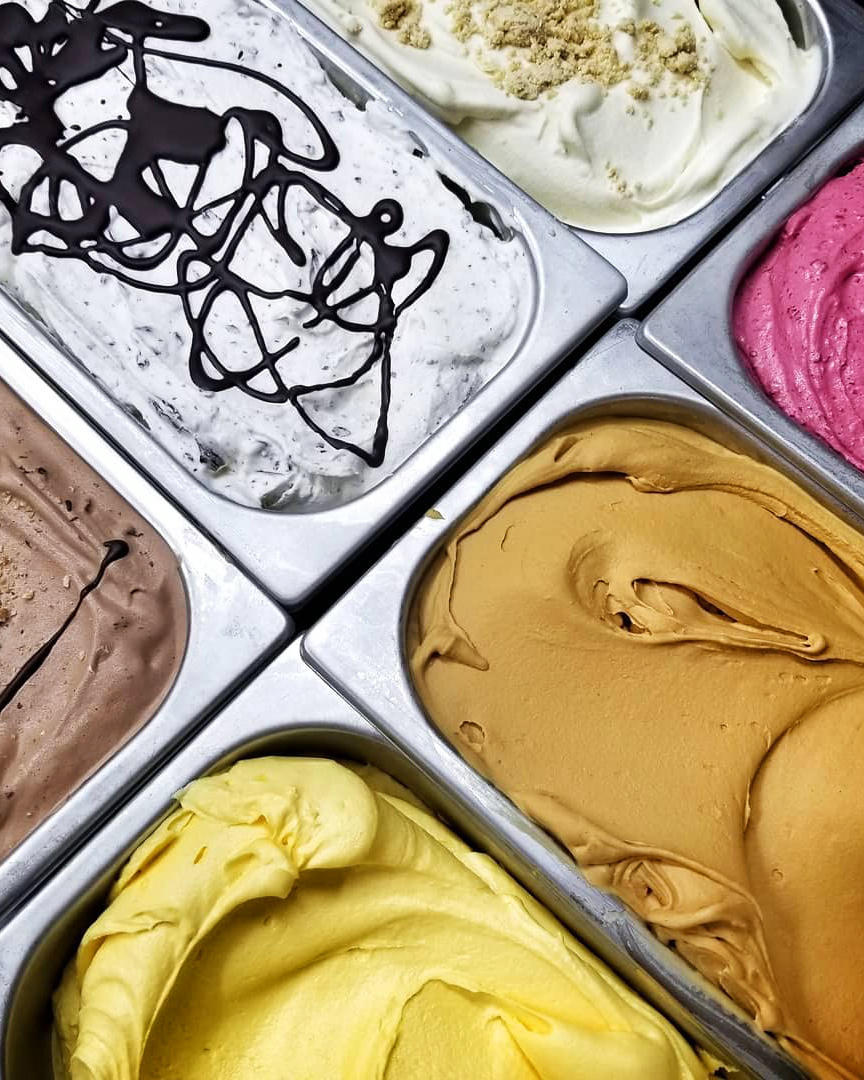 The tagline at Bellingen Gelato is "the best gelato this side of Sicily", and we've got to say we respect the hell out of that claim. The gelato empire backing up this lofty claim was started back in the 80s by Robert Sebes who has since passed the baton to his son Danny. Proving he's up to the challenge, Danny was responsible for crafting the stewed plum sorbet that won Bellingen Gelato the top prize at the Royal Queensland Food and Wine Show.
All of Bellingen Gelato's offerings are made with real, natural ingredients, which helps them create a mega list of flavours (like, seriously, the menu is so long). There are so many flavours to choose from—but we recommend starting with their most popular: burnt caramel. You'll also want to try the salted dulce de leche and peanut butter and the roasted almond and leatherwood honey. Their sorbet combos certainly aren't shrinking violets either. Think lemon, mint, ginger and gin, pear and spiced red wine and strawberry balsamic. Plus, Bellingen Gelato has a real focus on being eco-friendly in all aspects of their business and that's a major win in our books.
Out West
Bells Milk Bar
BROKEN HILL
An oldie but a goodie. If you're vibing a bit of old school ice cream nostalgia, Bells Milk Bar in Broken Hill is Australia's oldest milk bar and that fact alone definitely merits a road trip. Bells go big on 1950s nostalgia, providing the perfect background for the 'Gram. Bells is known for serving up ice cream sodas, waffles, apple pie and milkshakes, as well as the traditional ice cream scoops. With over 50 flavours to choose from you're spoilt for choice at this super-cool retro establishment.
Bertoldo's Bakery
GRIFFITH
Bertoldo's Bakery is a much-loved hot spot that many of us have been totally sleeping on. Loved by locals, this bakery is too good to keep on the down-low. Known equally for their gelato and their Italian baked goods, this is the perfect spot for a little "treat yourself" time. They've got cannoli that even your Sicilian Nonna would be proud of and a major range of gelato that's rich, creamy and refreshing in all the right ways.
Spilt Milk Bar
ORANGE
Honestly, if word of mouth is anything to go by, Spilt Milk is the (ice) cream of the crop. Orange is already the foodie capital of regional NSW, so it's no surprise that their local ice cream shop is also making waves. Their flavours are fun, fresh and done just a little bit differently. Using 100% natural Australian ingredients including super locally sourced produce (so local that, when faced with a lemon shortage, they posted a social media call-out to locals growing lemons in their gardens) and fancy pants ingredients like Pepe Saya butter, the team at Spilt Milk churn out new and exciting flavours every week. Think coffee gelato with chocolate brownie chunks, mascarpone peach, milo malt and lemon myrtle with honey-roasted macadamias... We're firing up the engine already.
Down South
Bermagui Gelati Clinic
BERMAGUI
This little gelato shop on the picturesque Sapphire Coast has a legendary reputation. Run by husband and wife duo Francesca and Alberto Cementon, the Bermagui Gelati Clinic is known for its inventive use of local produce and epic range of flavours. Basically, they're the Messina of regional New South Wales. Their secret? A perfect marriage of tradition and science. If you're anything like us, then the phrase, "Campari ice cream" will be enough to have you ready to hit the road.
The Dairy Bar @ The Treat Factory
BERRY
You've heard of farm-to-table now get ready for cow-to-cone with this ice cream joint inside of a historic South Coast creamery. You'll get to come face to face with the cows responsible for producing the delicious South Coast dairy milk that makes this delicious gelato—it doesn't get more locally-sourced than that. Going all-in with the old-timey aesthetic, The Dairy Bar has all the black and white tiles and art deco fittings you'd associate with a diner steeped in tradition and you just know it has got to be delicious.
Bodalla Dairy Shed
BODALLA
Making fresh ice cream every day with the milk they get from their very own cows, the family-run Bodalla Dairy Shed has a mix of twenty flavours on offer from classic flavours like wild strawberry, chilli chocolate and peanut butter and a set of must-try signature flavours. Our top pick? "Let's Go Camping", an ice cream inspired by camping vibes. This s'mores inspired flavour is a gum leaf smoked ice cream with a macadamia praline, with a burnt marshmallow served on a twig. Head here to check out their website for more info or to get the scoop on special seasonal flavours.
Narooma Ice Creamery Cafe
NAROOMA
Narooma Ice Creamery churns out a steady rotation of creative and decadent house-made ice creams and gelatos. Think banana peanut butter, Mars Bar and jam doughnut flavoured ice creams. If you still need a little more convincing, they're selling take away tubs in flavours like lamington, pistachio, ginger and Turkish delight for just $11. Plus, situated in a serene seaside town, the surrounds make Narooma Ice Creamery's scoops taste even sweeter. So grab a cone and get ready to take in what locals are calling one of the South Coast's best views.
Staying in Sydney? Here's where to get your ice cream fix without the road trip. And for more road trip ideas, these are some of our favourite scenic drives in NSW.
Image credit: Sarah Gualtieri, In The Pink, Bernadi's Gelato, Bellingen Gelato, Spilt Milk Bar, Alana Harris