Whether it's for a weekend road trip, a summer adventure, or just some getting-off-grid antics, kayaking is always a good idea.
In NSW, we're lucky to have so many protected waterways, sand islands, scenic lagoons, and secret rivers right on our doorstep and these make for some absolutely stellar places to dip your oar.
Check out the best places to kayak in NSW.
Naru Beach
Lake Macquarie
If you're up for the weekend road trip, strap your kayaks to your roof racks and get set to explore a sweet haven of sand islands just 90-minutes from Sydney. Located in Lake Macquarie, traditionally called Awaba and part of Awabakal Country, Naru Beach spills all the Cook Island feels. Yep, Naru is the kind of aquatic playground you'll find filled with an endless scatter of mini sand archipelagos, moored deck boats and bowriders, all the stand-up paddleboard enthusiasts, and, of course, keen kayakers. The entire bay glistens with shallow, bright blue waters. You can rock up with your kayak and paddle from sandbank to sandbank and the best part is, this area is also dog-friendly so your furry friend can come with you too. For your full guide to the Lake Macquarie area, head here.
Glenworth Valley
Central Coast
Glenworth Valley is a goldmine to any keen adventurer's weekend bucket list. Part of Dharug Country, Glenworth Valley is a beautiful place to take your kayak because it's made up of a myriad of secret gullies and creeks. Popran Creek is a favourite spot to kayak in NSW with plenty of stunning bush scapes, however, there's a tonne of other waterways you'll be able to drift down and discover for yourself too.
Bellingen River
Bellingen
If paddling through misty waterways with ancient wilderness on either side of you sounds like the kind of place you'd like to pick up an oar, Bellingen River is calling your name. Bellingen itself, which sits on Gumbaynggirr Country, has been hailed as the "new Byron Bay" and the entire sleepy town runs on a way of life that exists for less crowds and more natural adventures. Bellingen River is known for its serene and calm waters and while you cruise past the surrounding World Heritage-listed rainforest and dramatic waterfalls, you'll also be privy to nature's own playlist (we're talking a whole heap of birdsong for those wholesome feels). If you want to check out what the rest of Bellingen has to offer, you can jump right over here (we recommend hitting The Bellingen Brewery for a post-kayak re-fuel).
Lord Howe Island
If you can afford the pricey flight—Lord Howe Island definitely hits like Hawaii, so be prepared for some uber tropical scenes when you kayak through these parts. Here, you'll be dipping your oar at the likes of Old Settlement Beach and Lagoon Beach (which looks exactly as beautiful as it sounds). It's a rite of passage here to spend entire days sitting on the glowing waters of Lord Howe Island's North Passage, soaking up the sun and spotting the abundance of marine life swim below you (hello turtles).
Lake Mulwala
Mulwala
To take in some stark naturescapes unlike anywhere else in Australia, Lake Mulwala is another top place to kayak. Sitting on Pangerang Country, on the brink of NSW and Victoria, kayaking through the waters here truly takes you to somewhere that seems absolutely out of this world. Pitted with endless river gums, both sides of the lake boast foreshores worth a picnic pitstop and walking tracks to stretch those legs. If you've got your fishing rod handy, the lake stocks a vast array of Murray Cod, Silver Perch, and Yellow Belly. Just make sure your NSW recreational fishing license is up to date.
Lake Burrendong
Dubbo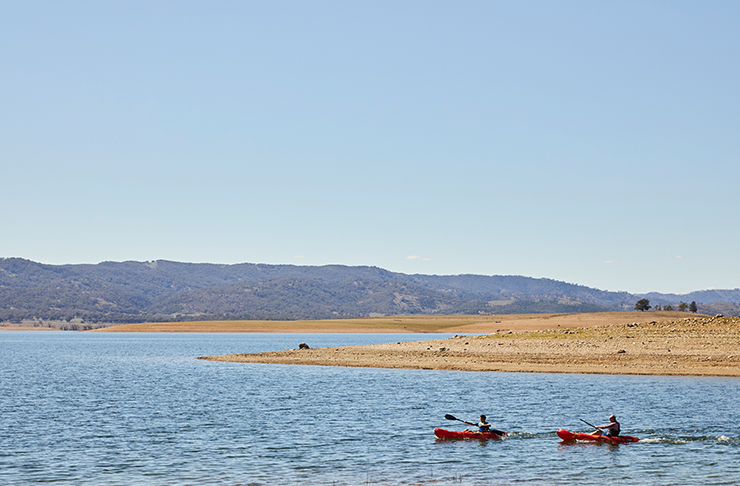 She may not be a "natural" lake but she's a damn beautiful one at that. Lake Burrendong, home to the Tubbagah People of the Wiradjuri Nation, the largest Indigenous group in NSW, is completely hugged by dense bushland making her a top spot for bushwalkers, campers (you'll find two-holiday parks here), and kayakers too. Since Lake Burrendong is technically a human-made reservoir, the water here is quite warm so you can kayak here any time of the year and still go for a cheeky little dip. Our top tip is to cruise on over past Lake Burrendong State Park (where dogs are allowed) and paddle your way through some of the most stunning inlets.
Prefer to paddle closer to home? Here are all the best kayaking spots in and around Sydney.
Image credit: Destination NSW