Sydney is blessed with wide open harbours and secluded waterways aplenty, which means there's no shortage of sweet spots to grab an oar and go for a paddle.
Keen to hit the open seas? Risk sunburn in places you've never even dreamed of? Or are your arms and upper torso begging for a workout? Start planning your next paddle—here are the best places to go kayaking in Sydney.
Malabar Beach
Malabar
On a day with no wind, you won't find crispier waters to paddle your way through than the currents at Malabar Beach. The narrow channel means you can paddle back and forth from one side to the other with ease, otherwise, you've got plenty of sea to wash over closer towards the headlands. There are also two shipwrecks in the bay, the MV Malabar and Goolgwai which are perfect stops to take the plunge and go diving (a two-person kayak is best for this so you can take turns rolling in the deep, so to speak).
Parramatta River
Parramatta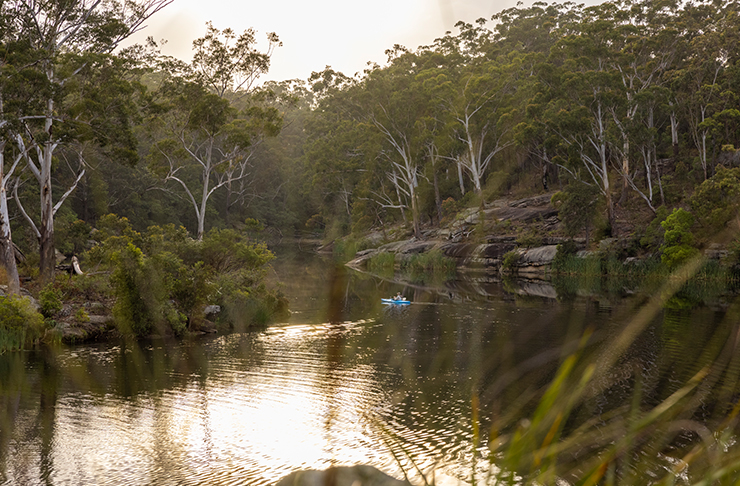 This 14km river runs from east to west from Sydney Harbour with plenty of sites to see as you float your way through its waterways. During your paddling escapade, you'll find Indigenous murals on the Parramatta River Foreshore Reserve (creations of Ngemba artist Jamie Eastwood), Old Government House and Lennox Bridge. Just note that there are some exclusion zones for busy areas like Circular Quay, Garden Island and Silverwater Bridge, usually marked by yellow buoys.
Simpsons Bay
Bundeena
Kicking off your South Sydney kayaking adventures in Simpsons Bay will make for a session filled with big views out to Kurnell and even the Pacific Ocean. If you don't sport your own paddles, hit up Bundeena Kayaks who stock a fleet of single and double top-style kayaks (and paddleboards, for that matter) available for hire. The crew here run a slew of daily guided kayak tours but you can also take the kayaks out for a spin without.
Sandy Beach Reserve
Pittwater
At Pittwater Kayak Tours, take a two or three-hour tour at either sunrise or morning and learn about the area's First Nations and settler history before cooling down with a swim and view of Palm Beach, Barrenjoey headland and the rest of Pittwater's sparkly surrounds.
Brooklyn
Hawkesbury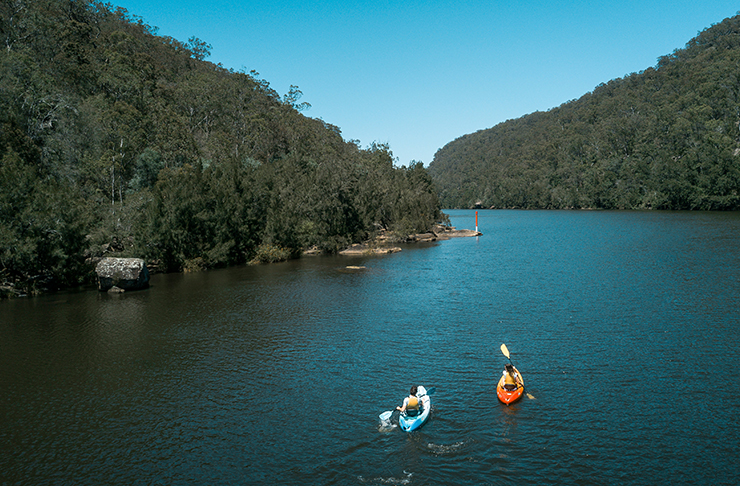 Right by Dangar Island and Little Wobbly, lies Brooklyn. You'll want to hit Hawkesbury River Kayaks because these guys have a small fleet of single and double kayaks and tours here take you to some prime paddling real estate. Row upstream and camp at a secluded beach, explore Jerusalem Bay, picnic on one of the small beaches or have lunch at picturesque Cottage Point.
River Road Reserve
Nepean River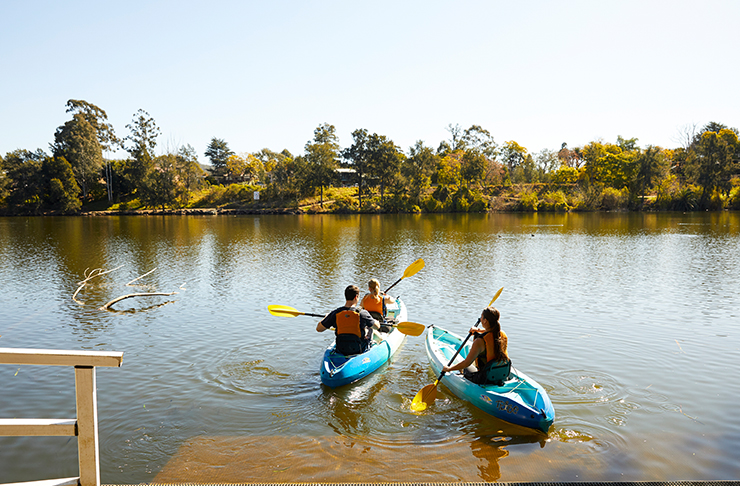 This one's for the keen kayakers with an appreciative eye for bushland and a Kathmandu membership. The Nepean River is nothing to sneeze at, stretching 100 kilometres, 25 of which are tide-free near Penrith, and practically made for cruisin'. Rental kayaks can be found at Horizon Line so dive on in and enjoy the scenery of one of NSW's largest catchments.
Balmoral Beach
Balmoral
If optimum paddle-boarding waters, a netted swimming area, and a seafood platter at The Boathouse weren't enough to tickle your fancy, the kayaking digs will certainly win you over. Kayak rental is available from a number of nearby businesses including Balmoral Boatshed (off the back of The Boathouse) and the local sailing school. You'll enjoy views of Sydney Harbour and The Heads before heading back for a beach lie.
Narabeen Lagoon
Narrabeen
Let's be honest—we can't recommend Narrabeen Lagoon enough. As much as we loathe a cliché, it really is "fun for the whole family". When you need a rental, go for Pro Kayaks, but if you're no stranger to a roof rack and have your own gear, head to Middle Creek reserve quick smart.
The Spit
Mosman
Spit Bridge is the spot for kayakers who prefer their elbows kept to themselves. Whether you bring your own or grab a rental (care of Sydney Harbour Kayaks), one thing's for sure, it beats sitting in traffic waiting for the bridge to lower. Stop off at Chinaman's, Clontarf or Balmoral beaches to the east, or Sailors Bay to the west, for a mid-paddle siesta.
Rose Bay Beach
Rose Bay
Harbourside, easterly and too good looking for its own good (you can see both the Opera House and Harbour Bridge for crying out loud), Rose Bay is perfect for the kayaker in search of an ambient backdrop. Kayaks are available from Rose Bay Aquatic Hire in both double or single seats. Pro Tip: choose the double and sit upfront if you're more of a sidecar kind of person or have the upper body strength of damp linguini.
Manly Cove
Manly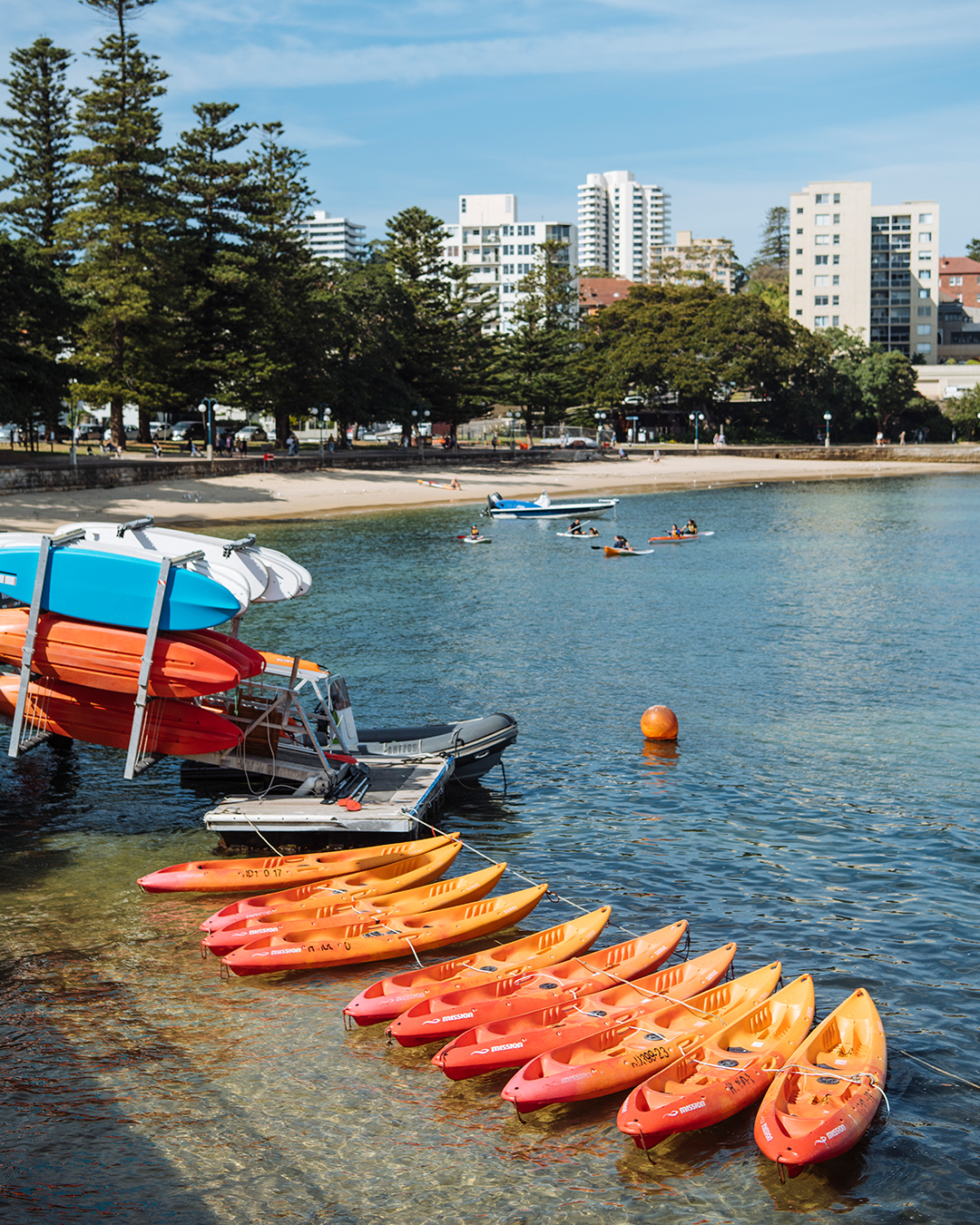 Check out Manly Kayak Centre for a choice spot of kayaking. They rent one or two-person kayaks by the hour. If you're new to this whole kayaking thing try out their four-hour guided kayak tour—did we mention it includes a picnic lunch on the beach?
Or, what's better than a regular kayak? A "Crystal Kayak", of course. Manly Sailing offers see-through kayaks for hire so you can enjoy the underwater scenery a little more as you paddle. Head out on your own, or book one of their two or four-hour guided tours and explore the hidden beaches around iconic Manly Cove.
Rozelle Bay
Annandale
Not set on the long drive? Keen to get your toosh in a watercraft already? Rozelle Bay has you and your instant gratification needs sorted. Visit the Balmain peninsula or paddle up to Cockatoo Island with a rental from Annandale Boat Hire. While you're in the area, why not call on Egg of the Universe for a spot of yoga and wholefood dining?
The Boatshed
Woronora
Don your best neoprene and toss your possessions in a water-safe bucket, you're headed for Woronora River. Hedged by the Dharawal State Conservation, the 36-kilometre long trek will give you a run for your money with steep banks, rocky platforms, tributaries (Loftus Creek and Georges River) and at the end of day, arms Michelle Obama could only dream of. Pop into The Boatshed at Woronora for canoe or kayak hire at a great price, and an all-day breakfast that'll have you questioning the true purpose of your trip.
Audley Boatshed
Royal National Park
Open seven days a week from 10am - 5pm, Audley Boatshed is here for you, rain, hail or shine. Start off at the Boatshed; they'll get you set up with a kayak (with a winning deal of $80 for all-day hire), before choosing your adventure. Will you go for a short paddle up Kangaroo Creek or Huckleberry Finn it up Hacking River? The choice is yours.
The Basin
Ku-ring-gai Chase National Park
Ku-ring-gai Chase National Park is a heavy-hitter on the "best places to kayak in Sydney" spectrum. Smack bang in the middle of Berowra and Avalon Beach, this National Park is a health retreat on water—just close your eyes and glide along. A 16km tour is also available should you wish a little guidance—we can't all be Bear Grylls. Take a break between paddles for a Bobbin Head picnic, or a stroll along the Aboriginal Heritage walk featuring rock art and engravings from the Guringai.
And here's a bunch of great places to stand-up paddleboard in Sydney.
Image credit: Destination NSW