Australia is the home of the meat pie. And we sure are proud of it. It's the ultimate comfort food, equally perfect for a 2am post-party snack and a 2pm weekend road trip pit stop. Don't get us wrong either, meat pies will always hold a dear place in our hearts and bellies but you know what we're really craving right now? Some piping hot vegan goodness.
Sydney is quickly tallying up an epic slew of joints serving up vegan twists on the staple meaty morsel and if you're a big foodie like us, we know it really doesn't matter what the filling is, as long as it's damn delicious.
Check out the best vegan pies in Sydney.
Funky Pies
Bondi
All hail Funky Pies, the veritable king of the vegan pie community. It sports a 100 percent vegan menu which is absolutely off the charts. Think over 10 funky pie fillings that'll speak straight to your vegan soul. Get your hands on their famous "No Wurry Curry Pie", packed with organic lentils and chickpeas in a coconut curry sauce. Or, if you're looking to spice things up, why not dive into the "Butterish Chick'n Pie", with chunky pumpkin and chicken-style nuggets bathed in a coconut creamed tandoori sauce. Whatever you pick, we promise they'll deliver those warm toasty feelings that you've been craving.
If their pies weren't impressive enough, you can feel good knowing that these Funky people are helping spread the good karma with their use of biodegradable packaging, fair-trade coffee and organic juices. Plus, they contribute a percentage of their profits to several charities that are also helping make this planet a friendlier place. So go ahead, order up and make sure you say yes please to that side of mushy peas.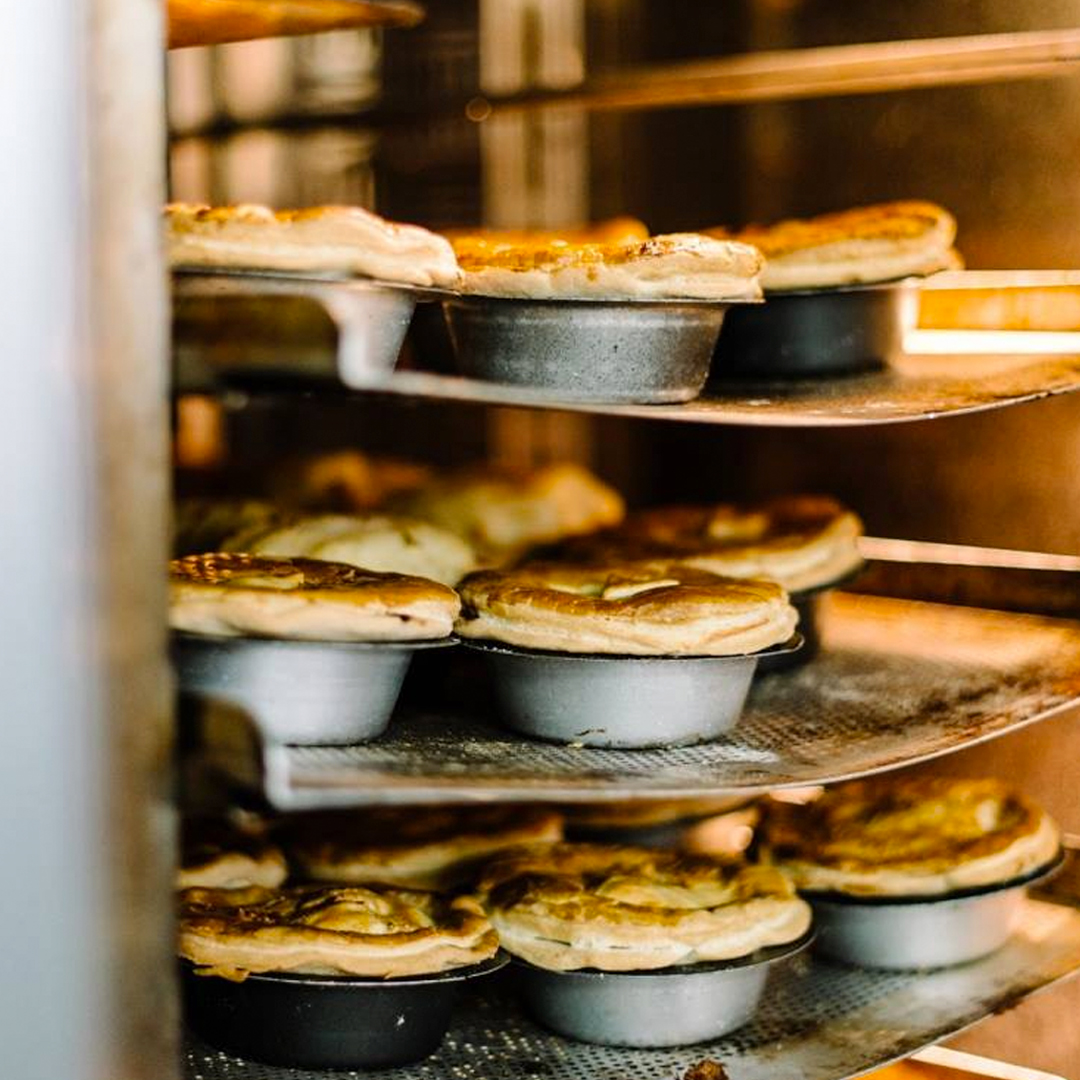 Bourke Street Bakery
Various Locations
Any pie connoisseur out there will be no stranger to the highly beloved Bourke Street Bakery. With a love of good food and all things handmade, these guys are famous for their range of soulful and delectable bites that'll send your taste buds into a frenzy. Crafted with artisanal skill, hard work and great produce, these guys are dedicated to delivering baked goods that'll make your heart sing. If you're looking for the perfect grab-and-go option, then try the mouth-watering "Vegan Vege Curry Pie" and look, it'd be rude not to also give the vegan "sausage" roll a hit too (it's packed with eggplant, chickpea and mint).
The Pie & Grind Bakehouse
Manly
Three words: award-winning bakehouse. That's exactly what The Pie & Grind Bakehouse is, so you know they don't skimp out on the good stuff. This guy is living his best life on Sydney's Northern Beaches and alongside churning out (what we're calling) the world's best "Tradie Pie", the crew here also knows how to tick all the boxes for a solid vegan take on the age-old savoury feed too. There's a "Sheese And Baecon Burger" plant-based pie (which despite the name—is, in fact, a pie), a vegan "chickn" and veg and even a plant-based "chickn" parmigiana pie creation that will absolutely change your life.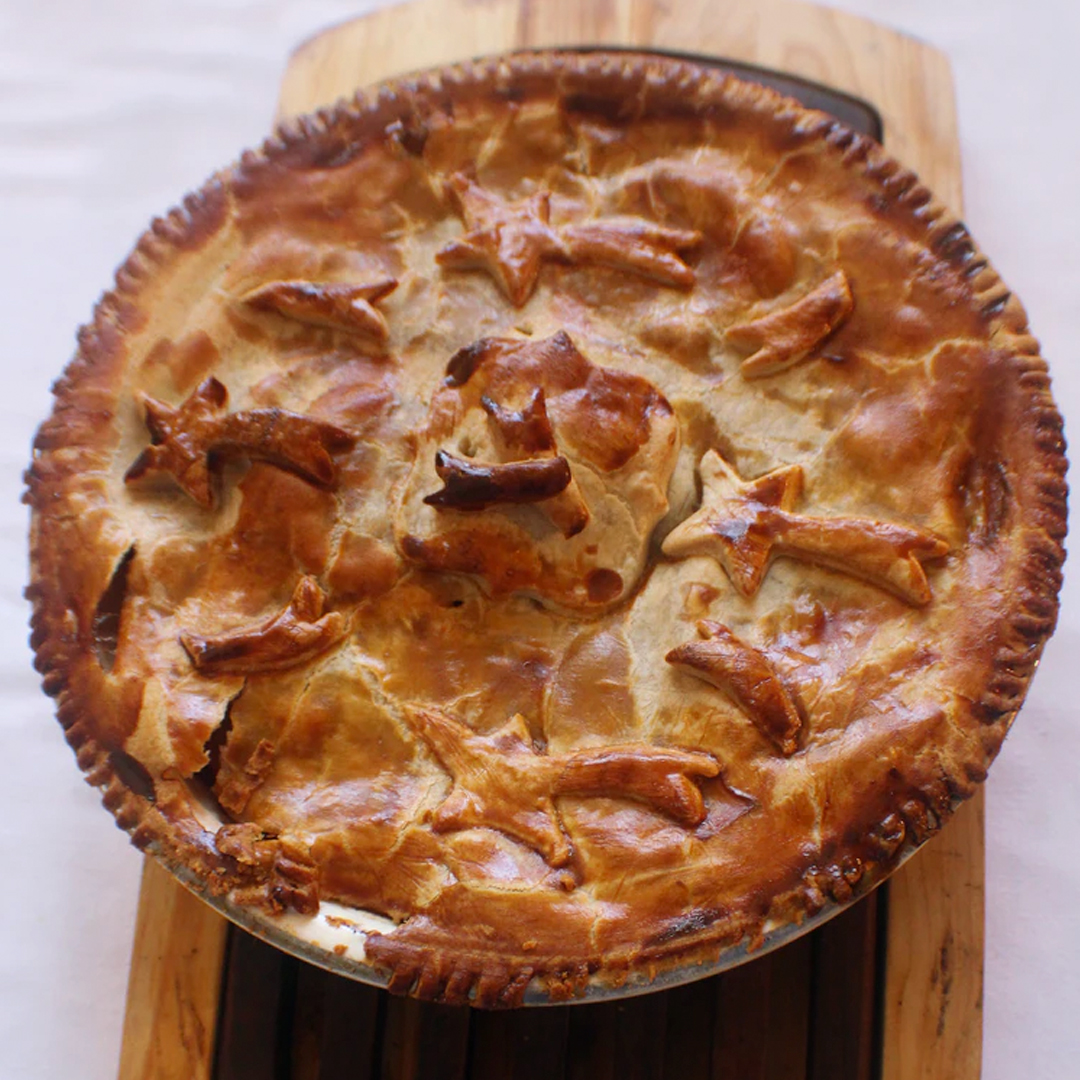 Plant Kitchen Co.
Delivery Across Sydney
There's nothing quite like a pie fresh out of the oven. If you're more into the home-style pie feasting then be sure to delve into the pie-delivery perfection that is The Plant Kitchen Co.
This wholesome vegan business creates handmade, plant-based meals using the freshest, seasonal ingredients on the daily so you can bet your bottom dollar their pie game is strong here.
There's a lot to get excited about here including a plant-based saag potato pie (a wholesome take on the shepherd's pie), which is made using a saag-style curry, ginger, garam masala, creamy chickpeas, roasted sweet potato, button mushrooms and baby spinach. Also taking a top spot is the ever-delicious red wine and lentil cottage pie filled with a rich lentil ragu and wine, herbs and topped with lashings of creamy mashed potato. These bad boys get delivered ready-to-bake too so all you need to do is pop them in the oven.
Mountain High Pies
Blue Mountains
We know—she's technically not in Sydney—but the vegan goodness at Mountain High Pies is so good, it'd be wrong not to give them an honourable mention. Located at Wentworth Falls, the 90-minute drive here is very, very worth it. Warm yourself up with Mountain High Pies' ridiculously tasty vegan "Chilli Con Corn" pie mash-up, loaded with Mexican spices, beans, lentils, chickpeas, corn and a tomato sauce base with guacamole and potato top (just casually).
We also suggest stocking up on the curried vegetable pie (maxed out with red lentils, tomato and a whole lot of spice) and the satay lentil and chickpea pie for the ride home. To top all your feasting off, treat yourself to the classic apple pie and apple and rhubarb morsel—both sweets are vegan friendly too.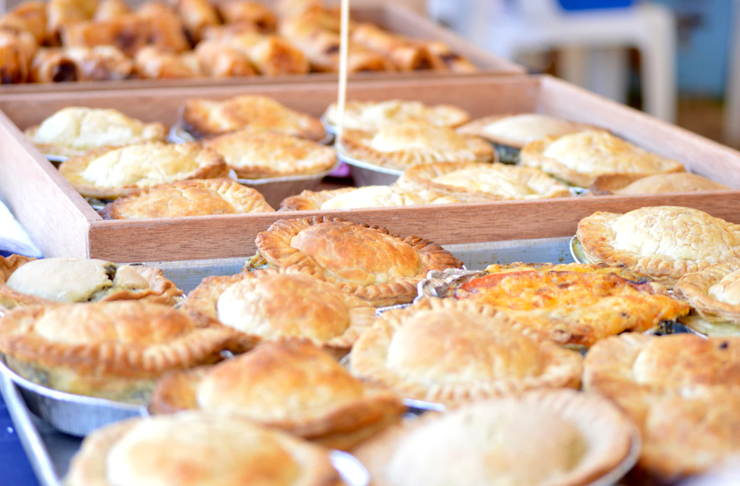 And check out Sydney's tastiest vegan restaurants here.
Image credit: Jelleke Vanooteghem, Funky Pies, Rebecca Matthews, Finish Media