Counting down the days until you can sip a delicious summer Aperol with friends again? Well, we're about to hit you with a revolutionary fact. Aperol is not just a summer bevvy. In fact, it never has been.
This Italian staple has been bringing people together for over a century in all types of weather. It turns out that summer has never been a global requirement to enjoy this iconic drink. Instead, the activities that underpin Aperol experiences worldwide are food culture and rituals.
In honour of this epiphany, we've partnered with the legends at Aperol to celebrate the joy of Aperol-fuelled dining experiences. Not to mention, we've also teamed up with Shaffa, Tokki and Bootleg Italian to bring you a series of bespoke aperitivo and Aperol foodie deals for $40 or less.
Head here to discover our exclusive foodie deals, and read on for more places to enjoy an Aperol any day of the year.
Tokki
For the first of our bespoke, bargain Aperol experiences, head to Tokki. This casual hangout is best known for funky vibes and serving up mouthwatering Japanese and Korean-inspired share plates.
Now for their limited time only aperitivo and Aperol offer. For just $40, you'll be greeted with a serving of tender, charcoal barbecued octopus with gochujang bisque. Wash it all down with a couple of Aperol Spritz to complete the dining experience.
On top of this being a total steal, it's also the perfect way to sample some of the freshest seafood out with distinctly Japanese and Korean flavours. Be quick! This offer ends on September 4, but don't worry, Tokki will still be serving Aperol cocktails year-round.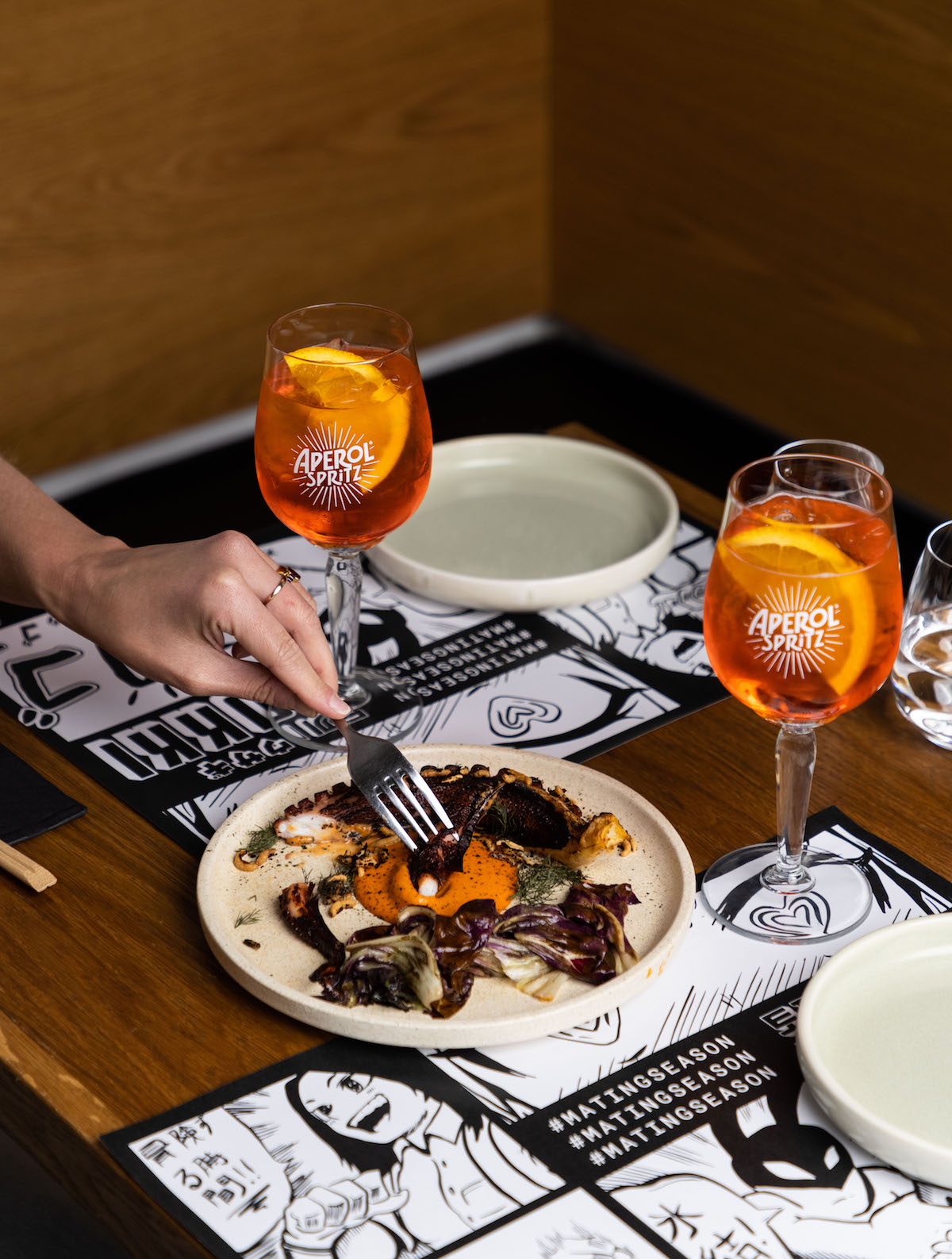 Maydanoz
For all you plant-based Aperol-lovers out there, Maydanoz has your back. This Turkish restaurant is almost entirely meat-free, paying homage to Turkey's many vegetable-filled meze bars.
Aside from the mouthwatering food, the best part about Maydanoz's menu is that it's designed to be shared. Order your pick of delicious eats - we recommend the honey-drizzled halloumi kebabs - and sip away on your spritz while you share your love of food with good company.
S'more
One of the coolest new openings to hit the Syndey scene with Aperol in hand is S'more. Two ex-Merivale chefs opened this neighbourhood bistro this year and have been serving up hearty, Instagram-worthy bites ever since. Think lobster pasta served up with grated fresh truffle, or in other words, opulence on top of luxury.
If all you have time for is a cheeky afternoon spritz, enjoy it alongside their legendary s'mores. This is no ugly glob of Hershey's chocolate. Instead, expect a sophisticated bite of marshmallow, toasted and sandwiched between two perfectly fried potato chips for a touch of savoury to bring out the sweetness.
Shaffa
For laid-back Middle Eastern eats and contemporary industrial vibes, book a table at Shaffa. Known for its legendary bottomless brunch and bold flavours, Shaffa is the spot to indulge in lengthy meals with good friends and great cocktails.
For just $35, Shaffa has paired two Aperol Spritz with limited-edition bourekas bassar that melt in your mouth. This light and crispy pastry is served alongside braised pulled beef, dates, jus, pickles, and zhug to complete the rounded flavour experience.
Once again, this deal is available up until September fourth, so order fast.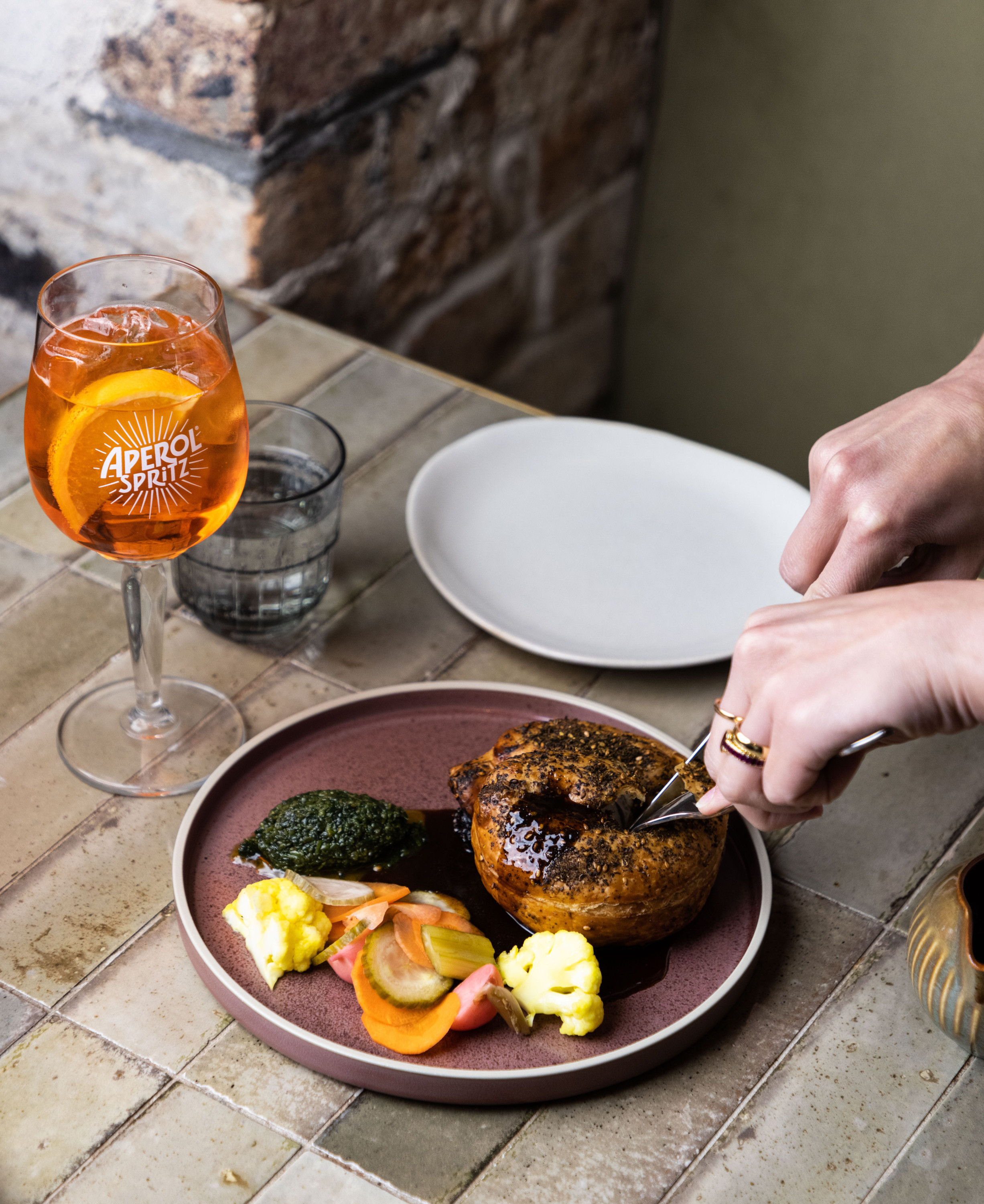 Pellegrino 2000
Inspired by the trattorias of Rome and Florence, Pellegrino 2000 is serving up all the European vibes we've been dreaming of. The shelves are stacked high with authentic Italian ingredients used to create simple yet delicious dishes that will instantly transport you to a warm Italian summer.
Head downstairs with your Aperol in hand to enjoy it amongst the candle-lit vibes of their wine cellar. The walls are lined with classic Italian wines but don't panic, the team are also into their cocktails, serving up all fan faves to perfection.
Jane
If you long for a classic 70's diner experience, hit up Jane. This intimate diner will take you back to a time of warm brass, red marble, dark wood and orange leather with an atmosphere to match.
This blast from the past is far from outdated, taking only the best from yesteryear and tweaking it for today's tastes. They also, of course, serve up a tasty Aperol Spritz any time of the year. We recommend pairing it with the 'Honey Bugs' cocktail, a take on the prawn cocktail only with steamed honey bugs and tarragon butter sauce.
Bootleg Italian
Where better to bask in the cultural experience of an Aperol Spritz than in one of Sydney's most iconic Italian eateries? Proudly serving up eats, beats and booze is Bootleg Italian. Enjoy house-made pasta and other traditional faves with a tasty Spritz, drenched in the sun of their cosy courtyard.
The team at Bootleg Italian have partnered with us to offer their own aperitivo and Aperol, creating a bespoke and entirely Italian dining experience. They have paired two Aperol cocktails with their Cacio e Pepe-filled zucchini blossoms with 'bootleg' honey and shaved black truffle.
Best part? This offer is available until September 4 for just $40. Order now, and thank us later.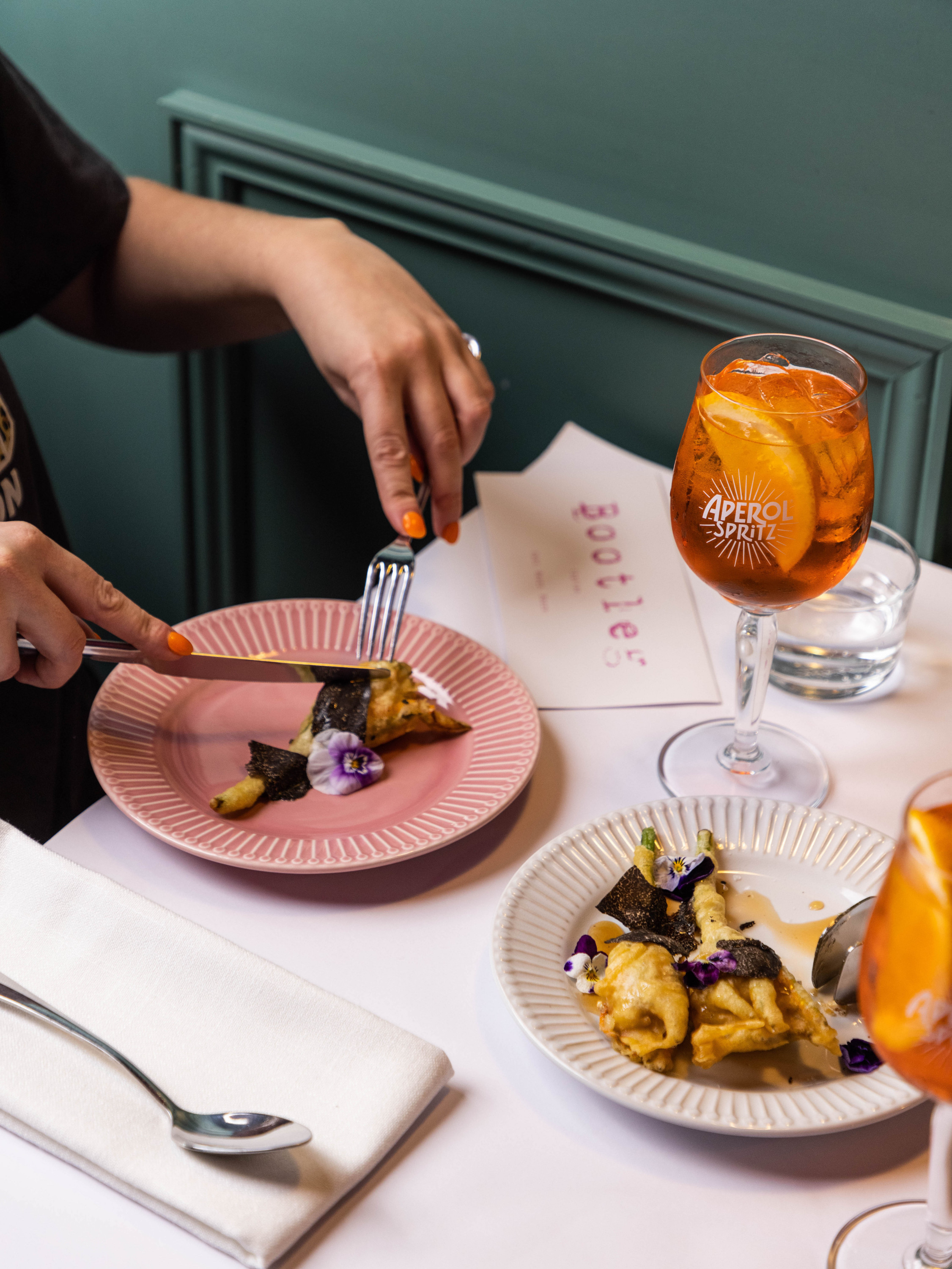 Besuto
If you're yet to hop on board the Omakase bandwagon, Besuto is the perfect place to start. Take your seat across from their master chef to begin your 18-course Omakase experience that gorgeously blends Japanese culture, food, and artistry.
Besuto pairs perfectly with everything Aperol stands for as it's all about the experience. From the moment you step across the threshold, you'll be transported to a different place that extends far beyond the food and drinks you'll consume. As with all of these Aperol dining experiences, we suggest you bring along a few friends to truly make the most of the evening.
Parlar
A homage to the coastline of Barcelona and Catalonia, Parlar is the embodiment of European dining. Think soft mood lighting falling upon marble tables contrasted with rich, warm fabric lining every chair and window. They even have a distinguished art collection to match.
Being in Parlar is a visual experience in itself, which only gets better when you add food and Aperol to the mix. The Mediterranean cuisine boasts plenty of seafood and tapas, ideal for an evening of casual share plates among friends.
Need more Aperol in your life? Take a culinary trip this winter that your tastebuds will thank you for with these nine exclusive dishes thanks to Aperol. But be quick, these creations will only be hitting tables until 4 September 2022. For more details, head here.
Editor's note: This article is sponsored by Aperol and proudly endorsed by Urban List. Thank you for supporting the sponsors who make Urban List possible. Click here for more information on our editorial policy.