Let's be honest, back in the day bushwalks were used by our parents to send shivers down your spine. Fast forward to this 2017 life, and a bushwalk in Sydney means OTT scenery, cute insta-worthy spots and swapping your Pilates class for some fitness in the great outdoors.
Luckily for you lot, we've assembled 10 of the best bushwalks in Sydney (and slightly beyond) which will have YOU inviting the rents out for some good ol' bush walking action—how the tables have turned. Whether you're into a 30-minute light bushwalk along the coast (with your latte), or if you're more into sweating like a damn pig during a rigorous 4-hour bush trek (sans soy latte, although props if you try to bring one along)—we have you sorted.
Great North Walk
Lane Cove National Park
This walk passes through Lane Cove National Park and leads all the way across Sydney, passing the Hunter Valley (ICYMI there's wine here) and Newcastle (wine here too). If a 16-day hike to Newcastle doesn't sound quite like you, can't imagine why, parts of this walk can be tackled in a day or two, with heaps of scenic (read: Instagrammable) picnic and camping spots along the way. Find out more here.
Three Sisters Walk
Blue Mountains National Park
If the last time you went to the Blue Mountains was for a school excursion, you've got to pop the Three Sisters Walk on your list of things to do. The iconic Three Sisters stand almost a kilometre above sea level so the scenic views here are legit unreal. This walk isn't too strenuous at all, and pairs nicely with a stop at one of the many cafes (for that latte) or home-style bakeries in Katoomba. Find out more here.
​
Bundeena Drive To Marley Walk
Royal National Park
Pack your togs and lunch for this one because the Bundeena Drive to Marley Walk (just south of Sydney) not only offers damn fine views, but fresh water creeks and pools where you'll want to go for a dip before, during and after your bushwalk! The walk will leave you breathless (literally and in awe) at the photogenic Deer Pool and Little Marley Beach along the way. This walk is the trifecta—incorporating swimming, walking and picnicking—amazing right? Find out more here.
Karloo Walking Track
Royal National Park
The Karloo Walking Track is a medium track ideal for those wanting a quick nature fix in Sydney. The walk leads you to Uloola Falls where you can picnic the day away while gazing upon the scenic waterfall and natural surrounds. You can even make a weekend out of it, camping at the popular Uloola Falls campground, but bookings need to be made in advance. Find out more here.
Curra Moors Loop Track
Royal National Park
Coastal views, bush walking and even waterfalls? It's a yes from us. The Curra Moors Loop Track is for individuals seeking a more challenging (we're talking 10 km kind of challenging) yet rewarding walk. The trek is simply beautiful, with heaps of wildflowers and gum trees along the way, and where the coast and bushland meet. This bush walk will have you taking so many snaps your friends will have to tell you to politely stop. Find out more here.
Strickland House And Milk Beach
Sydney Harbour National Park
The short and sweet Milk Beach and Strickland House walk in Sydney's Vaucluse is perfect for a Saturday or Sunday morning post-brunch stroll. The walk will guide you down to Milk Beach where panoramic harbour and city views greet you. Be warned, those kickass views make it very difficult to leave, so bring a book (or a coffee) and enjoy that view! Find out more here.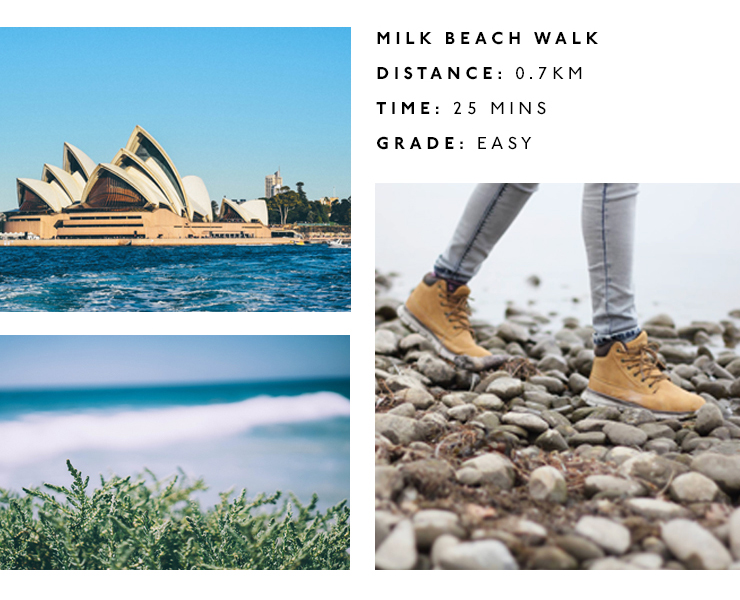 Aboriginal Heritage Walk
Ku-ring-gai Chase National Park
For a fascinating and unique day out the Aboriginal Heritage Walk is one of our top picks for bushwalks, incorporating historical Aboriginal artworks and beyond-amazing scenery. You'll get to see the Red Hands Cave where ancient Aboriginal art is on display and finish up the walk at the impressive West Head lookout. The length of the bushwalk can be determined on how fit you're feeling which is a huge plus too! Find out more here.
Grand Canyon Track
Blue Mountains National Park
People have been walking this stunning bushwalking track in the Blue Mountains since 1907 (so it must be good hey?). We're talking waterfall on waterfall, native golden wattles, giant ferns and sandstone cliffs—beautiful right? Consider the Grand Canyon Track as a must-do walk for all Sydney-siders! Find out more here.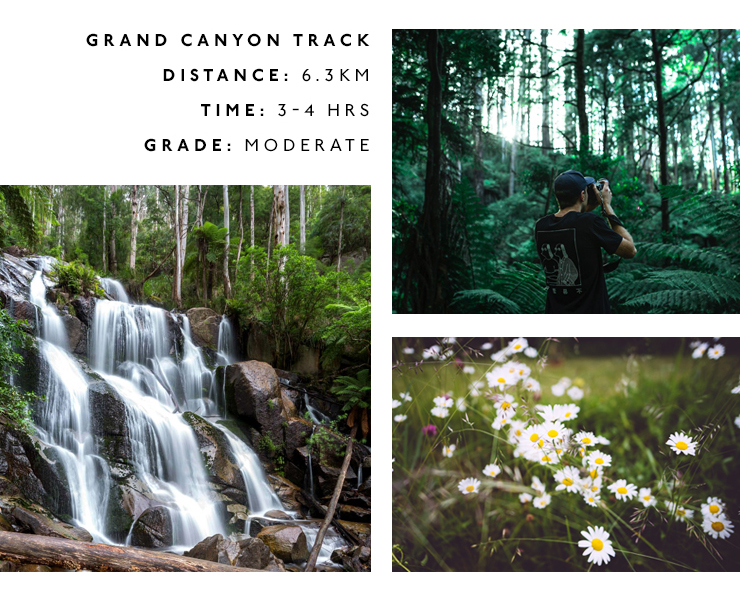 Birrawanna Walking Track
Ku-ring-gai Chase National Park
This incredible walking track in Sydney's Ku-ring-gai Chase National Park will be both physical and educational (double win). The Kalkari Discovery Centre close by allows you to brush up on your knowledge of flora, fauna and Aboriginal history, before embarking on the nature-filled adventure. You'll spot lizards, walk past an emu enclosure and realise that your animal and plant knowledge, up until now, was minimal, to say the least. Find out more here.
Mermaid Pools And Tahmoor Gorge Walk
Tahmoor
You've probably seen someone you know upload some incredible snaps of Mermaid Pools, so it's about time you get your butt on the Mermaid Pools and Tahmoor Gorge walk, about a 75 minute drive southwest from Sydney. With a dip in the beautiful Mermaid Pools after as your reward, this is the perfect hike if you're up for a challenge with some mates. Find out more here.
If you just want to chill: here are all of the shows you should be binge watching right now.
Image credit: Adventure Me