Dogs are the best, period. We don't know about you guys, but during lockdown, we've become a whole lot closer to our four-legged pals and we can't imagine planning a future holiday without them.
However, trying to find epic accommodation that's also dog-friendly around Sydney isn't the easiest. That's where we come in and, trust us, no matter what you're looking for, we've found it. Think huge farms peppered with pooch-friendly farm animals and ample space for your doggo to run around. We've also got waterfront beauties for playful morning dips, secluded cottages with chew sticks galore, and acres on acres of lawn for all the tail-chasing.
Dreaming of a post-lockdown getaway with your best mate? Here are all the absolute best dog-friendly stays near Sydney.
Pet-Friendly Accommodation One Hour From Sydney
HamptonsShack
Dangar Island
For something a little more laid-back, hit up HamptonsShack. Located on a private beach on the Hawkesbury, this little shed made of dreams features a mini-bar (stocked up with beer, wine and soft drinks) and an actual hot tub with views of the river. This site is gated as well so while you're lapping it up in pure holiday mode you can rest assured your pup won't be running amok up the road.
Driving Time: 1 hour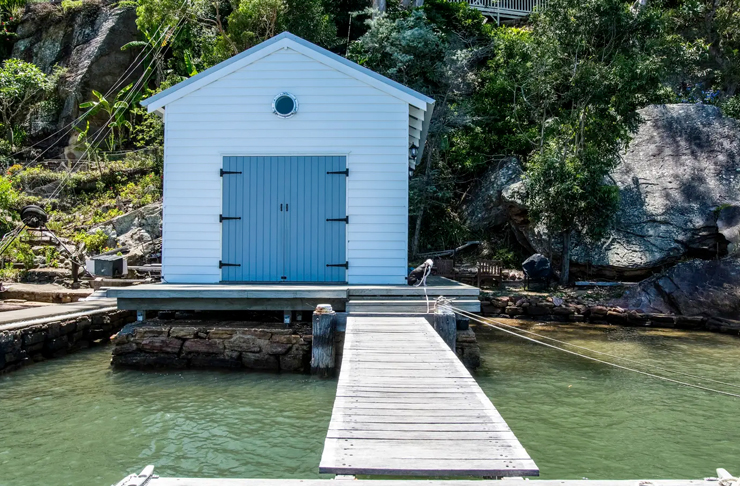 The Boatshed
Dangar Island
This restored, waterfront cabin sends out all the rustic vibes you need for a no-frills getaway (maybe your dog won't appreciate this, but at least you will). Ready for all kinds of weather, The Boatshed keeps air conditioning and electric blankets. You can also expect a number of vantage points including the upstairs balcony which overlooks the Hawkesbury and a large shady deck with deck chairs below it. You can also make the most of the jetty (in case fishing tickles your fancy), head over to Bradley's beach or take to the water in one of the kayaks with your four-legged friend. Dogs are accepted by prior arrangements and need to be kept on a lead.
Driving Time: 1 hour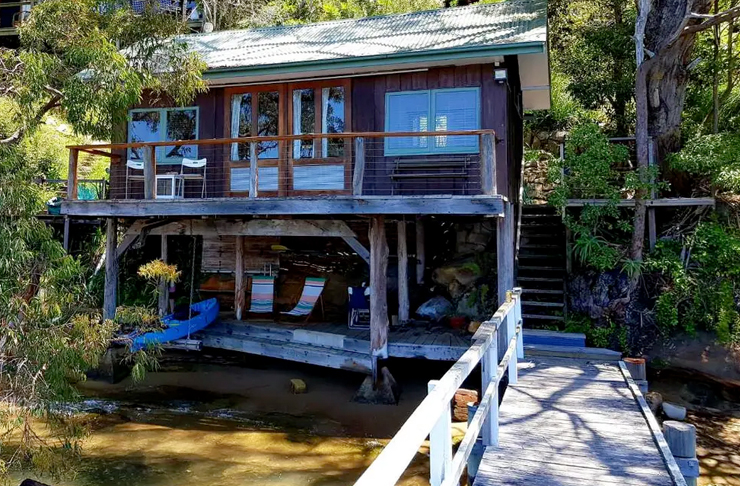 The Greenhouse Retreat
Green Point
The Greenhouse is a mammoth place sporting five bedrooms, a studio, games room, gym, pool and yep, she's a waterfront one too. Sure, this bad boy is dog-friendly but what you're really here for is the killer sunsets. Santorini can stand down.
Driving Time: 1 hour and 30 minutes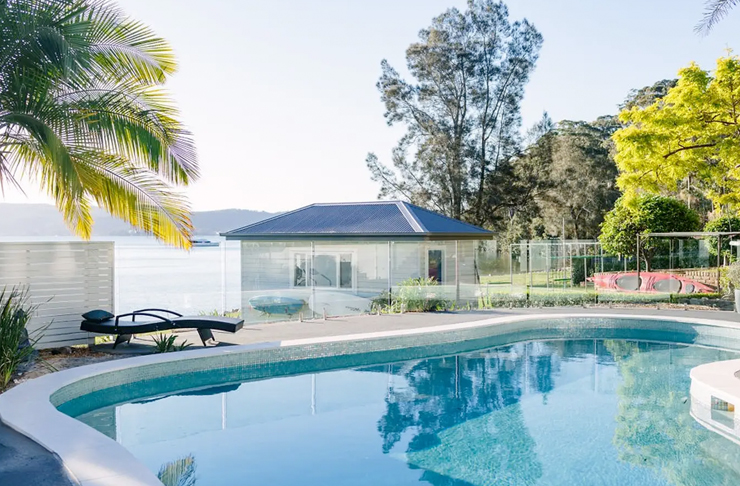 Pet-Friendly Accommodation Two Hours From Sydney
Sunset Ridge Cottage
Pokolbin
As one of six super-private cottages on the Billabong Moon Estate, this pet-friendly haven is perfect for any couple and their furry companion for a weekend getaway outside of the bustling city. With your fluffy third wheel at your heel, you'll be able to take a bushwalk around the entire estate, past billabongs and even to the resident saltwater swimming pool. We highly suggest renting a bike too so you can take on the Hermitage Road cycle track.
Driving Time: 2 hours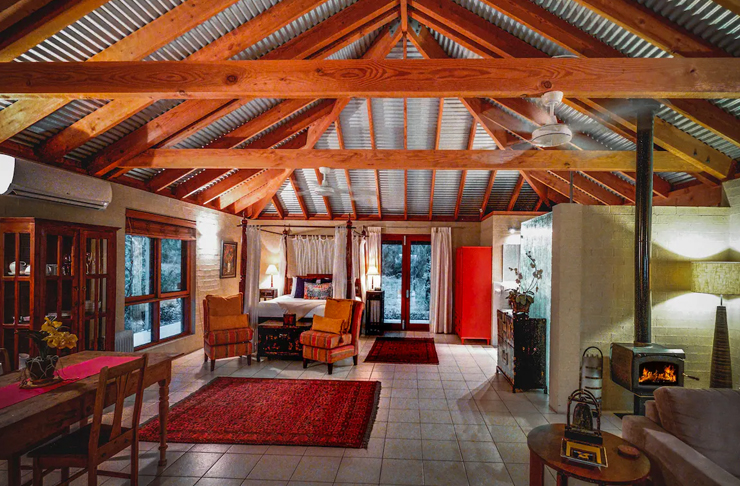 Escape Pod
Foxground
Rainforest, an outdoor shower, a firepit and ultimate seclusion. If that doesn't sound like your dream weekend away we don't know what does. This tiny home punches well above its weight with a fully functional kitchen, all the bathroom amenities you could ever need and an outdoor BBQ area. There's also a myriad of local beaches, shops and cafes close by if going completely off-grid isn't your vibe.
Driving time: 2 hours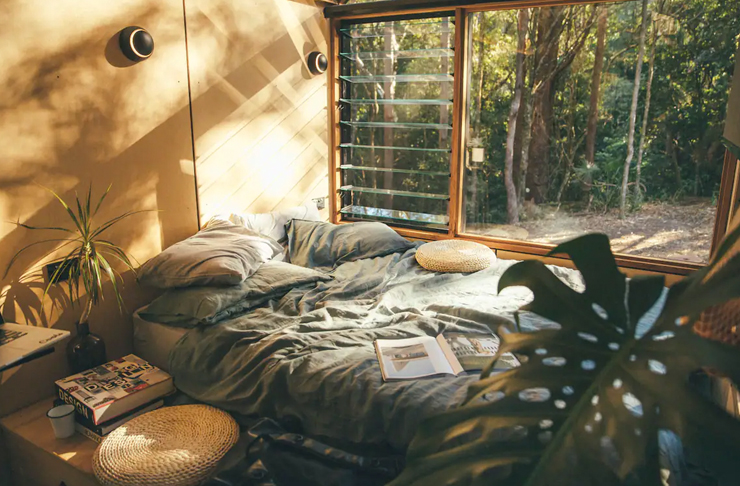 Laguna Sanctuary
Upper Colo
Laguna Sanctuary is the ultimate place to unwind. Tucked into mountains, the Balinese-inspired cottage bears a heated spa and epic views that overlook the freshwater lagoon. Maximise your s'mores roasting time over the open fire pit, go fishing, read a book under the gazebo, take a bike ride, take your pooch out for a bushwalk or hit the lagoon for a morning dip. There's a $25 fee per dog and the owners request you keep Fido down and off all the beds and day beds.
Driving Time: 1 hour 45 minutes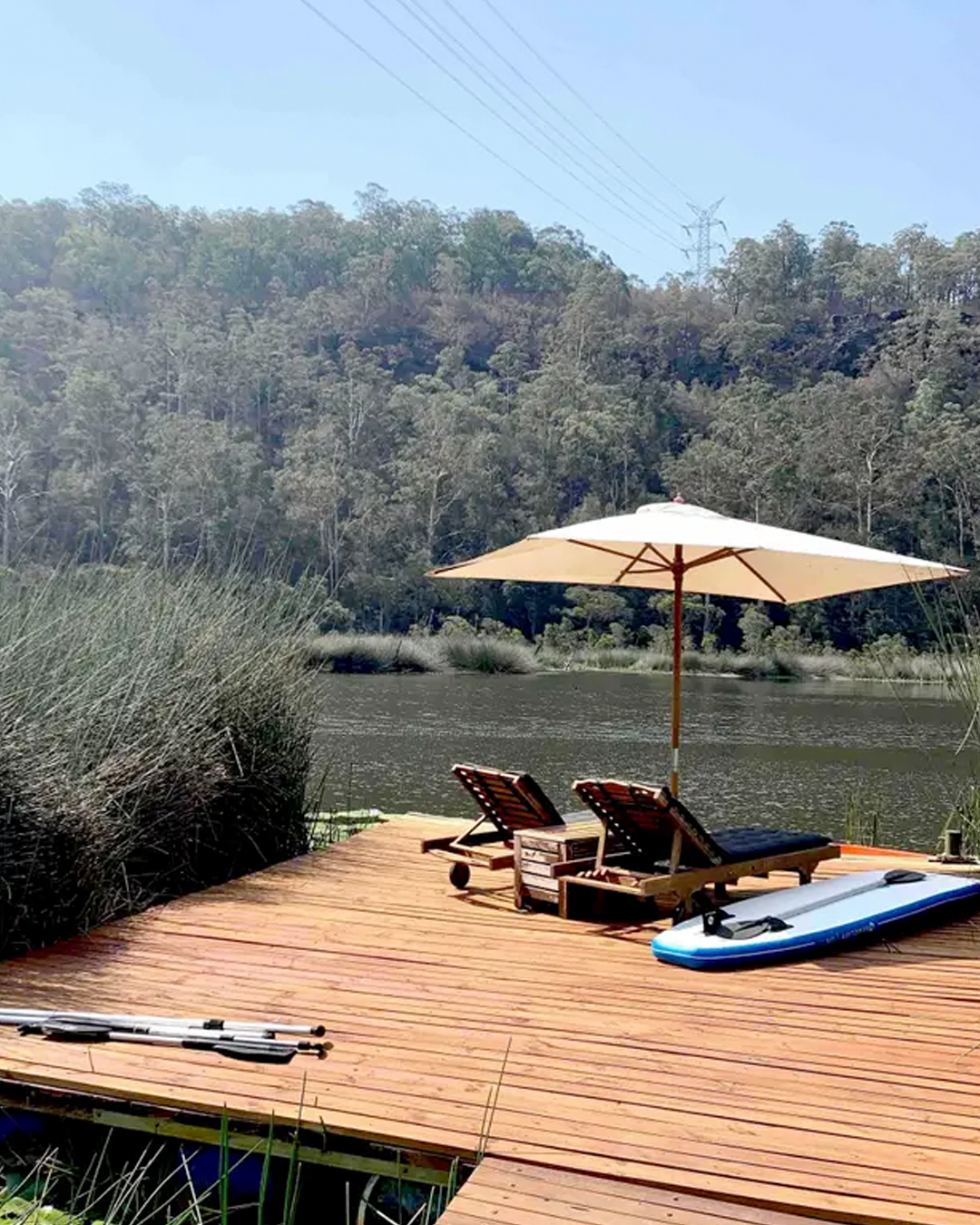 Arabella
Kangaroo Valley
In NSW, there's no denying we love a good tiny house. Arabella fits a maximum of four people and features a fully-operation kitchen and outdoor gas BBQ. There's also a combustion heater inside for chilly evenings and air-con for scorcher-worthy nights. Located on a 140-acre property, this escape is surrounded by tall, dense bushland that's home to Kangaroo Valley's precious wildlife. Will you see wombats, kookaburras, and kangaroos in one day? Yes. While your furry friend is out chewing twigs, you can keep a close eye from the sanctuary of Arabella's outdoor bathtub fully enclosed in a giant, glass cube.
Driving Time: 2 hours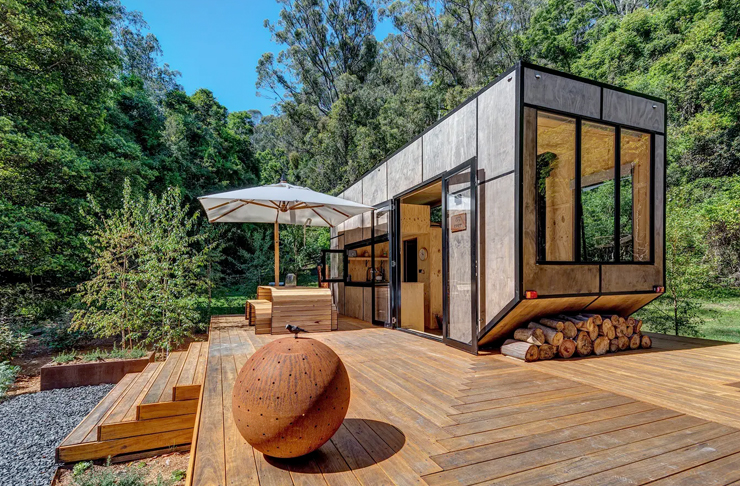 The Treehouse
Kangaroo Valley
If you're looking to step up your usual getaway, this place is absolutely, undeniably for you. The Treehouse is suspended high amongst treetops and sleeps about seven guests. Up here, you'll get to soak up the sounds of the river below, chill out in a sunken courtyard or zone out in a double bath. For this one, you'll just need to notify the owners of your dog's breed so they can approve it before your stay. You'll need to inform the owners of your dog's breed ahead of your stay.
Driving Time: 2 hours and 30 minutes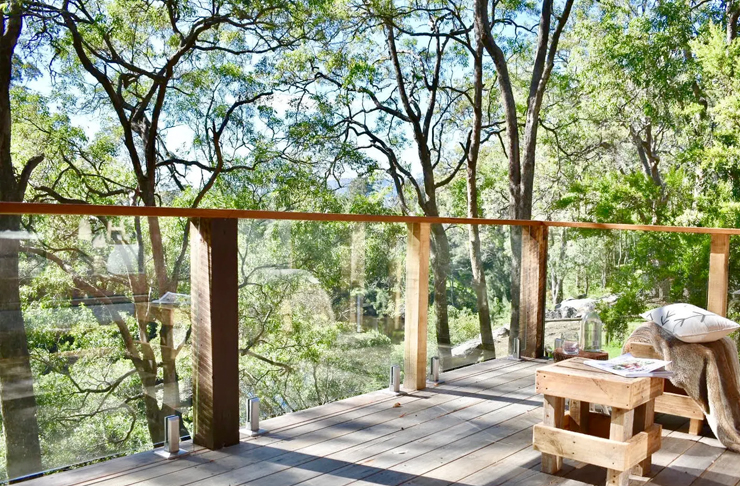 The Shed
Upper Kangaroo Valley
This one is lowkey one of the most beautiful Airbnb's in NSW. When there's a quiet country road that leads you all the way to a stunning farmyard property, you know you've hit a jackpot. The Shed is a converted farm shed and has been transformed using a heap of recycled materials and you'll be able to invite up to six other mates onto its grounds (plus any animal friends you're keen to bring along). You'll find spacious living areas, a wood-fired pizza oven that makes even the worst cooks somewhat impressive. And not to mention, it's set on Kangaroo River (so yes, spontaneous dips are necessary).
Driving Time: 2 hours and 30 minutes
Pet-Friendly Accommodation Three Hours From Sydney
Lolita's
Jervis Bay
A place for all puppers and their humans, the recently renovated Lolita's at Jervis Bay is located in the quiet town of Sanctuary Point, amongst some of the best beaches in NSW. This three-bedroom beauty spans across two levels and sports all the open-plan living you could need for a weekend away. For you, there's an upstairs balcony made for the ultimate sundowner sessions and for your fluffy mate, there's a surrounding garden which means a whole lot of running around. If you're thinking this stay can't be topped (it can), you'll also be a seriously short drive away from a bunch of dog-friendly beaches so old mate can live his best sandy life too.
Driving Time: 2 hours and 45 minutes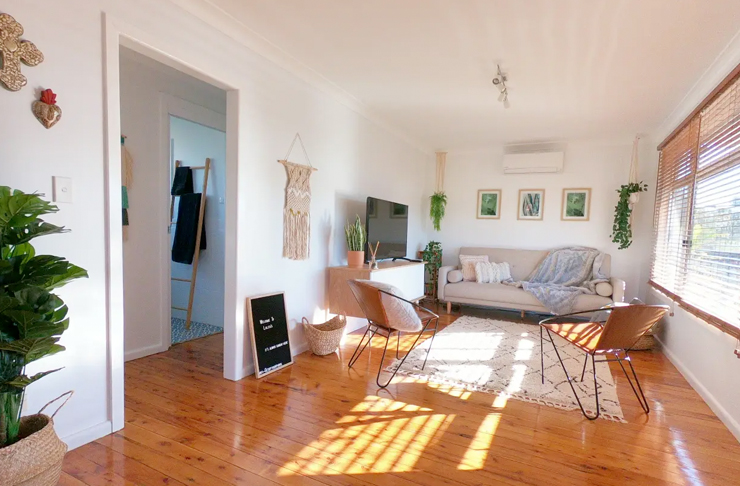 Barefoot Beach House
Culburra Beach
Two words: big backyard. We guarantee those words resonate with your little furry mate. Barefoot Beach House rests on the bay of the Shoalhaven River and it's just a few minutes walk from the iconic and absolutely stunning Culburra Beach. From the garden, you can go kayaking, paddleboarding, start up the BBQ and throw a feast in the outdoor dining area (or even slip into the six-person spa). And yes, the yard here is fully secure for your dog to chase its tail in.
Driving Time: 2 hours and 40 minutes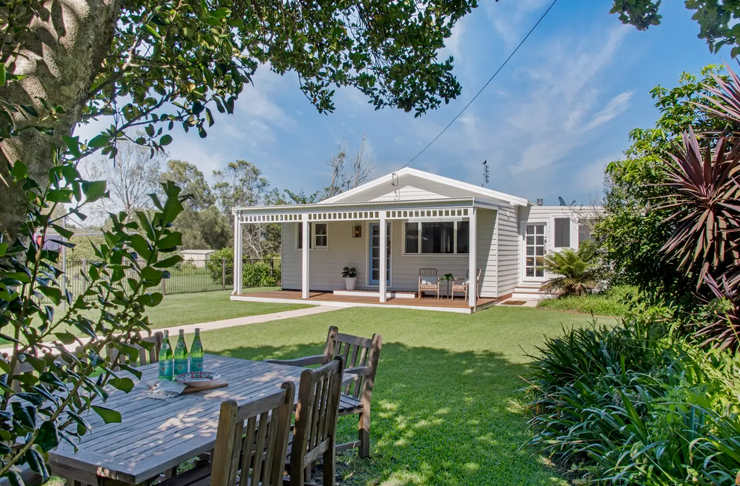 Pet-Friendly Accommodation Four-Plus Hours From Sydney
Billabong Cottage
Turmeil
Billabong Cottage is a little further away but she's well worth the drive. You'll be in complete seclusion here and yes, much like its name suggests, it's situated right next to its own billabong. Surrounded by bush, this is any dog's version of heaven with 25-acres of land right at its paws. There's even a wildflower farm, a short trail through 9-acres of bush and two large organic veggie gardens so you can level up your feeds while you stay.
Driving Time: 4 hours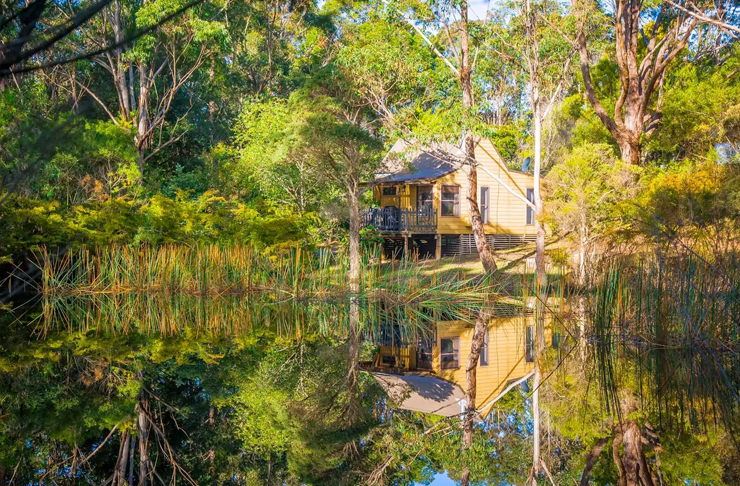 Valla Beach Cottage
Nambucca Heads
If big, wide-open spaces are high on your agenda, cast your eye over the incredible pet-friendly stay known as Valla Beach Cottage. This original 1940s beach cottage sits just on top of Valla Beach which reels in a cruisy 5km of sandy shores for your four-legged friend to run amuck. You'll also want to make sure you make use of that outdoor shower, the local cafes and grocery stores too.
Driving Time: 5 hours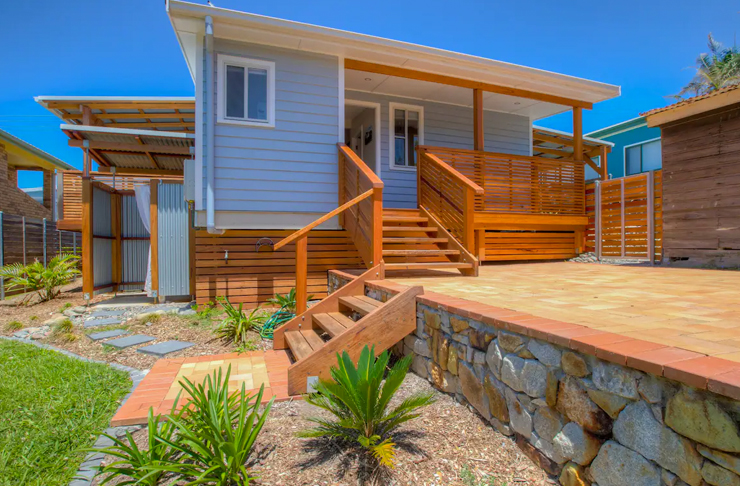 Prefer to rough it? Here are the best dog-friendly camping spots in NSW.
Image credit: Escape Pod, HamptonsShack, The Boatshed, Idyllic Waterfront Escape, The Greenhouse Retreat, Billabong Moon, Escape Pod, Laguna Sanctuary, Arabella, The Treehouse, The Shed, Lolita's, Barefoot Beach House, Billabong Cottage, Valla Beach Cottage
Editor's note: Urban List editors independently select and write about stuff we love and think you'll like too. Urban List has affiliate partnerships, so we get revenue from your purchases.