We've all been there. You see a stunning dinner party scene on TV that you have to replicate, you want to surprise your bestie with a birthday feast to remember or you line up a date night that will blow your number one away with impressive and intimate home cooking. Cut to an hour in and your ideal hosting fantasy has turned into kitchen chaos that would make for an excellent watch on The Bear.
We're here to help turn your kitchen nightmares into satisfying memories, with some top tips from a hosting expert. Taking inspo from the simplicity and versatility of the Kumato® tomato we chatted to Bondi Icebergs Head Chef and seasoned entertainer, Alex Prichard, about all things hosting. From his top tips for catering for groups big and small, to his number one hack to leave your guest impressed after a night to remember.
Grab your notepad and pen, and read on to kickstart your journey to becoming the host with the most.
Hosting Hacks For All Occasions, Big Or Small
A common thread through Prichard's wisdom is simplicity, and this starts with tip number one—the ingredients themselves, "Let the produce speak for itself. Spend the time sourcing incredible ingredients and then cook with minimal fuss."
Minimal fuss flows through to how you serve your culinary creations too, with tip number two, "Think minimal dishes to clean, no one likes the next-day shock of walking into a kitchen full of dishes after a big party." Prichard suggests utilising compostable trays for larger groups and preparing meals that can be served family-style so you're not using more dishes than necessary.
Forethought comes into play with tip three—while you're creating the magic in the kitchen, make sure your guests have something to keep them occupied, "One thing that we always do, in the restaurant, is to ensure that from the moment people sit down, everyone has a drink, has something small to eat (i.e bread or a snack) and has a menu or something to 'amuse themselves".
4 Easy Appetisers To Keep Your Guests Amused And Impressed
Prichard has a few go-to favourites that will keep your guests satisfied from the moment they step through the door. With only a handful of ingredients required for each, you'll have more time to mingle and enjoy your own creations, too.
First up is a super simple Kumato® tomato carpaccio. Created using a thin mosaic of sliced Kumatos® when perfectly ripe, juicy, and bursting at the seams. Drizzle with flavourful olive oil, sprinkle on some quality salt flakes and finish with purple and green basil leaves.

For a bit of comfort and oomph go for a quality warm bread—sourdough or a potato Ciabatta is a dream with perfectly whipped butter and salt. Whip the butter until it's pale white and falls from the spoon looking like Mount Everest.

Crudo is always a crowd-pleaser. Go for, simple raw beautiful fish like Coral trout or Blue Fin tuna. Serve your Crudo simply with Wax Leaf, olive oil, salt and lime.

It would be remiss to go past a fresh Caprese. Slice some Buffalo mozzarella and ripe Kumato® and layer with fragrant leaves like basil, shiso, marjoram & oregano. Finally, dress the salad with spiced merlot vinegar and olive oil to compliment the super sweet profile of the Kumato®.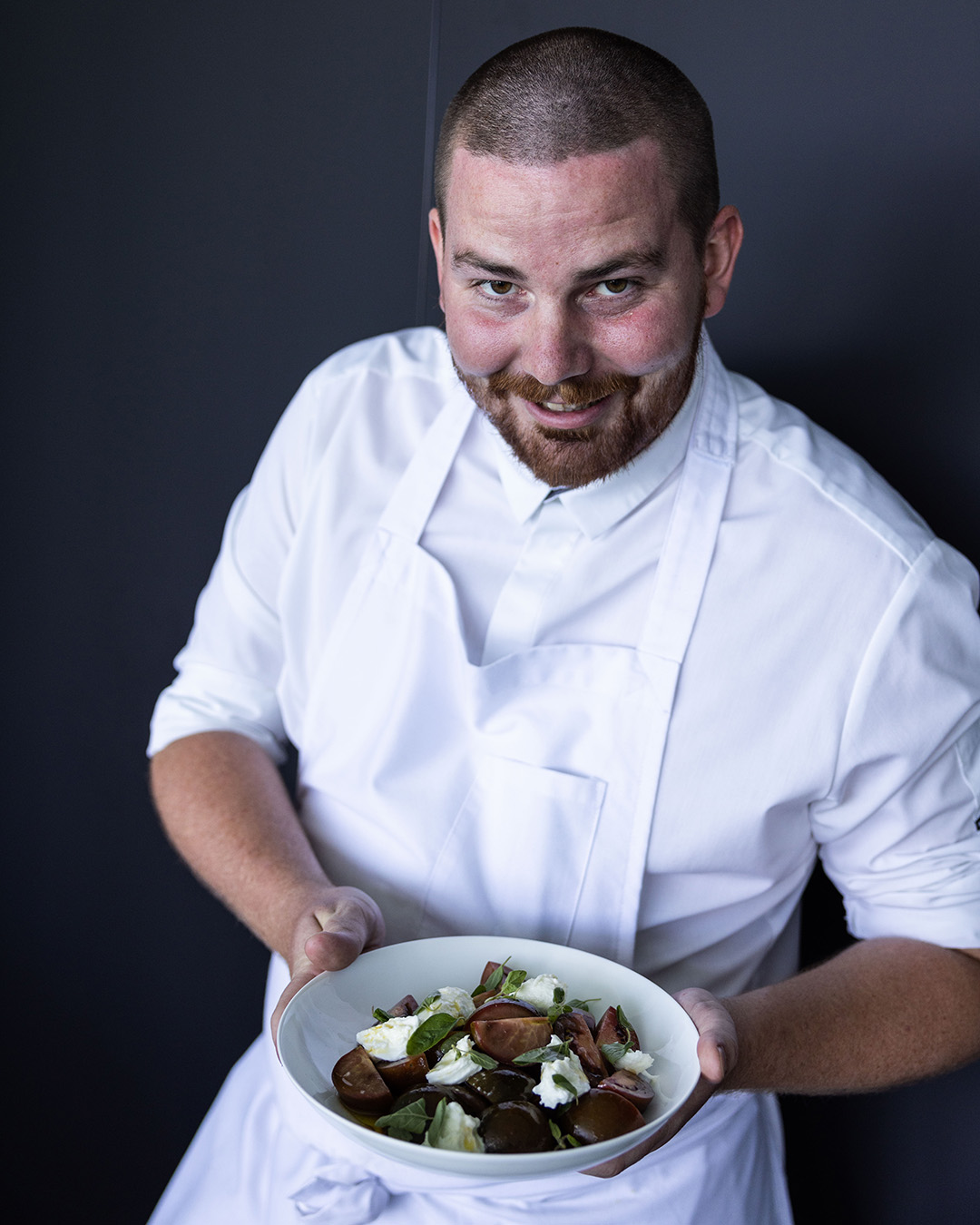 The Details Make It A Date Night To Remember
Prichard's number one tip for making sure you pull off a date night to remember for all the right reasons is planning ahead and being mindful of your homemade menu, "Portion size is critical, no one wants to be bloated and ready for a nap on date night." If you want to wow, go for a few different courses with smaller serving sizes—wow with flavours without encouraging a post-date food coma.
Setting the table, adding some florals and playing some music you know your date vibes are easy but light lift details with a big impact that Prichard swears by. He also suggests thinking outside the box—and outside the house, "A picnic if done correctly can be the most impressive thing in the world as not many people do it well. Remember, always, it's a gesture of love and hospitality."
Simple Touches Secure A Spot On The Top-Host Podium
Prichard's secret weapon when it comes to impressing any and all guests? Nice crockery. And that doesn't necessarily mean expensive crockery—it just means sourced with care.
"I have a range of some different, old school Victorian-style plates with flowers on them from opp shops, then some incredible and unique handcrafted crockery from the likes of Robert Gordon, Simon Reece, Mud Australia & Motion Ceramics," he explains. The idea is that if your food is served on vibrant and interesting crockery, it will not only set the vibe for the meal but also reduce the pressure of plating up your dish so you can get to the chatting and enjoying part sooner, "It's hard to make something look bad when the canvas is that good!"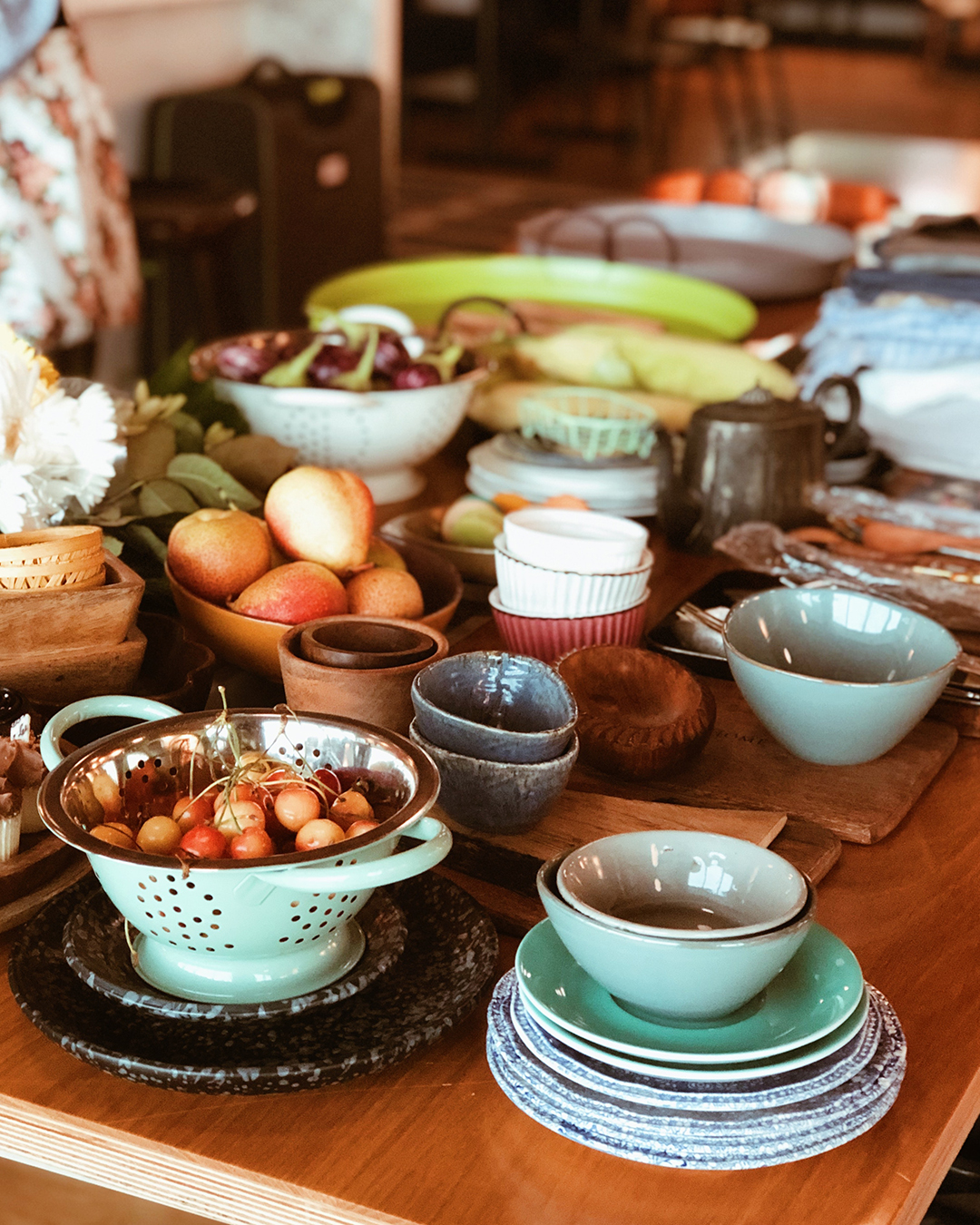 Tackle The Shopping List Strategically
Now that you've planned your menu, sourced your crockery and compostable trays and invited your guests, it's time to tackle the food shopping list. We asked Prichard for his wisdom on filling your basket IRL to make the process as easy as possible. When it comes to ticking off your ingredients list for your carpaccio, Caprese and all that your feasts entail, "There are two trains of thought on this—each depends on your personality and your palette the most."
The approach also depends on the type of event you're hosting, "Most of the time I'll walk into the shops or the markets and let the produce speak to me—it sounds a bit wanky but it's real. Maybe I'll see sausages that look amazing which I wouldn't have thought of doing before, or perhaps there will be some boneless qual or some delicious Flathead fish. Maybe the first plums of the season. Then suddenly you go 'wow, I want to eat all of these things together,'" Prichard says.
What about if you're a planner and don't like to leave high-stakes events to chance? "The second way you can do it is to have a firm idea of what you want and seek it out. I do this when I'm planning to cook for a lot of people. Also, think about minimal prep," he explains.
"Things like Broccolini and beans you can just throw straight on a bbq or pan with no blanching or pre-cooking. Always seek out simple quality."
Keen to get your nearest and dearest together for a fresh summer feast? Head over here for three easy and delicious Kumato® recipes sure to wow the whole party.
Editor's note: this article was produced in partnership with Kumato® Thank you for supporting the partners who make Urban List possible. To read our editorial policy, click here.
Images: Akshata Bablad