Sometimes, far away from the noise of new restaurants in Sydney—the hats, the brassy international accolades, the frenzied Instagram food crazes, and the trendy chefs—you get to find something quietly special. For Sydney right now, we think that dining spot is French-inspired, sustainably-minded fine diner, Métisse.
Built into a beautiful oval-shaped dining room in the quirky Durbach Block Jaggers Barcelona building down a Potts Point laneway, Metisse is the sort of romantic, fishbowl-like place you might wander past and wonder what's happening inside.
Formerly home to Gastro Park and Etelek, veteran chef Opel Khan, along with his daughter Lucinda as sous chef, quietly opened the doors of Métisse pre-pandemic, back in mid-2019.
Now, French linen curtains line the windows and the glowing bubbles of a Muriel cloud chandelier hover above the centre dining table. And, over the last 18 months, lockdown aside, the Métisse team has been plating up what's arguably one of the city's most spellbinding and intriguing degustations.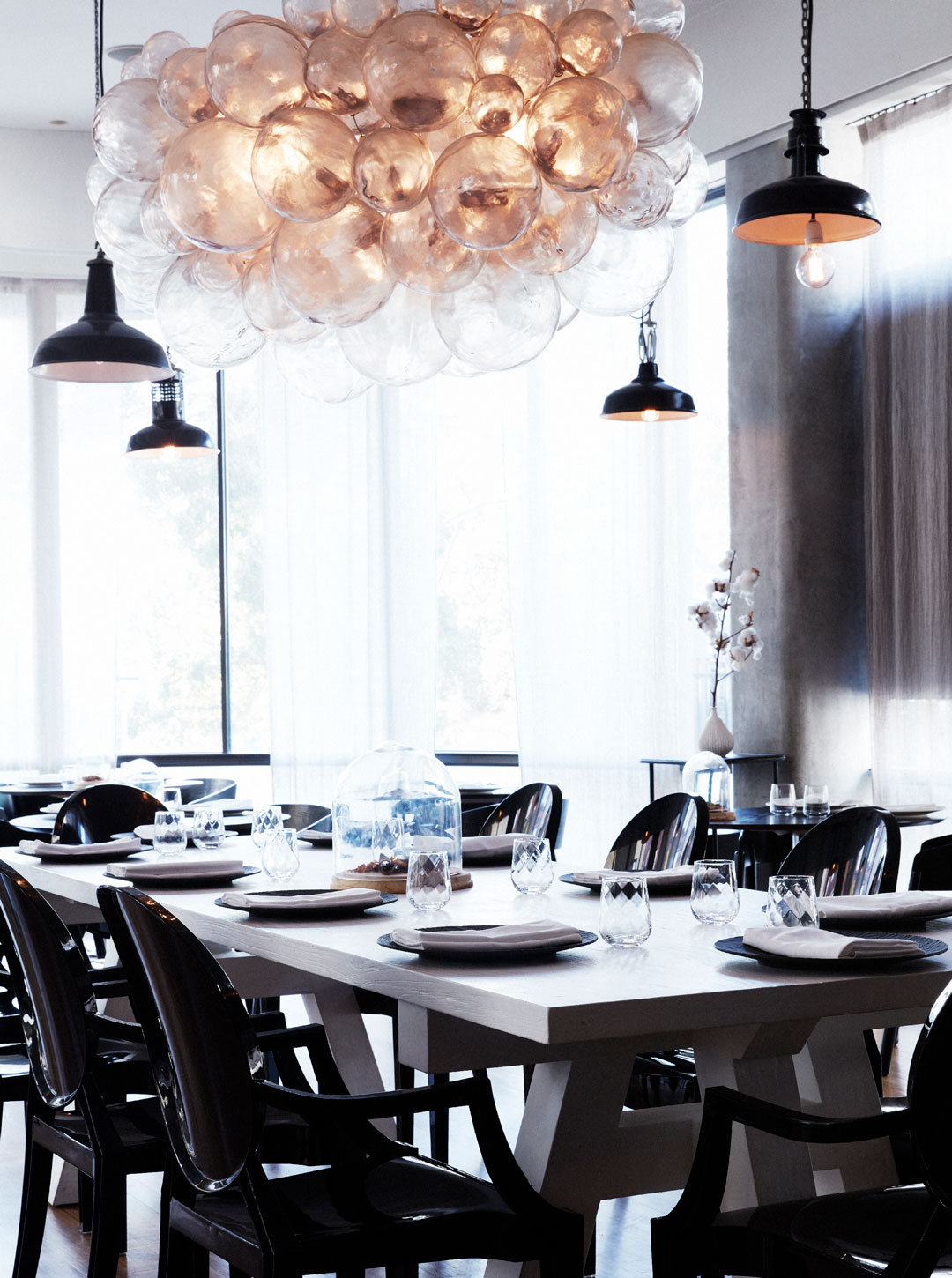 The menu changes seasonally, but typically there will be a meat and vegetarian tasting menu to choose from, with vegan and gluten-free substitutes readily available. Bangladeshi-born Opel has a passion for sustainable cooking and a zero-waste kitchen; precisely the sort of cooking and culinary creativity we should be celebrating right now.
"I have been working as a chef for more than 30 years, and, as a result, I have seen a huge amount of products (good products, products that can be used) wasted to the bin every day," Opel tells us.
"As a human and as a chef, I have the responsibility to do my part, not only saving products also educating my team about the importance of using all our resources to create unique dishes."
A regular feature and the star of the Métisse menu is the "Texture of Tomato". This wildly impressive dish is made entirely of tomato (no waste), and takes a painstaking three days to create. "The Texture of Tomato is the flagship of the sustainable luxury concept at Métisse," Opel explains. "Every single part of the tomato is transformed into a beautiful and unique shape, flavour, and gastronomic experience."
Using four kilos of very ripe tomatoes, day one involves a herbal and spice infusion, and tomatoes are left to marinate overnight. On day two, the tomatoes are cooked over a pot of simmering boiling water, strained through muslin a few times to create a consommé, which is set overnight. Finally, on day three, the tomato consommé jelly is turned into a tomato marshmallow, and the remainder of the tomato is used to create a tomato sorbet, crumble, and tomato chips. The ultimate result is the sort of finessed, artful dish you'd expect to feature on an episode of Chef's Table.
Now, as we edge our way toward the close of 2020, we think Métisse has really hit its stride, improving on perfection, evolving some ideas, and adding in a theatrical but sophisticated cocktail menu to boot. Lucinda has been named head chef, which makes her one of the youngest head chefs in the country—and her extraordinary talent is beaming through the newest menus at Metisse.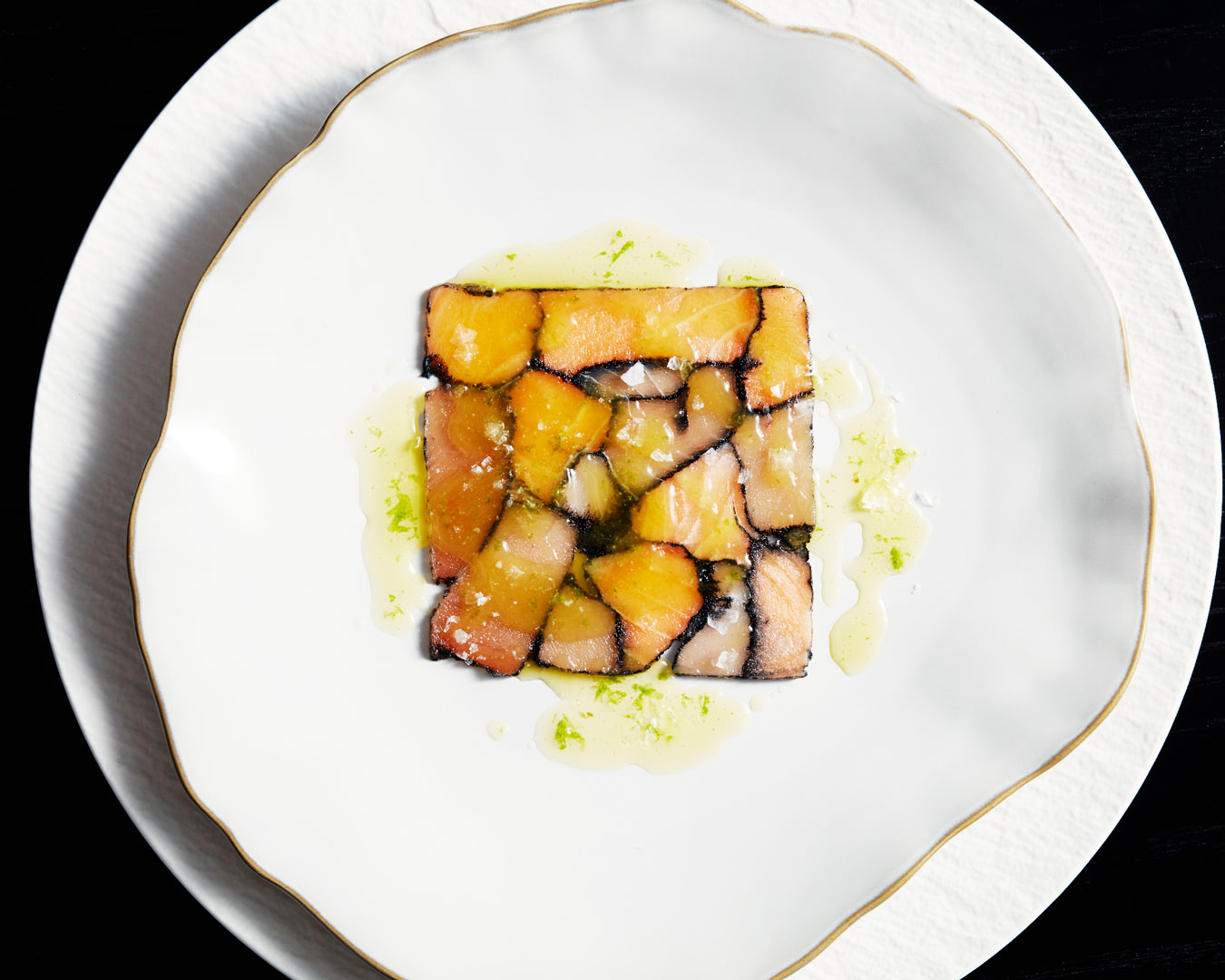 Opel and Lucinda worked closely together to craft two new eight-course menus (each $145 per person), titled "The Journey", and, for vegetarians, "The Earth". As well as the Texture of Tomato, Métisse's newest showstoppers include a version of duck à l'orange, where Lucinda has created mille-feuille using the remaining duck leg meat. The "Mosaïque" is a two-part course featuring a literal mosaic of carpaccio, followed by a light, creamy cup of lobster ravioli. On the vegetarian menu, the "Confit Pumpkin" involves charred eschalots dressed with pistachio snow and morel consommé.
The wine list heroes premium French and Australian wines (think Châteauneuf-du-Pape, Chateau de Meursault, Yarra Yering, and Grant Burge), and wine pairing with your degustation ($95 per person) is possible (and highly recommended).
Métisse's brand new set of signature cocktails is yet another jewel in the crown. We love the smoky old fashioned, made with bourbon, aromatic bitters, and house syrup, and served under a cloche of sweet-smelling applewood smoke. The Moulin Rouge is Métisse's spicy margarita, served in a black coupe glass, with Reposado, Cointreau, blood orange, watermelon syrup, and spice.
If it's a truly special dining experience you're after—the sort you'll dream about for months to come—Métisse needs to be top of your list. Bookings are available here.
Image credit: Metisse